Disney Sorcerer's Arena Review!
"Disney Sorcerer's Arena is the ultimate Turn-Based RPG with Real-Time PvP. Enter the bold and competitive world of the Sorcerer where every choice you make determines your legacy. Assemble your roster from scores of battle-ready Disney and Pixar legends, and test your powers in the action-packed PVP arena.
Disney Sorcerer's Arena… where Legends Collide!"
iOS Link: https://apps.apple.com/nz/app/disney-sorcerers-arena/id1445068497
Android Link: https://play.google.com/store/apps/details?id=com.glu.disneygame&hl=en_GB
Company: Glu Games Inc
Genre: Strategy
Rated: 9+
Offers in-app Purchases
Gameplay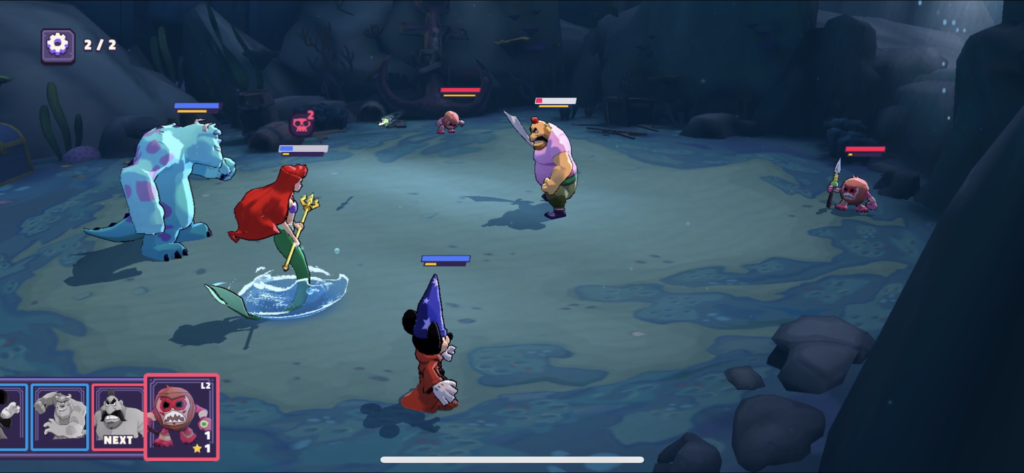 In Disney Sorcerer's Arena, you can summon heroes and villains to take part in turn-based battles against the real bad guys. Triumph in the arena and become the next Master Sorcerer!
I really enjoyed the gameplay, although, at some points, I found it a little too easy to play (and I had the starter pack!) Usually turn-based battles aren't my kind of thing, however, as this had all of my favorite Disney characters, it's hard to not enjoy this game.
You start off with Mickey Mouse and Ariel and through battling, you can unlock more characters, or you can just buy them if you want to speed up the process. Each character has their own basic move and special move but use them strategically in the battle! For example, use special moves against enemies who don't lose a lot of health.
If you're familiar with Disney Heroes: Battle Mode, it's a similar concept to that.
Graphics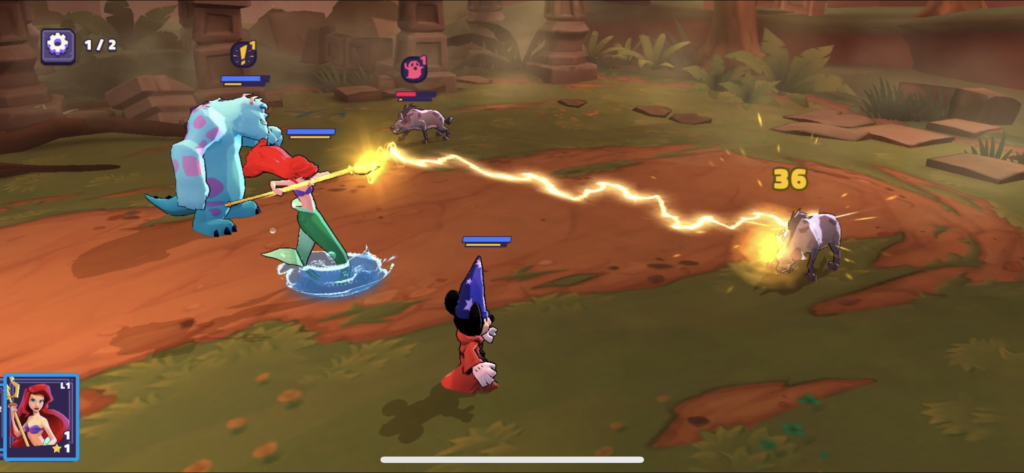 As you would expect from a Disney game, the graphics are magical to an extent, but nothing crazy special. Of course, I enjoyed the visuals for Disney Sorcerer's Arena but for a turn-based battle game, it's pretty standard.
Music & Sounds
The music and sounds are very Disney-esque which I LOVE. I mean, it would probably be a little bit stupid if it wasn't. However, I don't feel like the music and sounds add a whole lot of substance to the gameplay.
Controls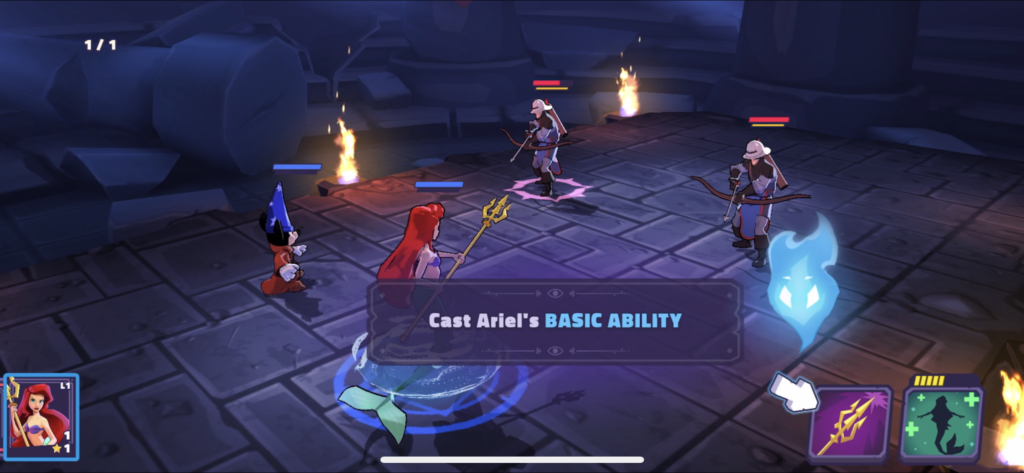 At the bottom of the screen, you'll see your basic move, special move, and spells. All you have to do is tap them to use them, but they take time to reload them again so use them sparingly.
The Power of in-app Purchases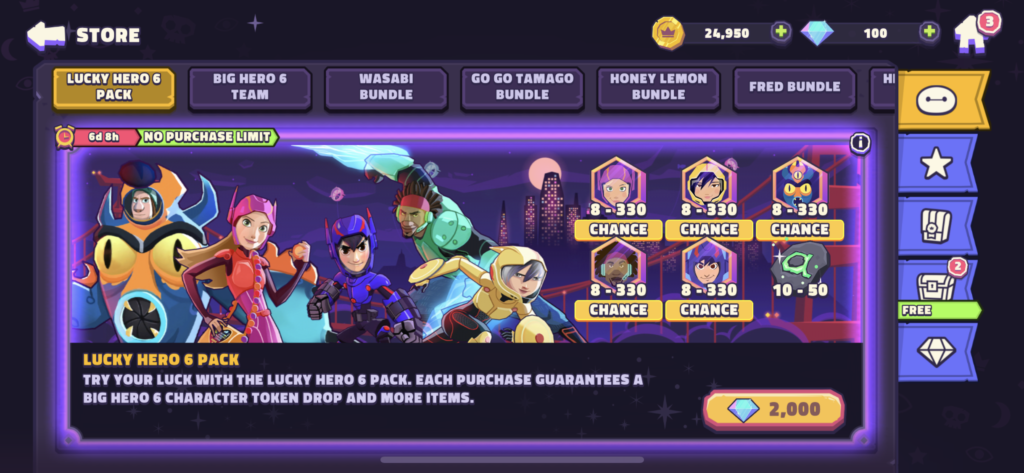 Big Hero 6 Bundles
Big Hero 6 Welcome for free
" Pack for 2,000 gems
" Team for £99.99
Wasabi Bundle for £48.99
Go Go Tamago Bundle for £48.99
Honey Lemon Bundle for £28.99
Fred Bundle for £28.99
Hiro Hamada Bundle for £14.99
Hero Starter Bundle
Characters
Tinkerbell for 200 gems
Wasabi for 1,200 gems
Go Go Tomago for 1,200 gems
Honey Lemon for 800 gems
Fred for 800 gems
Hiro Hamada for 800 gems
Chests
Ultimate Chest for 400 gems
5x Ultimate Chest for 1,900 gems
10x Ultimate Chest for 3,600 gems
Gems, Gold, and Potions
15,710 gems for £99.99
2,800 gems for £19.99
1,340 gems for £9.99
610 gems for £4.99
240 gems for £1.99
7,370 gems for £48.99
220,000 gold for 220 gems
600,000 gold for 550 gems
1,3M gold for 1,100 gems
1 level up potion for 250 gems
3 level up potions for 500 gems
level up potion bundle for 1,000 gems
The Verdict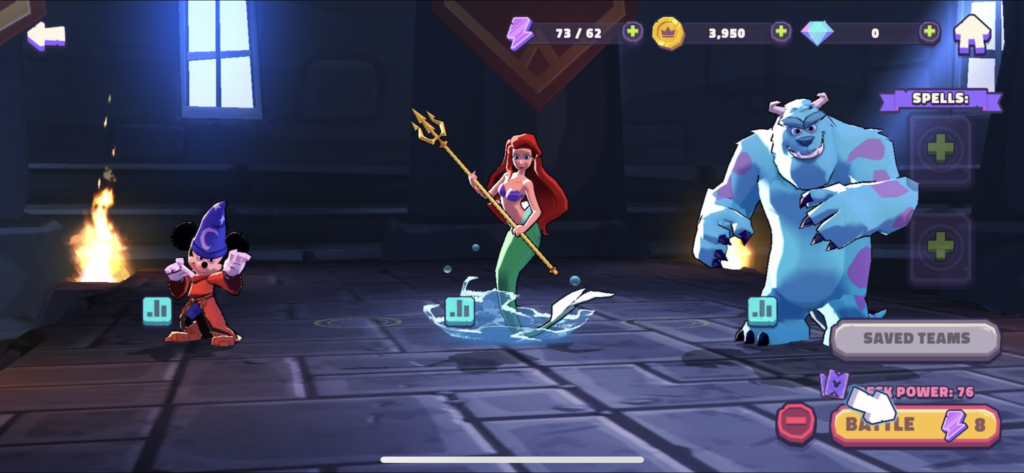 I'm a fan of anything Disney related – it's just so hard to say no to the magic! This game brings the magic of your favorite Disney characters to a fun fighting game that you won't be able to stop playing. We do feel as if you'd have to make an in-app purchase at some point so you don't get bored with your characters.
If you decide to download Disney Sorcerer's Arena, let us know what you think and if you agree or disagree with any of the things we said. Happy gaming and stay casual!
Disney Sorcerer's Arena Overall Rating: 3/5
iOS Link: https://apps.apple.com/nz/app/disney-sorcerers-arena/id1445068497
Android Link: https://play.google.com/store/apps/details?id=com.glu.disneygame&hl=en_GB
Company: Glu Games Inc
Genre: Strategy
Rated: 9+
Offers in-app Purchases
About Post Author