Disney Heroes: Battle Mode Review!
Disney Heroes Links:
IOS Link: https://itunes.apple.com/gb/app/disney-heroes-battle-mode/id1327925104?mt=8
Android Link: https://play.google.com/store/apps/details?id=com.perblue.disneyheroes&hl=en_GB
Company: PerBlue Entertainment
Genre: Fighting
Rated: 9+
Offers in-app purchases
"Welcome to the digital City… and enjoy it while you can. A wicked virus is corrupting every pixel, turning even the heroes' own friends and family against them! Pull together the best teams for the job, equip powerful gear, and battle against incredible odds to save your fellow heroes."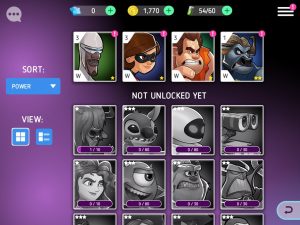 Disney Heroes Gameplay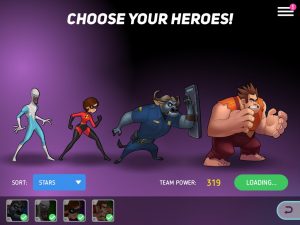 Like most idle RPG's, Disney Heroes: Battle Mode is all about collecting characters and building a team to beat the baddies. In this game, both your own party and the enemies you fight are characters from various Disney films like Mr. Incredible, Buzz Lightyear, Wreck-It Ralph and more.
You're fighting the same characters that you're collecting and there's a reason for this – there seems to be some weird shadow energy possessing these characters. Your party needs to fight them before they can eventually earn the items needed to unlock them and add them to the party. In the beginning, you're given a team of Wreck-It-Ralph, Frozone, and Elastigirl. Elastigirl starts talking to Mr. Incredible (on the other team) and he straight away attacks here – signifying some kind of possessive behavior.
However, if we're talking mechanics, there isn't a whole lot of action in Disney Heroes: Battle Mode – in your case anyway. Playing Disney Heroes involves equipping gear, choosing party compositions, and initiating missions before just sitting up and watching your heroes do the rest. Well, all you need to do is tap their power-ups to hit harder but that's honestly about it. The power rating determines your success on any given task.
Each level is basically the exact same as the last with different enemies and backgrounds. This style of gameplay gets boring really quickly so unless you're 5 years old, you're probably not going to have much fun. It's taking every bone in my body to not give up right now but we shall continue on!
Disney Heroes Graphics
The graphics are not bad, of course, there's always room for improvement. They manage to mimic the look of Disney's properties but in a 2D style. But I definitely wasn't blown away by the graphics by any means. But luckily, because of these adequate graphics, I'm sure this game would run smoothly on most devices no matter how old they are.
Disney Heroes Music
The music on the main menu is very electric and interesting – it doesn't sound "Disney" at all but I was glad. The music fires you up but it still doesn't stop the disappointment when you start the actual gameplay. When you get into the gameplay, the music changes but it's still upbeat and fun. Unfortunately, the characters don't make any noises fitted to their personalities, they just have a script you have to read. I guess that's the cheap way out. If I'm honest, I think the music in Disney Heroes is the best thing about it – how disappointing.
Disney Heroes Controls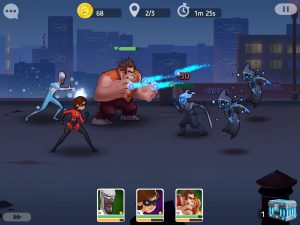 The controls are absolutely basic. But like all app games, it's designed to play on a touchscreen. So simple taps on the screen will get you where you want to go. There is no support for physical controllers but I don't see why that would even be considered anyway so it's perfect as it is for a fairly simple game. I'm sure they wouldn't want to overcomplicate things.
Disney Heroes The power of in-app purchases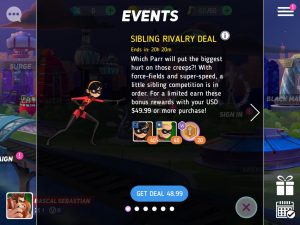 The in-app purchases are just terrible for a game that's this boring. The in-app purchases go as high as £99.99 and I just couldn't imagine being silly enough to want to spend that amount of money on something like this. Buy a PS4 game, lol! The first currency of gold can be earned as you play the game but more can be purchased through iAPs, but unfortunately you have to reach level 12 to reach this level. Ain't nobody got time for that! You can also purchase diamonds that are used to acquire everything else you would want, such as stamina or loot crates.
There also deals that are thrown in your face when you open an app. For example, a pack that describes itself as "Which Parr will put the biggest hurt on those creeps?! With force-fields and super-speed, a little sibling competition is in order. For a limited time earn these bonus rewards with your USD $49.99 or more purchase! To me, it didn't seem like a very good deal for the price but it's bound to entice someone. I just don't think it's worth it at all.
The Verdict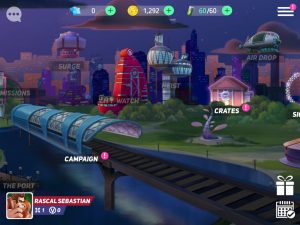 I can't say I'm impressed with this game it's not because I'm too old. I genuinely think a 6-year-old Disney superfan would get bored of this game very quickly. The problem with it is that PerBlue Entertainment hasn't provided enough of a reason to play through this game besides collecting all of the heroes and finishing the story – it just feels like something is missing.
If PerBlue Entertainment provided control buttons where you can choose what kind of attack you want to perform – kick, headbutt, punch etc. The fact that all you can do is click on their icon to use their power up is boring. I can't be bothered to sit there and watch the heroes fight. I want to control them myself.
Disney Heroes: Battle Mode Overall Rating: 2/5
IOS Link: https://itunes.apple.com/gb/app/disney-heroes-battle-mode/id1327925104?mt=8
Android Link: https://play.google.com/store/apps/details?id=com.perblue.disneyheroes&hl=en_GB