Dead Paradise Review!
Dead Paradise: The Road Warrior allows you to drive different cars and use large upgrades arsenal. Upgrade machine guns and death shotguns for earning shooting power and destruction abilities of your car. Use addicted armor to reduce the received damage and destruction from your rivals. Crash and burn your enemies in fury racing action battles with awesome graphic. Survive in burnout race, earning goals and receiving extra resources to unlock new game weapon, armor and cars. Join the race of death and defeat racing rivals to reach the goal. Compete against 5 unique bosses and dodge explosions, shoots, and traffic obstacles in every car battle. Burnout the world of apocalypse and kill your enemies in the best shooting car game!"
Dead Paradise Links:
iOS Link: https://itunes.apple.com/us/app/dead-paradise/id1404232356?mt=8
Android Link: https://play.google.com/store/apps/details?id=com.herocraft.game.free.deadparadise&hl=en
Company: SMOKOKO LTD
Genre: Action
Rated: 9+
Offers in-app Purchases
"Welcome to Dead Paradise: The Road Warrior is the free death race shooting game with car battles on fury roads! Choose and level up your death car, upgrade your shooting weapon and bring destruction to your enemy! Become the best killer in the apocalypse race. Make your rivals tremble with fear! Show them the best driving, shooting, and fury!
Gameplay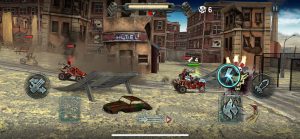 From what I could tell, Dead Paradise doesn't really have a storyline. I picked up that you're in a gang and there are enemies that are out to get you. So you fight to the death by shooting at each other but in a truck. I like this idea because it means you're always on the move and there's no running after enemies. Drive along the path, shoot at them or throw missiles. You can also get a boost to drive faster that fills up every minute or so.
I also noticed that there aren't many reviews or people who have played this game via smartphone. However, I discovered that it has been a free online game for a while and it's widely popular. It seems as if this game is a lot popular outside of the app store, which is rare nowadays. Who plays free online games?
Graphics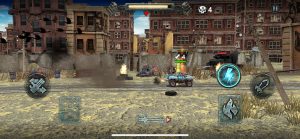 Dead Paradise's graphics are amazing. I actually said "wow" out loud when I first started playing. They're smooth, colorful, vibrant and they don't lag. Everything about them is awesome. If you have an iPhone 10 or above, they look perfect on the OLED screen. Just sayin'.
Music
The music is annoying. Shock! It's that typical "app game" music that I wasn't expecting. I was really hoping there would be some kind of music that gets you fired up and ready to shoot down some enemies!
Controls
The controls are simple. There's an accelerator, backward accelerator, missile launcher, and a power boost. It's easy to control and I've won every match so far by literally just driving. Although, I can definitely understand how it could get boring, as you actually don't really need to do anything…
The Power of in-app Purchases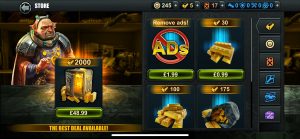 There's an overwhelming amount of things you can buy in the store, from gold, coins, gas, power-ups, trucks, and packs.
Gold ranges from:
30 gold for £0.99
100 gold for £2.99
175 gold for £4.99
575 gold for £14.99
Coins range from:
750 coins for 10 gold
2000 coins for 25 gold
4500 coins for 50 gold
9500 coins for 100 gold
Gas ranges from:
5 gas for 5 gold
12 gas for 10 gold
35 gas for 25 gold
75 gas for 50 gold
and much more. I don't believe that purchasing things with your real cash is completely necessary. However, gas is a form of "energy" and when you run out of it, you can't play anymore. So if you're wanting to play for a long time, it would probably be a smart idea to purchase some gas.
The Verdict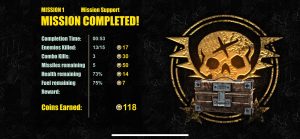 Dead Paradise is a good game, however, it just wasn't my cup of tea. As a result, I found Dead Paradise pretty repetitive and a game that doesn't really change at all no matter how far you get. I do feel like this would be a great game to play on your commute to work or on your lunch break because of the energy system running out quickly.
In my opinion, it seems that Dead Paradise is pretty much just a free online game pasted into the app store and called a brand new game. Due to this, I don't see this game succeeding for long in the world of Apple and Android.
Dead Paradise Overall Rating: 3/5
iOS Link: https://itunes.apple.com/us/app/dead-paradise/id1404232356?mt=8
Android Link: https://play.google.com/store/apps/details?id=com.herocraft.game.free.deadparadise&hl=en
About Post Author