Cooking Mama: Let's Cook! Review!
"A family-friendly cooking game loved worldwide!
[You'll learn to love cooking!]
Chop, bake, stew…
Cook tasty meals with easy touch controls!
Try out this unique cooking game.
The yummy food you'll create will definitely make you hungry!
▼Let's Cook!
Cook food by playing fun mini-games. More than 30 kinds of recipes are waiting for you. Do your best, Special Chef!
▼Happy Village!
Serve your cooking to everyone at your restaurant. Create a big and wonderful restaurant that's all your own.
Harvest lots of things by going Fishing, growing plants in the Fields, and raising animals in your Ranch.
Gather up lots to exchange for Happy Foods!
▼Game Plaza!
Play non-cooking games like "Help out," "Play Shopkeeper," and "Exercise your brain." More than 30 kinds of mini-games are waiting for you. Aim to get high scores!
▼Challenge Ranking!
Compete in weekly events for the best scores! Join the global rankings!"
Cooking Mama: Let's Cook! Links:
Company: Office Create Corp.
Genre: Cooking Games, Games
Rated: 4+
Offers in-app Purchases
We all know Cooking Mama, she was a figure of our childhood and now she's on our smartphones. Let's see what she's been up to…
Gameplay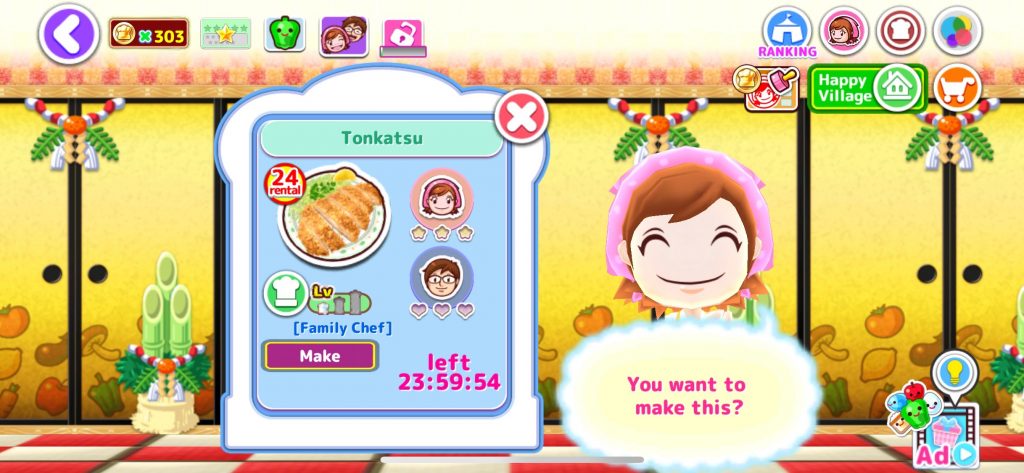 I was extremely excited to start playing this game as I was a big Cooking Mama fan as a child and being able to bring the fun to my iPhone brought me a lot of joy. And to my luck, Cooking Mama: Let's Cook! really looks no different to the Nintendo DS games. The aim of the game is to cook a meal, and you do that in sections. You're told exactly what to do before the level starts and sometimes you have to trace lines. So the gameplay is fairly easy and you'll usually be told that you performed "even better than Mama" whereas I remember the DS game being quite harder (although that might be because I was a child). I saw her eyes turn to fire a lot.
Of course, there's a time limit on the tasks but they're fairly easy to complete in that time, so it doesn't ever feel like you have a time limit.
Graphics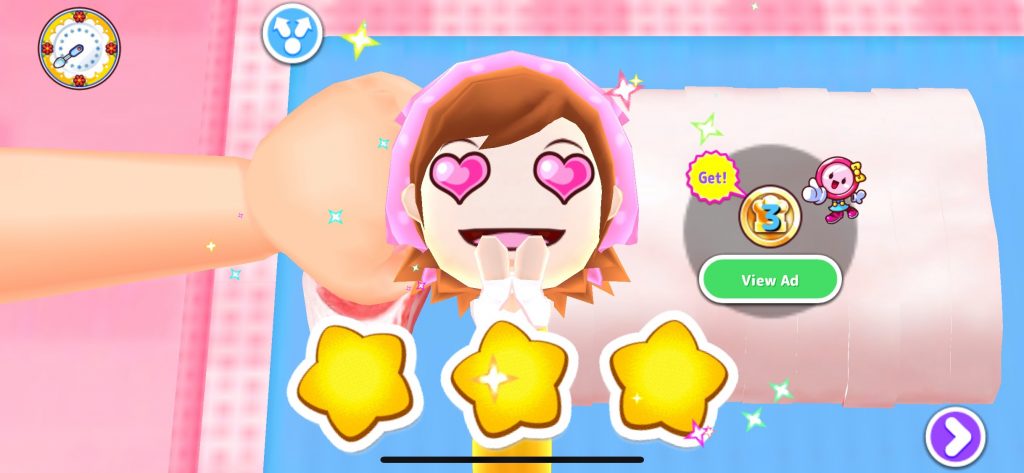 The graphics for Cooking Mama: Let's Cook are very similar, if not exactly the same as they were on the DS game. I like that they haven't tried to make the graphics better or try to change the way Cooking Mama looks. Everything looks very authentic to the DS game. The only thing I'm not a fan of is that there are a lot of buttons scattered around the menu and I don't even know what half of them are. It just looks a little bit messy in my opinion.
Music
As for the music and sounds, it seems exactly the same as the DS version to me. You know that annoying music I'm talking about. When you get 3 stars on a level, Cooking Mama says "Wow, even better than Mama!" and when you get one star, she says "There's always next time!" I like this feature because it stays true to the authenticity of the Cooking Mama series, rather than trying to change it for iOS.
Controls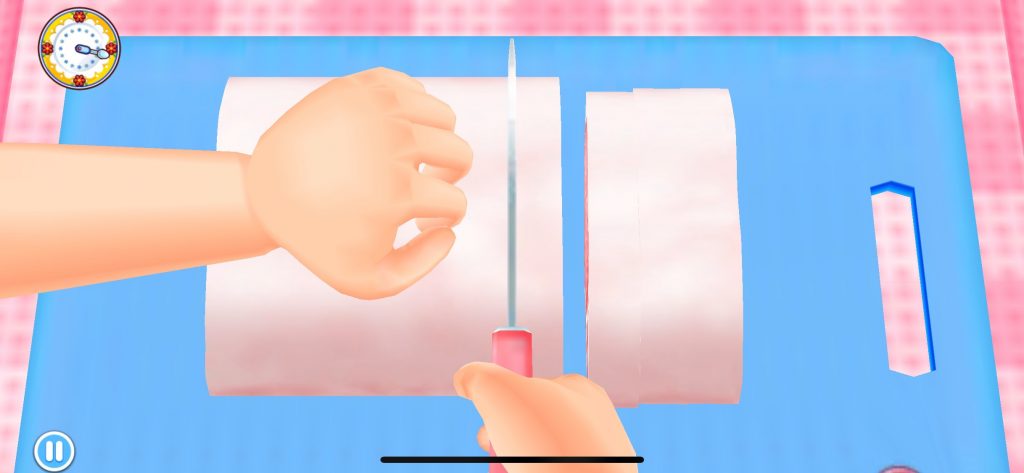 I'm really happy with the controls on Cooking Mama: Let's Cook! As we know, the controls for the DS version were all based around using a stylus, which fits in perfectly with smartphones. With that being said, the controls were sometimes confusing. For example, there is a recipe where you're given potatoes and a potato slicer with a double-sided arrow and it took a while to figure what that meant. Finally, I realized that you actually have to shake your smartphone side to side, and up and down rather than using your fingers.
The Power of in-app Purchases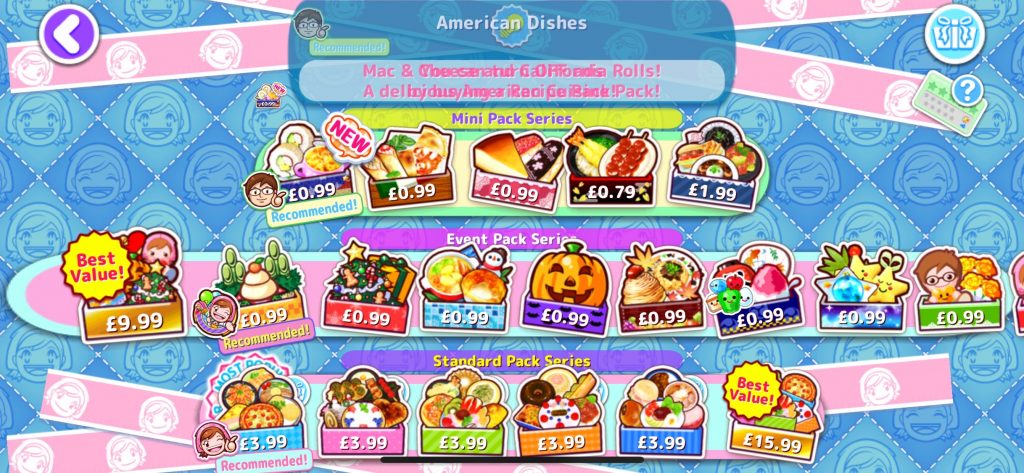 Now, this is the part of the game where it gets a little bit disappointing. Unless you want to play with very few recipes, you have to purchase from the store. Unfortunately, Cooking Mama: Let's Cook! is a stone cold freemium game. There are special offers from time to time where the 24 Hour Recipe Rental will be free – so if that's the case, my advice would be to take advantage of it.
From the recipe shop, you can get many different recipes to practice and make, and they all range from £0.99 to £15.99.
The best deal is the Mama's Recipe Pack Bundle which has 40 recipes for £15.99. There's also Papa recommended deals that'll get you extra stars.
The Verdict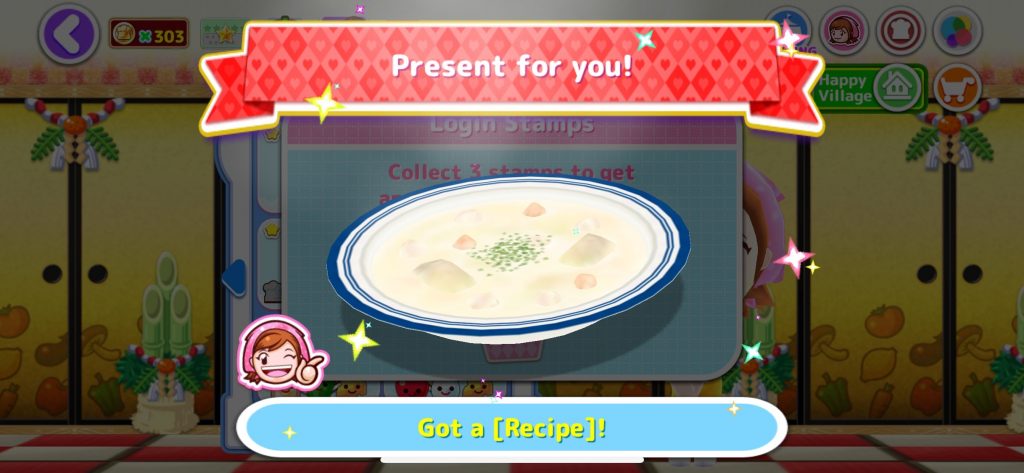 Cooking Mama: Let's Cook! really brought my childhood back to me and I am a sucker for nostalgia. Things weren't really different apart from the fact you, of course, have to buy recipes. But that's about it. The sounds, graphics, and graphics replicated the original Cooking Mama series. If you want to throw it back, I would definitely recommend this game to you.
If you decide to download Cooking Mama: Let's Cook!, let us know what you thought and let us know if you disagree or agree with any of the things we said. Happy gaming!
Cooking Mama: Let's Cook! Overall Rating: 4/5
Company: Office Create Corp.
Genre: Cooking Games, Games
Rated: 4+
Offers in-app Purchases
About Post Author