Cooking Madness – Kitchen Frenzy Review!
"PREPARE ?, COOK ?and SERVE ?delicious meals from all over the world ? in Cooking Madness!
Become the master chef you have always wanted to be! This year it's this highly addictive time-management game that'll bring you the best digital cooking experience!
Get yourself in a real cooking craze. Cook like you're a MAD CHEF in Cooking Madness! Did the cooking fever catch on and you can't get enough of cooking games? Then this is THE cooking game for you! You'll be serving delicious dishes to hungry customers in amazing restaurants at a FAST pace. No challenge that can't be beaten by you.
Dash from restaurant to restaurant on this magical map. You will discover and unlock many places as you progress on your journey. Get the restaurants back to business and attract more and more customers. Let the Cooking Madness begin!
Practice your cooking techniques and management skills ?. Tap as fast as you can while keeping your eye on the time. Making dishes have never been so much fun and exciting! Try all the possible kitchen appliances to improve your cooking abilities. Upgrade dishes and kitchenware for a better gaming experience!
Love a little bit of a thrill in your cooking game? Keep up with the rush hours, become better at time management. This cooking game offers endless fun levels with challenging missions set up in each level to give you that special experience."
Cooking Madness – Kitchen Frenzy Links:
iOS Link: https://apps.apple.com/gb/app/cooking-madness-kitchen-frenzy/id1323901884
Android Link: https://play.google.com/store/apps/details?id=com.biglime.cookingmadness&hl=en_GB
Company: Zenlife Games Pte. Ltd.
Genre: Strategy
Rated: 4+
Offers in-app Purchases
Gameplay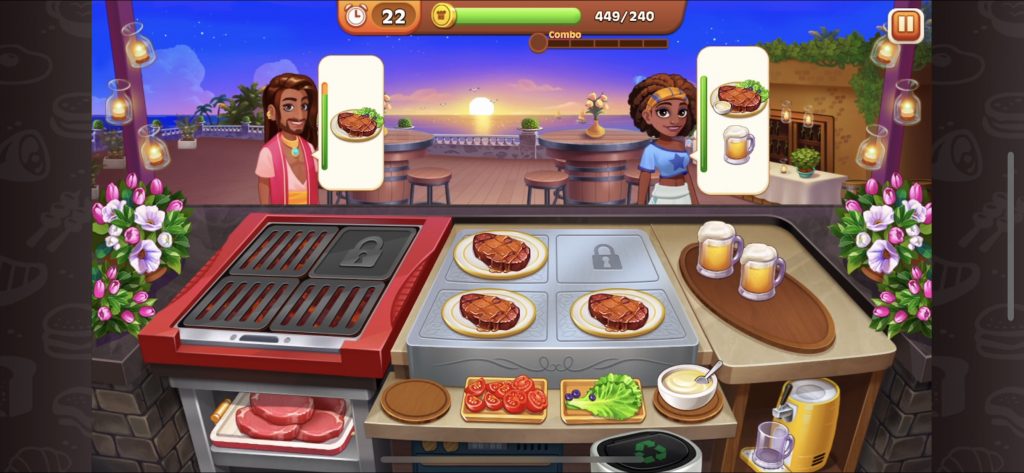 As you may or may not know, we like restaurant games here on The Casual App Gamer! They're so addicting, and can be hard in some places – we do love a challenge! We've reviewed quite a few like Restaurant DASH: Gordon Ramsay, Food Court Fever, and Cooking Craze. Which one is your favorite? Or will it be Cooking Madness – Kitchen Frenzy?
The game starts as most restaurant games do. You have a restaurant where you serve steaks and beer. As time progresses and you serve more customers, you can upgrade your equipment which makes the levels slightly easier to play. Once you've upgraded every piece of equipment 3 times, you open up a new restaurant on a cruise ship where you sell burgers and fish.
The levels change each time so keep an eye on what you need to achieve. In some levels, you need to serve enough customers to fill up the points bar in a limited amount of time. In others, you have to serve customers without making any mistakes like burning the food.
Graphics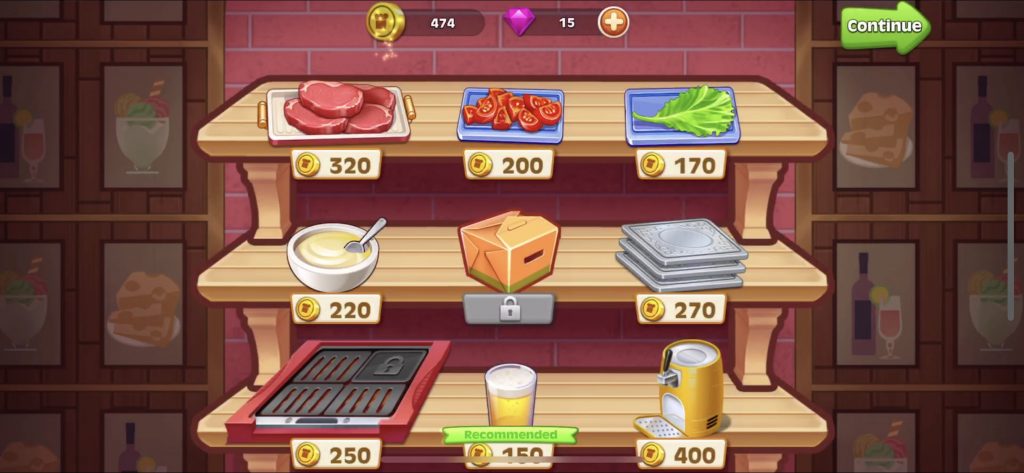 The graphics, in my opinion, were nothing new in comparison to other restaurant games I've played before. The layout is exactly the same, with you being behind the counter, and the customers hopping along from the sidelines giving you long-winded orders.
Music & Sounds
The music and sounds in Cooking Madness – Kitchen Frenzy become repetitive and annoying the longer you play the game. Especially as most of the characters say "mmm" every time you serve them. Please, WANDA WANG, add more sounds to your game!
Controls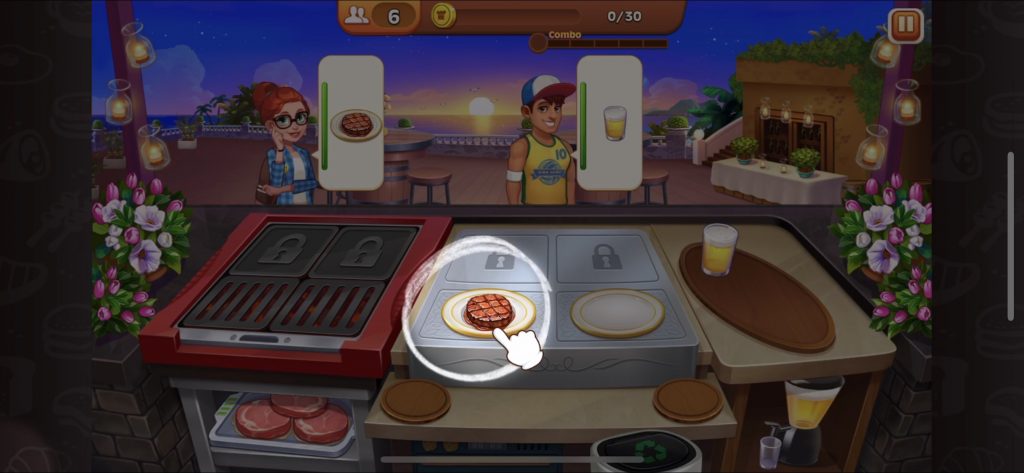 The controls are simple. When a customer orders a steak, place the meat on the fryer, wait for it to fry and serve with the correct sides. All you need to do is tap the items you need in order to satisfy their needs.
The Power of in-app Purchases
Bundles
Yummy Sundae Bundle for £1.99
Elegant Champagne Bundle for £6.99
Sweet Berry Bundle for £14.99
Refreshing Smoothie Bundle for £33.99
Super Ice Cream Bundle for £59.99
Boosters
Super Cooker for 100 diamonds
Double Profit for 100 diamonds
Instant Cook for 100 diamonds
Add More Customers for 200 diamonds
Add More Time for 200 diamonds
Pudding for 75 diamonds
Diamonds
100 diamonds for £0.99
600 diamonds for £4.99
1,300 diamonds for £9.99
3,400 diamonds for £23.99
7,000 diamonds for £48.99
14,400 diamonds for £99.99
Get more energy
To get more energy you can ask your friends, refill your energy for 100 diamonds or buy unlimited energy for an hour for £0.99 reduced from £1.98.
The Verdict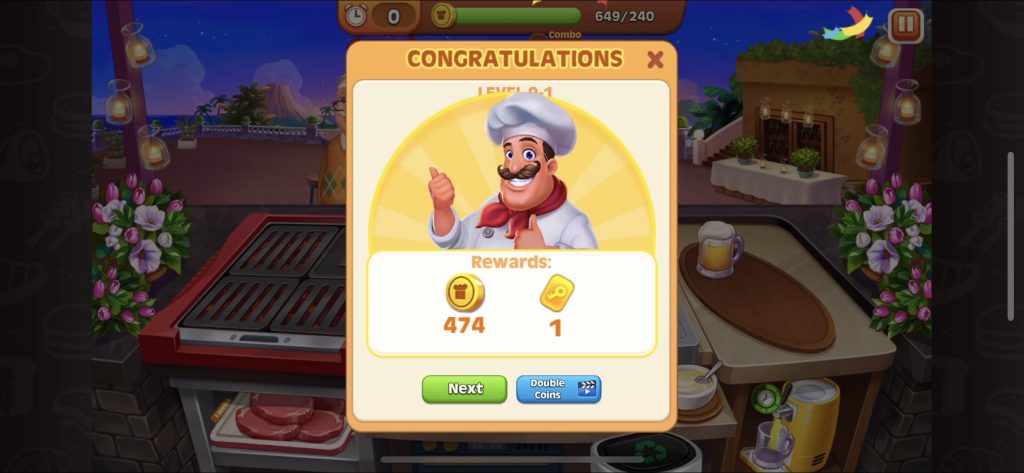 As I'm an absolute sucker for cooking/restaurant games, I really enjoyed Cooking Madness – Kitchen Frenzy and found it to be fun, addicting and challenging. The only things I would change are the sounds, and how many characters there are – the same 5 characters come to the restaurant. I want a range!
If you decide to download Cooking Madness – Kitchen Frenzy, let us know what you think and if you agree or disagree with the things we said. Happy gaming and stay casual!
Cooking Madness – Kitchen Frenzy Overall Rating: 4/5
iOS Link: https://apps.apple.com/gb/app/cooking-madness-kitchen-frenzy/id1323901884
Android Link: https://play.google.com/store/apps/details?id=com.biglime.cookingmadness&hl=en_GB
Company: Zenlife Games Pte. Ltd.
Genre: Strategy
Rated: 4+
Offers in-app Purchases
About Post Author