Cooking Craze Review!
"Join the Cooking Craze! Prep, cook, and serve tasty food to earn achievements while you expand your culinary skills and grow a restaurant empire across the globe.
Play this fast & fun cooking game anywhere, anytime, no internet needed after the initial install. Simply download the restaurant content and start cooking! 
Cooking fast is fun! Cooking Craze, the popular cooking game from Big Fish Games, combines a simple tap and play mechanic with exotic cuisine from over 15 cities around the globe. Master new recipes, play in limited time food challenges and special events."
Cooking Craze Links:
Company: Big Fish Games
Genre: Strategy
Rated: 4+
Offers in-app Purchases
Cooking Craze is a game I've known about for a while now. My mother plays it and it's constantly being featured on the app store so I thought I'd see what the fuss is about. Who's hungry?
Gameplay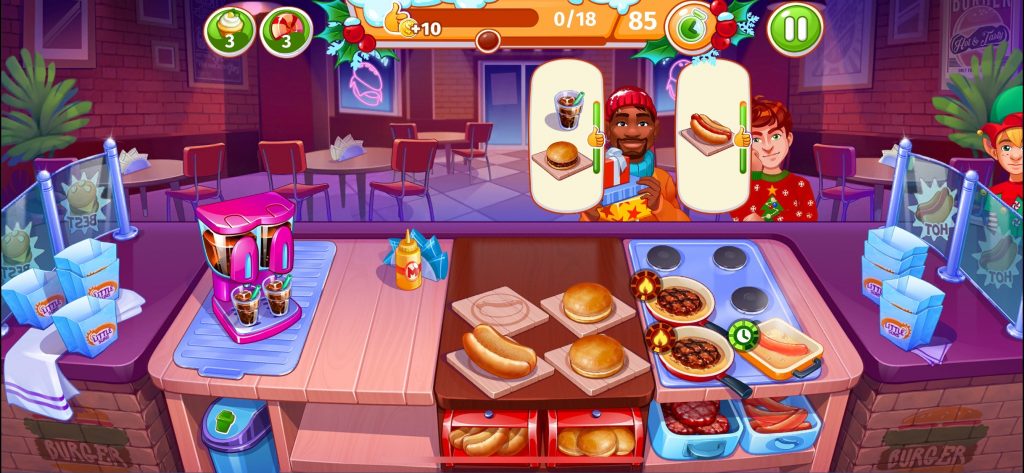 When I first entered the game, I was taken through a tutorial which made Cooking Craze seem pretty straightforward. You own a donut stand and your job is to serve the demanding customers as quickly as you can.
Like most games, the first few levels were insultingly easy. They make you think the game is super easy so it sucks you in and keeps you playing for longer. However, it gets harder. Much harder. After a while, you find yourself getting overwhelmed by the number of orders you're getting and wondering how you're possibly going to satisfy all of your customers before they get bored and walk away.
I decided to take the approach of preparing the food as the customers ordered – which was the wrong decision. When I did this, I wasn't keeping up with orders and the customers were getting angry. I then decided to make all the donuts in advance and waited for the customers to appear. This way, I was able to get through the levels much quicker and earn more points. Hoorah!
Once you get through 10 levels, you're taken to a next stage where you own a completely different business. This time, you work at a restaurant serving burgers and cokes. The same roles apply, the food just changes and I like this because I think after a while I'd get bored with donuts.
Graphics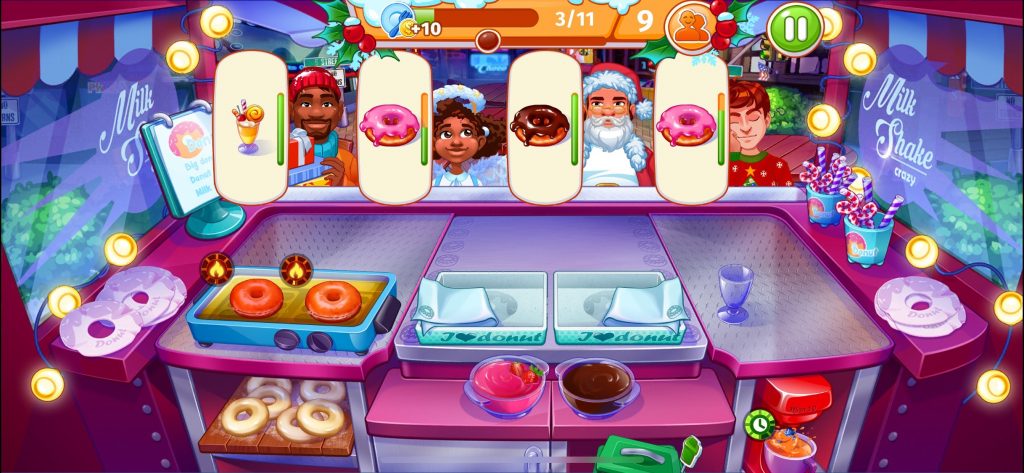 I feel like the graphics for Cooking Craze compliments the gameplay completely. When you complete an order, your customers get happy and if they're left waiting they start to become angry. You can soften them up with a cupcake but don't let them walk away. The characters are themed, at the moment it's Christmas themed so there are characters with presents, snowmen, and even Santa himself. There is a timer on the things you make and your food will start to burn if you leave them too long, this will mean they have to go in the trash.
Music
Cooking Craze has a catchy soundtrack that definitely adds value to the game and keeps it alive. None of the characters talk, nor does the chef that helps you through the game. I personally think some kind of dialogue would really add to Cooking Craze's authenticity – but maybe it was too expensive for them. Who knows.
Overall, the music isn't annoying so that's a plus.
Controls
Cooking Craze is a tapping game. When you get an order, you need to tap on the correct ingredients to satisfy your customer to the best of your ability. Make sure to be quick, otherwise, you'll have to feed them a cupcake and you only have a limited amount. The controls are definitely not difficult, but you have to be quick and think on your feet to meet the requirements of all the orders you receive.
The Power of in-app Purchases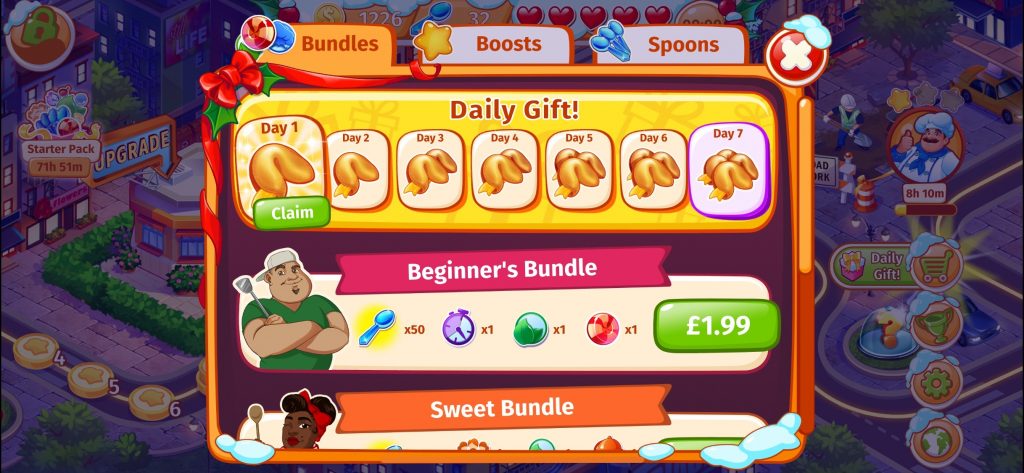 Cooking Craze doesn't have any out-of-the-ordinary in-app purchases. The store is split into 3 sections; Bundles, Boosts, and Spoons.
Bundles
Beginner's Bundle – £1.99
Sweet Bundle – £6.99
Savory Bundle – £12.99
Spicy Bundle – £33.99
Boosts
Buy 3 extra customers for 100 spoons
3 30 extra seconds for 100 spoons
 3-second chances for 100 spoons
Spoons
Spoons can be used if you run out of coins.
50 spoons for £0.99
300 spoons for £4.99
650 spoons and unlimited lives for 30 mins for £9.99
1700 spoons and unlimited lives for one hour for £23.99
3500 spoons and unlimited lives for one hour for £48.99
7200 spoons and unlimited lives for two hours for £99.99
The verdict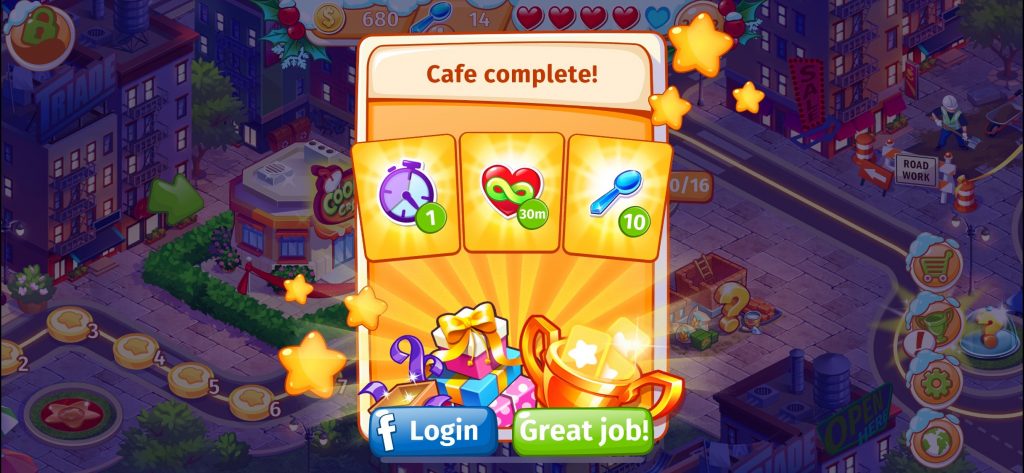 I found Cooking Craze to be an overall pleasant game that quickly became addictive. This game stands out more compared to the other similar games as the controls are much easier to use.
Restaurant games are some of my favorites to play as they keep my mind moving and this is definitely a game where you need to think on your feet and use your fingers quickly.
Although you have lives in Cooking Craze, if you're good enough at it, the lives won't run out and you'll be able to play for quite a while! If you're not good at the game, you will run out of lives quickly and the gameplay will be short.
This is the perfect game to challenge your friends to as you can log in with Facebook and see how everyone else is doing. It becomes pretty competitive!
If you decide to download Cooking Craze, let us know if you agree or disagree with any of the things we said. Happy gaming!
Cooking Craze Overall Rating: 3/5
Company: Big Fish Games
Genre: Strategy
Rated: 4+
Offers in-app Purchases
About Post Author