Cookie Run: OvenBreak Review!
"Bake no prisoners!
Help GingerBrave and his Cookie friends break out of the Witch's oven!
Explore the wicked lands of the tasty Cookie World in this endless runner!"
Cookie Run: OvenBreak Links:
iOS Link: https://itunes.apple.com/gb/app/cookie-run-ovenbreak/id963067330?mt=8
Android Link: https://play.google.com/store/apps/details?id=com.devsisters.gb&hl=en
Company: Devsisters
Genre: Arcade
Rated: 4+
Offers in-app Purchases
Gameplay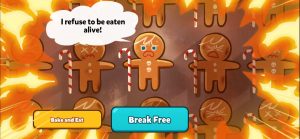 When you first enter the game, you're a gingerbread man that decides that he doesn't want to be cooked alive and escapes the oven. On his escape, you need to make sure that he jumps over and slides under obstacles to ensure he doesn't lose energy or die. You also need to collect bear jellies and jellies, these give you points at the end of the game.
I didn't win the tutorial level, but I don't think you were supposed to. Once you die, you're taken to the menu where another gingerbread, Cherry Cookie, is in danger and you need to save her. Once you've saved her, she wants to run but you can't run without a pet. To buy a pet, I needed 66,000 coins but I didn't have enough. Cherry Cookie offered to pay and asked how much I needed with the option of giving me 66,000 coins or 99,000. I lied and said I needed 99,000 obviously and she happily handed it over.
Graphics
Cookie Run: OvenBreak has clear and colorful 2D graphics paired with an attractive and consistent User Interface that promotes gameplay. There is a bit too much going on at times that you forget to keep up with your health, obstacles, coins, powerups and side events.
Music
The music is fun, yet a little bit annoying. But weirdly enough, it fits with the game and doesn't drive me completely insane. It's definitely not a game you're going to play for its soundtrack but it flows very nicely with the gameplay. However, it doesn't change the game at all.
Controls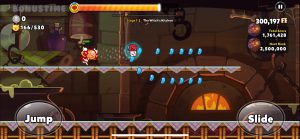 You have a 'Jump' button at the bottom of the left-hand side of the screen and a 'Slide' button at the bottom of the right-hand side of the screen.
They're simple, I mean there are two buttons. The only thing is that I kept getting confused over which button did what. I kept pressing the jump button for sliding and the slide button for jumping. But after a few games, I got used to it and got the hang of how to play the game.
The Power of in-app Purchases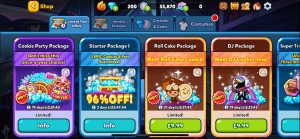 Cookie Run is a free game, however, there is a premium currency that allows you to buy costumes and power-ups. There's a lot to purchase and it's quite overwhelming if you're new to the game.
You can purchase limited time offers, monthly packages, crystals & coins by themselves and costumes.
Roll Cake Package – Meet Roll Cake Cookie for £9.99
DJ Package – Meet DJ Cookie for £9.99
Millennial Tree Package – Meet Millennial Tree Cookie for £28.99
Affection Booster Package – Boost Affection with your Cookies for £4.99
30-day Package – 10,000 crystals total for £9.99
30-day Super Package – abundant daily rewards for £28.99
100 crystals for £0.99
550 crystals for £4.99
1,200 crystals for £9.99
2,500 crystals for £19.99
14,000 crystals for £99.99
50,000 coins for 100 crystals
300,000 coins for 500 crystals
2,000,000 coins for 3,000 crystals
Angel Jelly Walker costume for 1,280 rainbow cubes
Mint Choco Cookie's Mysterious Virtuoso for 990 rainbow cubes
Ninja Cookie's Mummy for 660 rainbow cubes
Rockstar Cookie's Future Rockstar for 490 rainbow cubes
There is A LOT more to buy in the shop, however, this is just the basis of what you can buy. I've noticed that Cookie Run: OverBreak is pretty generous when it comes to free gifts. For example, I was given 200 crystals just for downloading the game. And as you can see, I can get 100,000 coins for that. Pretty good deal.
I do think you can get through the game without making a purchase with your real money, however, it would definitely make getting to the end quicker. And if you're impatient, it's recommended.
The verdict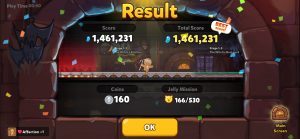 Cookie Run: OvenBreak is a really fun game to play and I love the play on words with Prison Break. The graphics are colorful and vibrant, the music is upbeat and repetitive, the controls are simple. Everything seems to be in check.
What I notice a lot with app games is that they really try to push you to purchase from their store which is understandable. However, CookieRun: Ovenbreak is very generous with giving items away for free and doesn't try to force you to purchase something. Although it's clear that there is a store.
This game is perfect for older children as it's fun and fast-paced. I don't really understand why the app store claims this game is a 4+ when Cookie Run: OvenBreak makes you confirm you're over 16 before you enter.
In conclusion, I recommend Cookie Run: OvenBreak. If you decide to play this game, let us know what you thought and if you agree with anything we said. Happy gaming!
Cookie Run: OvenBreak Overall Rating: 4/5
iOS Link: https://itunes.apple.com/gb/app/cookie-run-ovenbreak/id963067330?mt=8
Android Link: https://play.google.com/store/apps/details?id=com.devsisters.gb&hl=en
About Post Author