Cookie Run: Kingdom Review!
"Build your dream Cookie Kingdom and reclaim against the evil that lingers in the shadows in Cookie Run: Kingdom. Fresh out of the oven and from the Cookie Run: OvenBreak creators comes Cookie Run: Kingdom! Build a delectable Kingdom while battling against evil dessert monsters!
Team up with GingerBrave and Cookie friends, some new and some familiar. Together, in this sweet fantasy adventure RPG, uncover the story of the Kingdom's past and defeat the darkness that stands between you and your Kingdom.
Rebuild overgrown ruins and customize your Kingdom with unique decorations and exciting buildings. Team up with your Cookie friends to collect resources for your Kingdom and craft special tools and delicious treats!
Fight in epic RPG-style battles. Unlock new battle levels and discover secrets of the Cookie universe. Take on the Cake Monsters or battle against other Cookies in PVP mode. Tap into each Cookie's unique skills and unleash the perfect balance of power!"
iOS Link: https://apps.apple.com/us/app/cookie-run-kingdom/id1509450845
Android Link: https://play.google.com/store/apps/details?id=com.devsisters.ck&hl=en_GB&gl=US
Company: Devsisters
Genre: RPG
Rated: 12+
Offers in-app Purchases
Gameplay
The main idea of the game is to fight in battles and grow your kingdom. Growing your kingdom is super important as it's where your Cookies hang out and is something you need to use to create more resources and develop the area. You'll also need to assign Cookies to certain roles to create new resources. On top of this, developing your kingdom unlocks more stuff to do so make sure you're constantly updating it. This game has a lot of content to unlock!
As for the battles, you have to set up your own fighting squad and make sure they're upgraded as much as possible. There are auto features that I personally don't like but good for anyone who's not great at strategic playing. However, I feel like it takes the fun out of it.
The gameplay is completely different from Cookie Run: OvenBreak so you could definitely play both.
Graphics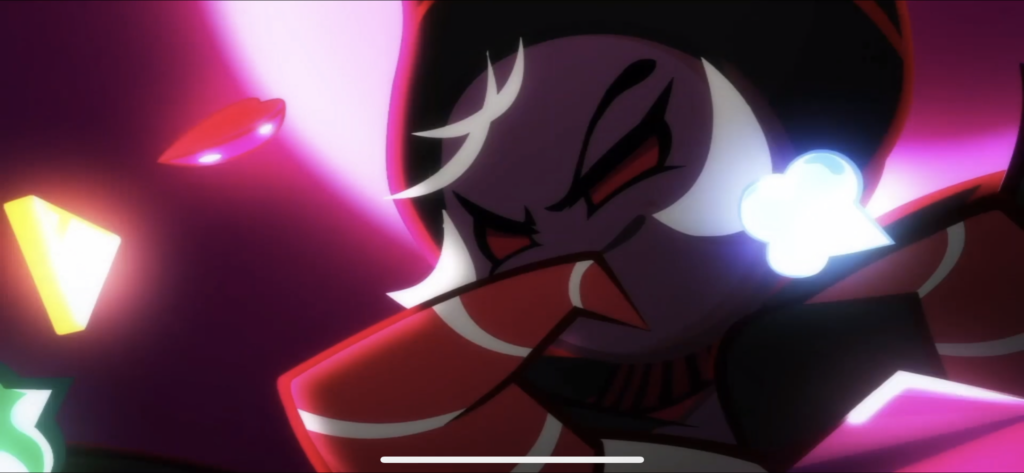 Cookie Run: Kingdom has a lot of cut scenes so it's great to play visually and adds a whole lot of substance to the story. I was happy with how everything looked and found the Cookie characters adorable!
Music & Sounds
The audio fits with the gameplay fine, I just found it to be pretty overwhelming, loud, and repetitive. It's not for me but I can see why others might like it.
Controls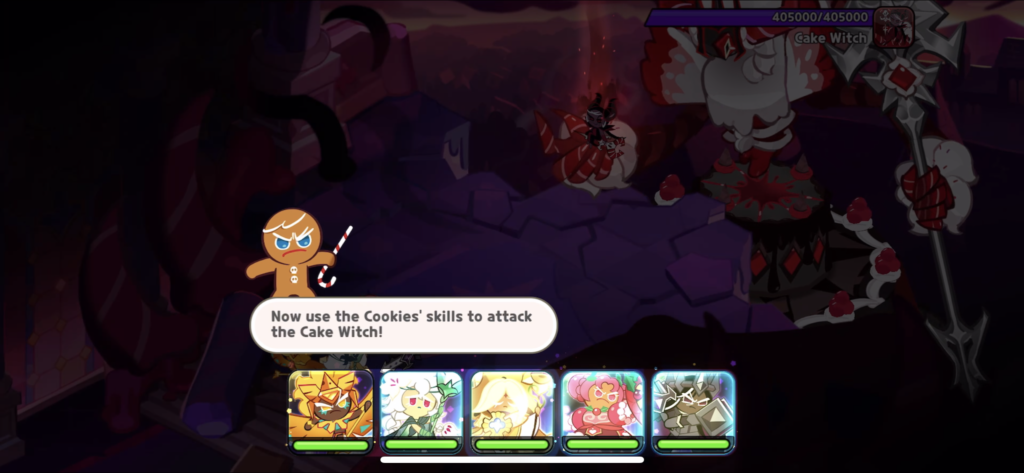 At the bottom of the screen, there are attack buttons that you have to learn to strategically press in order to kill the enemies that get in your way. It's a fairly simple system without too many complications.
The Power of in-app Purchases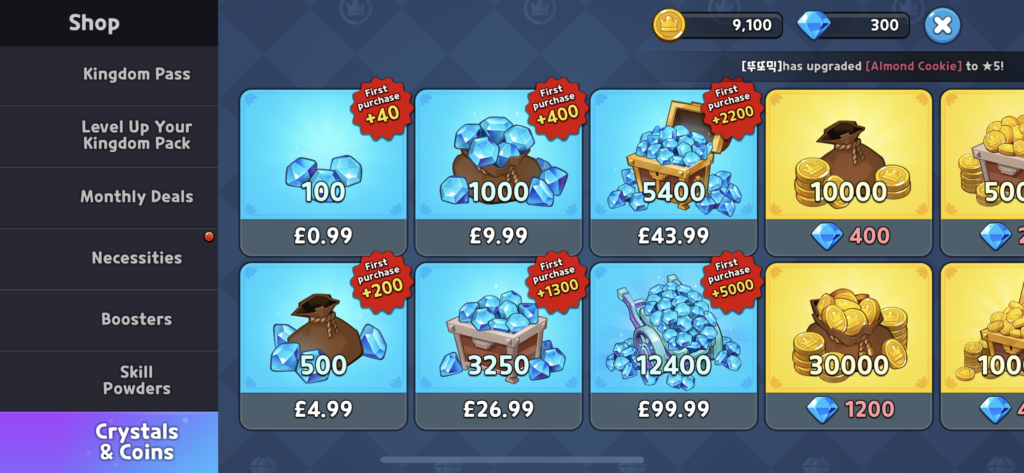 Kingdom Pass
Activate the kingdom pass to gain access to exclusive landmarks and rewards for £4.99
Monthly Deals
Basic: 100 Crystals daily for 30 days – £4.99
Premium: 300 Crystals daily for 30 days – £14.99
Necessities
Pastry Cookie's Clandestine Rendezvous Package for £19.99
12,000 Crystals for £26.99
Sugar Gnome's Hut Package for £19.99
Adventurer's Stamina Jelly Package for £2.99
Gladiator's Arena Ticket Package for £3.99
Architect's Dream Package for £4.99
Ultimate Goods Package for £42.99
Boosters
Starter Package for £6.99
Cookie Upgrade for £9.99
Sweet Package for £4.99
Topping Upgrade Package for £9.99
Skill Powders
All-in-one Skill Powders for £12.99
Charge for £20.49
Defense for £20.49
Magic for £20.49
Ambush for £20.49
Healing for £20.49
Ranged for £20.49
Bomber for £20.49
Support for £20.49
Crystals & Coins
100 crystals for £0.99
500 crystals for £4.99
1000 crystals for £9.99
3250 crystals for £26.99
5400 crystals for £43.99
12400 crystals for £9.99
10000 coins for 400 crystals
30000 coins for 1200 crystals
50000 coins for 2000 crystals
100000 coins for 4000 crystals
The Verdict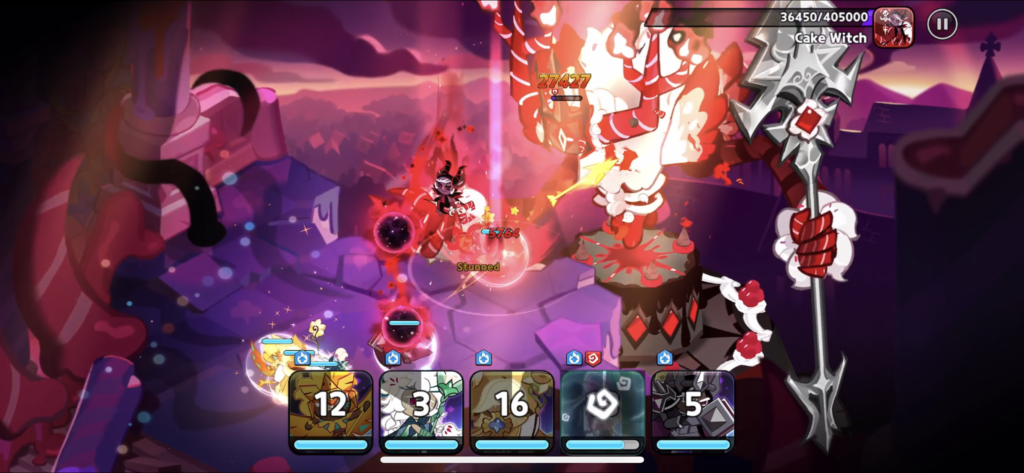 Cookie Run: Kingdom is a game definitely worth the download as there's a lot of content to consume, it's hard to get bored. Personally, I preferred this to Cookie Run: OvenBreak as I feel like it has a lot more to it.
If you decide to download Cookie Run: Kingdom, let us know what you think and if you agree or disagree with any of the things we said. Happy gaming and stay casual!
Cookie Run: Kingdom Overall Rating: 4/5
iOS Link: https://apps.apple.com/us/app/cookie-run-kingdom/id1509450845
Android Link: https://play.google.com/store/apps/details?id=com.devsisters.ck&hl=en_GB&gl=US
Company: Devsisters
Genre: RPG
Rated: 12+
Offers in-app Purchases
About Post Author