Coin Master Review!
"Join your Facebook friends and millions of players around the world, in attacks, spins and raids, to build your Viking village to the top! Do you have what it takes to be the next Coin Master?
** Spin to earn your loot **
Spin the wheel to fall on your fortune, be it attack time, loot, shields or raids. Win your loot and build strong villages in the game and move up towards higher levels. Win shields to guard your village from other Vikings trying to attack you. Become the Coin Master with the strongest village and the most loot!
** Attack and Raid fellow Vikings! **
Attack or raid friends and foes to save enough loot to build your village. Fight back and come out victorious against your enemies. Take revenge on those who have attacked your village and take what's rightfully yours!
** Collect all the Cards! **
Collect cards to complete sets and move onto the next village. With every village you conquer, your wins will be greater.
** Play with friends! **
Trade your cards with our online community to collect them all! Join our fast-growing interactive Facebook community to meet new Viking friends, earn big rewards, and trade treasures!"
iOS Link: https://apps.apple.com/gb/app/coin-master/id406889139
Android Link: https://play.google.com/store/apps/details?id=com.moonactive.coinmaster&hl=en_GB
Company: Moon Active
Genre: Adventure
Rated: 17+
Offers in-app Purchases
Gameplay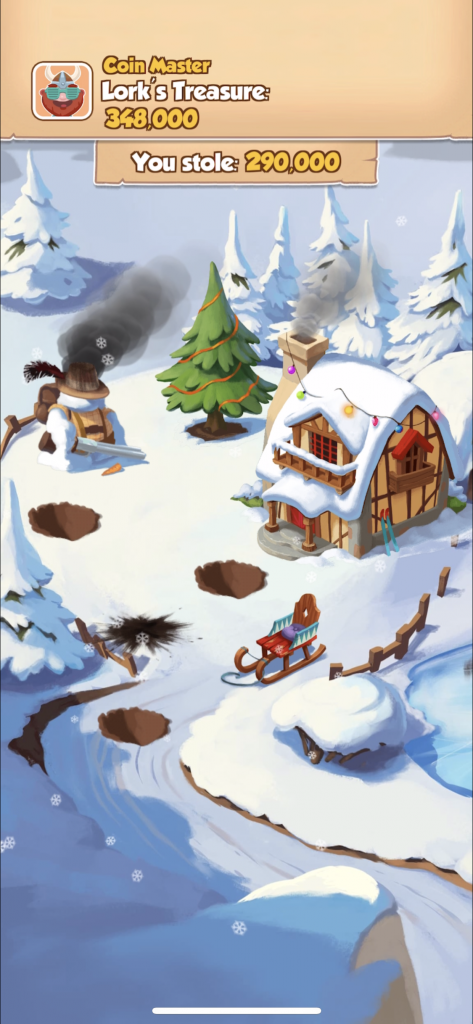 Coin Master isn't new to the app store, but it's come back to the top charts. We think it's probably something to do with the lockdown, so we thought we'd give it a review so you don't waste your time if it's bad!
The gameplay is a pretty simple concept and can be quite a quick experience unless you make an in-app purchase, but we'll go more into that later…
In Coin Master, you have your own island that you need to build and protect from attacks. To do this, you need coins and to get coins you use a slot machine that'll give you random results every time – just like the real thing. Every day you get 50 spins but you can also purchase them from the store which I recommend as it can become a real brief game if not.
My favorite part is connecting to Facebook and being able to blow up my friend's islands and steal coins from them. It becomes very competitive!
Graphics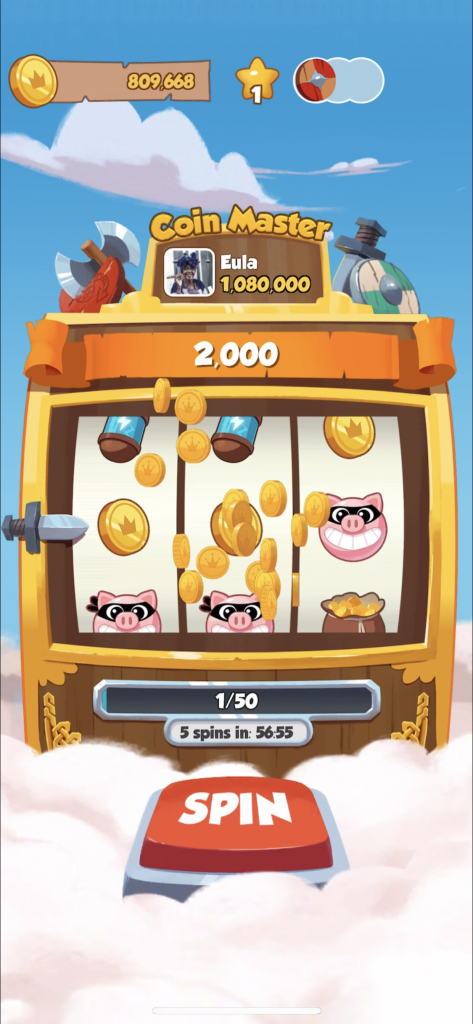 The graphics visually are not too bad. They're colorful, bright, and have cool icons on the slot machine that change when you change islands. However, the game lagged a lot and it was frustrating me to the point where I didn't want to play anymore. I thought it might've been my wifi but it wasn't as I disconnected from it and I was still having the same problems.
Music & Sounds
The music and sounds were not something I enjoyed or found added much to the gameplay. They're quite irritating after a while and to put it bluntly; basic. You could play Coin master without the sounds and you'd still have a good time!
Controls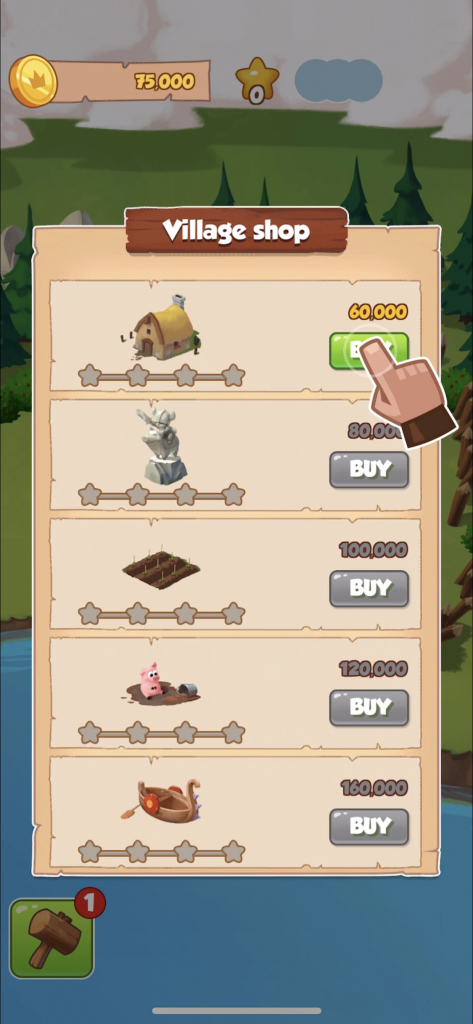 You're gonna need to get your finger tapping for Coin Master because that's all there is to it. In fact, you can even tap auto spin on the slot machine if you really can't be bothered!
The Power of in-app Purchases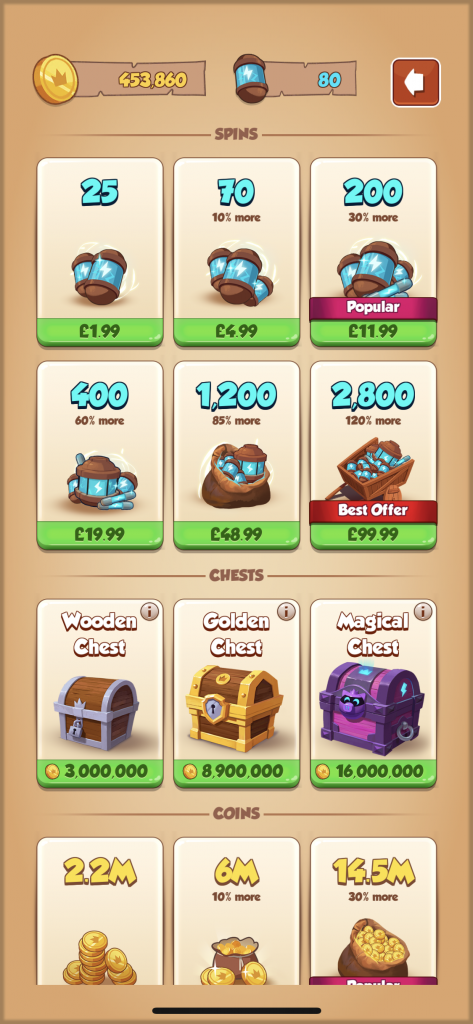 As I mentioned previously, this game is very quick unless you're lucky enough to earn lots of energy through spins. If you're not so lucky, it's definitely worth purchasing some energy to have a game longer than 5 minutes. However, I don't see any advantages of purchasing coins as they're easy to earn through spins.
Energy
25 energy for £1.99
70 energy for £4.99
200 energy for £11.99
400 energy for £19.99
1200 energy for £48.99
2800 energy for £99.99
Coins
450k coins for £1.99
1.2m coins for £4.99
3m coins for £9.99
7.5m coins for £19.99
22.5m coins for £48.99
55m coins for £99.99
The Verdict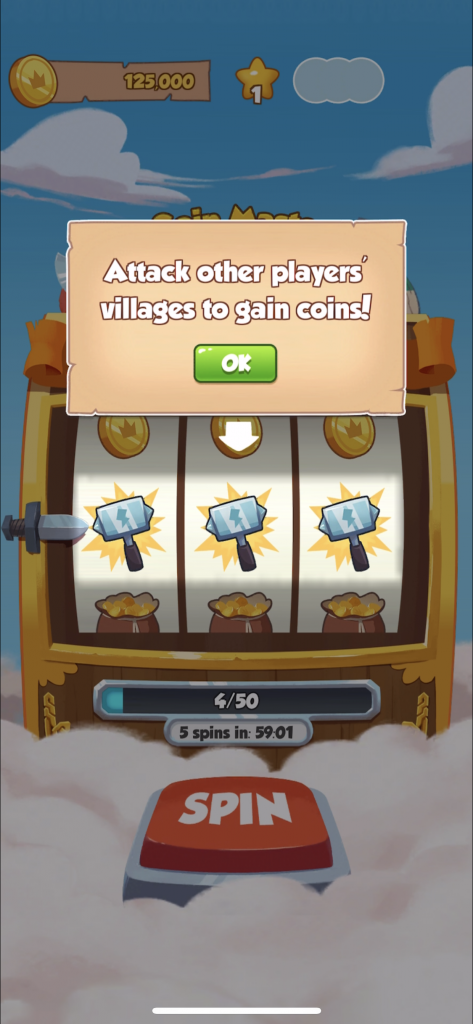 Coin Master is the perfect game if you want something you only have to commit to for a few minutes. If not, you can always purchase energy from the store for a reasonable price so you can mix up how long the gaming sessions are!
I loved this game and would definitely play it again, however, I don't see it staying on my phone constantly. It seems that it might become one of those games where I have phases of whether I like it or not.
If you decide to download Coin Master, let us know what you think and if you agree or disagree with any of the things we said. Happy gaming and stay casual!
Coin Master Overall Rating: 3/5
iOS Link: https://apps.apple.com/gb/app/coin-master/id406889139
Android Link: https://play.google.com/store/apps/details?id=com.moonactive.coinmaster&hl=en_GB
Company: Moon Active
Genre: Adventure
Rated: 17+
Offers in-app Purchases
About Post Author