Clash Royale Review!
"Enter the Arena! From the creators of Clash of Clans comes a real-time multiplayer game starring the Royales, your favorite Clash characters and much, much more. Collect and upgrade dozens of cards featuring the Clash of Clans troops, spell, and defenses you know and love, as well as the Royales: Princes, Knights, Baby Dragons and more. Knock the enemy King and Princesses from their towers to defeat your opponents and win Trophies, Crowns and glory in the Arena. Form a Clan to share cards and build your very own battle community. Lead the Clash Royale Family to victory!" 
Clash Royale Links:
iOS Link: https://itunes.apple.com/gb/app/clash-royale/id1053012308?mt=8
Android Link: https://play.google.com/store/apps/details?id=com.supercell.clashroyale&hl=en_GB
Company: Supercell
Genre: Real-time Strategy
Rated: 9+
Offers in-app Purchases
Gameplay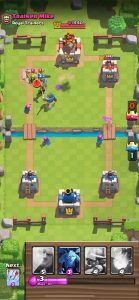 Clash Royale is a freemium card game. You are given a fantasy set of troops (air, ground, special) which you place into your arena and fight in a timed battle against your enemy who has a similar but not identical set of troops. Once you place your troops onto the board, they will make their way to and attack the enemies towers to destroy them. That's the aim of the game. If you draw, you go into golden goal territory (next tower wins). Lose, and well, you lose.
Graphics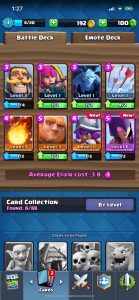 The graphics for Clash Royale aren't terrible, however, the whole setup is very basic but it doesn't exactly have complicated gameplay either. If there's one thing I like about app games is simplicity, the power to make something amazing and not have 10000 buttons all over the screen – it can become overwhelming. Clash Royale has hit the nail on the head with a game that looks simple, is simple to play, and you don't really need to give it much thought.
Music
Honestly, the music is annoying and childish. I don't think it suits the game at all, and it was hard for me to not put it on mute after 5 minutes. But I hung in there and muted it after 6 minutes. I'm so strong. If you can get past the music, you're a trooper.
On top of the annoying music, the sounds that the troops make are even more annoying. They just repeat the same phrase over and over again. Just play it in silence if you can!
Controls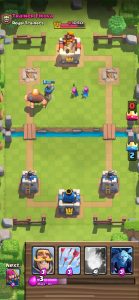 This is one of your traditional tap and drag games. All you need to do is tap and drag your chosen card to a smart place on the board. The reason I say smart is because you will need to be able to protect your tower at the same time as trying to destroy your enemy's. It can get quite overwhelming at some points, so it's important to keep track of how your towers are coping and if you need to play more cards.
The Power of in-app Purchases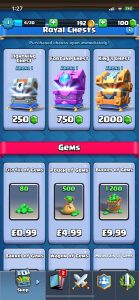 You can play for free forever, however, it comes at a cost as you will lose matches and will struggle to get anywhere unless you pay with your real money. But if you just enjoy the concept of the game and aren't really fussed about whether you win or not, then go ahead. But I really doubt that's the case.
In the store, you can purchase chests, gems, and gold. Each of these plays a big part in getting anywhere in the game. But if you're wanting to get a deal on some good boosts, it's probably best to purchase a chest. The only problem with a chest is that you never know what you're getting. It'll tell you if there are cards, gold etc but you won't know the exact contents. And I think that's fun.
Overview of what you can get in the store:
Daily deals – changes every day
80 gems for £0.99
1200 gems for £9.99
6500 gems for £48.99
1000 gold for 60 gems
10000 gold for 500 gems
100000 gold for 4500 gems
Lightning chest –  250 gems
Fortune chest – 750 gems
King's chest – 2000 gems
The Verdict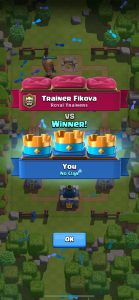 When it comes to games that are super popular, you expect them to be amazing. But no. Clash Royale was disappointing if I'm honest. I like the idea of it and I can understand how it can become addictive to a young child, but I just found it repetitive.
It also came apparent to me that when the game finds you a component to play with, sometimes you can be matched with someone a lot more skilled than you and it makes the game completely unfair. I was barely 10 minutes into having Clash Royale downloaded and I was being thrashed by people who had been playing the games for months. Maybe years.
If you're looking for a quick game to play, give this a go. But I wouldn't expect anything long term unless you're willing to pay your hard earned money!
Clash Royale Overall Rating: 3/5
iOS Link: https://itunes.apple.com/gb/app/clash-royale/id1053012308?mt=8
Android Link: https://play.google.com/store/apps/details?id=com.supercell.clashroyale&hl=en_GB
About Post Author