Brawl Stars! Review!
"Fast-paced multiplayer battles from the makers of Clash of Clans, Clash Royale and Boom Beach.
Battle with friends or solo across a variety of game modes in under three minutes. Unlock and upgrade dozens of Brawlers with powerful super abilities. Purchase and collect unique skins to stand out and show off in the arena. Join or start a band to share tactics and fight together. 
Features:
– Team up for real-time 3v3 battles against players from across the world
– A fast-paced multiplayer battle royale mode made for mobile
– Unlock and collect new, powerful Brawlers – each with a signature attack and SUPER ability
– New events and game modes daily
– Battle solo or co-op
– Climb to the top of the leaderboards in global and local rankings 
– Join or start your own Club with fellow players to share tips and battle together
– Customize Brawlers with unlockable skins
– Player-designed maps offer challenging new terrain to master"
Brawl Stars! Links:
iOS Link: https://itunes.apple.com/ca/app/brawl-stars/id1229016807?mt=8
Android Link: https://play.google.com/store/apps/details?id=com.supercell.brawlstars&hl=en_GB
Company: Supercell
Rated: 9+
Offers in-app Purchases
Hey, Casual Gamers! Today, we're going to review a game that was featured as the Editors' Choice on the app store. It's Brawl Stars and it's an action game from the makers of Clash of Clans, Clash Royale and Boom Beach. Let's dissect this game then…
Gameplay
In the beginning, you start out with only one character and her name is Shelly – she has a shotgun. It's your job to collect gems and shoot down enemies as quick as possible, with the help with your teammates. Who are real people by the way. Brawl Stars has an auto-aim system which allows you to shoot at the nearest enemy without doing much. However, sometimes the auto-aim for some brawlers will often miss a lot so it's probably better to aim and shoot by hand instead.
Your character has an HP bar and 3 sections of the orange bar which every attack will take away a single bar and once it's empty, you have to wait until the orange bar is full again. So use your attacks wisely. For every attack that is successful, you will gain a small amount of charge to your super ability – once this is full, you can tap it to unleash your character's super ability.
Graphics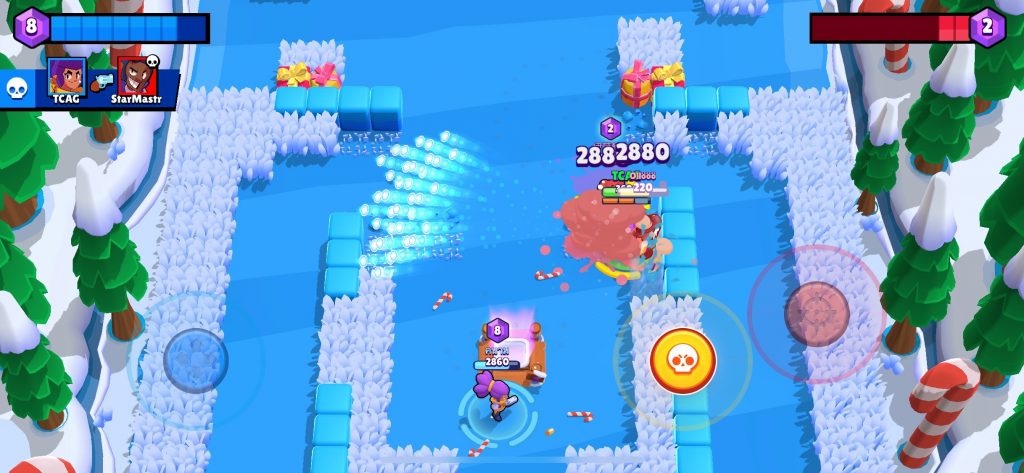 In Brawl Stars, everything is viewed from a bird's eye view. It definitely makes it easier to see absolutely everything that's going on, although I think it would be cool to see things from the characters point of view. But I guess that would cost more money as Supercell would have to pay more attention to detail in the characters.
Music
When you're on the menu, you're presented with your character, and she says "Let's go get him" which I think is a really cool feature. It's not often that app game characters actually talk. The music on the menu is a little bit annoying, though and extremely repetitive. However, once you enter the game, the music is toned down a little bit and there are extra sounds. The sounds range from being hit, to hitting someone else etc. You know the drill.
Controls
There are a few different controls in Brawl Stars but luckily there's a tutorial at the beginning that breaks them down for you. So the two different modes of controls are a joystick to move and tap to move. The joystick is made for larger phones like the iPhone 7 Plus and above, whereas tapping is made for smaller phones. Both work just as well, but I would recommend trying out both to see which one makes your gameplay that little bit easier. I personally like the joystick mode as I have a larger phone. However, the tap to move does give you more space on the bottom left side of your screen where your thumb would be on the joystick. They both have their advantages and disadvantages, really.
The Power of in-app Purchases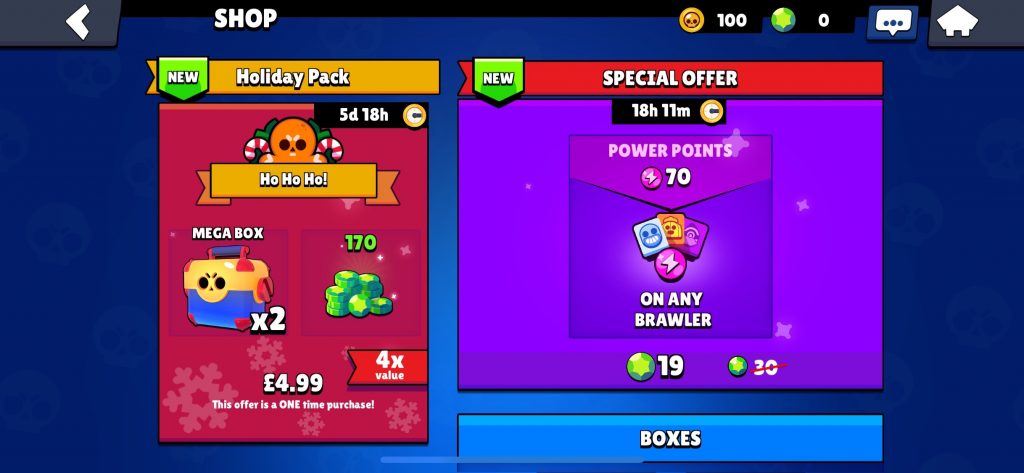 The shop is split into 3 sections the special offer, boxes, and gems. Of course, gems are involved.
The special offer for today is 70 power points on any brawler for 19 gems instead of 30. There is also a holiday pack which includes two Mega Boxes and 170 gems for £4.99.
Boxes
Big Box for 30 gems
Mega Box for 80 gems
Gem Packs
30 gems for £1.99
80 gems for £4.99
170 gems for £9.99
360 gems for £19.99
950 gems for £48.99
2000 gems for £99.99
The verdict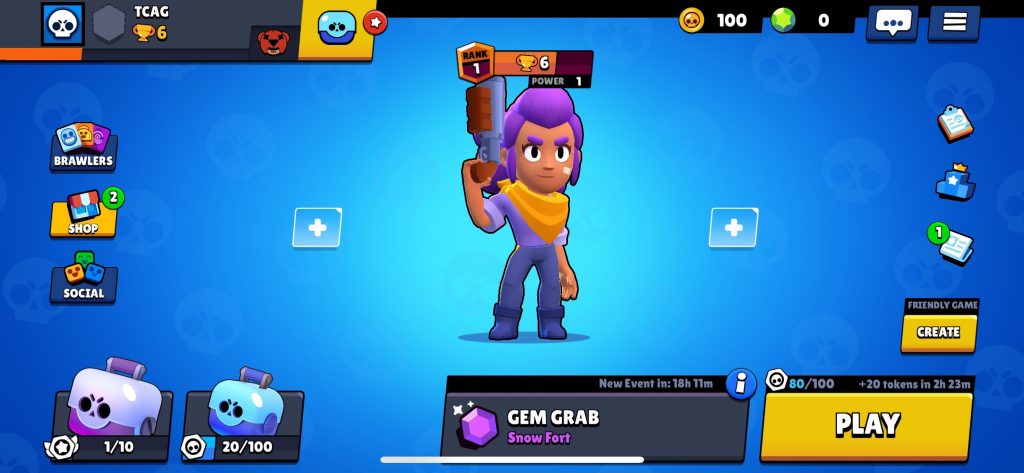 In conclusion, I liked Brawl Stars a lot and I feel like it was very different to SuperCell's other games like Clash of Clans, which I personally didn't enjoy. I really enjoyed the controls as they were a little more complex and the graphics are superb. I am also really into multiplayer games – I just find it really cool being able to share a gaming experience with people all over the world.
If you decide to download Brawl Stars, let us know what you think and if you agree or disagree with any of the things we said. Happy gaming!
Brawl Stars! Overall Rating: 3/5
iOS Link: https://itunes.apple.com/ca/app/brawl-stars/id1229016807?mt=8
Android Link: https://play.google.com/store/apps/details?id=com.supercell.brawlstars&hl=en_GB
Company: Supercell
Genre: Action
Rated: 9+
Offers in-app Purchases
About Post Author