Brain Test: Tricky Puzzles Review!
"Brain Test is an addictive free tricky puzzle game with a series of tricky brain teasers. Different riddles testing will challenge your mind. This new puzzle game may break common sense and bring your new brain-pushing experience! You can enjoy yourself with your friends with this addictive and funny free IQ game. Get ready to take the quiz!
If you are a fan of word game, word search game, puzzle, sudoku or any other quiz games, Brain Test is your best choice!
Features:
Tricky & Mind-blowing Brain Teasers: You will be tricked!
Unexpected game answers to the great number of quizzes.
Fun for All Ages: The best trivia game for family & friends' gatherings!
Download this funny game for free.
Endless fun and brain-pushing games.
Great exercise for the brain.
Simple and highly addictive gameplay.
Great time filler.
Play without the internet.
Play offline."
iOS Link: https://apps.apple.com/gb/app/brain-test-tricky-puzzles/id1486214495
Android Link: https://play.google.com/store/apps/details?id=com.unicostudio.braintest&hl=en_GB
Company: Unico Studio LLC
Genre: Puzzle
Rated: 4+
Offers in-app Purchases
Gameplay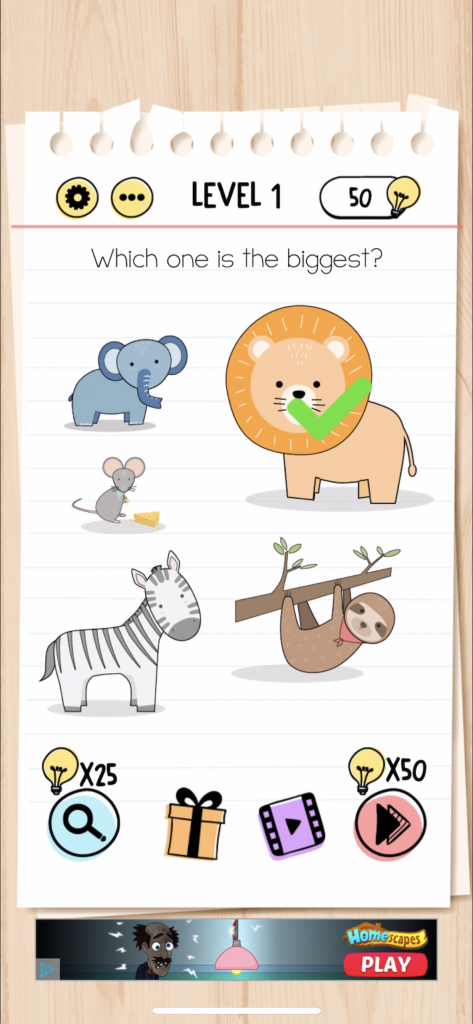 As you enter the game, you're thrown straight into it where you're given your first puzzle. Every level is different, but the first is asking which animal is the biggest. You can interpret this two ways; which animal is biggest on the screen, or which animal is physically bigger in real life. The answer is that the lion has the biggest shape. There are other levels that are hard such as how many pizza slices are on the screen. Initially, it looked like there were 5, but you had to move them out of the way to reveal another 4.
So to play Brain Test: Tricky Puzzles, you really have to have your thinking cap on because I was caught out a number of times.
Graphics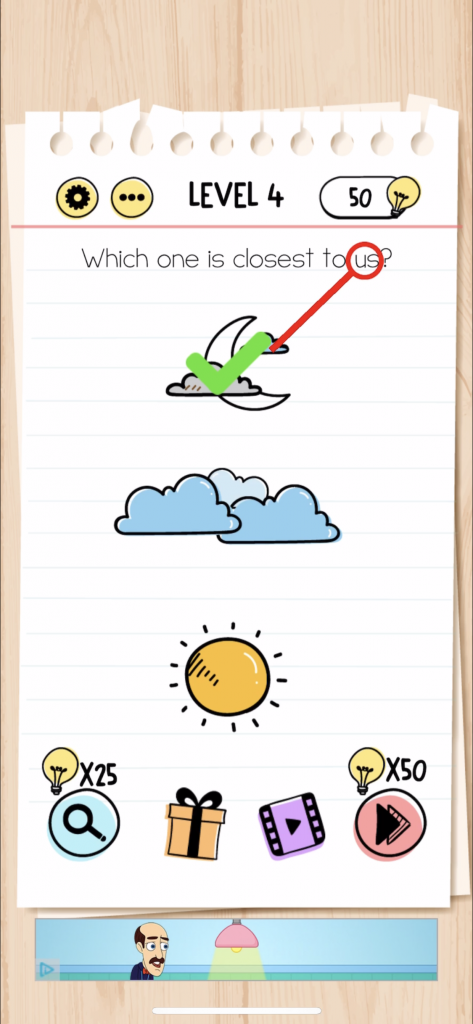 The aesthetic of the game is based on a lined piece of paper which adds to the whole feel of the game. Although it definitely is a cheap way to portray the game, it definitely works in my eyes so I don't have any complaints.
Music & Sounds
The music is very annoying, I'm not going to beat around the bush here so I would suggest turning it off at all costs. The sounds don't add anything to the gameplay so, in my opinion, they might as well not be there.
Controls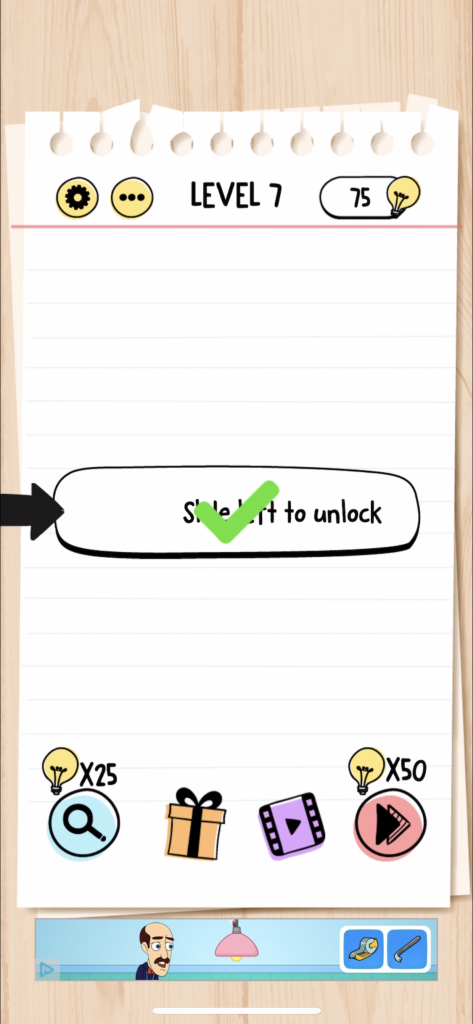 The controls for Brain Test: Tricky Puzzles depend on the level. For example, it could be dragging or tapping on an item. It really takes you by surprise as you enter the level.


The Power of in-app Purchases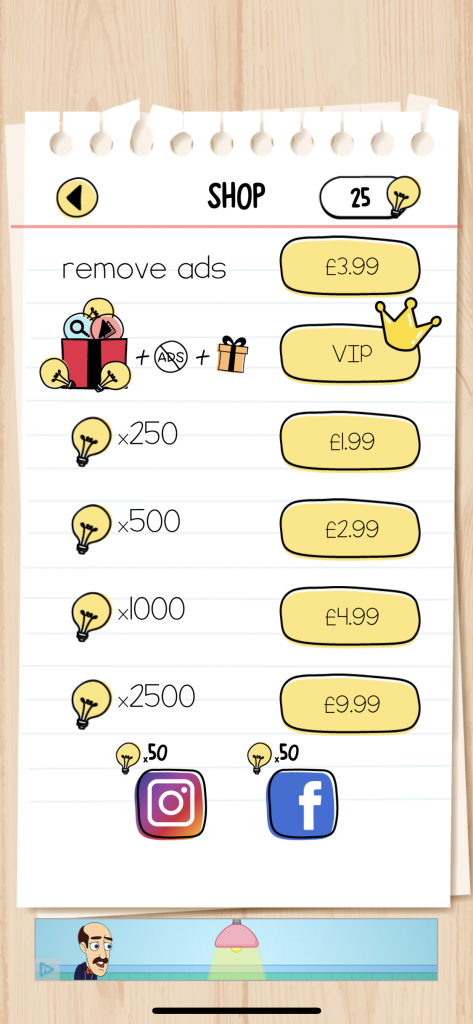 Remove ads for £3.99
Remove ads, 2 double daily gifts, 50% cheaper skips and 40% cheaper hints for £3.99 per week
250 hints for £1.99
500 hints for £2.99
1000 hints for £4.99
2500 hints for £9.99
50 hints if you like them on Facebook
50 hints if you follow them on Instagram
The Verdict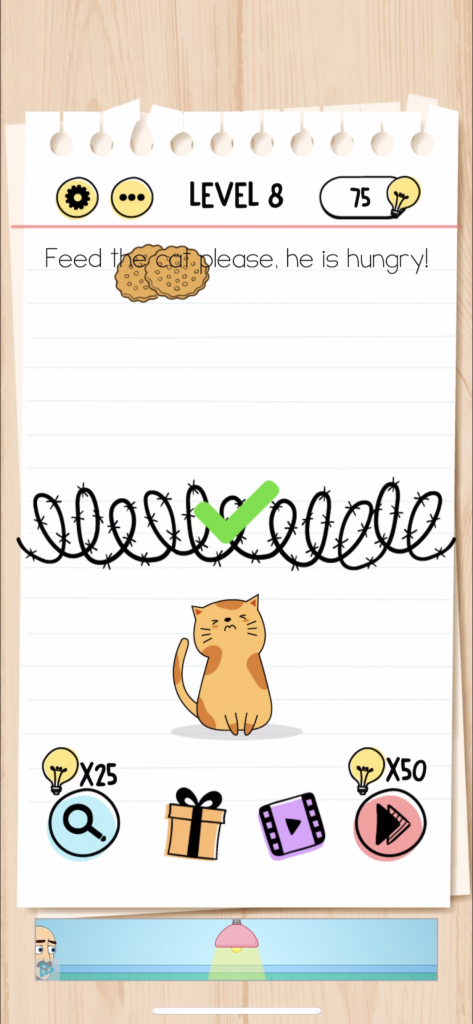 I've seen games like this before, so there was nothing unique about this game. However, it was definitely fun to play. I would change how many ads there are, although you can permanently get rid of them for the small price of £3.99.
If you decide to download Brain Test: Tricky Puzzles, let us know what you think and if you agree or disagree with the things we said. Happy gaming and stay casual!
Brain Test: Tricky Puzzles Overall Rating: 3/5
iOS Link: https://apps.apple.com/gb/app/brain-test-tricky-puzzles/id1486214495
Android Link: https://play.google.com/store/apps/details?id=com.unicostudio.braintest&hl=en_GB
Company: Unico Studio LLC
Genre: Puzzle
Rated: 4+
Offers in-app Purchases
About Post Author