Bowling Crew Review!
"The lanes are now open, so it's time to play the real-time PvP multiplayer sports game everyone's talking about!
Bowl on every fantastic 3D bowling alley with friends and players from around the world online in real-time as you compete in tournaments and 1v1 games!
In Bowling Crew, you can upgrade your balls and unlock new competitive series as you master your bowling skills and compete with other players online in the quest to be the Bowling King with a strike on every bowl!
Quick-fire 1v1 online real-time gameplay.
Revolutionary bowling system that's easy to learn but difficult to master.
Thousands of online players are waiting to be challenged.
Bowl through more advanced series as you "raise the stakes".
Earn promotion in weekly leagues to unlock premium bowling balls.
Advance through stunning 3D bowling alleys from all around the world: snowy mountains, Monument Valley, a rock gig and more classic sports clubs.
Climb the career ladder in one of the best competitive sports, now in the form of an easy bowling app.
Clash with friends in every bowling club like you've never done before!
Let's bowl with Bowling Crew!"
iOS Link: https://apps.apple.com/ca/app/bowling-crew/id1490240246
Android Link: https://play.google.com/store/apps/details?id=com.tetrox.bowl&hl=en_GB
Company: WARGAMING Group Limited
Genre: Sports
Rated: 4+
Offers in-app Purchases
Gameplay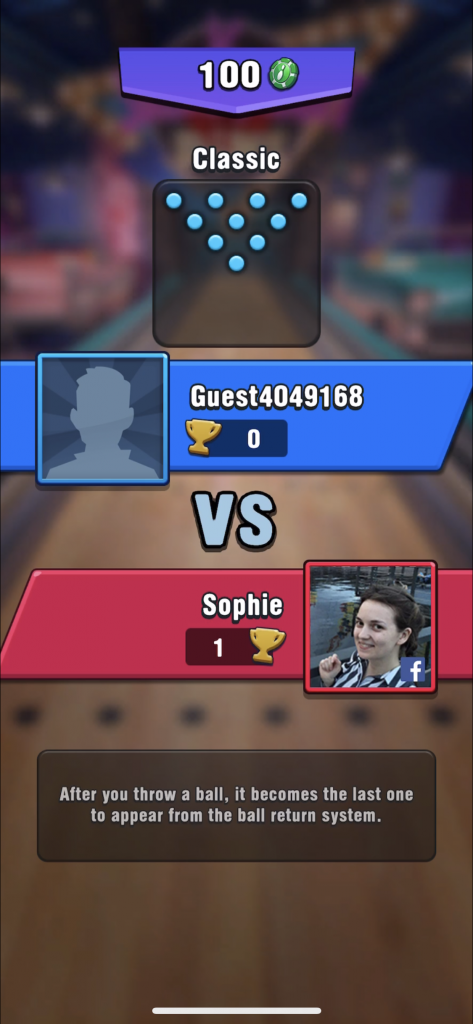 As we're currently in a pandemic, playing online multiplayer games can be a great way to stay sociable while in isolation. Bowling Crew has the same format as Golf Clash where you're matched with someone random and you take it in turns to hit the pins. With the same rules as regular bowling, it should keep you entertained for some time. It costs chips to enter the matches, but you win them back and more if you win.
If you happen to have a Facebook account, you can play with friends instead of strangers.
Graphics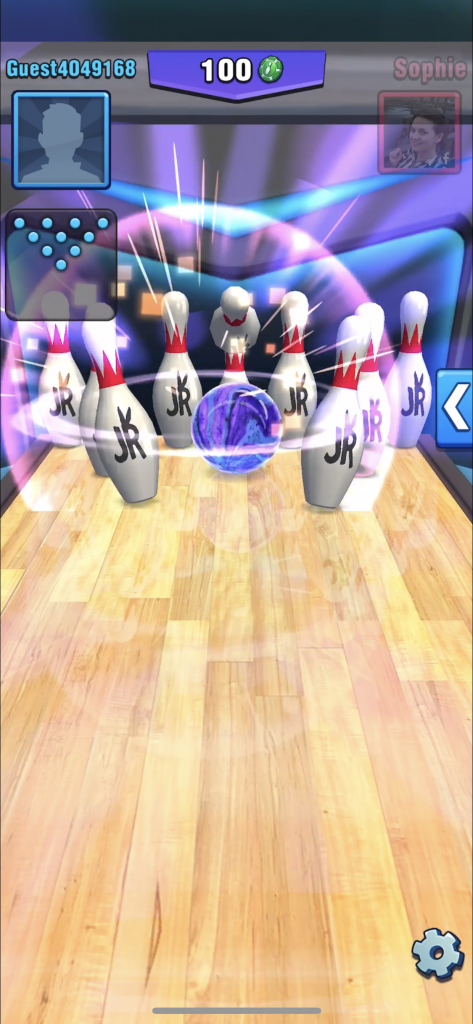 The graphics when I first entered the game reminded me of Fastlane: Road to Revenge due to what the characters looked like and the vibe of the menu screen. However, the actual gameplay graphics were nothing like Fastlane. In fact, they were great and even better! Each stage is themed with a different bowling alley so things don't get boring.
Music & Sounds
The music and sounds are very in line with the whole theme of the game with the background noises in the alley and the music before you start a match. There's no music during the actual gameplay which is a good thing as I feel like too much would be going on at once.
Controls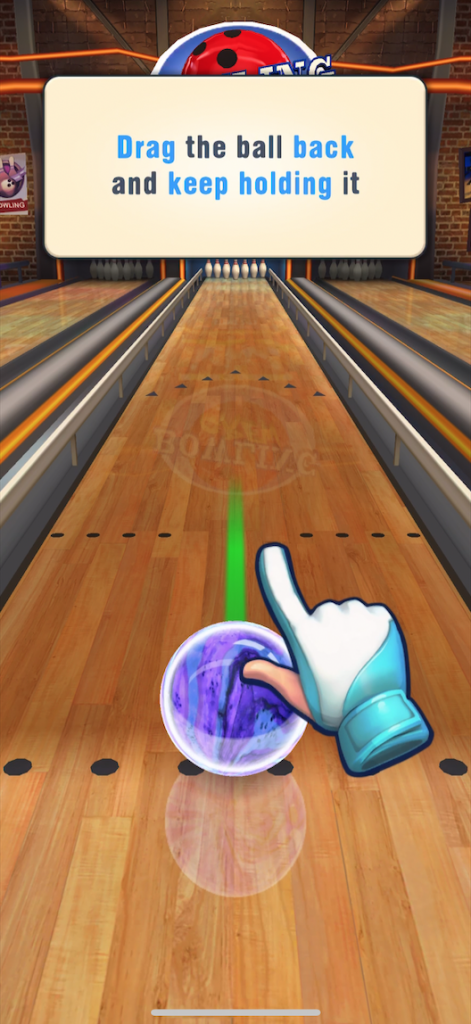 It took a while to get used to the controls if I'm honest. They weren't necessarily hard to use but they were very different from any other bowling game I've played before. To build up speed with your ball, drag it back and pull it up to release it. I kept getting confused and thought you had to release your finger, but after a while, you get used to having to pull it back up.
The Power of in-app Purchases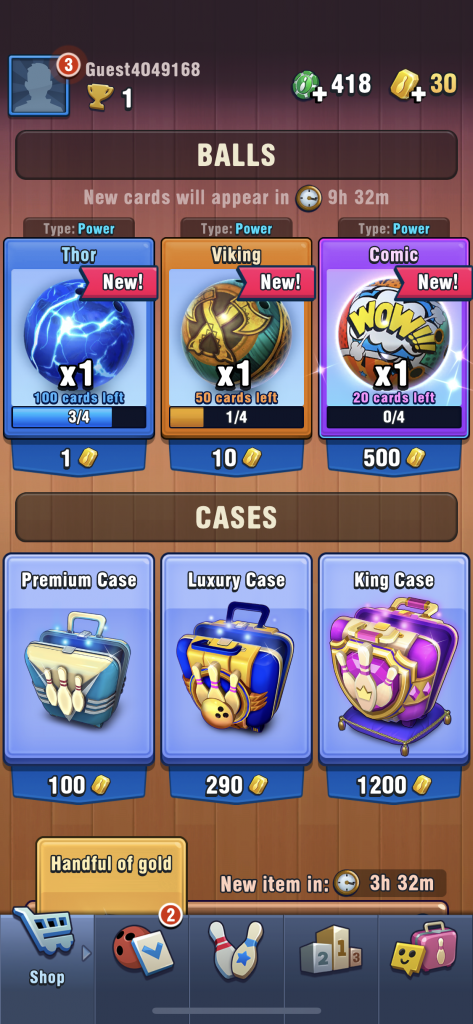 Balls
Thor Ball for 1 gold
Viking Ball for 10 gold
Comic Ball for 500 gold
Cases
Premium Case for 100 gold
Luxury Case for 290 gold
King Case for 1200 gold
Chips
2000 chips for 60 gold
25000 chips for 600 gold
75000 chips for 1500 gold
175000 chips for 3000 gold
7000000 chips for 9000 gold
2000000 chips for 20000 gold
Gold
80 gold for £0.99
500 gold for £4.99
1200 gold for £9.99
2500 gold for £18.99
7500 gold for £47.99
17000 gold for £89.99
The Verdict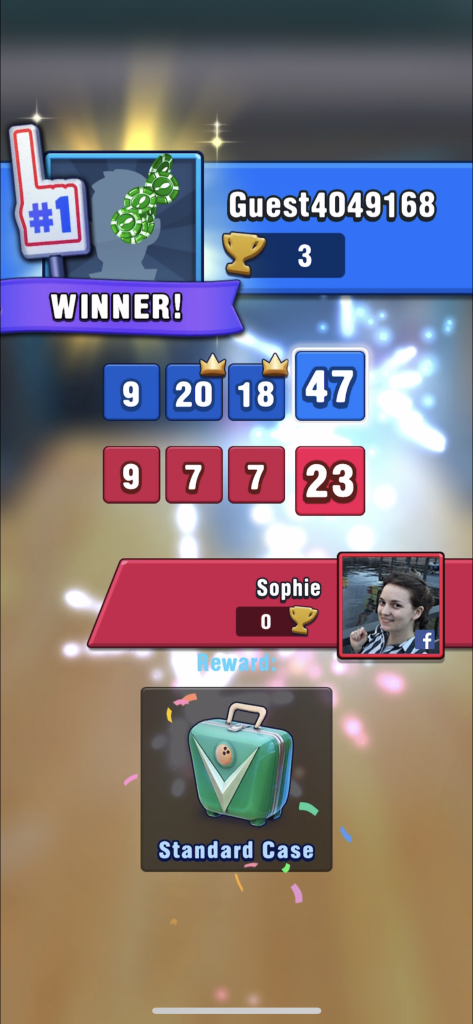 As you may or may not know, I absolutely love Golf Clash so this is also a winner for me. I love the competitiveness of playing with Facebook friends or random strangers and the amazing graphics they present. Bowling Crew will definitely be one game I'm keeping on my phone, just like how I still have Golf Clash.
If you decide to download Bowling Crew, let us know what you think and if you agree or disagree with the things we said. Happy gaming and stay casual!
Bowling Crew Overall Rating: 4/5
iOS Link: https://apps.apple.com/ca/app/bowling-crew/id1490240246
Android Link: https://play.google.com/store/apps/details?id=com.tetrox.bowl&hl=en_GB
Company: WARGAMING Group Limited
Genre: Sports
Rated: 4+
Offers in-app Purchases
About Post Author