Boom Pilot Review!
"Boom Pilot is a top-down shooter, you maneuver your little airplane into a heated air battle against malfunctioning robots! Fly through five beautiful worlds full of surprises!
Use special items and upgrade your airplane to beat the boss at the end of every world.
Hop into your plane and conquer the skies in BOOM PILOT.
Features:
 Simple one finger controlling mechanic:
Move by dragging your finger around the screen.
Use special items by double-tapping the screen.
 Upgrade your stats and become the Boom Pilot!
 24 handcrafted and challenging tracks
 Fight 6 Boss battles
 Collect 5 Airplanes
 Achievements
Cloud Saving"
Boom Pilot Links:
iOS Link: https://apps.apple.com/pl/app/boom-pilot/id1442532309
Android Link: https://play.google.com/store/apps/details?id=com.oddrok.boompilot&hl=en
Company: Oddrok Oy
Genre: Shoot 'em up!
Rated: 4+
Offers in-app Purchases
Gameplay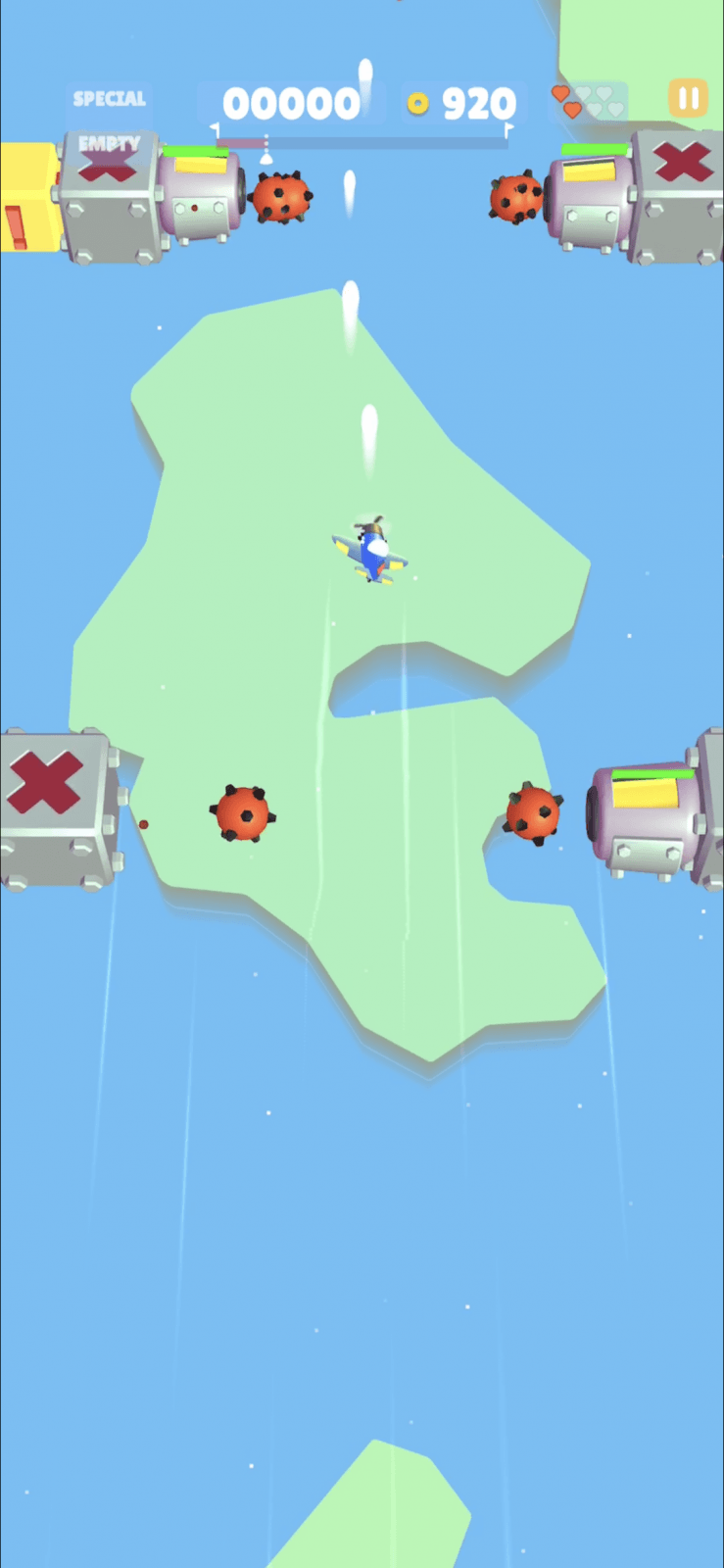 Like the majority of app games, Boom Pilot starts with a tutorial and in the tutorial, you're taught how to control your plane, what to avoid, and what to shoot. There are certain blocks and bullets you need to avoid while getting to the finish line and sometimes it's really hard to avoid them so stay focused! I found the gameplay to be fun and I was really into it because of how tricky it can be, especially with how many bullets are being shot at you at once. You have to be strategic to get to the end.
Graphics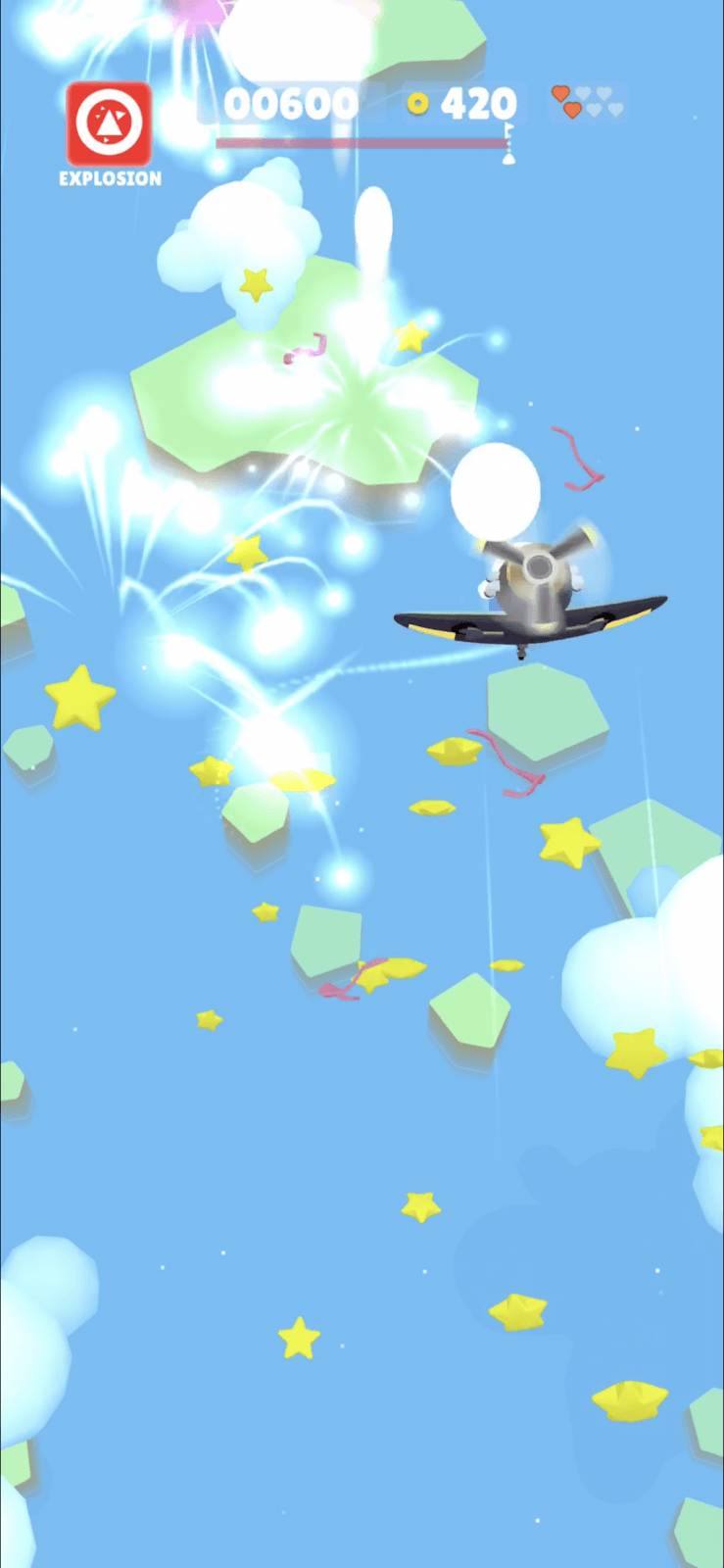 I think the overall aesthetic of Boom Pilot is really nice, especially for a shoot 'em up game. They're colorful, simple, yet nothing close to bad. I love the minimalistic design – they're not detailed at all but they work perfectly with how simple Boom Pilot is to play.
Music & Sounds
The music is very fast-paced and sounds quite 80s-esque which I absolutely love. It's quite fitting as shoot 'em up games were at there prime in the 80s. The sounds including shooting and blocks exploding. I think the music fits in well with the aesthetic of the game and makes Boom Pilot even more fun to play.
Controls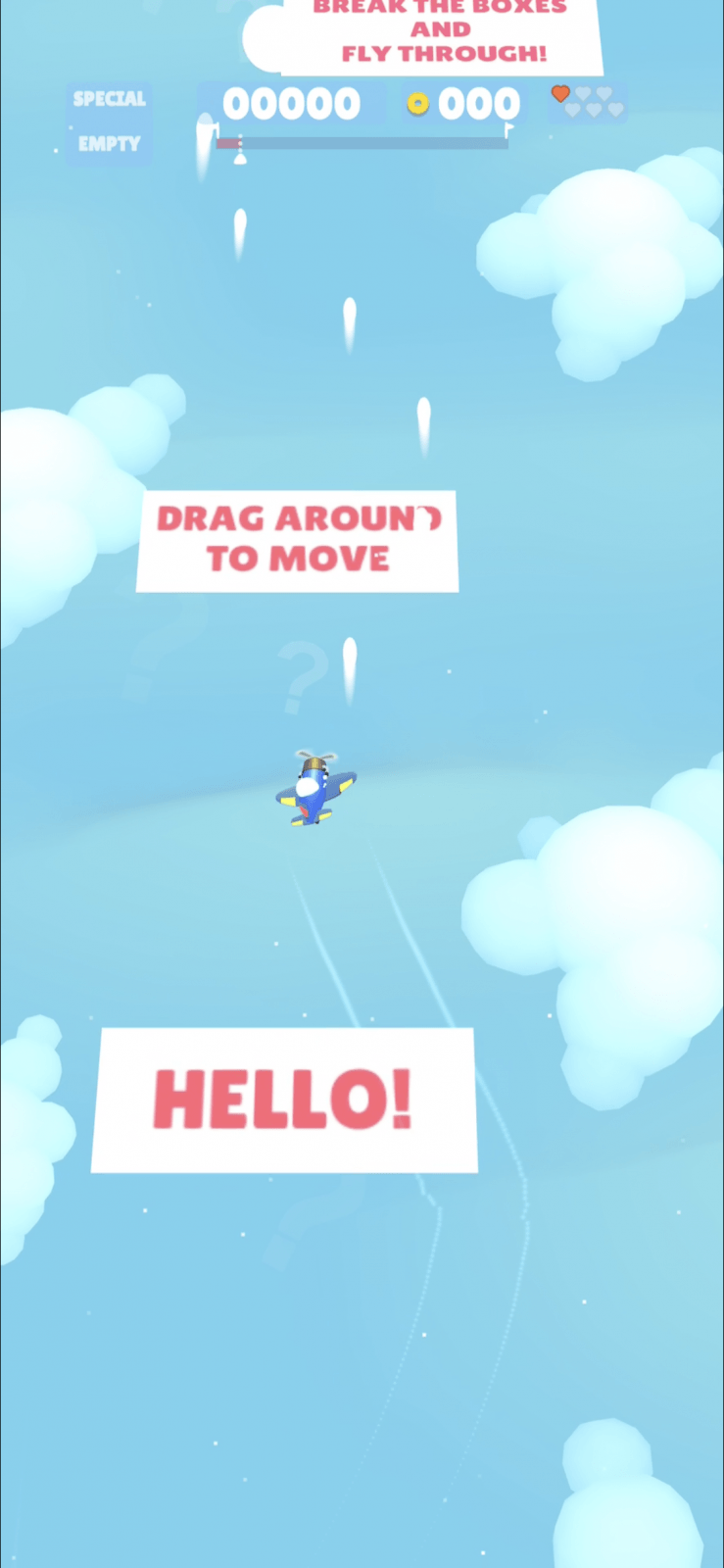 As expected, the controls are fairly easy to operate. Drag to move, shoot boxes to break them, fly up and down, and shoot TNT boxes from far away because they'll explode. There isn't a whole lot to say apart from that as you would expect with shoot 'em up game.
The Power of in-app Purchases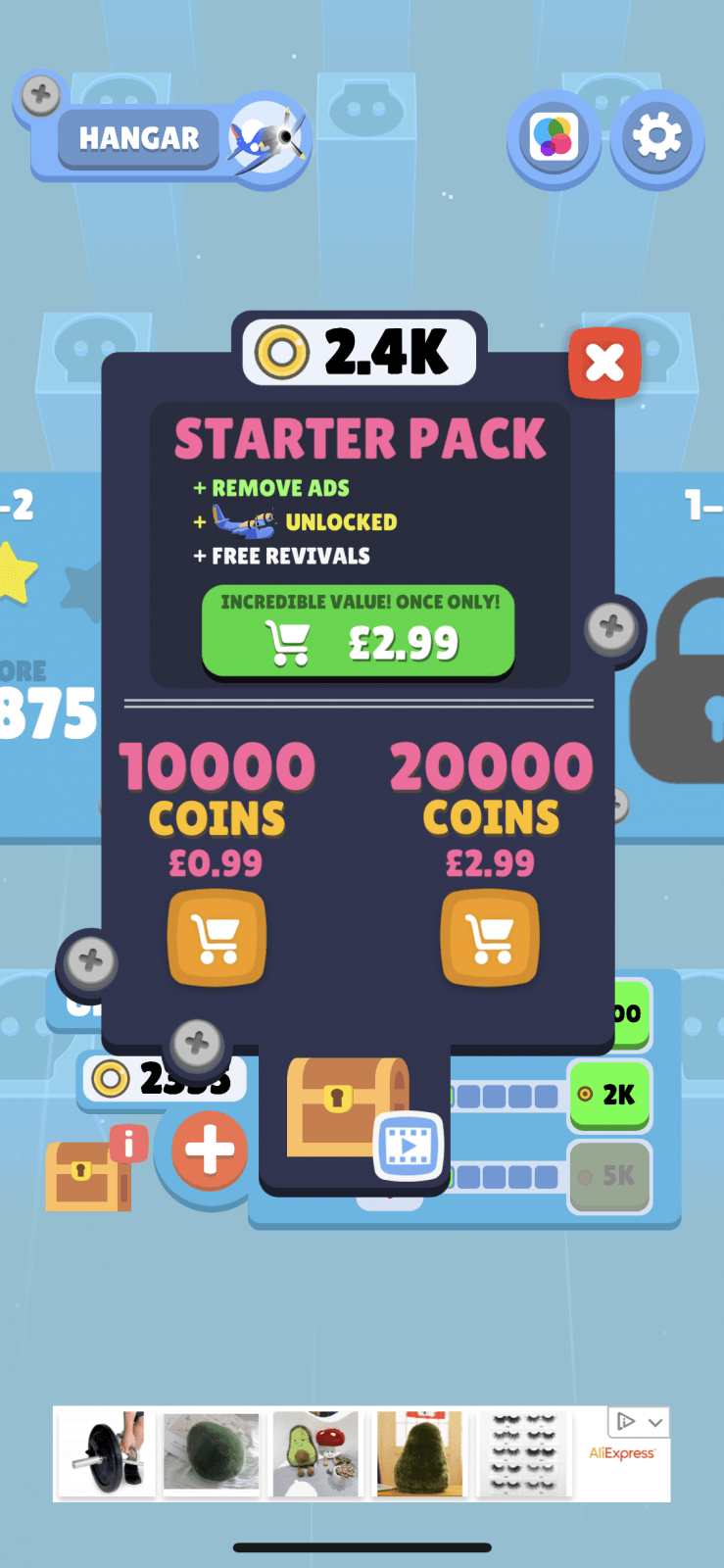 There isn't much to the store which is rare for an app game. The store consists of upgrades, coins, and treasure chests.
Upgrades
Damage for 500 coins
Critical for 2,000 coins
Lives for 5,000 coins
Starter Pack
The removal of ads, plane unlocked and free revivals for £2.99.
Coins
1,000 coins for £0.99
20,000 coins for £2.99
Treasure chest
Wait 60 minutes or watch an ad to get it straight away. An example of what's in the chest: 700 coins.
As far as I know, I don't think it is absolutely necessary to pay real money in order to play the game, however, it will definitely help. If I was to make a purchase to improve my gameplay, I would definitely go for the starter pack as it removes ads which can become ridiculously annoying and free revivals that'll help you during the gameplay.
The Verdict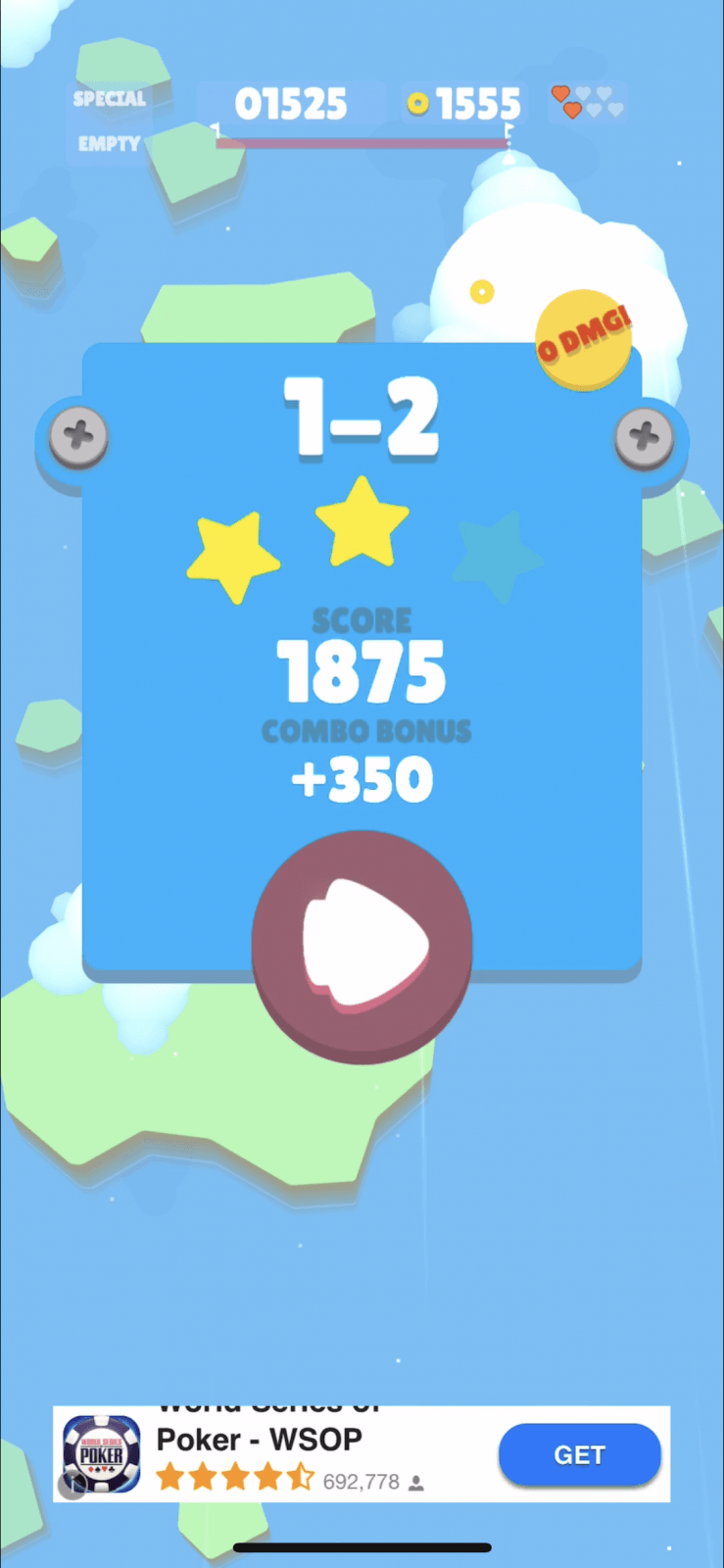 Boom Pilot has become one of my favorite shoot 'em up games apart from Fastlane: Road to Revenge which is my favorite so far. I loved the minimalistic look of the game along with the striking graphics, colorful backgrounds and easy to use controls. The game didn't have too many ads but for the small price of £2.99, you can get rid of them for life so it's definitely worth the purchase if you're really into the gameplay. On the other hand, I don't think it's entirely worth spending real-life money on Boom Pilot as it's very easy to complete levels by yourself.
If you decide to download Boom Pilot, let us know what you think and if you agree or disagree with the things we said. Happy gaming and stay casual!
Boom Pilot Overall Rating: 4/5
iOS Link: https://apps.apple.com/pl/app/boom-pilot/id1442532309
Android Link: https://play.google.com/store/apps/details?id=com.oddrok.boompilot&hl=en
Company: Oddrok Oy
Genre: Shoot 'em up!
Rated: 4+
Offers in-app Purchases
About Post Author