Board Kings Review
Join your friends and family in our brand new mingle-play board game experience! The dice will determine where you go! You decide what to do with your coins to build the greatest city for your bunnies! –Board Kings Website
Board Kings Links:
iOS Link:  https://itunes.apple.com/us/app/board-kings/id1116488672?mt=8
Android Link:  https://play.google.com/store/apps/details?id=com.jellybtn.boardkings&hl=en_US
Company:  Jelly Button
Genre:  Games
Rated:  4+
Offers in-app Purchases
Hey Casual Gamers!  I've always had an extreme love for Monopoly and other great board games of yesteryear.  Now my dreams have been fulfilled in a game called Board Kings.  Check out the review to see why this is my new casual obsession.
Gameplay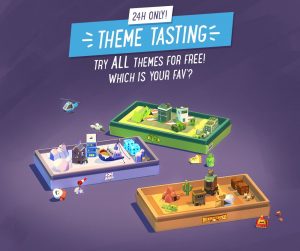 When you start Board Kings, you are introduced with a mission to build the best board for your population of bunnies!  After a quick tutorial, you are on your way!  You roll dice and land on board places, gaining gold for each space stepped on.  This gold is used to upgrade buildings so more bunnies can move in.  Sounds simple sure, but as you continue to roll you will notice not all squares are equal!  There are chances, mini-games, and even a chance to go to another player's board and steal items to help build the buildings on your board!
Don't get too unlucky on another player's board however, or you will wind up in jail!  With a 50 roll max (five rolls refresh every hour) you can get some really decent playtime without ever having to pay!
Graphics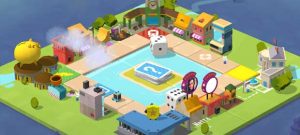 The graphics go well with the play style of the game.  Most of the boards and sprites are detailed well, and every roll of the dice offers animated bouncing across the board.  I feel as though nothing was not left out in terms of animation and interactions.  From the collection of gold, right down to owning another player's building via a train ride.  While there seems to be a default for the camera view, it's changeable, but seems to also be anchored by the player's token.
Music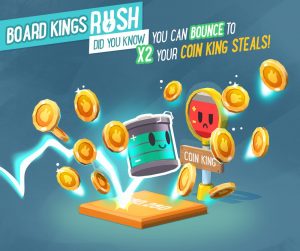 Surprisingly, Board King's music compliments the game!  That said, it's repetitive and I turned it off after my fourth session or so.  The sound effects work well with everything going on as well.  each hop is noted with a bounce, as well as every other instance.  Even collecting coins from your loyal people comes with a satisfying sound effect.  If you are casual gamer that likes to include their own music, Board King's audio won't join your favorite song.  This can sometimes be good, because the sounds are a bit cartoonish.
Controls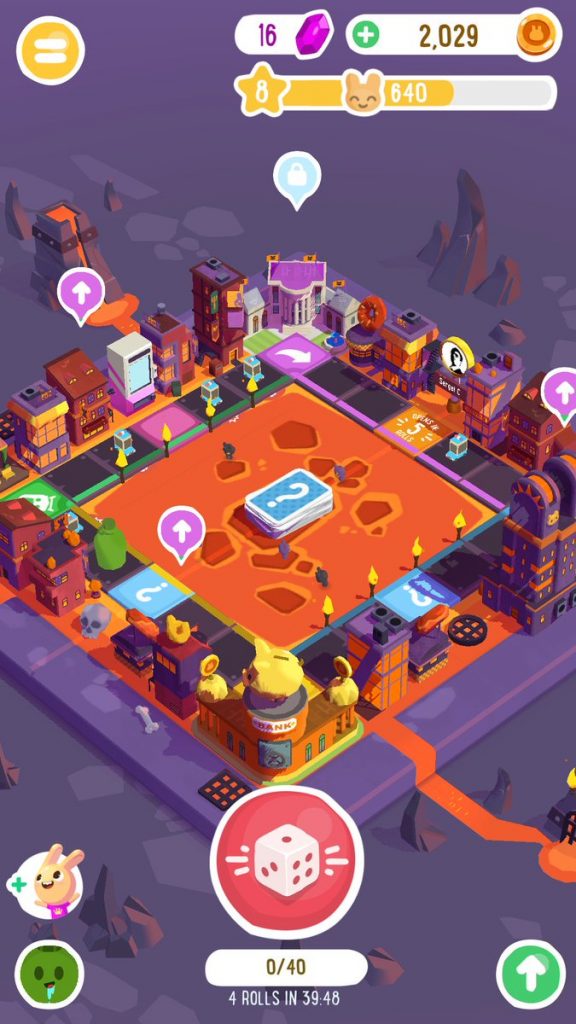 The controls are very simple.  Just a button to roll the dice will be the biggest part of interaction.  Landing on special spaces doesn't require much manipulation, as the game does many of the automatic special events.  There are some events that are skill games and require you to stop a ball in a certain area to get bonus prizes.  The little bunnies on the board will periodically give you gems, coins, and sometimes even more rolls!  You can also click on the chance cards in the middle of the board to watch an ad to get additional coins, gems, or more rolls.
The only real issue I could give on controls is when you get on the train to steal from other players.  When you are on the train, you are presented with two options and a few options to look through your friend list or revenge list.  If you don't play around in this area, you can wind up just stealing from the same person over and over again.
The Power of In-App Purchases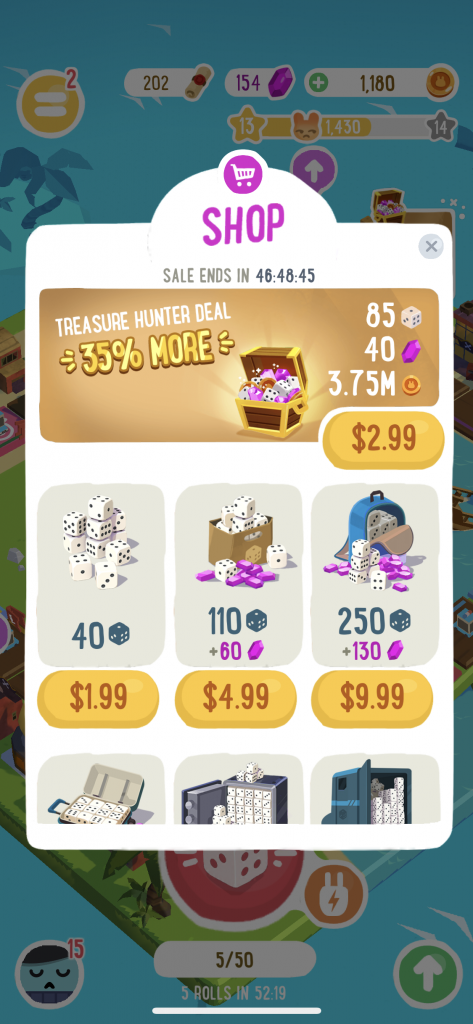 One thing I like about Board Kings is the weekend sales it promotes.  The main currency in the game are gems.  With those, you can buy extra rolls and gold.   This can be seen as a pay to win style, as with a good sale you can get a very decent amount of rolls and enough gold to pay for a few buildings in a shot.  This seems to be slightly balanced out with the built in random nature of the game.
I feel as though taking advantage of the sales in the game will give you a good bang for your buck.
The Verdict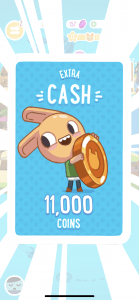 Overall, Board Kings is a very refreshing casual game for those who love a good board game.  The setup allows you to pop in the app, make a few couple of rolls and continue with your day.  With over a few thousand players playing the game, you are bound to have at least five interactions with other players when offline.  I feel as though this can be the casual game that you don't have to check often, and when you do, the population of your board thanks you for it!  This is the game of your casual dreams.
Board Kings Overall Rating:  4/5
Board Kings Links:
iOS Link:  https://itunes.apple.com/us/app/board-kings/id1116488672?mt=8
Android Link:  https://play.google.com/store/apps/details?id=com.jellybtn.boardkings&hl=en_US
Company:  Jelly Button
Genre:  Games
Rated:  4+
Offers in-app Purchases
About Post Author