BitLife – Life Simulator Review!
"How will you live your BitLife?
Will you try to make all the right choices in an attempt to become a model citizen sometime before you die? You could marry the man/woman of your dreams, have kids, and pick up a good job along the way.
Or will you make choices that horrify your parents? You could descend into a life of crime, start prison riots, smuggle duffle bags, and cheat on your spouse.
It's all up to you…" – CandyWriter
BitLife – Life Simulator Links:
iOS Link: https://itunes.apple.com/us/app/bitlife-life-simulator/id1374403536?mt=8
Android Link: Not currently available
Company: Candywriter
Genre: Simulation
Rated: 17+
Offers in-app Purchases
Today on The Casual App Gamer, we have a little bit of a different one. As you may know, I'm very much into the Choose Your Story games like Episode and this caught my eye. I thought this looked pretty similar to it, except you're controlling your life from the minute you're born to the minute you die.
Gameplay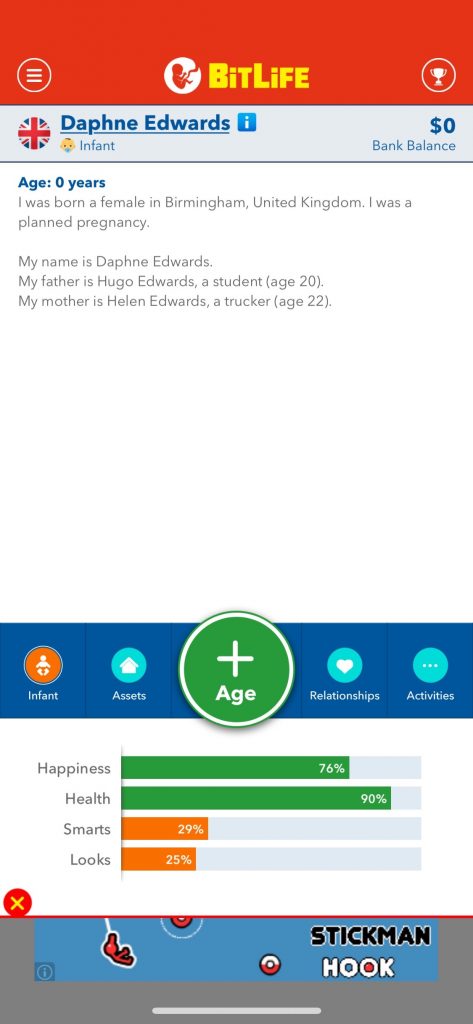 Right off the bat, this game is ADDICTIVE! Seeing your character go through horrible times and amazing times – it's so incredible. But how easy is it to live your best possible life? Not very. With the first character I played, on my tombstone, she was described as a dunce by my friends and the funeral was attended by no one. So that was nice.
Initially, I was playing BitLife wrong. I thought you just continuously pressed the "+age" button and made decisions when they popped up. And that was addicting in itself, but I was wrong – there's a lot more to it.
For example, when you get to a certain age, you get the chance to take your driving test and if you pass, you can purchase a car. You can control your relationships and check up on their personalities, do activities such as going clubbing, getting plastic surgery and questioning your sexuality. The possibilities really are endless with Bitlife.
Graphics
BitLife's graphics are pretty simple. There aren't any characters you can physically see, you only know about their personalities. And everything that happens to you is written in words. So if you can't be bothered to read, I wouldn't recommend this game! However, the look of Bitlife is colorful and its well laid out – nothing is too complicated. It doesn't lag or crash at all.
Music
There's no specific music featured in the game. However, when you start a new life, you can hear a baby crying. When you die, there is a piano sound. There are also sounds in between but nothing constant which is nice and pretty weird for an app game. I feel like the overall feel of the game would be ruined if there was constant music. The sounds are great once in a while.
Controls
The controls are ridiculously simple. There are various buttons on the screen you can press like job, assets, relationships an activities. All you need to do is tap on one of them to control your characters future. I don't see why this would have any other controls, it's perfect the way it is in my opinion.
The Power of in-app Purchases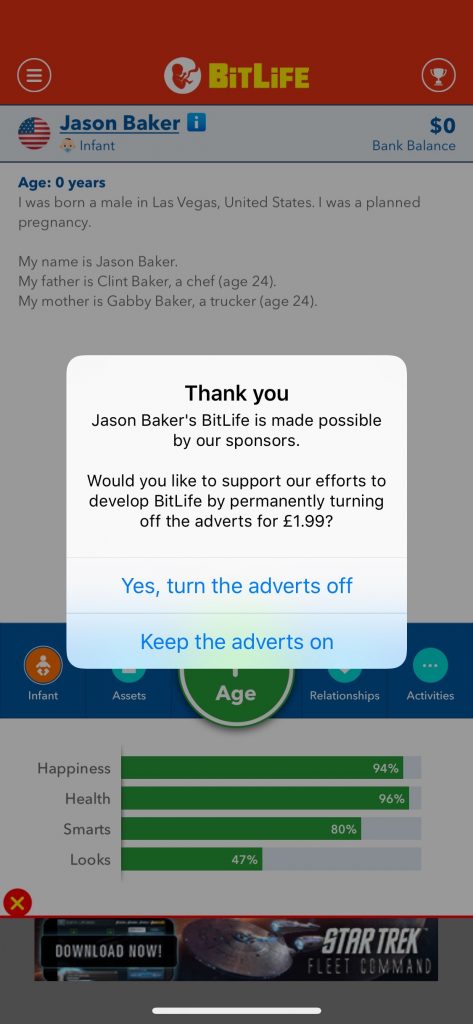 Yay! A game with no in-app purchases… Well, kinda. There is no special currency in Bitlife and the game is pretty much free. But it does come at a price – THERE ARE SO MANY ADS! SO many! And they're pretty much all TikTok ads too to make it worse. There is, however, one purchase you can make: the removal of ads – hallelujah! This costs £1.99 and if you love this game it'll probably become the best £1.99 you've ever spent.
The verdict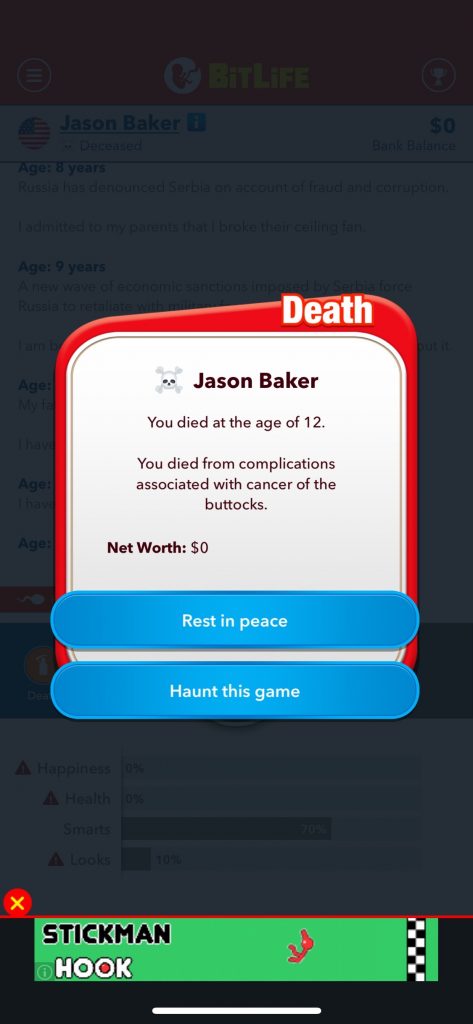 The verdict? Well, as I said, this game is super addictive and I didn't think I was going to like it that much. When I saw that it was number one on the app store, I was confused, I really didn't understand what people saw in the game. But I definitely do now. There is something so rewarding about deciding the route of your characters life and it's genuinely sad when they die. You put all that work in then they're gone! Overall, I really enjoyed playing this game which is why it has such a high rating. The only thing I would change is a character profile of how your character looks, whether they have red hair, freckles etc.
If you decide to download BitLife, let us know what you think and if you agree or disagree with any of the things we said. Happy gaming!
BitLife – Life Simulator Overall Rating: 4/5
BitLife – Life Simulator Links:
iOS Link: https://itunes.apple.com/us/app/bitlife-life-simulator/id1374403536?mt=8
Android Link: Not currently available
Company: Candywriter
Genre: Simulation
Rated: 17+
Offers in-app Purchases
About Post Author