Bike Unchained 2 Review!
"Bike Unchained 2 from Red Bull is the sequel to the #1 mountain bike game on mobile! Race against real riders in PvP Downhill action, or line up your best tricks in Slopestyle competitions. Will you be on top of the podium when the dust settles?
Gear up for the world's biggest mountain bike competition in Bike Unchained 2! Prove you're the fastest on the mountain in ranked league racing and take home the title of the world's top rider. Send it in Slopestyle runs that test your style and skill. Pedal through five different environments with trails that offer gnarly rock gardens, fast flowy singletrack, and everything in between. Customize every part of your ride and your look with an insane amount of parts and gear. Tell the world you're the best and look good doing it! We'll see you at the bottom."
Bike Unchained 2 Links:
iOS Link: https://itunes.apple.com/nz/app/bike-unchained-2/id1305849584?mt=8
Android Link: https://play.google.com/store/apps/details?id=com.redbull.bike2&hl=en_US
Company: Red Bull
Genre: Racing Games
Rated: 4+
Offers in-app Purchases
Gameplay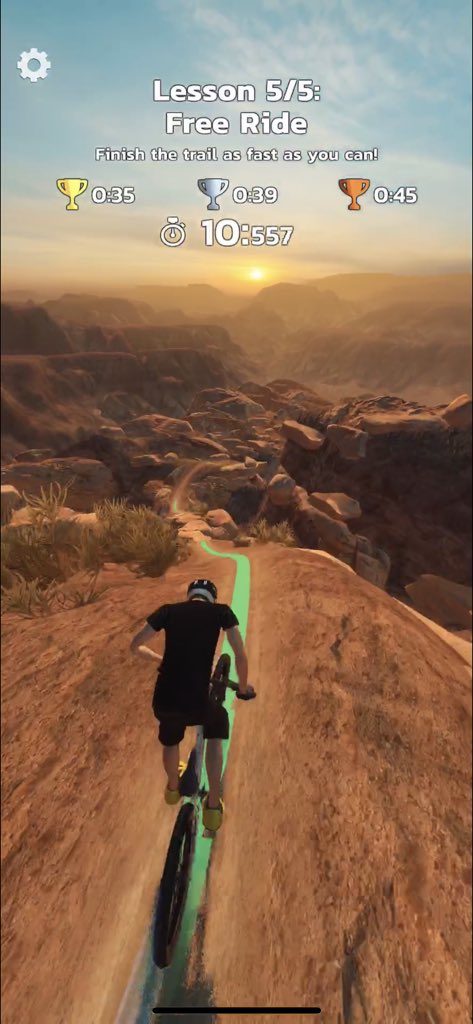 When you enter the game, you're greeted by Tahnee Seagrave, who is a real-life British downhill bike rider and she shows you how everything works and what the aim of the game is. The first lesson is basic downhill and you get 5 tries to perfect it, the second lesson is scaling hills and you get 3 tries to perfect it, the third lesson is pedaling and you get 3 tries to perfect it, the fourth lesson is air control and you get four tries to perfect it, and finally your last lesson is a free ride which you do with a timer. Try to set yourself a decent high score to beat!
I found the tutorial easy to follow and actually fun to carry out. Usually, with tutorials, they explain it to you, make you do it once and then let you get on with it but the fact that you get multiple tries and a try again button really allows you to make sure you've perfected it before racing for the first time.
In terms of the gameplay, it is based online and you get to play with people around the world. During the game, you can only see your opponents name rather than their whole bike. This is to keep the game portrait while keeping all the cool graphics in the shot.
Graphics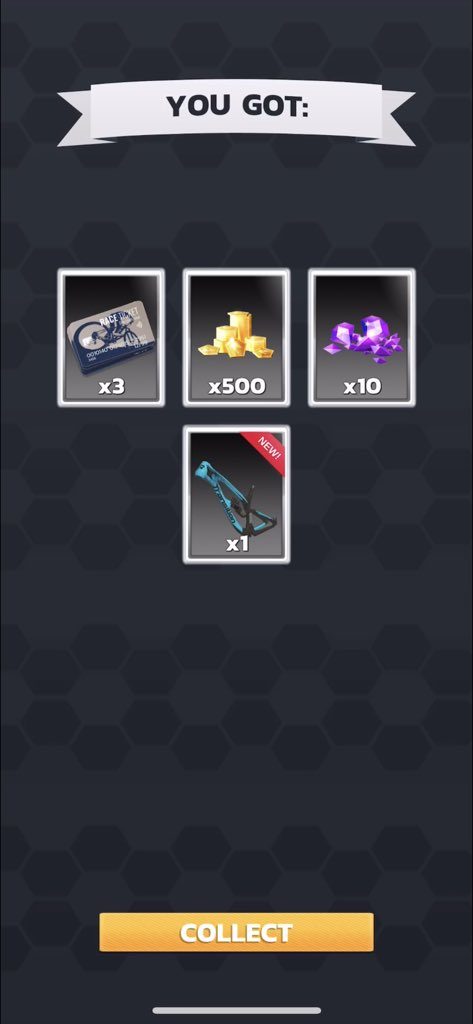 The graphics are detailed and the game flows nicely without freezing or the app crashing. The theme is greenery for the first track and there are a lot of hills available to get you used to the controls. I would expect for a game as simple as this, the graphics would reflect that but Red Bull really spent the time on it.
Of course, as Red Bull created Bike Unchained 2, everything is themed accordingly and I like it as it makes it look more true to life than it would without any sponsorships.
Music & Sounds
The music for Bike Unchained 2 is the typical rock music that you'd find in any other bike racing game. It isn't annoying and actually, it adds to the gameplay quite nicely. The background noises are also at a minimum such as the noise of your wheels on the floor, cheers at the end and sounds when you get a special move correct.
Controls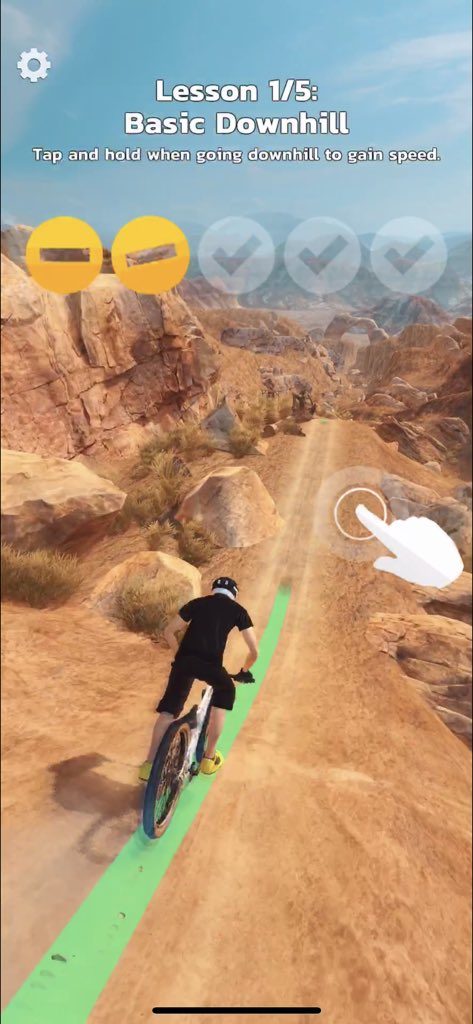 There are a lot of things to consider when it comes to the controls:
Basic downhill – tap and hold when going downhill to gain speed
Scaling hills – release the pump before going uphill to avoid speed loss. Uphill sections are indicated by the darker track
Pedaling – tap the screen rapidly to pedal on long uphill sections
Air control – tap and hold to land your bike sooner. Try to land your bike on a downward slope to retain your speed
Although this does sound like an overwhelming amount of rules to follow, the controls are really easy to use. In simpler terms, hold and tap to do different tricks.
The Power of in-app Purchases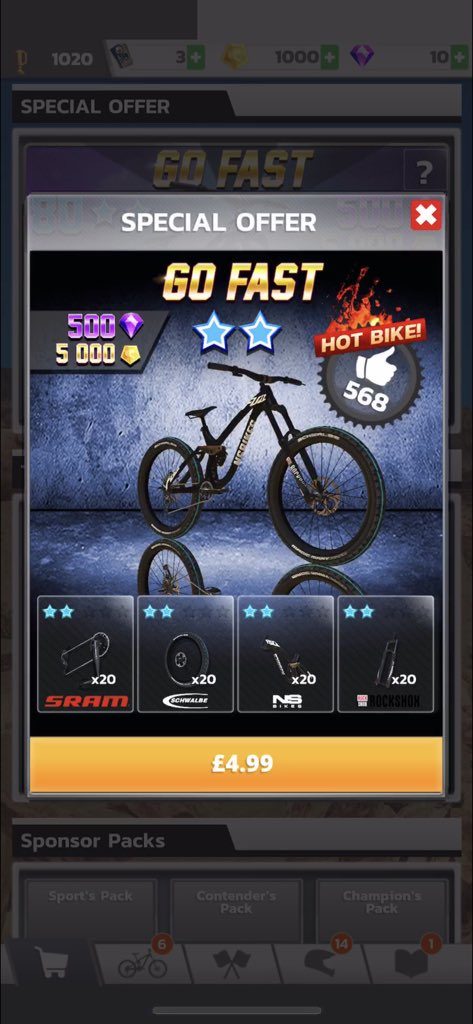 There is an overwhelming amount of products you can purchase from the store – I feel like I say this every time but it's so common with free games.
Gold
1000 gold for 70 obtainium
10000 gold for 500 otbainium
1000000 gold for 4500 obtainium
Obtainium
80 obtainium for £0.99
500 obtainium for £4.99
1200 obtainium for £9.99
2500 obtainium for £19.99
6500 obtainium for £48.99
14000 obtainium for £99.99
Tickets
1 ticket for 5 obtainium
5 tickets for 20 obtainium
10 tickets for 30 obtainium
Season Points
1000 points for 200 obtainium
5000 points for 800 obtainium
10000 points for 1300 obtainium
Sponsor Packs
Sport's Pack for 210 obtainium
Contender's Pack for 320 obtainium
Champion's Pack for 1600 obtainium
Token Offers
Whale Tail Bikes for 20 gold
Paw Bikes for 100 gold
Schwalbe for 400 gold
In my honest opinion, Bike Unchained 2 doesn't make it clear what exactly you can purchase with these things, but you can buy new bikes and parts which makes you faster and more likely to win the race.
The Verdict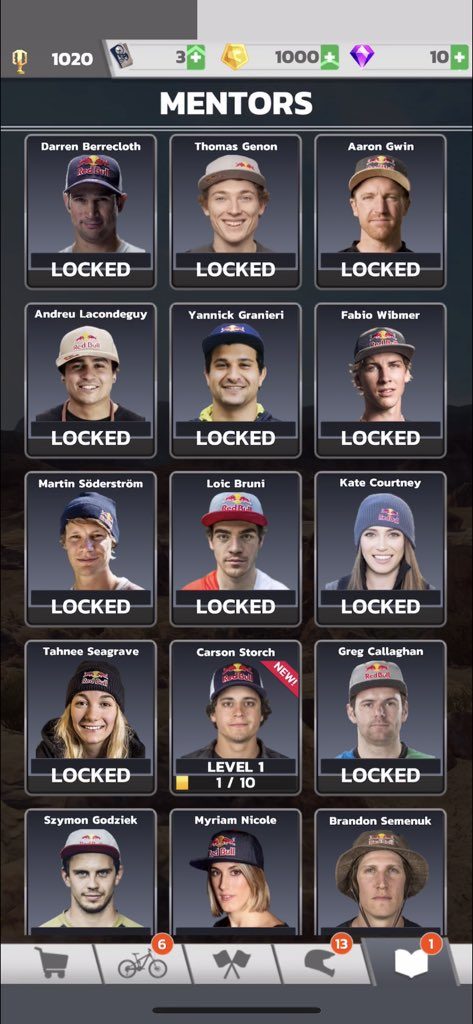 I'm not the biggest fan of racing games that don't involve cars, but this was surprisingly fun and with the graphics being great, the game was also aesthetically pleasing. For someone who is a big fan of downhill mountain biking, Bike Unchained 2 is perfect to get your daily dose of it!
If you decide to download Bike Unchained 2, let us know what you think and if you agree or disagree with any of the things we said. Happy gaming and stay casual!
Bike Unchained 2 Overall Rating: 4/5
iOS Link: https://itunes.apple.com/nz/app/bike-unchained-2/id1305849584?mt=8
Android Link: https://play.google.com/store/apps/details?id=com.redbull.bike2&hl=en_US
Company: Red Bull
Genre: Racing Games
Rated: 4+
Offers in-app Purchases
About Post Author