Battlelands Royale Review!
"Fight for survival in an epic last man standing multiplayer battle royale – but not as you know it! Made for mobile, Battlelands Royale is a casual gun game for everyone to enjoy. With 32 players and 3-5 minute battles, it's pure non-stop carnage! No waiting in lobbies; no complicated menus to navigate. Just play, parachute, loot, shoot and survive! Dominate the arena in Solo or join forces with fellow battlers in Duos. Choose your landing spot, drop in, loot weapons and armor and get ready for the fight of your life! Battle it out on a huge map with awesome locations like the Hideout, Ship, Maze, and Trainyard. Or maybe you'll hide away in Camper's Paradise? Whatever your strategy, don't get caught by the storm! ⚡"
Battlelands Royale Links:
iOS Link: https://itunes.apple.com/fi/app/battlelands-royale/id1296181302?mt=8
Android Link: https://play.google.com/store/apps/details?id=com.futureplay.battleground&hl=en_GB
Company: Futureplay
Genre: Battle Royale
Rated: 9+
Offers in-app Purchases
Battlelands Royale is a fun last man standing multiplayer battle royale developed by Futureplay. Your job is to kill everyone you see and of course, survive. Battle it out on a detailed map with amazing locations like Hideout, Ship, Maze, and Trainyard. Join Club Royale to get more rewards and be the envy of your fellow BR pals.
Gameplay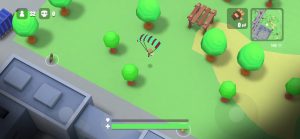 Battlelands Royale doesn't have a story, instead, you're a random character that's dropped onto a battlefield to fight to the death. As the number of survivors goes down, so does the size of the battlefield – this lowers your chances of finding new weapons, ammo, and other helpful items.
Unlike other battle royale games like Fortnite for example, you are shown a map before you enter the game and you get to tap on where you want to land rather than jumping out of a plane. Once you've picked your place to land and the correct amount of people have entered the game, you will start falling from the sky on a parachute ready to land in your desired area.
Graphics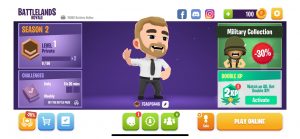 Battlelands Royale's graphics are cartoony and cute, which makes a difference from other battle royale games where the characters look a little nastier and more detailed. I actually enjoy the cartoony vibe as it contrasts against the violence of the actual gameplay.
Music
The music and sounds are a little bit annoying but it fits in with the whole cartoony vibe of the game. The characters make weird noises when they land and I'm not entirely sure if you can turn the sound off.
Controls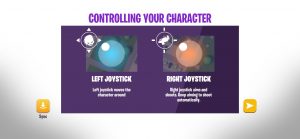 Right off the bat, the controls are pretty complicated despite how simple they look. You use the left joystick to control where your player walks and the right joystick to aim and shoot your weapon. It's very hard to aim properly, especially because the camera is from a birds-eye view. However, this also works to an advantage as you're able to see if anyone's creeping up behind you. So it's easier for you to get prepared to defend yourself.
The Power of in-app Purchases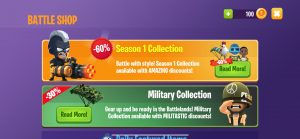 There is a battle shop collection where you can purchase collections, battle bucks and featured items. The majority of these purchases are really to improve what your character looks like, not to improve your skills. When you're thrown onto the battlefield, you have to find yourself a weapon – they're dropped around the map. I don't know about you, but I don't think looking good is relevant unless you're a hardcore player.
Prices:
Mushroom parachute for 500 battle bucks
Umbrella parachute for 800 battle bucks
1500 battle bucks for £13.99
500 battle bucks for £4.99
3500 battle bucks for £25.99
7000 battle bucks for £43.99
The verdict
Although this game is pretty similar to Fortnite, I find it unique. From what I can tell, it seems as if Battlelands Royale is aimed at the younger children who want to play Fortnite but their parents won't let them. Unlike Fortnite, Battlelands Royale doesn't have an option to speak through the mic so there is no chance of anyone being horrible to you.
The cartoony vibe also adds to my theory that this is aimed at children, it's friendly, bright and the characters look approachable rather than scary.
I would definitely recommend this game to anyone who likes Fortnite and I believe that 9+ is a suitable rating for Battlelands Royale.
Battlelands Royale Overall Rating: 3/5
iOS Link: https://itunes.apple.com/fi/app/battlelands-royale/id1296181302?mt=8
Android Link: https://play.google.com/store/apps/details?id=com.futureplay.battleground&hl=en_GB
About Post Author