ASMR Slicing Review!
"This is the most satisfying kinetic sand cutting game. It's not just kinetic sand, there are multiple other awesome objects too! You've seen it in the videos and now you get to cut it yourself!
Cut different shapes of kinetic sand and feel an amazing satisfaction. Many different types of objects available to cut! Feel immense satisfaction!
Game Features:
Realistic kinetic sand cutting
Many different types of objects to cut
Smooth haptic feedback
Relaxing sounds
Play now and start cutting!"
iOS Link: https://apps.apple.com/il/app/asmr-slicing/id1494458254
Android Link: Not currently available
Company: Crazy Labs
Genre: Casual
Rated: 12+
Gameplay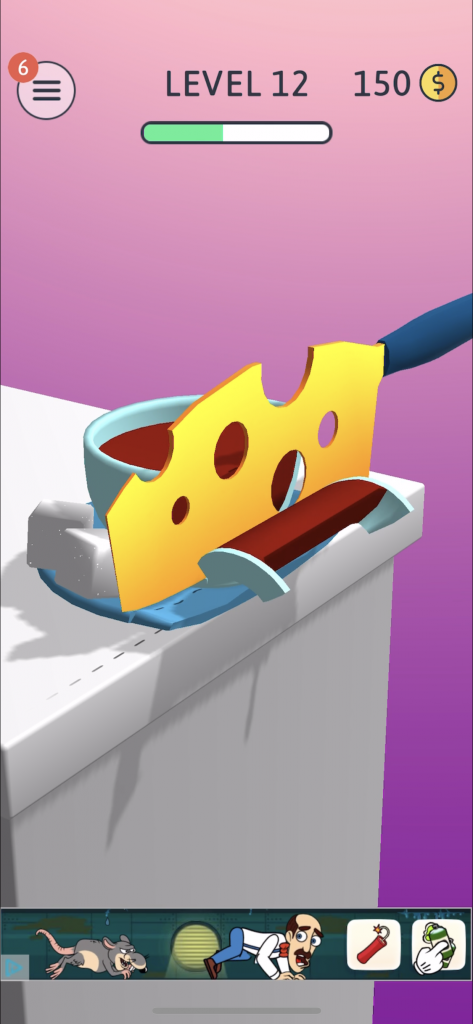 ASMR has been widely popular throughout Instagram and YouTube for the past couple of years now and there have been a few games that have circulated based on satisfying sounds and visuals. This time we're giving ASMR Slicing a try. It's based on kinetic sand which is my personal favorite when it comes to ASMR.
To get through the levels, you need to slice through the objects. Sometimes you'll have an objective like collecting items inside the objects, but often it'll just be you cutting through things. Although the game doesn't seem to have a solid objective, I did like ASMR Slicing for the satisfying element.
Graphics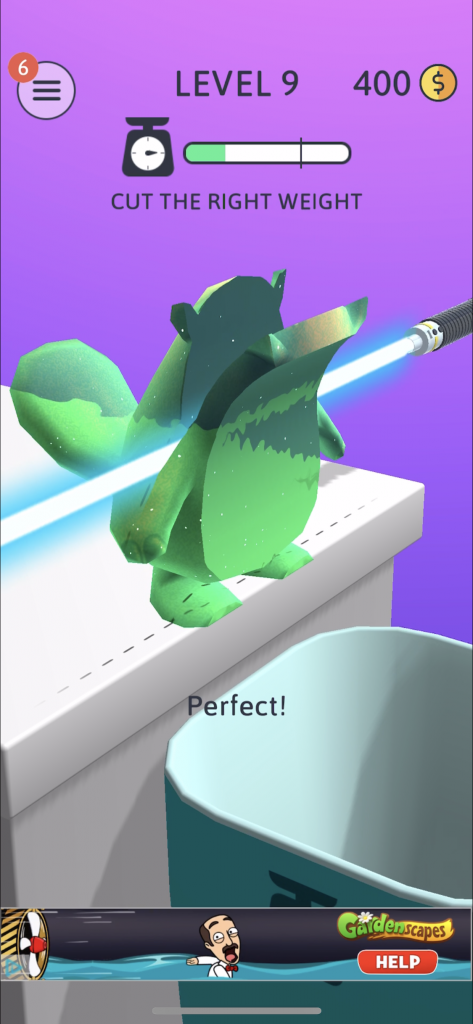 The graphics aren't exactly mindblowing but they work well for the type of game this is. The aesthetic is very colorful and bright with hints of animation when you slice through the objects and complete a level.
Music & Sounds
At first, I was disappointed with the sounds as no matter what object I was cutting through, it had the same sound. However, I eventually realized that to have different cutting sounds, you need to purchase knives. The first one I purchased was the lightsaber and that had a lovely smooth cut.
Controls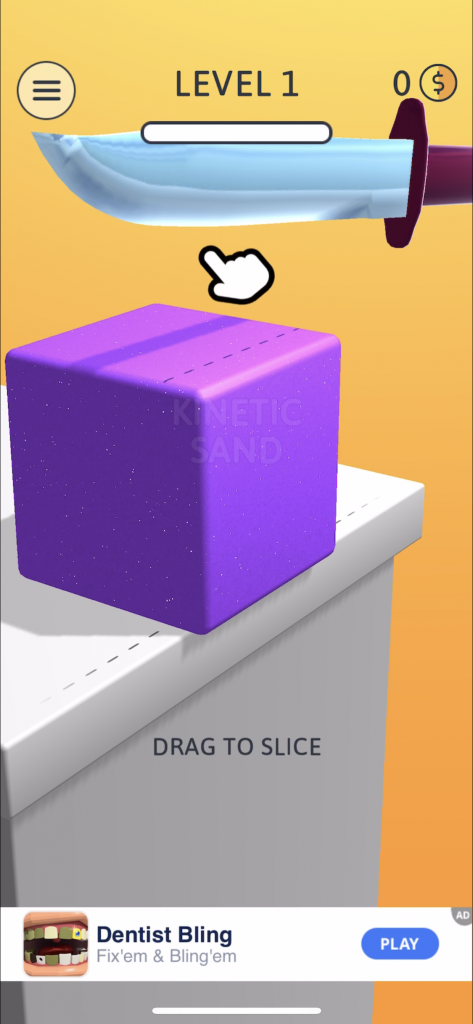 To slice through the object, all you have to do is drag the screen down. Although these controls are easy, you need to keep an eye on where the line is on the object so you cut decent shapes.
The Power of in-app Purchases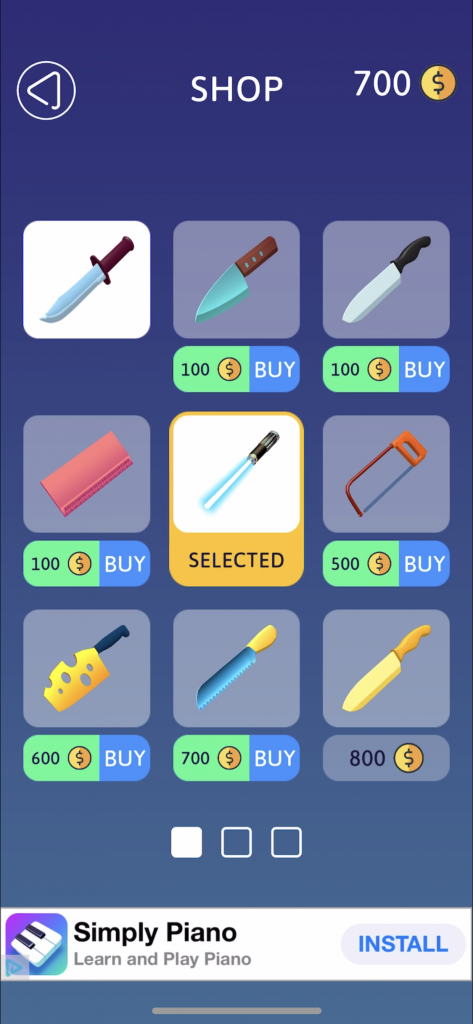 From what I can see, ASMR Slicing currently offers no in-app purchases. This is strange due to the number of ads the game has – it would be a nice feature to be able to pay to get rid of them. However, by completing levels, you can collect coins and with the coins, you can purchase knives. Each knife offers a different experience from the sound it makes to the visual aesthetic. My current favorites include:
Lightsaber
Cheese Knife
Regular Knife
Ruler
The Verdict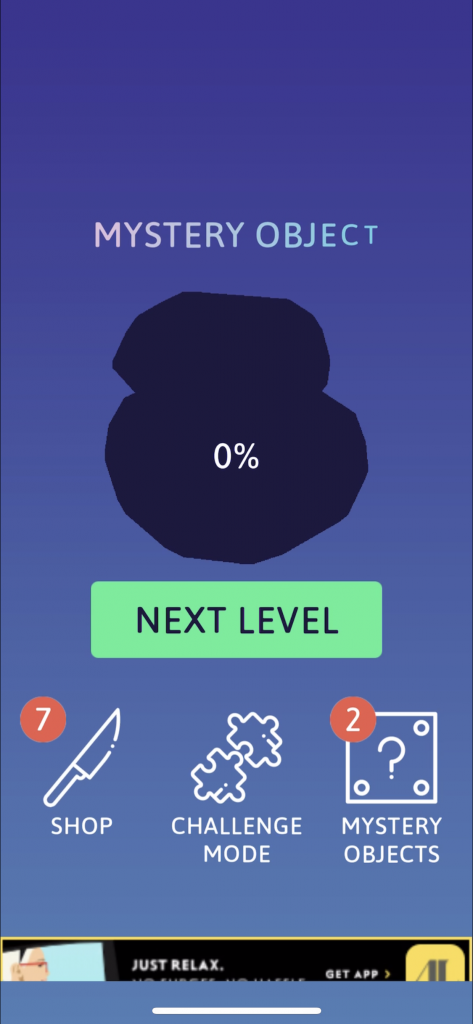 As someone who loves ASMR, I did find this game satisfying. Of course, it wasn't as good as watching the videos on Instagram or doing it yourself, but it was relaxing. I recommend this game to anyone who needs a moment to just relax from the competitive gaming world for a second.
If you decide to download ASMR Slicing, let us know what you think and if you agree or disagree with the things we said. Happy gaming and stay casual!
ASMR Slicing Overall Rating: 4/5
iOS Link: https://apps.apple.com/il/app/asmr-slicing/id1494458254
Android Link: Not currently available
Company: Crazy Labs
Genre: Casual
Rated: 12+
About Post Author