Armajet Review
Armajet is a 4v4 arena shooter with quick three minute rounds! Team up with friends or go solo in this fast-paced action game!
100% SKILL-BASED
Never pay to win! Armajet's game mechanics are easy to learn, hard to master and bridge the gap for ultra-competitive, cross-platform gameplay. Intuitive twin stick mobile controls make flying and shooting easy—surviving is the challenge.
CHOOSE YOUR GAME MODE
Team Deathmatch: Immerse yourself in team deathmatch arenas as you fight for air supremacy. Lead in points at the end of three minutes rounds or get 30 kills to win!
Fuel Frenzy: Looking for a strategic game mode? This one's for you. Collect and hold 10 fuel cells to win. But if you get fragged before the countdown ends, you'll lose them all!
Battle Ball: Score 3 goals into the enemy power hoop to win! Throw, pass, and even dunk the Battle Ball to cause killer chain reactions!
SQUAD UP WITH FRIENDS
Create your own party or join a friend's! Blaze through out of this world arenas together and fight contra teams! Team PvP combat at it's best!
HUNDREDS OF WEAPON MODS
Do you prefer close range PvP combat or being lethal from a distance? Choose an all-purpose automatic rifle, secure defensive positions with long-range sniper rifles, or wreak havoc with exotic flamethrowers. With 700+ weapon mods to keep you in action, you'll never be out of options!
UNLOCK & UPGRADE HEROES
Fly in style with hundreds of skins to unlock! Be sneaky in the skies with Jackal, assassinate your enemies with Umeko and defend your team's honor as Ramirez!
Official SBM Reddit
Armajet on Twitter
Official ARMAJET
Armajet on Discord
Armajet Links
Company: Super Bit Machine
Rated: 9+
Offers in-app Purchases
Hey Casual Gamers!  The future of war has arrived with Armajet!  Does 4 on 4 combat with 100s of weapons make you drool on your phone?  Check out the rest of this review, and find some friends!
Gameplay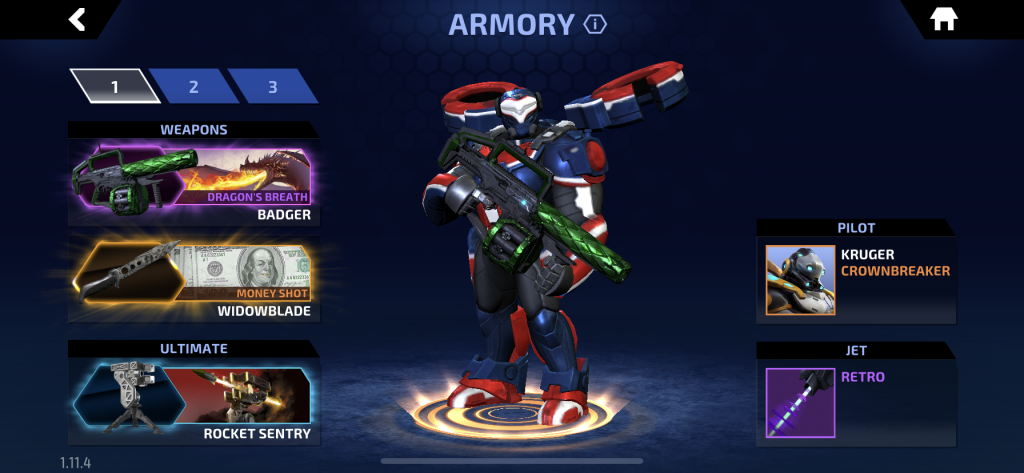 Armajet starts off with a tutorial of how to move around, and offers a few practice rounds to get an understanding of objectives and goals.  The real fun starts with the multiple game modes and the epic 4 on 4 action.  Surprisingly enough, you get matched with those of equal skill.  It takes some coordination, as does most team games.  Each mode offers different objectives and goals, but most of the time you will find yourself in a deathmatch!  First team to thirty wins!
Graphics
Outstanding.  Console level graphics would be an understatement for this casual app.  Armajet offers high level graphics, as attention to detail is given in every interaction.  It's sometimes shocking, and yet highly gratifying how smooth the graphics are, and no hints of dropped frames or slowdown when a huge fight takes place.  Every level is detailed and power up icons show a global timer that comes in extra handy for various situations you may find yourself in!
While there's a ton of weapons to find, the default weapon provides more than enough firepower to hold your own ground.
Music & Sounds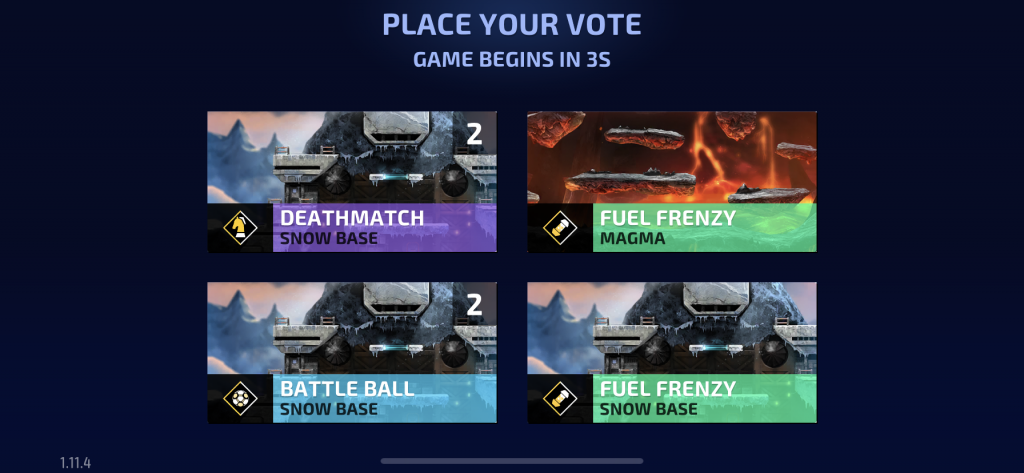 Thankfully, it's hard to talk bad about the sounds and music in Armajet!  From the boss introduction into the game, to the battle music during rounds, it's almost flawless.  The haptics give an assist as well, should sound not be available.
This is a casual app that demands full volume (or at the very least, headphones) each time you ready for battle.  Every weapon has it own sounds, and hearing about incoming enemy strikes can help save your team from getting aced!
Controls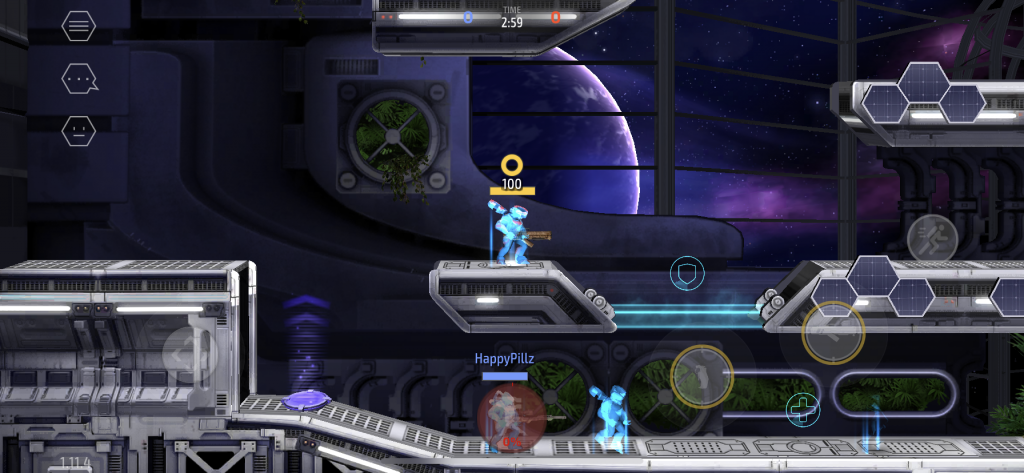 Simply put, controls always make me a happy gamer!  with one button to walk/fly and three other buttons for actions, most of the time spent can be used to aim and hunt down the other team.  There's also visual cooldown timers for reloading and when your secondary weapon is ready.
As you rack up points throughout the game, your selected ulitmate (which can be any amount of bombs, turrents, drones, or strikes) will slowly charge until it comes online.  There's also a meter for how much jet fuel you have, but it replenishes rather quickly.
The only issue I would give to controls is that you can't zoom out your camera.  I suppose seeing the entire board would create a disadvantage, but maybe a few inches out would help navigate a bit more.
Spectator mode allows the vision of the entire board.  Make sure to watch a friend if you are having issues on a certain level.
The Power of In-App Purchases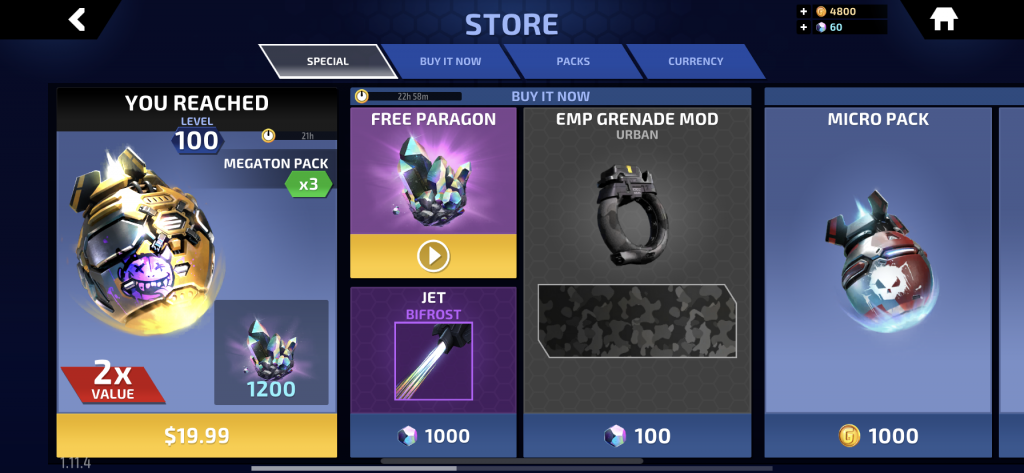 While Armajet is completely free, more weapons come with purchases.  Every 100 shards collect, a micro package appears.  These packages contain gold, blueprints (for new avatars, weapons, and ultimates) or even badges (which are just for show).
These shards take a lot of time to accumulate, so I would suggest buying on sale with this casual app.  Most of the sales give you bigger packages and will discount the actual cost of a bundle.
Everyday there's a chance to get 10 paragon for watching an ad.  There's so merit into not spending any money and collecting items the grinding way, but there's a great number of awesome weapons that will help create more strategic situations for your team.
Verdict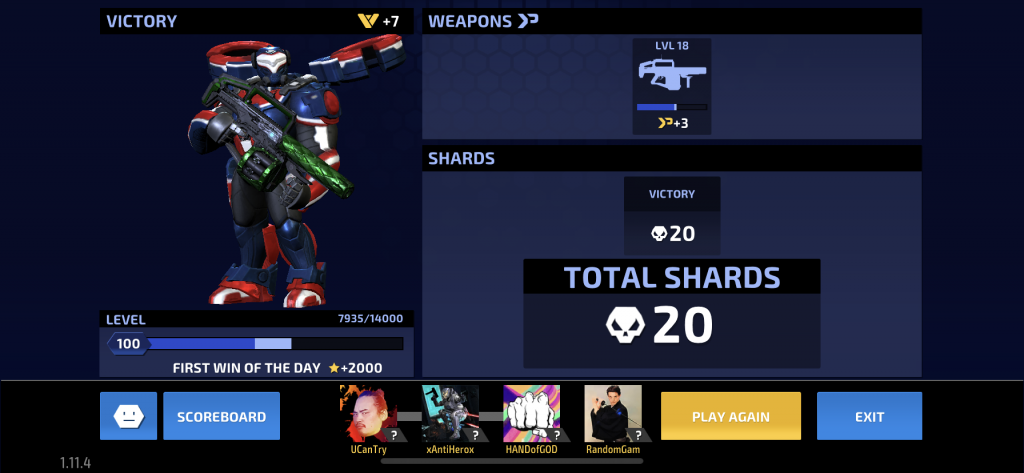 Overall, this is one app that you can't miss out on!  I do enjoy a First Person Shooter every now and then, but I can feel more into battle when I see my avatar in full view!
There's no joke about having a vast array of weaponry.  Truth is, until you do make a few purchases, you're stuck with the trusty standard rifle.  This isn't a bad thing however, it's fairly easy to rake up the kills with the standard rifle.  Just look out below or above for rounds incoming!
Already played and looking to show off?  Drop your favorite loadout in the comments below, and don't forget to check out the links to the Armajet social media pages to find more friends!
Happy Gaming, and as always, keep it casual!
Armajet Overall Score:  5/5
Official SBM Reddit
Armajet on Twitter
Armajet on Discord
Official ARMAJET
Official Super Bit Machine
Armajet Links
Company: Super Bit Machine
Rated: 9+
Offers in-app Purchases
About Post Author