Archer: Danger Phone Review!
"In ARCHER: DANGER PHONE, the world economy has been plunged into chaos – and the only way to survive is to lead your team of hapless spies in a global cryptocurrency operation that's just crazy enough to work!
Based on the hit animated series from FX, ARCHER: DANGER PHONE is a narrative-driven idle game where you're in charge of your own dysfunctional espionage agency. Collect and upgrade your favorite Archer characters, send them on lucrative missions to fund your operations, and take advantage of their get-rich-quick schemes to stay afloat."
iOS Link: https://apps.apple.com/is/app/archer-danger-phone/id1455510886
Android Link: https://play.google.com/store/apps/details?id=com.disruptorbeam.archer&hl=en_US
Company: Eastside Games
Genre: Simulation
Rated: 17+
Offers in-app Purchases
Gameplay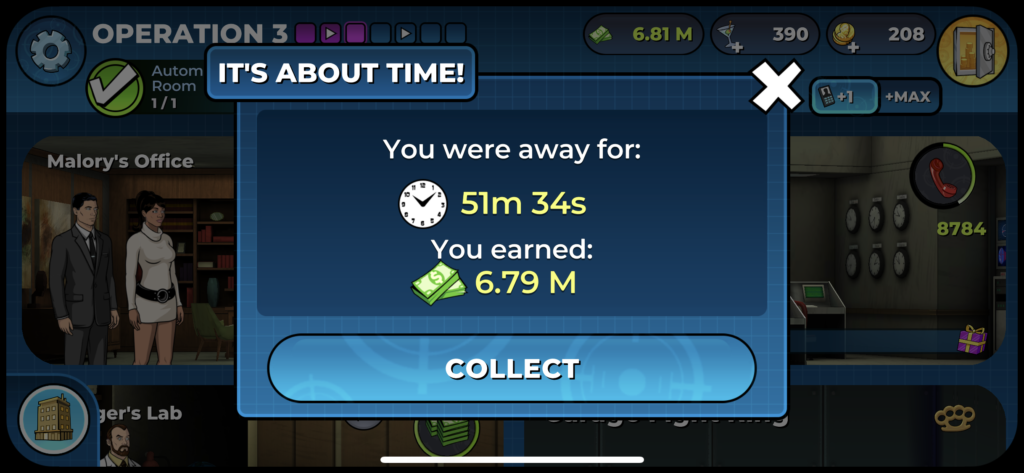 As someone who loves watching Archer, I was so excited to discover a new Archer game on the app store! But to my surprise, it's very much an idle simulation game. It's a shame because I had high expectations for how this game could've panned out…
Dr. Krieger wants to make a new cryptocurrency called Kriegerrands but the agency won't help him along the way so he makes them into holograms. During this story, you will need to earn influencers in order to trade them in for Kriegerrands.
The game is pretty standard when it comes to an idle simulation game, however, there's a mini-game where you're able to play as Sterling and shoot any enemies. But that's the only thing that differs from similar games.
Graphics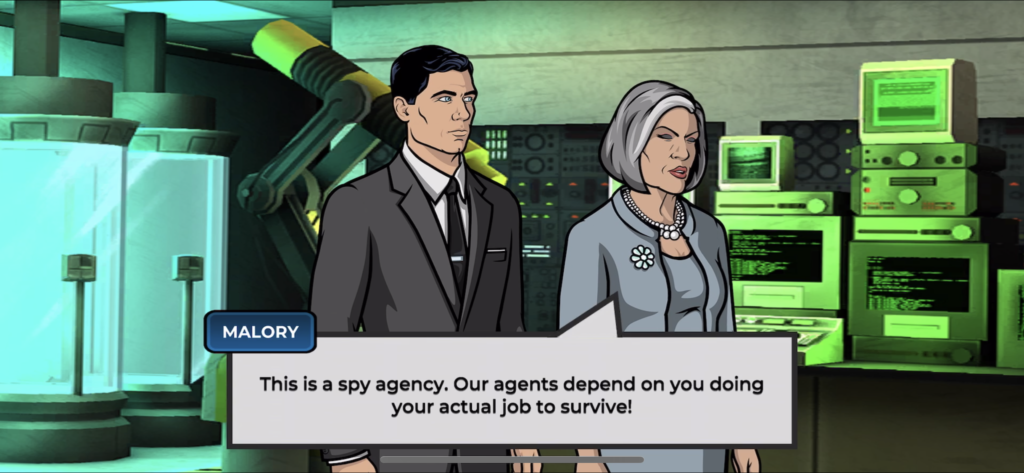 Being a huge fan of Archer, I noticed straight away that the graphics were almost identical to the shows. It's great to see that Eastside Games haven't compromised the visuals we all know and love from Archer.
Music & Sounds
The music is very on-brand with Archer so I was happy about that. However, the cut scenes are completely mute which just seems lazy to me. It would've been nice to get the voice actors involved with the script!
Controls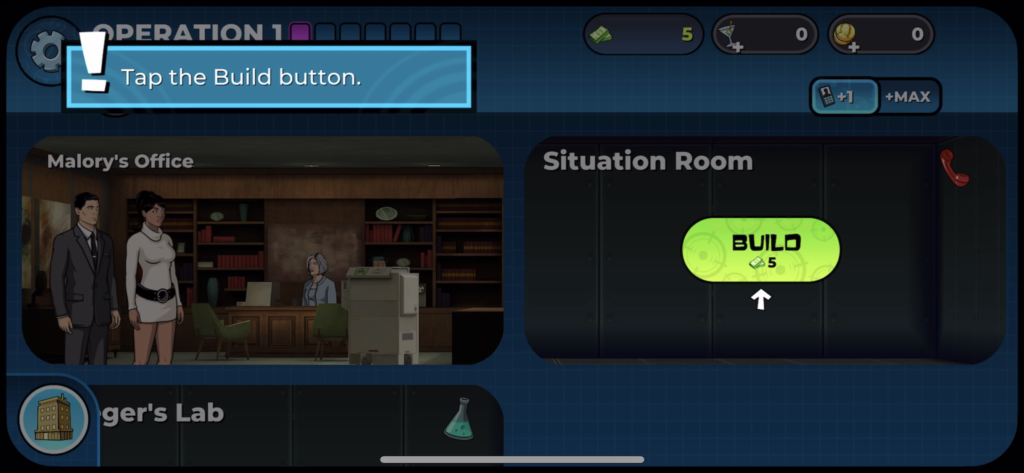 The main control in Archer: Danger Phone is tapping. You tap to upgrade the rooms and tap to shoot. It's a pretty simple concept!
The Power of in-app Purchases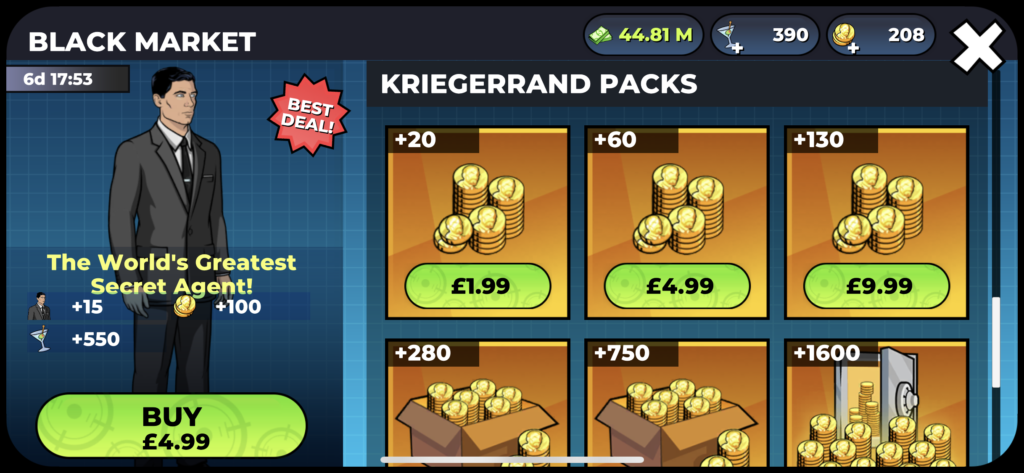 Cards
Krieger for 5 cocktails
Lana for 50 cocktails
Malory for 50 cocktails
Cases
Gold Case for 70 Kriegerrands
Legendary Case for 450 Krigerrands
Time Skips
Skip 1hr +7.91M cash for 19 Kriegerrands
" 8hrs +63.24M cash for 59 Kriegerrands
" 24hrs +189.73M cash for 99 Kriegerrands
Kriegerrand Packs
20 Kriegerrands for £1.99
60 Kriegerrands for £4.99
130 Kriegerrands for £9.99
280 Kriegerrands for £19.99
750 Kriegerrands for £48.99
1600 Kriegerrands for £99.99
Cocktail Packs
250 cocktails for 50 Kriegerrands
1000 cocktails for 180 Kriegerrands
3000 cocktails for 500 Kriegerrands
The Verdict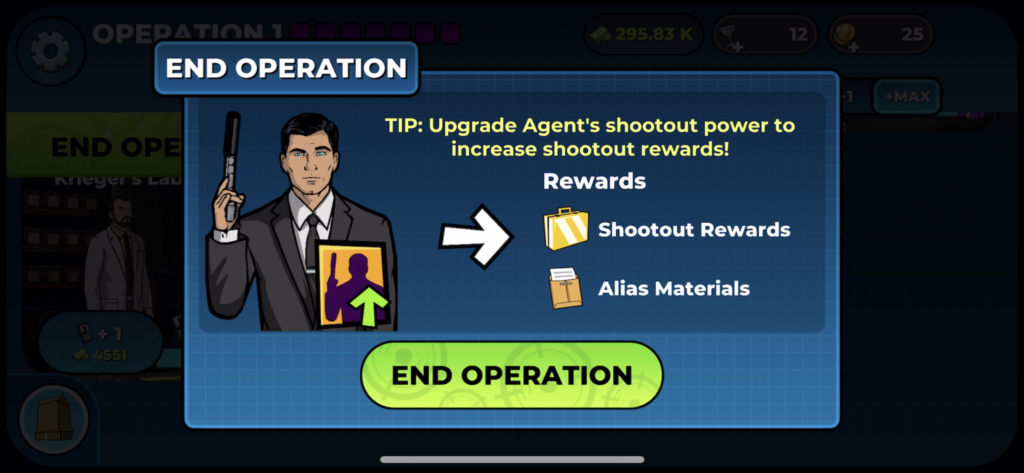 Although Archer: Danger Phone wasn't exactly what I expected, I did enjoy it to an extent. If you're a big fan of Archer, you should definitely give this a go but I feel like it's one of those games that get boring quickly unless you make in-app purchases.
If you decide to download Archer: Danger Phone, let us know what you think and if you agree or disagree with the things we said. Happy gaming and stay casual!
Archer: Danger Phone Overall Rating: 3/5
iOS Link: https://apps.apple.com/is/app/archer-danger-phone/id1455510886
Android Link: https://play.google.com/store/apps/details?id=com.disruptorbeam.archer&hl=en_US
Company: Eastside Games
Genre: Simulation
Rated: 17+
Offers in-app Purchases
About Post Author