Airplane Chefs Review!
"Cook delicious meals and desserts and serve them on the commercial flights in this FREE highly addictive time-management game Airplane Chefs!
Let your dreams take a flight and experience a fast-paced cooking game like never before. With a tap of your finger, step aboard a delicious journey around the globe on which you'll learn about famous foods from the world's greatest cities. From sunshiny Sydney to foggy London, from exotic Singapore to urban New York, master new cooking techniques from each location to serve up top-quality comfort foods to your passengers. Elevate your cooking skills to new heights and feel like you are in a real plane with fun and unique time management mechanics!
Help your guests feel at home with various upgrades to transform your galley into the best one yet and get the finest quality ingredients for making truly luxurious meals. Fly high, cook fast, and reach the top! The sky's the limit!"
iOS Link: https://apps.apple.com/au/app/airplane-chefs/id1222489978
Android Link: Not currently available
Company: Nordcurrent UAB
Genre: Cooking Games
Rated: 4+
 Offers in-app Purchases
Gameplay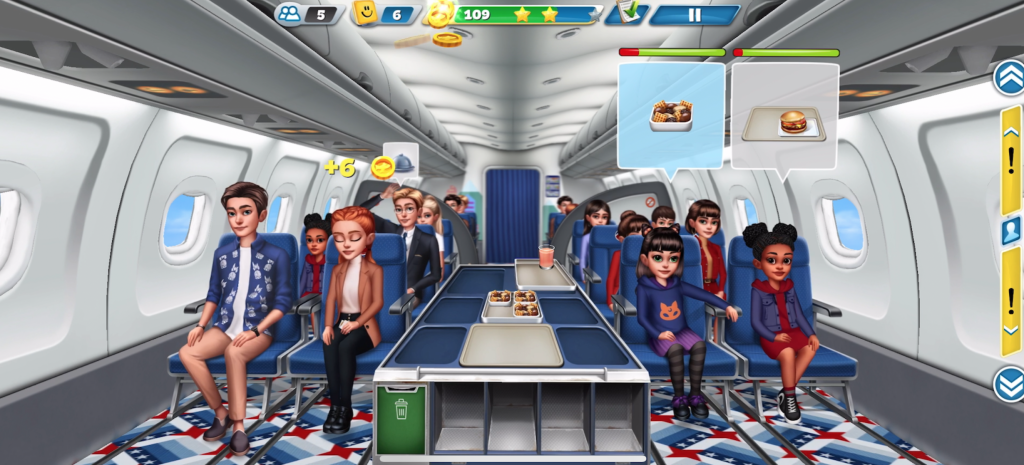 With the basis of a lot of other cooking games on the app store, Airplane Chefs provides quite a twist. This time you're an air hostess who needs to serve her customers as fast as possible. Unlike other cooking games where the customers come to you in pairs or sometimes 3 at a time, Airplane Chefs has rows and rows of customers. You have to have strategic and time management skills to successfully play this game.
Graphics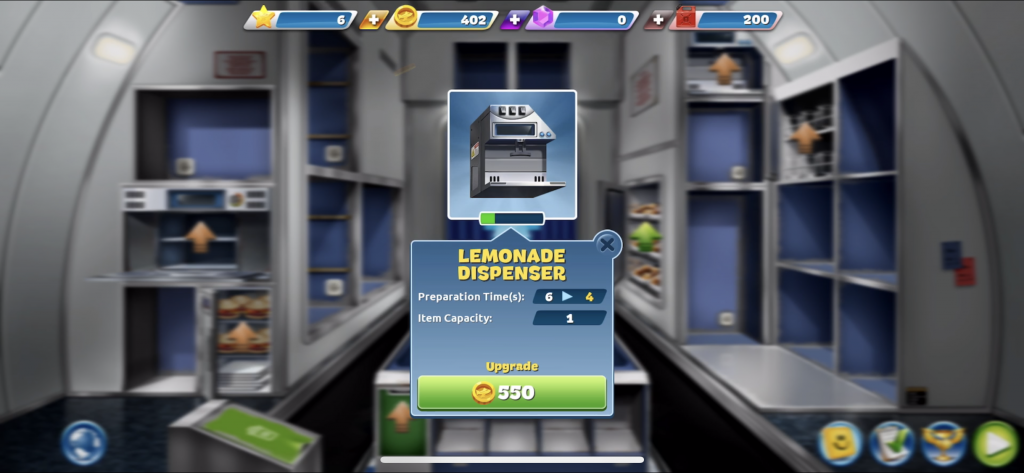 The graphics definitely didn't stand out to me and found they were poor along with the animations of the characters. I can't say I was impressed with them but I didn't hate them either.
Music & Sounds
Airplane Chefs music was so basic I had it turned off for the majority of my time playing it. It doesn't add anything to the gameplay and would be fine without it, however, I'd rather basic music than no music. As for the sounds, the customers make noises when you serve them (similar to most cooking games) but that's about it.
Controls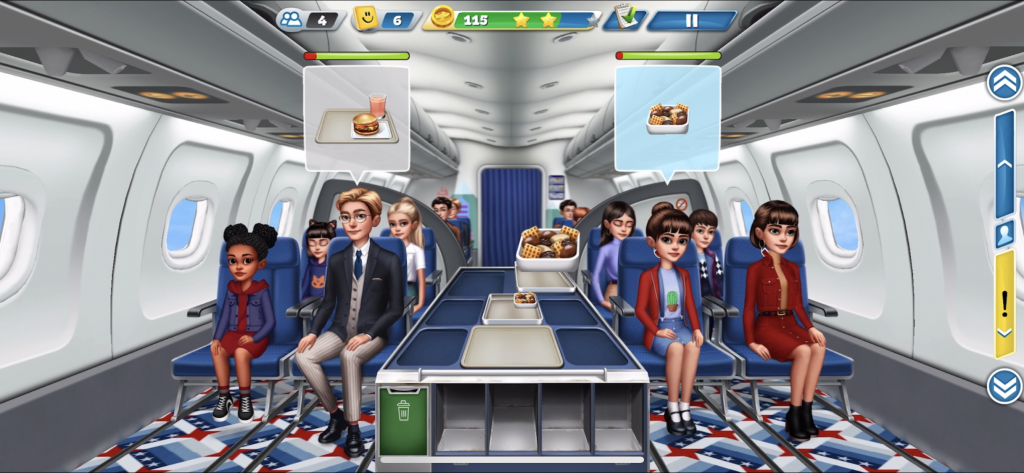 The controls are pretty simple but can be hard to keep track of. With an up and down navigation on the right-hand side of the screen, you can keep track of which customers you've served and get to them. To pass a customer food, just drag the tray towards them and they'll take it. Although, I would've preferred it if it was tapping instead of dragging as I feel like dragging takes up unnecessary time and makes the gameplay harder.
The Power of in-app Purchases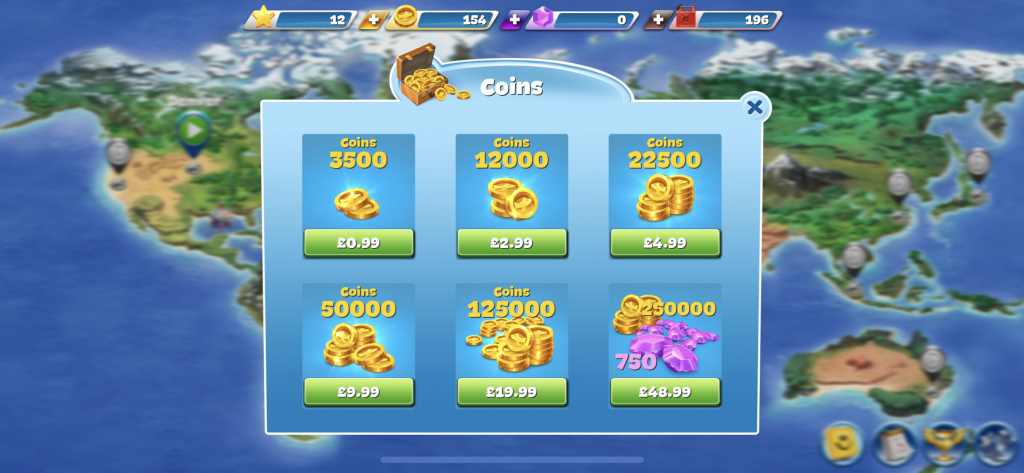 In-app purchases are available on Airplane Chefs, however, they're not needed in order to complete the game.
Coins
3500 coins for £0.99
12000 coins for £2.99
22500 coins for £4.99
50000 coins for £9.99
125000 coins for £19.99
Gems
10 gems for £0.99
35 gems for £2.99
60 gems for £4.99
125 gems for £9.99
300 gems for £19.99
250000 coins and 750 gems for £48.99
Fuel
9 fuel for 1 gem
50 fuel for 5 gems
120 fuel for 10 gems
The Verdict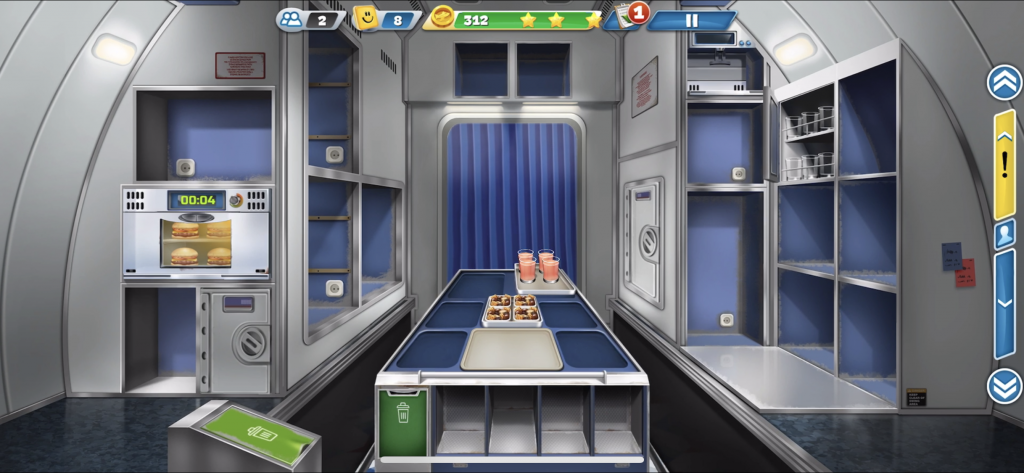 Although I'm a big fan of cooking games, I found there was too much to do at once in Airplane Chefs and it just took the fun out of it. These types of games are supposed to have that end of the day vibe where you can play them while watching Netflix etc, however, I felt as if this game had to have my full attention the whole time.
If you decide to download Airplane Chefs, let us know what you think and if you agree or disagree with the things we said. Happy gaming and stay casual!
Airplane Chefs Overall Rating: 3/5
iOS Link: https://apps.apple.com/au/app/airplane-chefs/id1222489978
Android Link: Not currently available
Company: Nordcurrent UAB
Genre: Cooking Games
Rated: 4+
Offers in-app Purchases
About Post Author