A Beginner's Guide to Genshin Impact
Genshin Impact is a free-to-play game made by MiHoYo, that resembles Zelda: Breath of the Wild through exploration and design. While this game is similar to others, it's important to note that it's easy to get lost, to begin with. If you want the low down on Genshin Impact, you're in the right place.
What Platforms Can You Play It On?
At the moment, you can play Genshin Impact on PS4, PC, and mobile. There are rumors that it'll be released on the Nintendo Switch at some point in the near future, but nothing's been confirmed.
Story
Taking place on the island of Teyvat, which is divided into a number of nations and regions: Mondstadt, Liyue, Inazuma, Sumeru, Fontaine, Natlan, Snezhnaya, and Khaenri'ah. The game begins with a pair of twins traveling across stars and visiting different worlds to arrive in Teyvat. When they arrive, they discover it's ablaze with war and fires, and as they attempt to make a run for it, they're stopped by a mysterious god. Once this happens, you'll be asked to choose which character you want to play as. The god captures one of the twins and seals away the other one.
What to Expect From the Gameplay
Expect a lot of learning, to begin with. The game will tell you where to go to get the party started, but after some time, you'll be able to explore the world on your own terms. Although the storyline does revolve around the saving of your lost twin, it's not crucial to follow the storyline and just play it however you want.
Character Tier List
Top Tier
Diluc is an amazing DPS. His sword and Pyro damage is great for those tough fights and is also effective against wooden shields.
Qiqi is the ultimate healer and her ability to continuously heal teammates and do decent sword damage is brilliant!
Keqing is an asset to any party composition but she can also do melee damage, ranged damage, and AoE interchangeably.
Venti is a great Anemo support and capable of taking on massive damage. On top of this, he can launch enemies into the air with his Elemental Skill and deal Hydro, Pyro, Electro, and Cyro damage to enemies with his Elemental Burst.
Mona has unique movement abilities that allow her to dash swiftly through water and move across battlefields with no problems. She can also deal with high Hydro damage while avoiding all other damage.
Mid Tier
Chongyun can create Elemental Reactions with Cyro. Although not better than Cyro character Qiqi, he can target more enemies at a faster rate with his Cyro effect by using his Elemental Skill.
Jean is good at DPS, support, and healing. Her normal sword attack, her ability to heal teammates with Elemental Burst, and her Elemental Skill for crowd controls are all brilliant attributes.
Xiangling is best used for fast melee attacks and setting up Elemental Reactions. She also has a powerful Elemental Burst.
Klee can easily defeat a number of enemies at once with her explosive attacks. However, she isn't quite as good as Diluc.
One of the key benefits of having Fischl on your team is how great she is when she's not on the battlefield. She can easily jump in, use her Elemental Skill, and then jump back out.
Barbara can quickly save teammates with her Elemental Skill or Burst to save her teammates when they're in trouble. Her attacks do low damage, but that's not what she's there for.
Low Tier
Ningguang is mostly used to shield the team from incoming ranged damage with her Elemental Skill. This can sometimes be of help, however, the presence of healers and your sprinting ability make the shield redundant for most teams.
Razor's normal sword attacks do brilliant damage, however, there are much better DPS characters in the game.
Noelle is a pointless character if there's a good healer around and is too slow to be a great DPS. However, she can take a lot of incoming damage thanks to her Elemental Skill shield and healing.
Should You Make an In-App Purchase?
It probably comes as no surprise, but Genshin Impact made a whopping $100 million in two weeks through in-app purchases. It's also been noted by PC Gamer that the game's budget was $100 million so the developer remade the money back in only 12 days – so you might want to get on this!
Genshin Impact is a free-to-play game where the base game is unlocked from the start, and you can spend money in the in-game shop through a Gacha system. Gacha games are based on Japan's vending machines that yield small capsules with a toy inside. When you put a token in the machine, you have no way of knowing which item you'll get.
If you are going to make a purchase, you should start with the Beginners' Wish. For 1120 Primogem, you can make a wish for a character where you're guaranteed at least one 4-star or higher character per 10 wishes.
Rules
Base probability of winning a 5-star character = 0.600%
Base probability of winning a 4-star character = 5.100%; consolidated probability = 13.000%; guaranteed to win 4-star or above character at least once per 10 attempts. 3-star weapons won in this wish comes with Masterless Stardust x15.
However, Genshin Impact doesn't throw this system right in your face, and you could definitely play the game without spending a single cent – or just a few if you really fancy it.
Our Thoughts and Feelings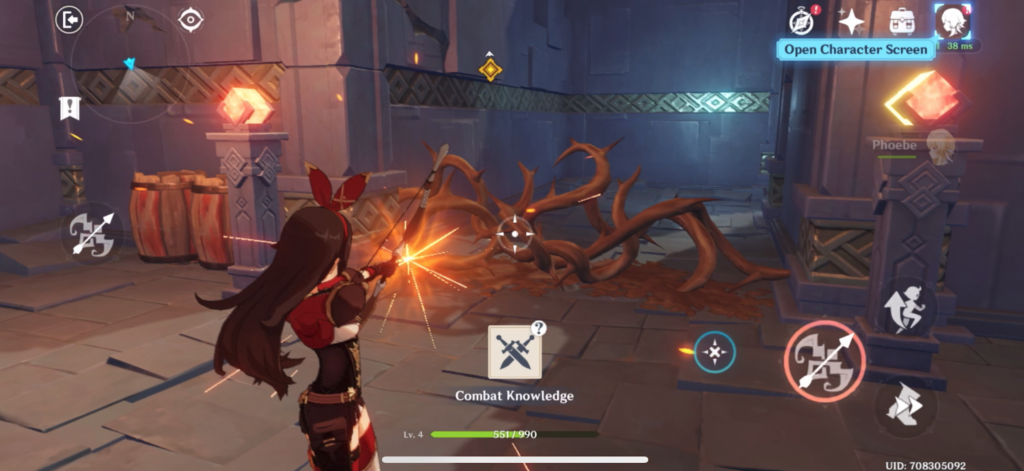 Genshin Impact is revolutionary for free-to-play games and hopefully, other developers will follow suit. We're within the age of poorly made free-to-play games that are quite obviously only made for downloads. So our prediction is that this is going to change the mobile gaming industry for the better.
Genshin Impact plays very similarly to Breath of the Wild, which is a $60 game so it feels like a huge steal even downloading this game. It's hard to compare it to other mobile games, but the closest is definitely Honkai Impact 3 in terms of visuals.
Hopefully now you know a bit more about the game, you're ready to give it a go. Trust us – it's a good one!
Amazon Auto Links: Could not resolve the given unit type, . Please be sure to update the auto-insert definition if you have deleted the unit.