Tinker Island 2 Review!
"Are you ready for the survival adventure of your lifetime?
Tinker Island 2 is back – bigger and better than before! Join a crew of survivors on an island split between two factions – the villagers and the citizens that are fighting for island domination!
Based on the original Tinker Island award-winning mobile game, Tinker Island 2 throws you into another adventure on a deserted island, filled with mysteries, riddles, epic battles, and questions that boggle even the brightest of minds!
Discover the mystery of the island inhabited by three factions – the villagers, the citizens, and the aliens. Pick a side, help them out with quests and discover the secrets of Tinker Island 2. Discover strange locations, battle creatures from the depths of your ultimate nightmares, and help out the mysterious characters achieve their destiny!"
iOS Link: https://apps.apple.com/si/app/tinker-island-2/id1453871144
Android Link: https://play.google.com/store/apps/details?id=com.trickytribe.tinkerisland2&hl=en_GB&gl=US
Company: Tricky Tribe
Genre: Adventure
Rated: 9+
Offers in-app Purchases
Gameplay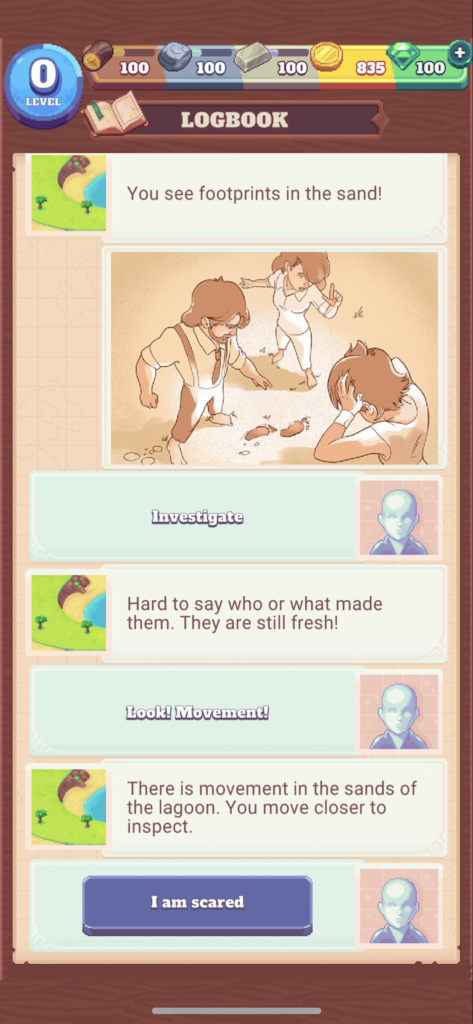 You're stranded on an island with 3 other people, Robert, Mary, and Jenny. You're thrown straight into the game by exploring the island, getting to know each character, making food, and setting up camp.
While I'm not usually big on survival games, this was a lot of fun to play – I mean, I literally got to fight against a crab!
Graphics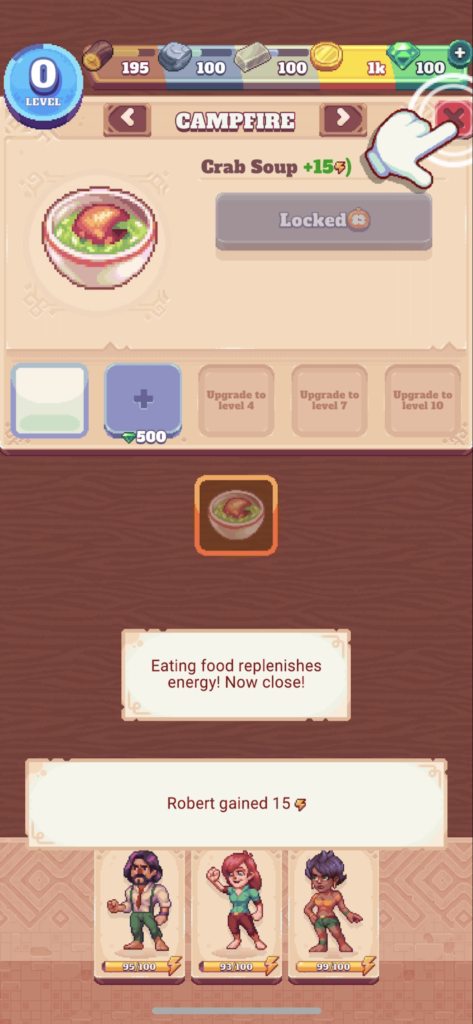 8-bit graphics are always a winner in my eyes as it makes the game feel a little more old school, even if it isn't. It's also a great way for developers to make games look good without breaking the budget!
I also thought the characters were funny-looking in a good way. Why do their noses look like clown noses???
Music & Sounds
Despite the game being about surviving on an island, the music is pretty upbeat and cheery.
I'm quite harsh when it comes to music in games but I found that this fit in really well with the gameplay!
Controls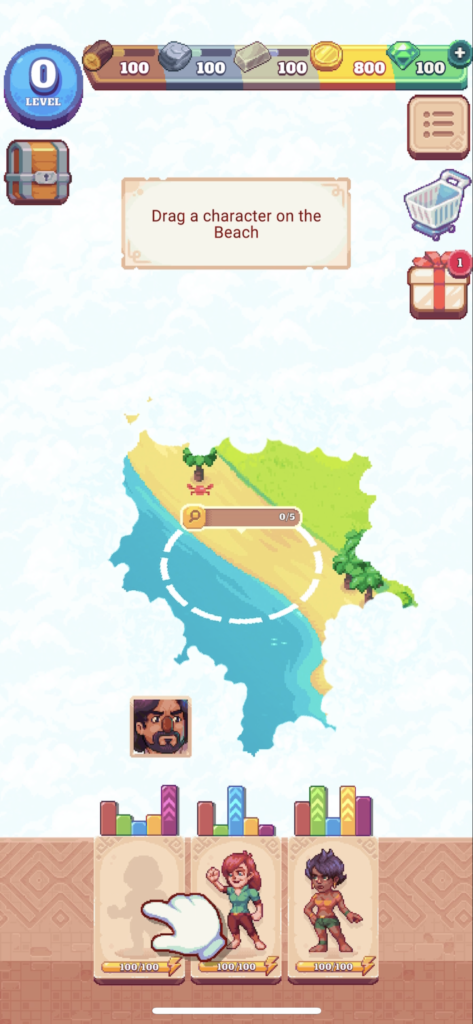 To control, drag your chosen character towards the island. Depending on which character you choose, it'll increase their stats and make them stronger.
The Power of in-app Purchases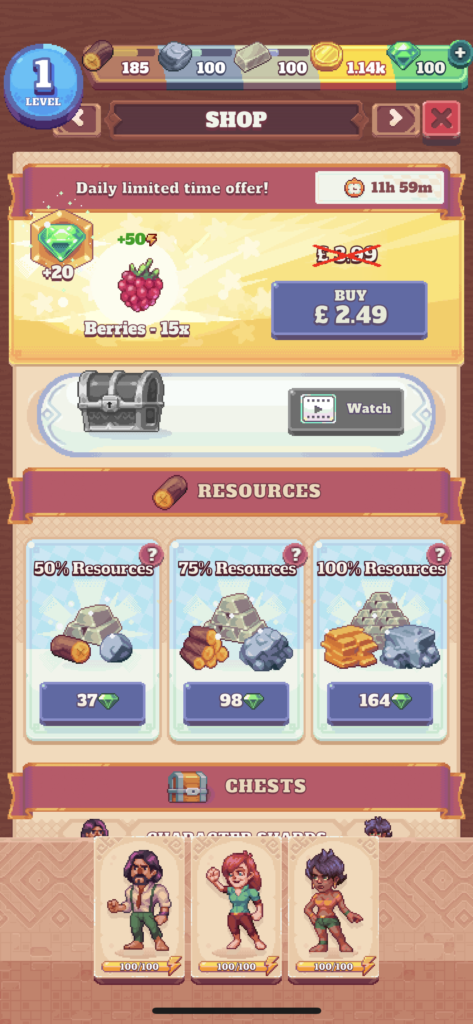 Resources
50% resources for 37 gems
75% resources for 98 gems
100% resources for 164 gems
Chests
Bronze shards for 190 gems
Silver shards for 890 gems
Gold shards for 2.99k gems
Bronze parts for 190 gems
Silver parts for 690 gems
Gold parts for 1.69k gems
Gems
500 gems for £4.49
1.2k gems for £8.99
2.5k gems for £17.99
3.8k gems for £25.99
6.5k gems for £44.99
14k gems for £89.99
The Verdict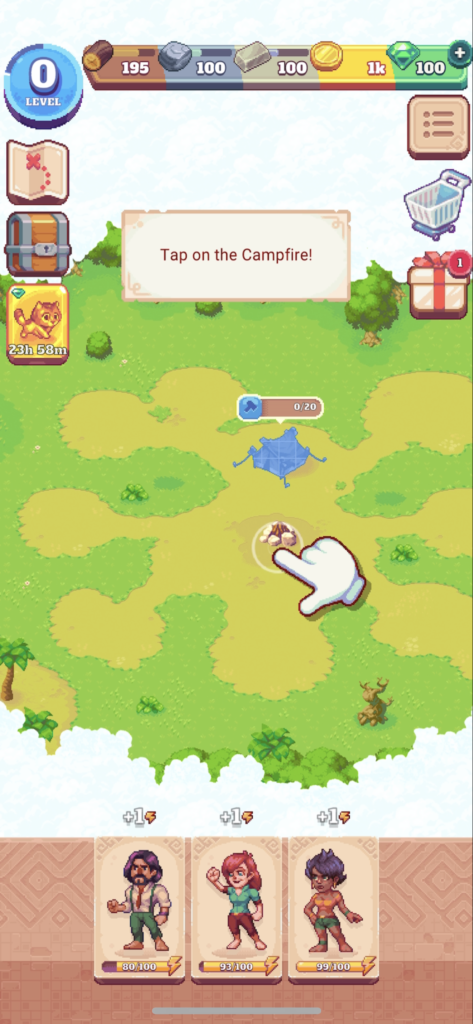 I didn't expect to enjoy Tinker Island 2 as much as I did, especially as the genre isn't my thing. However, this is both the weirdest yet one of the most fun mobile games I've played in a long time.
If you decide to download Tinker Island 2, let us know what you think and if you agree or disagree with the things we said. Happy gaming and stay casual!
Tinker Island 2 Overall Rating: 5/5
iOS Link: https://apps.apple.com/si/app/tinker-island-2/id1453871144
Android Link: https://play.google.com/store/apps/details?id=com.trickytribe.tinkerisland2&hl=en_GB&gl=US
Company: Tricky Tribe
Genre: Adventure
Rated: 9+
Offers in-app Purchases
About Post Author