The Sims Mobile Review!
"Create your Sims, give them unique personalities, and customize their world with more detail than ever before on mobile. Experience your Sims' lives as they choose careers, party with friends, and fall in love."
The Sims Mobile Links
IOS Link: https://itunes.apple.com/br/app/the-sims-mobile/id1144258115?l=en&mt=8
Android Link: https://play.google.com/store/apps/details?id=com.ea.gp.simsmobile&hl=en_GB
Company: EA
Genre: Life Simulation
Rated: 12+
Offers in-app purchases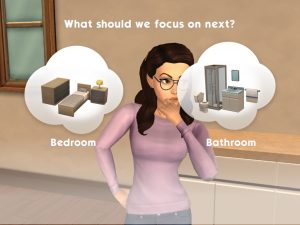 The Sims Mobile Gameplay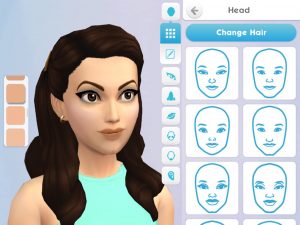 Like any Sims game, Sims Mobile starts off with you customizing your Sim and getting her settled into the new house. But as soon as that part was over, I realized that this isn't like your average sim game. You're taken through a tutorial where you make a new friend and start a career as a barista – at least in the PC version you can just ignore it if you like. But no, for this, you have to complete actions and there is no way of stopping them. So don't go into this game thinking you're going to get something really similar to The Sims 4.
This game reminds me of Hogwarts Mystery because of the events that go on. You start an event, and you need to collect enough stars before the timer runs out in order to proceed to the next level. This is super annoying because some of the events are a few hours long and I forget to go back to check on the game.
There is a lot to do like explore the map, meet new Sims who pass by and start friendly or romantic relationships with them, take up a hobby, get a job, and tonnes more cool activities. You can make friends, add them to your contacts, talk to them and even hold a house party if you're feeling funky. Start off as a Barista as your career, but this opens up a bunch of other opportunities as you progress through the gameplay.
You can also choose your own "story" with other Sims. You can make a soulmate, or even just a friend with benefits, it's completely in your hands. It's a fun little extra that adds a bit of a story to the gameplay as Sims doesn't really have one. By leveling these relationships up, you will unlock more story chapters.
The Sims Mobile Graphics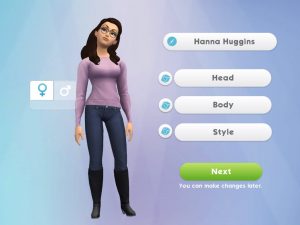 The graphics seem a lot similar to the PC versions of this game, which is amazing. Because obviously, it's pretty hard to make an app game with good graphics (some are horrendous). Being able to customize your Sim in great detail is also a massive bonus as it just adds character to the game. I don't know why, but I was just expecting to have two default characters to choose from but luckily that wasn't the case. The only thing I would say is that I wish they'd offer more clothes as most of them are pretty ugly, but that might just be me being a fusspot.
The Sims Mobile Music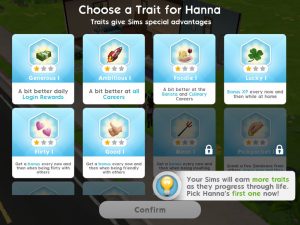 The sounds and music are very Sims-esque, of course. When I first started the game, I quickly needed to do something on my laptop and all I could hear was my Sim constantly saying "Oooooh" "Ahhhh" at the door. Needless to say, it felt like home. And yes, they do speak Simlish, I think this game would have a big fat 0 rating if they didn't. So everything does feel pretty legit in terms of sound.
The Sims Mobile Controls
Again, the controls are also similar to the PC version of The Sims and it requires a lot of tapping. There are various buttons such as a home button, driving, character click, and clicking stars above certain people/objects to complete events. I like it this way as the events are fun and easy to do, you're unlikely to run out of energy (at this stage anyway) and it's just a simple, easy game to play when you're bored.
The Sims Mobile The Power of in-app Purchases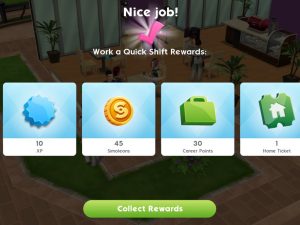 When it comes to what you can purchase, there is an overwhelming amount of cool things! I won't bore you with every single thing that is in the shop but I'll name a few of my favorites:
Beginner's Bargain Pack – Sim tickets, home tickets, and 480 cash for £4.99
Peacock Pizzazz Pack – "Treat your living space to a touch of luxury with this exotic jewel-toned living room set you'll want to flaunt every day." – £19.99
Uptown Chic Pack – "This chic collection of fashions gives your Sims a bold, elegant, new look – and includes energy boosting cupcakes to help them show it off!" – £8.99
I really doubt that these packs help you get anywhere in the game, they're just for looking good. When you complete events, you get rewards so it's safe to say that this game isn't pay-to-win and who doesn't love that?!
The Verdict
The verdict? I really enjoyed this game and it is one hundred percent something I'm going to continue playing. There's just something super addictive about it (and I'm not even a big fan of The Sims anyway). It's perfect little game to kill some time. It's also a massive improvement compared to other mobile versions of the Sims (Remember Freeplay?). By no means is it going to replace The Sims 4. But it's definitely going to give you a quick Sims fix if you happen to be away from your computer.
However, if you're a Sims player who enjoys decorating your rooms to be the most aesthetically pleasing, you're not going to like this too much. The furniture isn't that great and it's really hard to place things properly. I tried placing a corner cabinet next to a normal cabinet and it wouldn't let me for some reason so that was a little bit disappointing.
If you're literally addicted to The Sims, download this now. I really do think this is the perfect mobile version but it can get frustrating in some places if you're not very patient.
The Sims Mobile Overall Score: 5/5
IOS Link: https://itunes.apple.com/br/app/the-sims-mobile/id1144258115?l=en&mt=8
Android Link: https://play.google.com/store/apps/details?id=com.ea.gp.simsmobile&hl=en_GB
About Post Author