Terraria Review
IOS Link:  https://itunes.apple.com/us/app/terraria/id640364616?mt=8
Android Link:  https://play.google.com/store/apps/details?id=com.and.games505.Terraria&hl=en_US
Company:  505 Games (US), Inc.
Genre:  Role Playing Game
Rated:  9+ (Mild Suggestive Themes, Mild Horror/Fear Themes, Mild Cartoon or Fantasy Violence)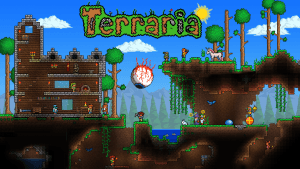 for iOS brings the popular 2D sandbox adventure game to the touch screen – it was also loosely based on Minecraft. Knowing a few people who have played the PC version of this game and they told me that it's really good so I had high hopes for it.
Terraria's Gameplay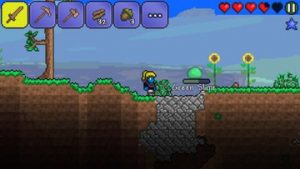 When you first start playing the game your character is fairly weak.  Once the night falls, zombies and other bad guys will be on the hunt.  It's very important to start chopping down trees straight away to build a shelter before the night hits. You will be given a copper sword, pickaxe, and an axe.
Later on, you'll also want to build housing for NPC's that arrive as you pass certain milestones. However, rather than spending your time going through the tutorial for the early parts of the game, it's worth learning how to play Terraria on Terraria Wiki.  This is a website that will help with some setups. In general, the key is to explore and mine blocks in order to craft items that will make your little character stronger so you can take on the game's give difficult bosses.
Terraria's Mode of Play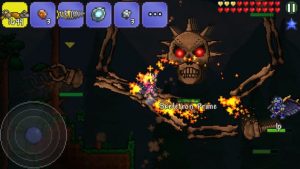 There are many items and weapons to be a crafter, generally followed by the role you want to perform in the game. You can focus on Ranged, Magic or Melee to deal with different enemies, dungeons, and bosses.
Progression within this game is not measured by a storyline or time passed, but rather by the equipment you collect and have available to you. The amount of items you can create before setting after these areas is determined by the number of NPC merchants have moved into your main base. You'll have to accommodate their living space in order for more to come along and stick around.
One element that Terraria has that is not like Minecraft is the ability to build a village and attract helpful NPCs. These NPCs will eventually form the equivalent of a town in the old RPG sense, with a Healer, a Shopkeeper, and other familiar helpful services. This builds structures a purpose beyond the act of building. Building helps you go further in the game.
Terraria's Graphics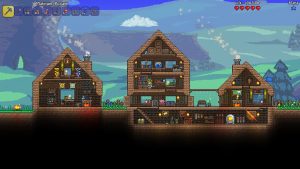 The graphics are basic, but that's the point. It gives you that Super Nintendo 16-bit era vibe – and the graphics are very similar to Minecraft except, well, it's in 2D. Although the light effects are colorful and bright, you'll discover underground landscapes that are both vibrant and frightening. These graphics are amazing and it's one of the reasons why I enjoyed the game so much. Between the pixelated graphics and fast-paced mechanics, you'll definitely enjoy playing this game as much as I did!
Terraria's Music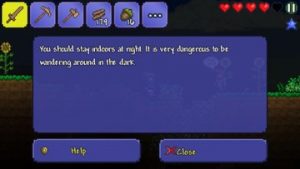 The music in this game hits you as soon as you enter the main menu – and I really like it! The music has a bouncy, electric feel that is often countered with live strings or wind instruments. As the days turn to nights/as you travel deeper underground, the music shifts to signal for danger or new areas. You'll be drowned in themes that will keep you focused and alert.
Terraria's Controls
The controls are pretty basic and not the easiest to use. To move your character, there's a control pad on the bottom left of the screen. Any item you use is activated by touching the right side of the screen. However, in the PC version of the game, you mine by hovering your mouse cursor over a block and clicking, with the iOS version you just touch the block with your finger. This allows you to zoom and see exactly which block you're mining – so you're not wasting your time.
Because I'm only using an iPhone to play this game and not a bigger device like an iPad, the controls got a little bit frustrating. With the iPhone screen, you can't see as much of your surroundings at one time as you can on the iPad. Another annoying glitch in the game is that sometimes the zoom window will actually sometimes appear cut off the screen so you are unable to see which block you're mining – I found this super frustrating! But then again, this is probably because I'm using an iPhone 5s, I doubt this would happen on a newer and bigger phone.
Terraria's power of in-app purchases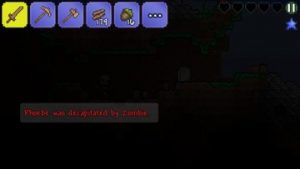 From what I can see, there are no in-app purchases for this game. Which is probably because the game costs £4.99 to download. So if you're looking for a free game to download, this isn't for you. However, this game is really cool because there's no running out of energy or waiting for lives. You could play this game for hours on end if you really wanted to. Having the option to play a game for as long as you like is definitely a luxury when it comes to iOS games – so definitely download Terraria if that's what you're looking for – £4.99 is a great deal for your money!
Terraria's Overall Thoughts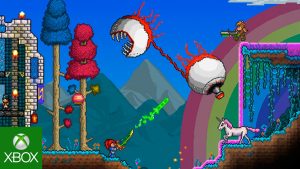 Overall, I really enjoyed this game. Like I said, I really love the fact I can continuously play this game if I want to. The graphics are simple but effective, meaning that the game didn't take up loads of memory on my phone. My favorite part of the game is definitely destroying the enemies – there's definitely something rewarding about being able to defeat something in a game.
Terraria's Overall Rating:  5/5
About Post Author