Talking Tom Gold Run Review!
"Players run and chase the robber, exploring the fun endless running worlds! This cool running game is all about racing, jumping, dashing and getting an epic adrenaline rush in no time at all!
RUNNING ACTION: Players can have epic fun for free with this amazing endless runner! Chasing after the robber who stole the gold and unlocking new worlds is an incredible adventure! Who has what it takes to run through all the worlds and win? With enough running and racing, anyone can become the best runner there is. It's time to go for gold! Players can also complete missions to get cool rewards!
ROBBER RUN AND CHASE: The sneaky raccoon thief stole the gold! Players can get the gold bars back and use them to build and upgrade amazing homes for Talking Tom and Friends! The finished homes will then unlock new worlds they can explore and go racing through! Let's run for fun!
RACCOON BOSS: The big bad raccoon boss will try to stop players at any cost! They have to run and dodge obstacles and take down the robber's truck in an awesome boss fight. Kicking chili bombs at him will make him give up eventually!
SPECIAL CHARACTERS: Players can run even faster and do cool tricks with the help of special characters! Princess Angela, Shark Hank, and Super Tom to the rescue!
THE BEST ENDLESS RUNNING FUN IS IN TALKING TOM GOLD RUN!"
iOS Link: https://apps.apple.com/us/app/talking-tom-gold-run/id1089336971
Android Link: https://play.google.com/store/apps/details?id=com.outfit7.talkingtomgoldrun&hl=en_GB
Company: Outfit7 Limited
Genre: Action
Rated: 4+
Offers in-app Purchases
Gameplay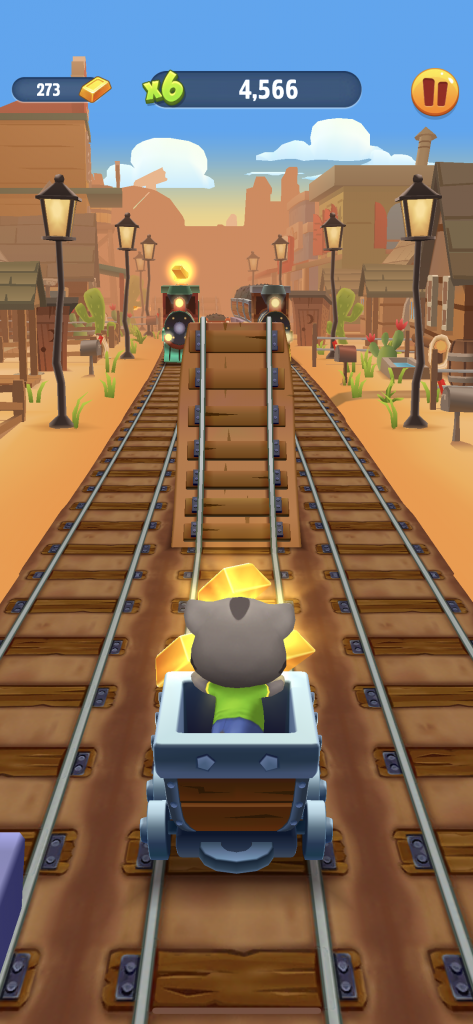 Remember in 2013 when we were all obsessed with Talking Tom? You could play with him, feed him, annoy him, and talk to him. It was a massive hit and he's back with a brand new game. Talking Tom Gold Run features Tom trying to build his house, but a devious raccoon has gold from him. Play as Tom and chase him for the gold while avoiding a number of obstacles along the way.
I noticed that the gameplay is very similar to Subway Surfers, but that's not to say I didn't enjoy it.
Graphics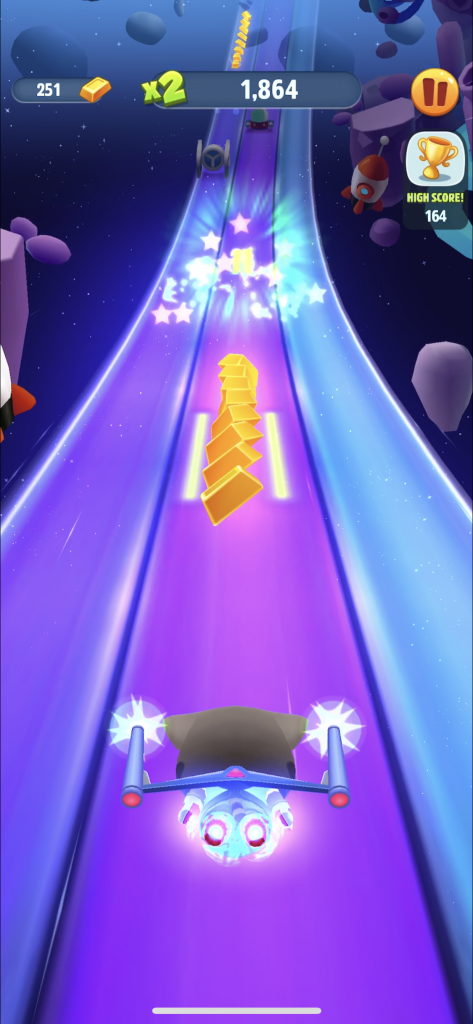 The graphics are also similar to Subway Surfers with a 3D, cartoon-style, and colorful aesthetic. I liked how they looked and don't see why a game like this would need better.
Music & Sounds
The music is pretty fast-paced as you can imagine and changes if you enter a special level. I would say that the music is a tiny bit irritating at times but I also think this game would be boring to play without any sounds.
Controls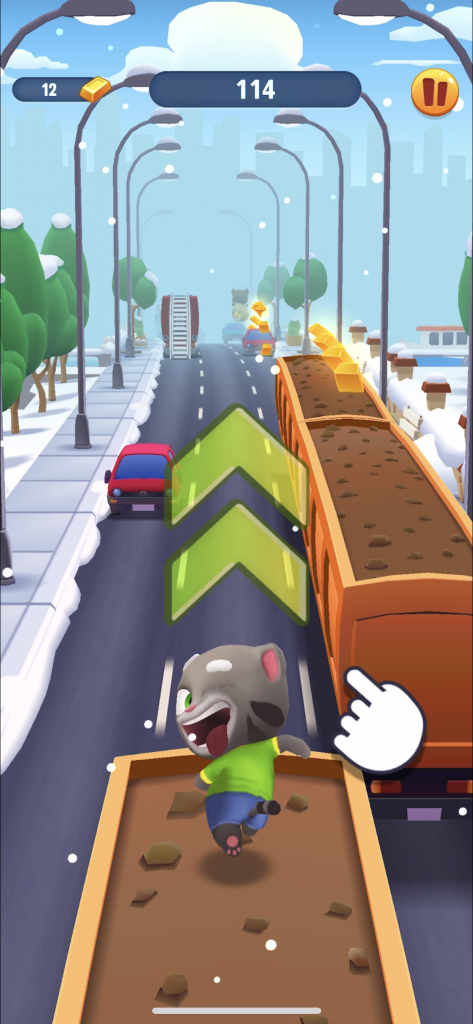 Like Subway Surfers, to control Talking Tom Gold Run, you have to swipe left, right, up, and down to move away from the obstacles and collect gold. You will automatically run so there's no pressure to focus on that on top of it.
The Power of in-app Purchases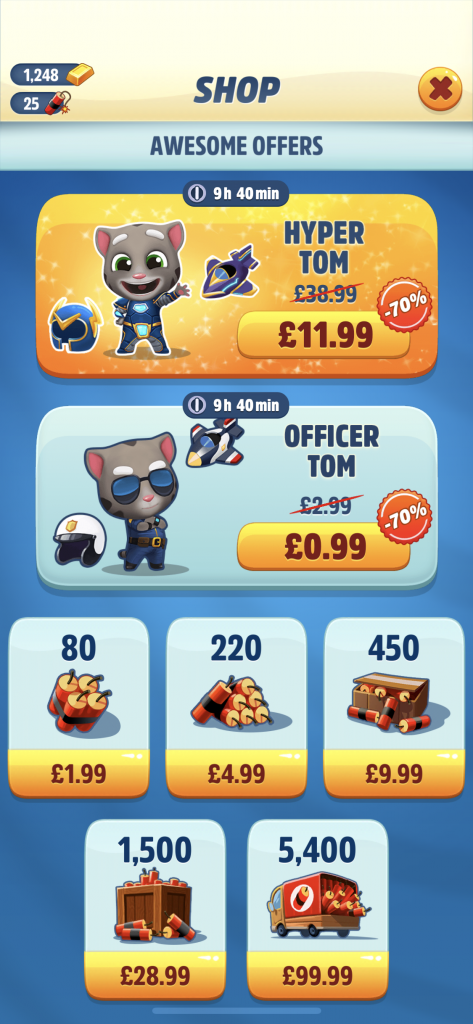 Offers
Hyper Tom for £11.99 instead of £38.99
Officer Tom for £0.99 instead of £2.99
Dynamite
80 dynamite for £1.99
220 dynamite for £4.99
450 dynamite for £9.99
1,500 dynamite for £28.99
5,400 dynamite for £99.99
The Verdict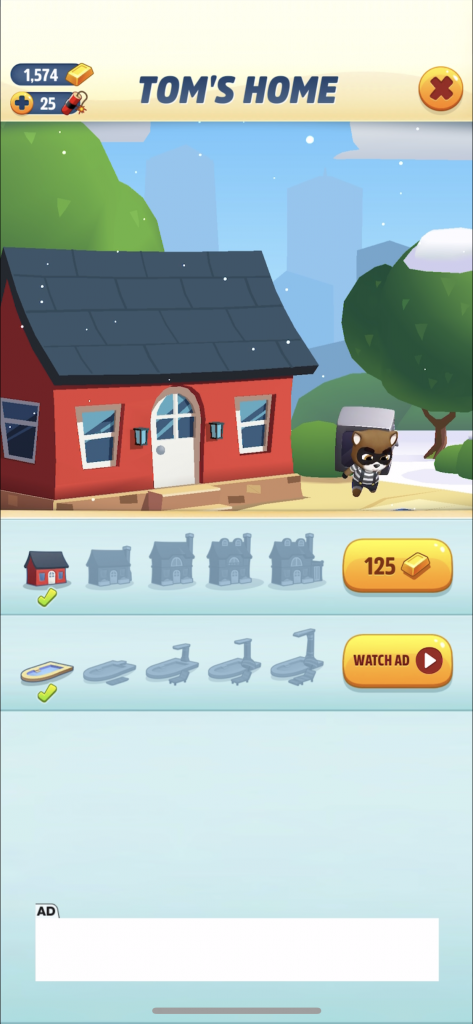 Although this is a game that I enjoyed playing and would definitely play it again in the future, it's not going to be a game that I keep for good. This is because it's too similar to other games I've played in the past like Subway Surfers. If you've never played a game like this before, then you might enjoy it a lot as it's pretty addicting.
If you decide to download Talking Tom Gold Run, let us know what you think and if you agree or disagree with any of the things we said. Happy gaming and stay casual!


Talking Tom Gold Run Overall Rating: 3/5
iOS Link: https://apps.apple.com/us/app/talking-tom-gold-run/id1089336971
Android Link: https://play.google.com/store/apps/details?id=com.outfit7.talkingtomgoldrun&hl=en_GB
Company: Outfit7 Limited
Genre: Action
Rated: 4+
Offers in-app Purchases
About Post Author