Sword Art Online: Memory Defrag Review!
"Guide Kirito and the Assault Team through the virtual RPG world of Sword Art Online, as they fight to clear 100 floors of Aincrad and free themselves from the death game! Gain new allies in Alfheim Online and battle to ascend the World Tree. Travel to the barren world of Gun Gale Online to stop the killer "Death Gun" before he strikes again!"
Sword Art Online: Memory Defrag Links:
iOS Link: https://itunes.apple.com/us/app/sword-art-online-memory-defrag/id1192559270?mt=8
Android Link: https://play.google.com/store/apps/details?id=com.bandainamcoent.saomdna&hl=en_GB
Company: BANDAI NAMCO Entertainment
Genre: RPG
Rated: 12+
Offers in-app Purchases
Sword Art Online: Memory Defrag is a soap opera aimed at teenagers that takes place within an online virtual reality role-playing game. Basically, human players are trapped in a game by an unknown organization and told that if they die in the game, they also die in real life. The only way to escape this virtual reality is to beat the game. While using your hero to work through the storyline, you can also collect additional heroes and upgrade their skills and equipment. Your heroes will have different skills, and progress depends on how you power them up.
Sword Art Online: Memory Defrag Gameplay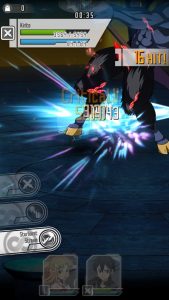 The aim of the game is to dodge, attack, block, parry, and activate special abilities during staged battles against enemies, using finger taps and swipes to get the job done.
As the player, your job is to form a party of three. Only controlling one character at a time, though. Tapping on another character's picture forms a switch, with the chosen character performing a special power move (if they're able to).
Sword Art Online: Memory Defrag uses an old style side-scrolling beat 'em up type of theme. You have to beat up everything in each round with your character in it. You choose 3 of your favorite or strongest characters to in the game and change when necessary in between stages or between the fight.
Sword Art Online: Memory Defrag Graphics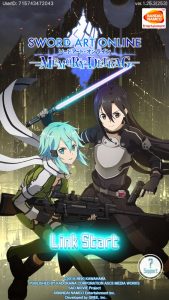 The graphics are just as you'd expect. They're cartoony, manga style characters in clear settings. The game doesn't freeze much and everything moves at a smooth pace and that's something I can definitely appreciate in an app game (spoiler: it doesn't happen in free games often).
The characters are 2D with a 3D background and there is a decent variety in the characters, but not in the enemies. The enemies are just recolors of the same enemy over and over again. By the time you finish the fifth chapter, you will have seen the majority of the enemies in Sword Art Online where there are still another seven more to go.
Sword Art Online: Memory Defrag Music
I love the music as it makes you feel determined. It doesn't ever get annoying and it changes as you progress through the game. The characters also make their own sound effects, making it easier to identify them and it just makes the Sword Art Online: Memory Defrag more realistic in my eyes. The characters seem to say words as well, but I have no idea what they're saying because I'm not Japanese. Thank God for subtitles! But still, it adds a nice effect to the overall gameplay.
Sword Art Online: Memory Defrag Controls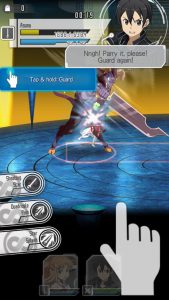 The controls are pretty complicated, or I'm not very smart. You drag to move your character, tap to attack, flick up to jump, side flick to quick step, tap and hold to guard, tap the icon to switch and press skill button and tap multiple times for combo.
The special moves can be triggered at any time at the cost of some MP, but so long as you've got your equipment at the highest possible level, you can handle most battles by hammering away with basic attacks.
I basically got lazy and just tapped away like a mad person and I still ended up winning each fight anyway so I guess the special moves and jumping tactics aren't realllllyyy necessary.
For a beginner, like myself, it's best to just go through the story missions. It follows along with the anime series, so if you've seen it, you'll know exactly what's going on. You'll meet new characters all the time, both goodies and baddies. Supposedly, it's pretty similar to the anime so fans will like this game. It's definitely a big win for big time fans.
Sword Art Online: Memory Defrag The power of in-app purchases
To collect characters, you have to use currency either collected through in-game adventures or purchased in order to recruit friends from Sword Art Online or other virtual worlds in the series.
There are quite a few cool deals going on at the moment in the shop:
Memory Diamond Sale A – 2 times per person! Get 175 Memory Diamonds for £17.99
Memory Diamond Sale B – 2 times per person! Get 450 Memory Diamonds for £43.99
Memory Diamond Sale B – 2 times per person! Get 850 Memory Diamonds for £74.99
Memory Diamond One-Time Offer A – Get 50 Memory Diamonds for £0.99
Memory Diamond One-Time Offer – Get 400 Memory Diamonds for £32.99
and much more Memory Diamond offers available…
Memory Diamonds are a premium currency, however, Sword Art Online is pretty generous with the freebies so it definitely isn't difficult to struggle to move on in the game. There's also leveling up to be done through combat, daily missions to complete, guilds to form, and all the other stuff you'd associate with a JRPG.
The verdict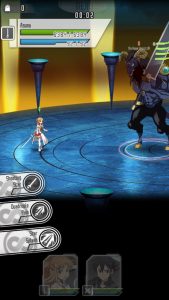 If there's one thing I don't like about this game, it's the fact that you have to do so much downloading and it takes AGES. So I just sat there waiting over a game that I just want to play to kill some time. Not the best.
But apart from that, this is definitely a good game for anime lovers. The fact I'm not one probably alters my experience with this game. I'm never going to quite understand the fascination. But I could understand why someone might want to play this.
I also loved the storyline, I thought it was a good addition to the game. I don't like when games just throw you in the deep end without any background to why you're doing what you're doing. "Oh, so I'm fighting zombies now? Why?"
This definitely isn't on my top 5 favorite games but it's certainly not a bad game. I think it could be improved with better online interaction and to make it easier to collect characters and power them up.
Sword Art Online: Memory Defrag Overall Rating: 3/5
iOS Link: https://itunes.apple.com/us/app/sword-art-online-memory-defrag/id1192559270?mt=8
Android Link: https://play.google.com/store/apps/details?id=com.bandainamcoent.saomdna&hl=en_GB
About Post Author