Smash Champs Review!
Smash Champs Links:
IOS Link: https://itunes.apple.com/gb/app/smash-champs/id878085263?mt=8
Android Link: https://play.google.com/store/apps/details?id=com.kiloo.smashchamps&hl=en_GB
Company: Kiloo
Genre: Fighting
Rated: 9+
Offers in-app purchases
"Take on the role as trainer, prepare for combat and lead your Champs to victory against your friends. Kiloo presents an action arcade adventure like no other. Form a team, challenge your opponents and become the greatest trainer of Smash Champs!"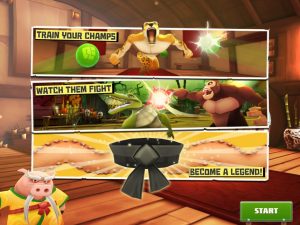 Smash Champs Gameplay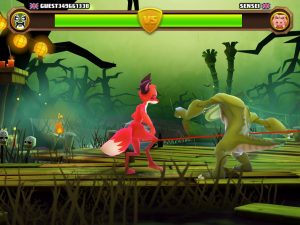 Smash champs is a unique action/adventure game where your job is to train your fighters to battle their opponents and gain power by doing so. You start out with one fighter, which you get to pick amongst six and after you pick one, the other five become locked until you have enough XP to unlock them.
To begin a duel, you must train your champ. This whole experience reminds me of Fruit Ninja, and I love that familiarity. You present training orbs to your trainee and throw them by swiping across the screen as they appear. This process is like slicing fruit, except one slice throws the ball forward. Like Fruit Ninja has with their bombs, you have to avoid any spikes as that will bring your champ's XP down. If you have trained your champ well, he/she/it should be able to win the fight and you will earn XP and coins.
During this fight, all you need to do is watch as the punches, kicks, and slaps are automatic. However, you can swipe at the screen to collect coins and XP if you can be bothered, but they'll be added at the end anyway. The battles are fought with "best two out of three" with opponents generated at random, through your choice or by choice from your Facebook friends (if you choose to sign in).
The main menu will appear once the fight has finished. On the main menu, you can view your fighter's status, access the game's shop, unlock other fighters, and view your progress.
Smash Champs Graphics
For a free app game, the graphics are definitely above standard! The game design is aesthetically pleasing and it runs smoothly on my device – which is nice considering it isn't the newest.
Smash Champs Music
The music is very Japanese-esque on the main menu and it's gorgeous. It's relaxing and not annoying in the slightest. Super big fan. During the actual gameplay, the music becomes a little more intense to get you fired up to train and then fight. The characters make sounds when they hit and when they're hurt like any normal fighting game. I'm impressed with the details that have gone into the sounds and music of this game.
Smash Champs Controls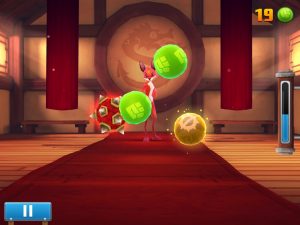 The controls simply consist of swiping, so it's definitely not complicated in any way. If you want to play this while binge-watching Orange is the New Black then you definitely can. No real concentration needs to be put into it and that's what makes it so enjoyable in my opinion. When it comes to app games, I'm not into the games that are overly complicated with controls all over the place. It's just unnecessary, especially when you're working with a touchscreen rather than a controller.
Smash Champs The Power of in-app Purchases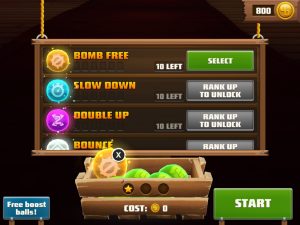 Smash Champs does offer in-app purchases even though they're really not a necessity in order to get far in the game. All that's available really is bundles of coins and packs with different features in. You can collect coins throughout your progress in the game though, so unless you want to skip through the game, it probably isn't needed. Where's the fun of skipping through a game anyway?
Available purchases include:
8000 coins for £4.99
34000 coins for £19.99
90000 coins for £48.99
Grand box – jackpot 25000 coins for 600 coins
Big box – jackpot 5000 coins for 300 coins
Small box – jackpot 1000 coins for 100 coins
Bomb free for 500 coins
Viking helmet – sign into Facebook
Poison tulip for 800 coins
and much more to unlock…
The Verdict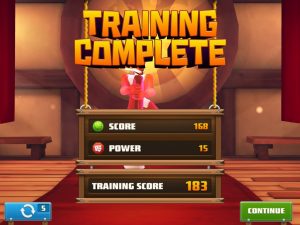 Smash Champs is a super unique game and has a lot of great qualities to it. The Fruit Ninja-esque training is extremely fun – I am obsessed with the graphics plus the way things don't freeze of lag considering the quality.
There's just something so rewarding about being able to train up your champ to be the best that he/she/it can be. The total credit goes to you for winning the fights or you're the one to blame if you lose (spoiler: I haven't lost once ;)). I really love this game and I'll definitely continue playing it. I recommend it to people who have long commutes to do every day – but don't miss your train because of how addictive it is!
Although this game is rated 9+, I don't personally see why children that are younger couldn't play. The game is fun, friendly (considering it's a fighting game – there's no blood) and overall uniqueness was clearly bursting from my screen.
So if you fancy living it up and training your chosen champ to be the strongest he/she/it can be and successfully beat the rest then this is definitely the game for you. Enjoy this on evenings where you should be doing your Math essay (you didn't hear it from me). Or just simply chill in the garden with a refreshing iced tea in your hand and train your champs without having to lift a finger – just swipe ;).
Smash Champs Overall Rating 4/5
IOS Link: https://itunes.apple.com/gb/app/smash-champs/id878085263?mt=8
Android Link: https://play.google.com/store/apps/details?id=com.kiloo.smashchamps&hl=en_GB
About Post Author