Shaq Fu: A Legend Reborn Review!
Shaq Fu: A Legend Reborn links:
Company: Mad Dog Games
Genre: Fighting
Rated: 12+
Offers in-app purchases
iOS Link: https://itunes.apple.com/us/app/shaq-fu-a-legend-reborn/id1255910488?mt=8
Android Link: https://play.google.com/store/apps/details?id=com.maddog.shaqfu
"The world lies on the brink of disaster. National treasures of celebrity culture reveal their true faces — demons, sent to destroy our world. As humanity is enslaved, only one man can save us: Shaq Fei Hung. A poor Chinese orphan, trained by a martial arts master, must face his destiny and unleash the power of the sacred Gold Bond. Our hero must leave the safety of his small village home in rural China and travel to the most sordid and perilous corners of the West to fight evil on its home turf." 
Shaq Fu: A Legend Reborn Gameplay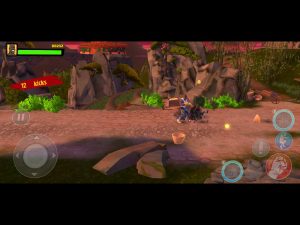 The story in Shaq Fu: A Legend Reborn is pretty complex and all over the place. Playing as former basketball player, Shaquille O'Neal, you're taken to China. The alternate reality version of Shaq who has been raised in a small village in China and taught the secrets and skills of an ancient style kung-fu in order to protect the world from bad.
When it comes to the actual gameplay, it's not great. It's confusing and just clunky. Walk through the village defending every attack that's thrown at you once the introduction is complete.
If you want more of a challenge, play this game on Hard. Playing it on easy makes it ridiculously easy and very boring. There are a good range of enemies where some block your aerial attacks, some counter your stronger attacks and some have shields that must be broken.
Levels
On top of that, in the first level there are quite a few racist, homophonic and just simply problematic things that are said and I wasn't a fan of that at all. I'm not sure why it was necessary, it didn't make the game "funnier" if that's what they were going for…
On the second level, you start off on a pier with yachts on your way to beat up Baby Face. The first enemy you come across is a clear indication of a gay man who's wearing a tight pink floral shirt and cutoff jean shorts.
On the third level, you're in Los Angeles and you fight demons that are holding Baby Face signs and they get distracted by cheering Baby Face for no reason. In level three, the demons replace what would normally be women on the streets of LA – which is not cool. Level 3 is where it gets boring. Everything just seemed really repetitive and just damn offensive at this point.
Shaq Fu: A Legend Reborn Graphics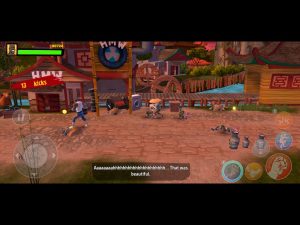 Straight away, the graphics reminded me of a console game which is always a good sign. They're 3D, run smoothly and are vibrant. This is probably the most attractive quality of the game. This does genuinely look like a game you'd spend £40+ on so the fact this game is free/cheap is amazing.
Shaq Fu: A Legend Reborn Music
If I'm not mistaken, I'm pretty sure the backing music is a song from Shaq's rap career in the 90s. But like I said, I could be totally wrong. I don't know much about the guy.
The characters speak and have their own catchphrases which shows that this game wasn't half-assed and the characters don't just grunt or say one thing like most app games.
Shaq Fu: A Legend Reborn Controls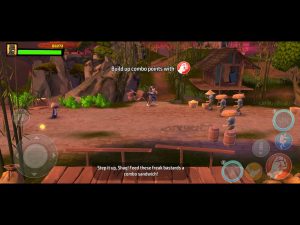 There is an overwhelming amount of buttons scattered across the bottom right of the screen. These control your blows, jumps, and special moves, and a joystick on the left that lets you move around. Shaq will fight and enemies will die. Then when the tougher ones pop up, you'll do the same. Although I came across a character that had a shield and it was so ridiculously hard to kill him, I felt like giving up. Just to top it all off, missiles were being shot and they were close to impossible to avoid as you can't move and fight at the same time. You have to physically stop to attack. So that was annoying.
Shaq Fu: A Legend Reborn The Power of in-app Purchases
Although this version is free, the game asks you to purchase the rest of the game for £4.99. So can we actually call it a free game? Probably not – it's definitely more like a free trial.
Apart from that, there are no little bits and pieces you can purchase like energy, lives, etc. like in other app games. If you're looking for a no-crap game that won't keep asking you for your money, I guess this isn't too bad of a game.
The Verdict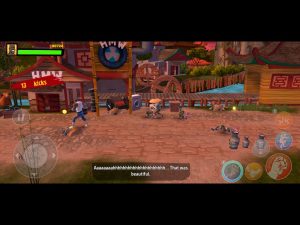 The verdict is that I really didn't think this game was as good as I thought it would be. Yes, the graphics are great and the fact Shaq Fu: A Legend Reborn is fairly cheap compared to other app games but the actual gameplay is boring and repetitive. Too many offensive jokes plastered across the game, it's not cool.
It actually surprises me that Shaq allowed his name to be on this game. He probably saw that cheque and has never even played it. However, a warning at the beginning states that the events depicted don't represent Shaq's views or opinions and that those who take issue with the content of the game shouldn't bother him. Fair enough. The creators must've knew that this game was going to be controversial so they knew to save their asses – nice save.
Shaq Fu: A Legend Reborn Overall Rating: 2/5
iOS Link: https://itunes.apple.com/us/app/shaq-fu-a-legend-reborn/id1255910488?mt=8
Android Link: https://play.google.com/store/apps/details?id=com.maddog.shaqfu
About Post Author