Rocket Royale: PvP Survival Review!
"Rocket Royale is one of a kind Battle Royale game, the main goal is to build a Rocket and fly away from the island! To do this you need to find crafting resources from falling meteors. Of course, other players will want to hijack your rocket, so defend it! Collect wood and Build a Fort to defend your positions. The unique battle royale game reveals a lot of tactics by crafting and building covers around you! 100% destructible environment, every building can be destroyed or dismantled! Rocket Royale has no parachutes or shrinking dead zones, but you can use portals to navigate your way around the island instead.
Rocket Royale multiplayer offers Solo, Duo, and Squad up to 3 players per team. All players are real people online, no fake bots! There is a lot of content to discover: characters, hammers, avatars, custom rockets, even dances! Progress by gaining XP and leveling up and compete in global Leaderboards!
The game requires less than 200 MB without additional downloads, and very well optimized for low-end devices!
Features:
Unique Rocket Battle Royale gameplay.
Everything is destructible! Real Sandbox mode.
Craft Defenses, Forts, Towers, Sky Bridges, anything possible!
Real-time fast-paced 25-Players online matches!
Play with your friends online, connect to your friend game via a friend list.
Highest FPS (frames-per-second) you can get!
Tons of items and weapons to loot!
Large open-world battlefield."
iOS Link: https://apps.apple.com/us/app/rocket-royale-pvp-survival/id1384520388
Android Link: https://play.google.com/store/apps/details?id=com.onetongames.rocketroyale&hl=en_GB
Company: GameSpire Ltd.
Genre: Battle Royale
Rated: 12+
Offers in-app Purchases
Gameplay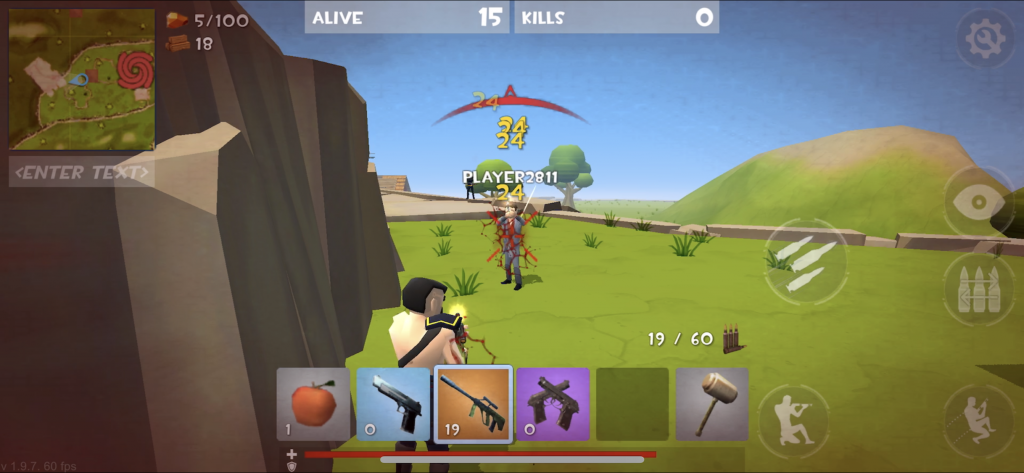 We're back with another Battle Royale game, but this time it has a twist. Instead of trying to be the last man standing, you have to kill anyone you come into contact with while building a rocket to escape the island. At first, I didn't quite understand what I had to do as there's no explanation available, but through playing, I got the gist of it.
Graphics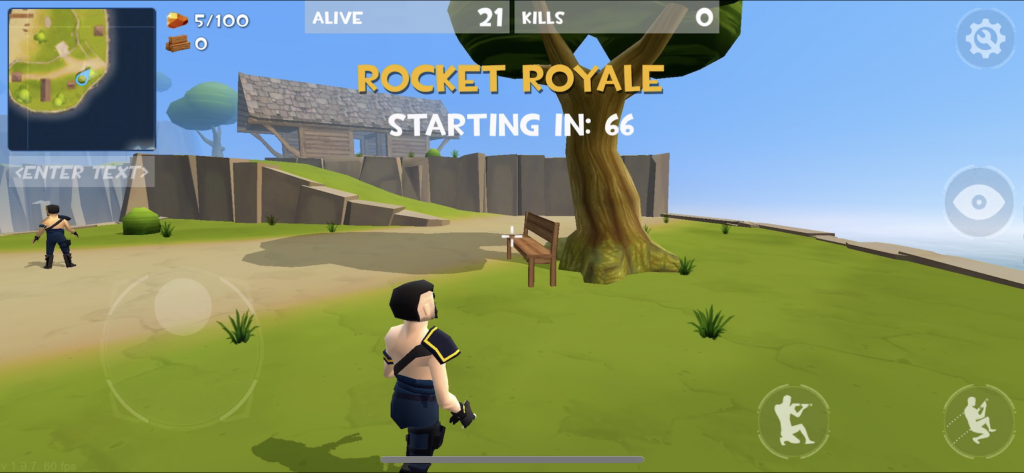 I wasn't very impressed with the graphics, especially comparing to other Battle Royale games I've played like PUBG Mobile, Garena Free Fire, and Cyber Hunter. In a lot of battle royale games, you can go pretty far out of the map like swimming in the sea until you eventually hit the end, however, with Rocket Royale, you can't even get into the water. It's a shame that the map is so small but it does make it easier to get kills, but just as hard to avoid getting killed.
Music & Sounds
During the gameplay, there's no music, which is completely fine because not even the leading battle royale games do. All you can hear is footsteps of yourself, others, and when you chop down trees and kill players. Like with most battle royale games, this makes the game that little bit easier as you can only hear the sounds that matter and you're not drowned in music playing for no reason.
Controls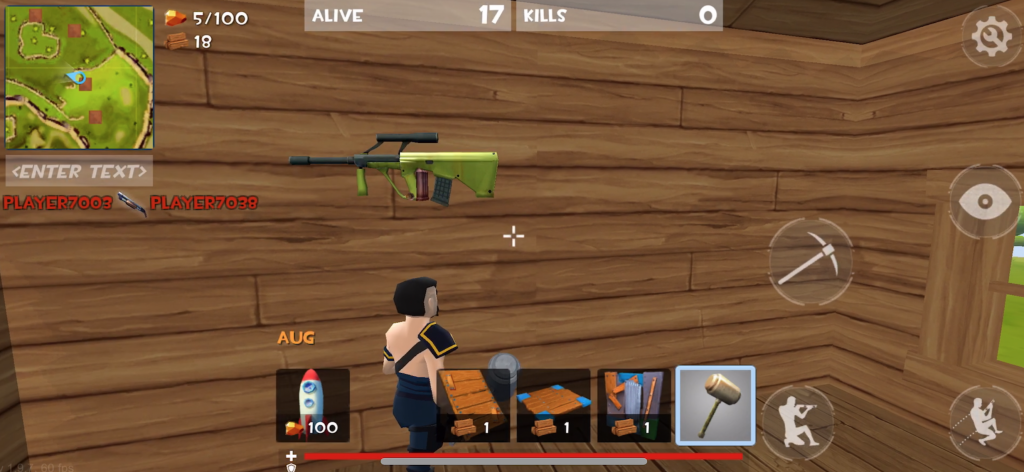 I can't hack the controls. At all. There's no auto shoot, which is annoying but it's also really hard to aim. If you're going to make a shooting game without an auto shoot, it's absolutely crucial you make it simple to aim. If not, gamers are going to get frustrated really easily, and personally, it puts me off playing.
The Power of in-app Purchases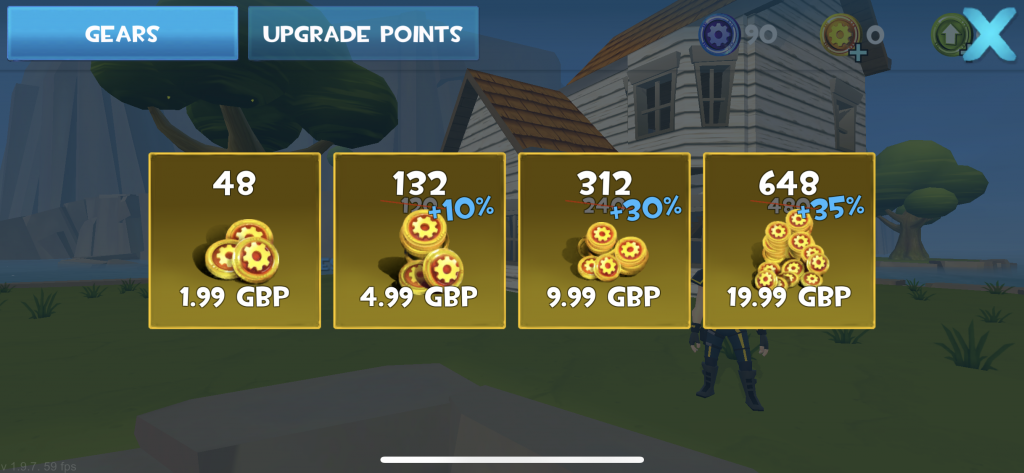 Gears
48 gold gears for £1.99
132 gold gears for £4.99
312 gold gears for £9.99
648 gold gears for £19.99
Upgrade Points
5 upgrade points for 7500 blue gears
27 upgrade points for 37500 blue gears
55 upgrade points for 75000 blue gears
5 upgrade points for 25 gold gears
27 upgrade points for 125 gold gears
55 upgrade points for 250 gold gears
The Verdict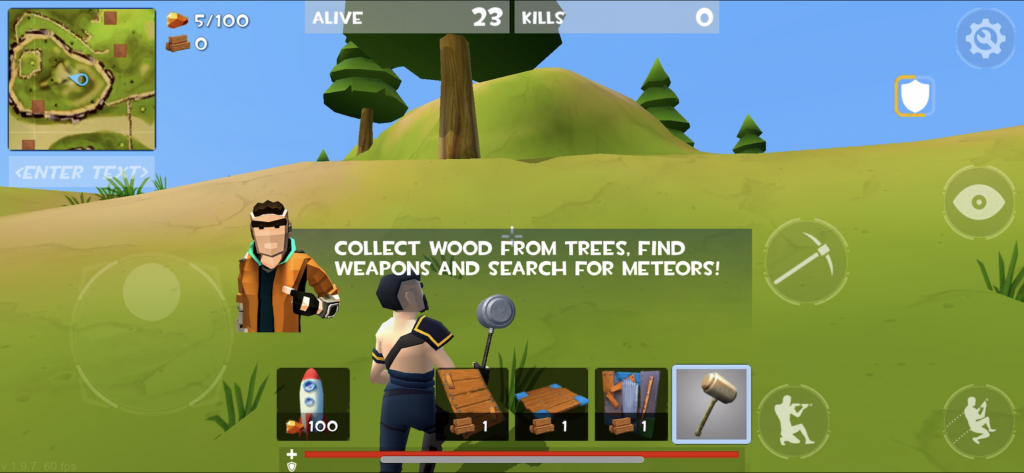 Although I wasn't a big fan of the graphics or controls for Rocket Royale, I can appreciate that it's unique to any other battle royale game on the app store. I absolutely loved the pressure of trying to build the rocket before everyone else while avoiding death. However, I probably won't be keeping this on my phone – I get too frustrated when trying to play with difficult controls.
If you decide to download Rocket Royale, let us know what you think and if you agree or disagree with the things we said. Happy gaming and stay casual!
Rocket Royale: PvP Survival Overall Rating: 3/5
iOS Link: https://apps.apple.com/us/app/rocket-royale-pvp-survival/id1384520388
Android Link: https://play.google.com/store/apps/details?id=com.onetongames.rocketroyale&hl=en_GB
Company: GameSpire Ltd.
Genre: Battle Royale
Rated: 12+
Offers in-app Purchases
About Post Author