Raft Survival – Ocean Nomad Review!
"Discover! Create! Survive!
Your home is an endless ocean. Your neighbors – ruthless sharks, sea creatures and relentless nature. The only refuge is a raft. Improve it, craft everything you need to escape from the ocean trap, survive by all means!
Our survival on the raft advantages:
Real-life survival simulator
Check your health, thirst and hunger indicators, struggle shark's attacks. Overcome the challenges and try to survive. It's all up to you!
Resource hunting
Use a hook to catch necessary drifting resources: wreckage, barrels, and chests. They will help you to survive!
Build and upgrade your raft
Expand, develop and protect your raft. If you need more place, build the first floor!
Lot's of crafting recipes
Fish, cook and collect drinking water. Craft building materials, clothes, weapons, chests and other necessary things to survive!
Solve the puzzle of the endless ocean
What happened in this apocalyptic world? Why are people destined to live in the ocean? Training and a quest system help you to find answers and escape.
Great plans
We'll add dynamic Day-Night Cycle and weather condition, exciting plot, underwater world, and other interesting events!"
iOS Link: https://apps.apple.com/us/app/raft-survival-ocean-nomad/id1326046015
Android Link: https://play.google.com/store/apps/details?id=ocean.nomad.survival.simulator&hl=en
Company: Treastone
Genre: Adventure
Rated: 9+
Offers in-app Purchases
Gameplay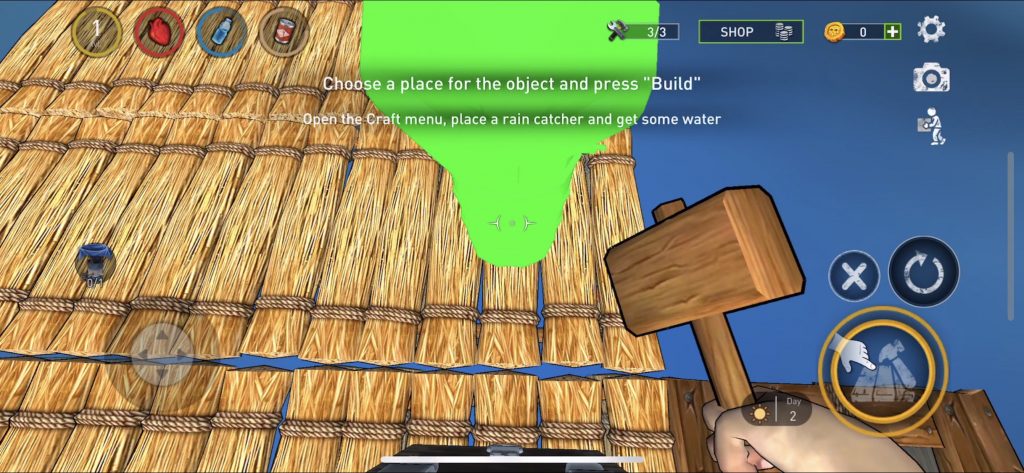 Picture this. You're on a plane, it crashes and you end up in the middle of the sea with only a raft. It's your job now to survive long enough until you're finally saved.
Raft Survival – Ocean Nomad is a survival game where you collect materials and make survival weapons with them. You can also explore islands in order to find materials and to check if there's anyone living.
To start off you're made to fish for some food and water. To start, you need to make a net to catch the fish, and you then place wherever you want on your raft. You can then pick the type of fish you want to eat, however, to begin with, you can only choose Anchovies so it won't keep you full for long. To get the water, you have to make a rain catcher which gathers the moisture of the ocean, accumulating it in a bottle. Again, choose a place on your raft to place it and start collecting drinking water! Further down the line, you can also make your raft bigger!
Graphics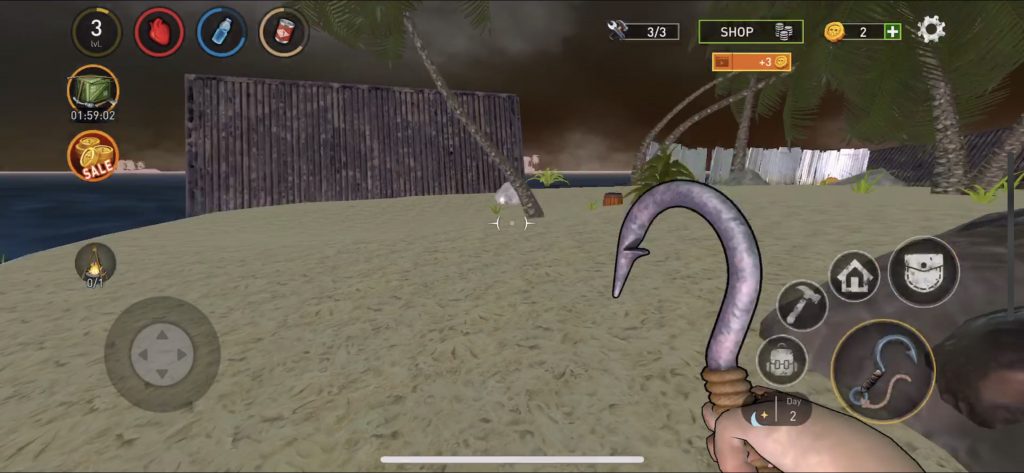 I was unsure about the graphics for Raft Survival – Ocean Nomad when I first entered the game as the starting scene was just a bunch of photos. But through persevering, I realized that once you start the gameplay, they become noticeably better.
Music & Sounds
There is no background music in Raft Survival – Ocean Nomad and I think it's perfect. I feel as if music would ruin the whole feeling of being lost at sea. However, there are lots of sounds. For example, you can hear the ocean waves, splashes when you search for things, and wood creaking from the raft. These all add to the gameplay and help the feeling of being abandoned at sea.
Controls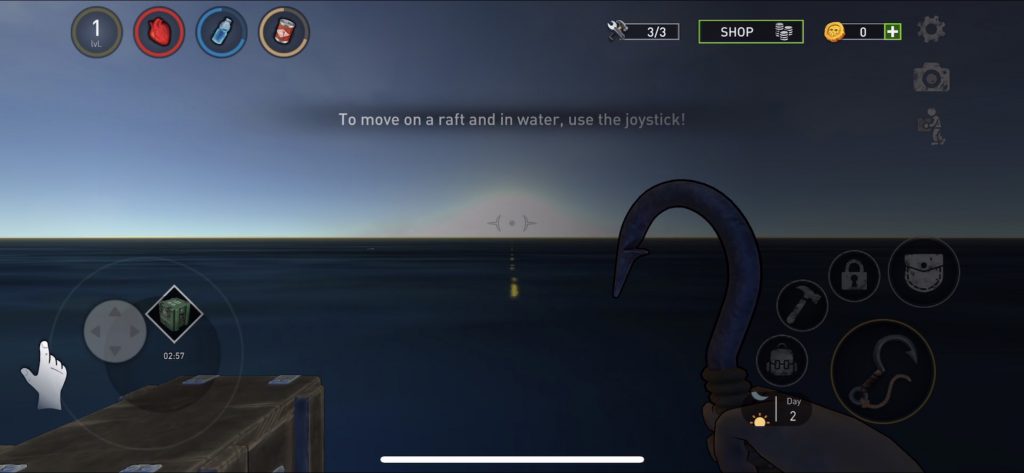 Despite thinking the gameplay looked pretty hard when I first entered Raft Survival – Ocean Nomad, the controls are really easy to use. On the left-hand side of the screen, there is a toggle button and you use this to move and look around. On the right-hand side of the screen, you have a load of buttons that'll help you build with your materials.
The Power of in-app Purchases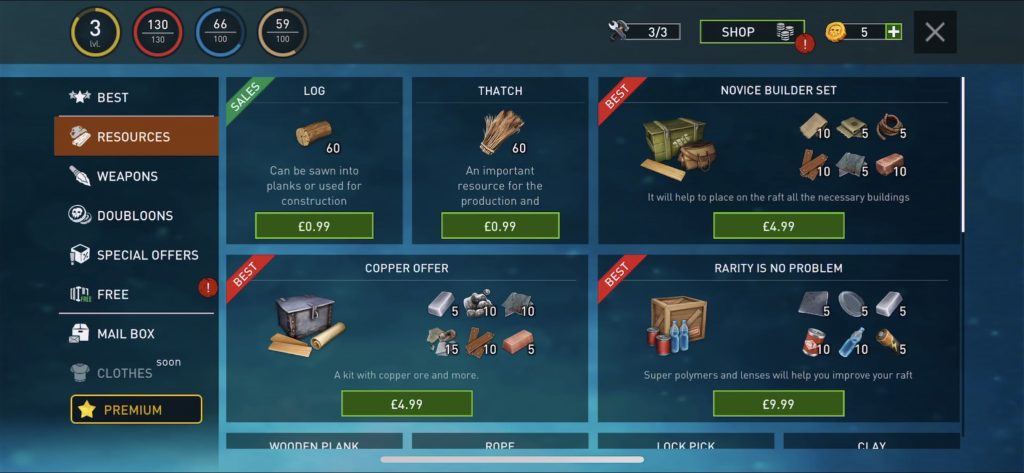 The store is split into 6 sections: best, resources, weapons, doubloons, special offers, and free.
Best
60 logs for £0.99
60 thatch for £0.99
10 canned food for £0.99
20 water bottles £0.99
Unknown reward for free
Wood pack for £4.99
Wooden raft with facilities for £4.99
Experienced survivor kit for £2.99
Resources
Novice builder set for £4.99
Copper offer for £4.99
Rarity is no problem for £9.99
20 wooden planks for £0.99
10 ropes for £0.99
5 lock picks for £0.99
20 clay for £0.99
5 processed fabric for £0.99
Weapons
1 iron spear for £1.99
1 iron hammer for £1.99
Iron hand for £4.99
Nomad's kit for £5.99
Warrior's crate for £9.99
Doubloons
3 doubloons for free if you watch an ad
50 doubloons for £1.99
125 doubloons for £4.99
250 doubloons for £9.99
875 doubloons for £33.99
1250 doubloons for £48.99
2500 doubloons for £99.99
Special Offers
Survival kit for £2.99
Resource extraction for £3.99
Fisherman's tricks for £4.99
Super Kit for £9.99
Free
Free resources if you watch an ad
Quest reward for free
The Verdict
Although survival games aren't exactly my cup of tea, I found that Raft Survival – Ocean Nomad was pretty fun to play. With survival games, I've found that usually after the tutorial, it's really hard to figure out exactly what you need to do but not with this game.
Although I'm not going to keep this game myself, I can definitely see why people would get addicted to it. If you decide to download Raft Survival – Ocean Nomad, let us know what you think and if you agree or disagree with any of the things we said. Happy gaming and stay casual!
Raft Survival – Ocean Nomad Overall Rating: 3/5
iOS Link: https://apps.apple.com/us/app/raft-survival-ocean-nomad/id1326046015
Android Link: https://play.google.com/store/apps/details?id=ocean.nomad.survival.simulator&hl=en
Company: Treastone
Genre: Adventure
Rated: 9+
Offers in-app Purchases