Pokemon Quest Review!
"Pokemon Quest—a rambunctious expedition RPG featuring cube-shaped Pokemon! The Pokemon you know and love have turned into…cubes?! Head out in search of treasure with your cube-shaped Pokemon buddies on Tumblecube Island—a land where everything is a cube! Your goal is to find the awesome goodies said to be hidden on the island! The Pokemon you know and love from Pokemon Red and Pokemon Blue appear in this game."
Pokemon Quest Links:
iOS Link: https://itunes.apple.com/gb/app/pok%C3%A9mon-quest/id1345187641?mt=8
Android Link: https://play.google.com/store/apps/details?id=jp.pokemon.pokemonquest&hl=en_GB
Company: Game Freak
Genre: Action-adventure
Rated: 4+
Offers in-app Purchases
Gameplay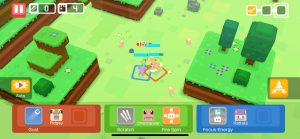 When I first opened Pokemon Quest, I thought it looked a bit odd. It doesn't look like your typical Pokemon game, and I think that's why it has such low ratings. There have been many articles that have been made saying that it's the "Pokemon game no one asked for" – oh dear.
You get to choose from a number of Pokemon to befriend – I chose Charmander. Once you've befriended your Pokemon, he's put on auto meaning he will automatically attack any enemies that come in your way. To do a special attack, you need to wait for the buttons to load. It doesn't take long but it gets annoying having to wait while you're being attacked. Whether you use the special attacks is up to you, however, you can also put that on auto mode if you please. For Charmander, my two special attacks were Scratch and Fire Spin. Fire Spin is the attack I got the most out of!
Pokemon Quest also has a stamina system that limits how many expeditions you can go on. It starts at five as the maximum and regains one charge every 30 minutes. You can pay with real cash to recharge but we'll go more into that later…
From my experience, the stamina system wasn't very limited. Early quest rewards give full recharges and the game leaves you with enough free daily PM Tickets to play until your actual phone battery needs charging! But of course, spending your real money speeds things up a lot more.
How do you attract Pokemon? With food. Cook up a lovely, delicious meal to get their attention and then all you have to do is befriend them! I befriended Rattata and Pidgey. I know, not the best Pokemon out there but they get better as you progress in the game.
Graphics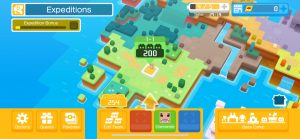 Well, everything is cubed – it's weird and I don't know exactly why everything is in cubes but I like it. Everything, including UI elements, is a cute little square, rectangle, or cube. Some of the cubes are destructible, breaking into smaller cubes when hit by an attack.
And of course, the Pokemon are cubed as well. The interface is clean and modern, nothing lags and the app doesn't crash. So everything is up to scratch in the graphics department! I'd still like to know the reason behind the cubes though…
Music
In true Pokemon style, the music is annoying and not something that you'll be able to go through the game without going insane. There aren't many sounds in the game apart from the music. There are sound effects when you attack a pokemon, when you get attacked and when you do a special movement. Apart from on these occasions, the annoying music basically dominates the whole game. I clicked on the pause button to see if there was any way to turn off the sound and it doesn't look like there is – disappointing.
Controls
The controls are simple – well so simple that you don't really have to do anything. Like I said above, there is an auto mode where your Pokemon does everything for you – which I find utterly pointless seeing as there's not much to do in the game anyway. But hey if you like sitting there doing nothing then go for it…
The Power of in-app Purchases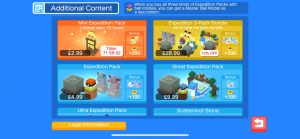 Pokemon Quest does have a premium currency (PM Tickets), however, it goes by a "free-to-start" system rather than free-to-play. The full game is available for free, though. Rather than just buying the tickets outright, you have to purchase three packs that increase the daily amount of PM tickets you can collect from 50 to 190. These packs also give you a few pokemon and even more bonuses!
The verdict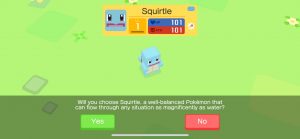 Pokemon Quest was a little bit disappointing if I'm honest. The gameplay is mediocre and the controls are shocking. The only part I truly enjoyed was the graphics because they're so unique. This game really could've had so much potential but it doesn't seem very thought out at all. I'm surprised that it has 4.2 stars on the app store despite it having so many negative articles. However, I do feel like a younger child would enjoy this game because of its simplicity. I mean, it is a 4+ after all. Maybe I'm just too old for it!
If you happen to play this game and find it far more enjoyable than I did, let us know and let's have a chat in the comments!
Pokemon Quest Overall Rating: 2/5
iOS Link: https://itunes.apple.com/gb/app/pok%C3%A9mon-quest/id1345187641?mt=8
Android Link: https://play.google.com/store/apps/details?id=jp.pokemon.pokemonquest&hl=en_GB
About Post Author