Pirate Code Review!
"Take to the high seas in full-scale PvP naval warfare, with fast-paced conflicts packed with ship-to-ship seaborne action. Choose to play as a lone wolf, or join a fleet and take part in epic ten player skirmishes at sea. Choose a captain armed with unique firepower, board a powerful battleship and dominate the high seas!
Aye Aye Captain
Choose your Pirate Code Captain, each with their own fearsome battle ability, from Vasco De Gama's lethal fireball, Billy's mighty energy wave, Hattori's cunning invisibility shield, and Catalina's fearsome frost arrow! Choosing the right captain and create a strategic advantage on the ocean wave!
Ship Shape
Choose from one of nine powerful battleships to take into the fray from the dreaded Obsidian and the swift Dragon to the mighty Flying Dutchman. Each ship has different attributes, designed to give you the edge over the competition.
Set Sail
Prepare for battle with enhanced armor, cannons or torpedoes before taking to the high seas in intense ship-to-ship combat."
iOS Link: https://apps.apple.com/gb/app/pirate-code/id1439171194
Android Link: https://play.google.com/store/apps/details?id=com.happyfish.piratecode&hl=en_GB
Company: Tangram Interactive B.V.
Genre: PvP
Rated: 12+
Offers in-app Purchases
Gameplay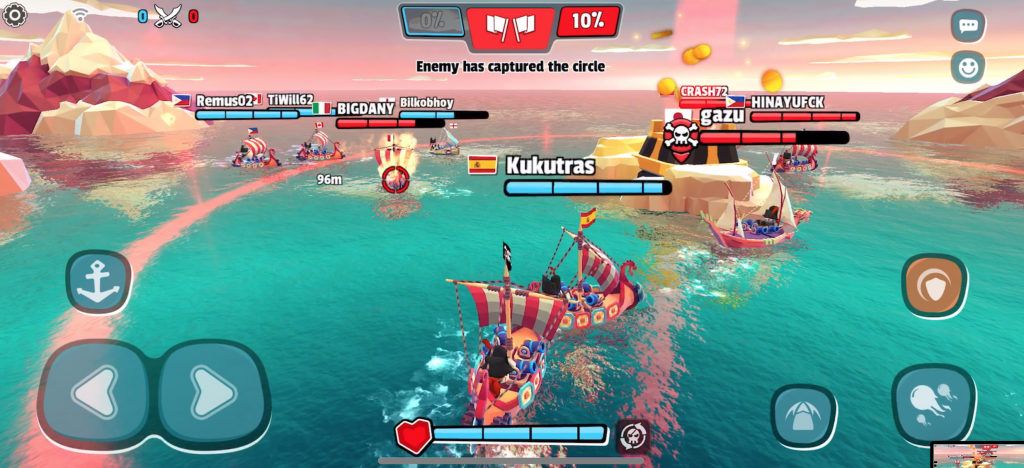 Pirate Code was featured on the app store this week in the "What We're Playing" section so I thought it must be worth a go. This aim of the game is to control your ship, keep ahold of the resources and take down any enemies that try to take it from you. You're thrown into a game with a few other people and you're split into teams to see who can retrieve the resource and keep it.
I found that the gameplay was fun in the competitiveness, however, I did think that the games went on for too long. There was a point in time where I was hoping for it to end. But that's not to say this isn't a good game, it just needs to be shorter.
Graphics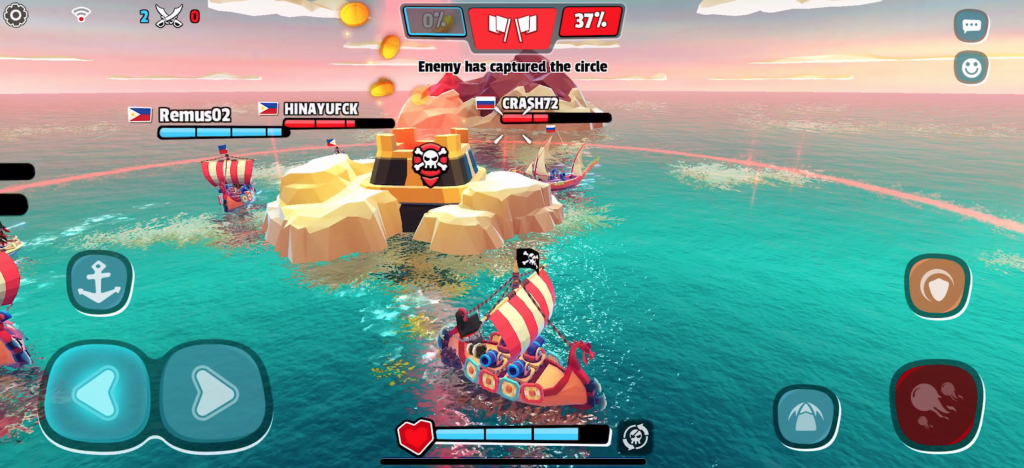 The graphics are a weird one if I'm honest, they're not the best I've seen, however, they're pretty detailed. Your ship is detailed, the water is moving along with ripples and everything else fits in perfectly. Not to mention, the game is very colorful and bright which gives me the impression that this would be suitable for children.
Music & Sounds
The music and sounds are exactly what you'd expect from a game based on pirates. The music fits in perfectly and the sounds include shooting and waves hitting the side of your ship. I did, however, find it annoying at times but that's all down to personal preference.
Controls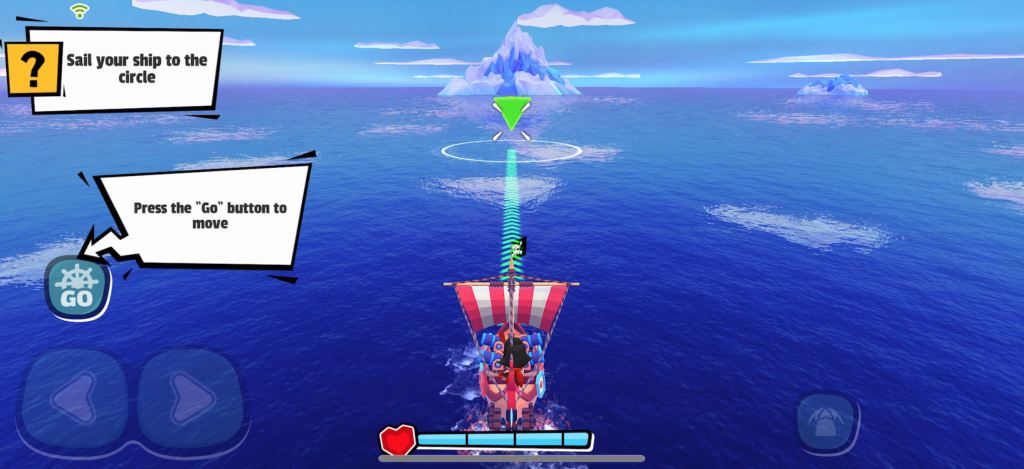 There are quite a few controls to remember, which was hard for me to get used to; they are:
Press the Go button to move
Speed up to make the ship move faster
Anchor your ship
Left and right button to turn your ship
Swipe screen to look around
Use the fire button it attack the enemy ship
Shield up to avoid damage
The Power of in-app Purchases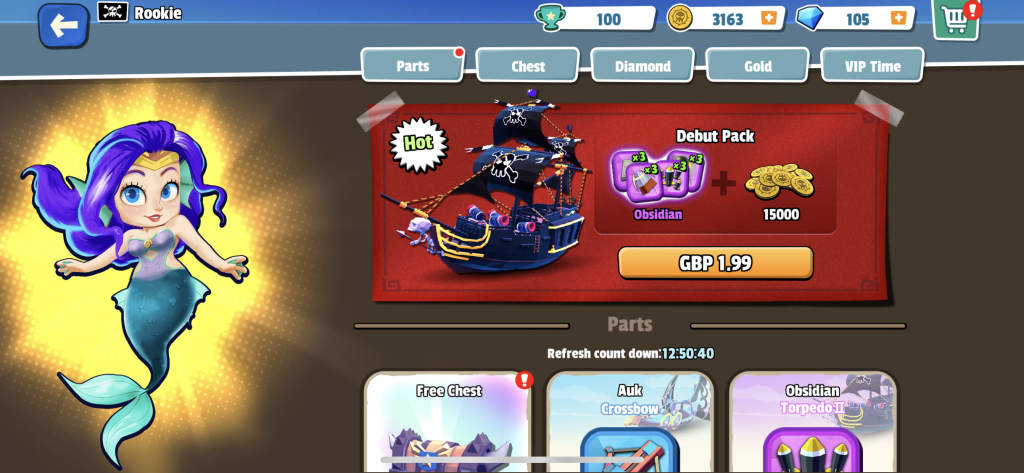 Parts
Chest
Parts Chest for 250 diamonds
" upgrade for 750 diamonds
" upgrade for 2000 diamonds
Captain Chest for 250 diamonds
" upgrade for 1000 diamonds
Diamond
160 diamonds for £1.99
500 diamonds for £4.99
1200 diamonds £9.99
2500 diamonds for £19.99
6500 diamonds for £48.99
14000 diamonds for £99.99
Gold
5000 gold for 60 diamonds
50000 gold for 500 diamonds
500000 gold for 4500 diamonds
VIP
Monthly Card for £9.99 a month
The Verdict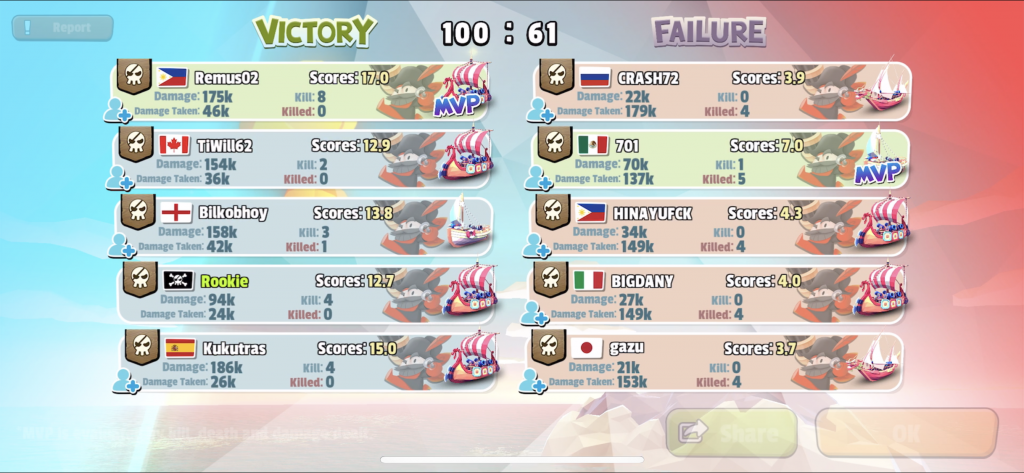 I was a little disappointed with Pirate Code as I expected it to be a lot more than it was. That being said, I'd say there's definitely people out there who would like this. If you're into games that can last up to 15 minutes per session, this is for you. For me, however, I get bored quickly (unless it's PUBG), so short games are the way to go.
If you decide to download Pirate Code, let us know what you think and if you agree or disagree with the things we said. Happy gaming and stay casual!
Pirate Code Overall Rating: 2/5
iOS Link: https://apps.apple.com/gb/app/pirate-code/id1439171194
Android Link: https://play.google.com/store/apps/details?id=com.happyfish.piratecode&hl=en_GB
Company: Tangram Interactive B.V.
Genre: PvP
Rated: 12+
Offers in-app Purchases
About Post Author