Phoenix II Review
IOS Link:  https://itunes.apple.com/us/app/phoenix-ii/id1134895689?mt=8
Company:  Firi Games
Genre:  Shoot em up!
Rated:  4+
Offers In-App purchases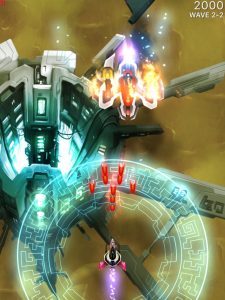 Phoenix II is a classic shoot 'em up game that, according to the creators, is perfect for everyone. Enjoy the marvelous action and defeat waves of menacing invaders in daily new missions. If you're looking for a game to pass time, then listen up.
Phoenix II offers a daily stage, it is unique to that particular day and is the same for everyone. No matter what location. This means you'll get the chance to be able to play the same stage multiple times to make sure your High Score is the best you can possibly do. Stages are short, but sweet and ramp up in difficulty quickly.
Phoenix II Gameplay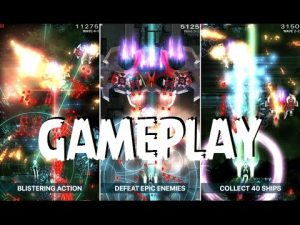 Because of the unique levels that change every day, you can learn what the enemy patterns are going to be that day, and as time goes by, you'll catch on to what each enemy is like. The most important thing is figuring out what happens on that specific day.
From the original Phoenix game, there are two major differences I have noticed. Phoenix II is far less easy to win. One hit kills you, as opposed to having shields and lives like in the original. So be prepared to die a lot, because it's going to happen. You will also need to learn how to dodge bullets and squeeze through ridiculously small gaps to not, well, die.
The other big change I noticed is that the structure is different – as expected. You can also upgrade the ships with the money you earn, or you can buy with your real cash. If you're eyeing up a particular ship, you can pay a certain amount of coins to earn it, but just by checking twice a day, you can get a decent amount of ships, all with different weapons, and special abilities. The only bad thing I can say is that Phoenix II has abandoned the cool local leaderboard feature, but with the new community mission and daily missions, makes up for this. The community mission allows you to change up the pace of the daily mission.
Phoenix II Graphics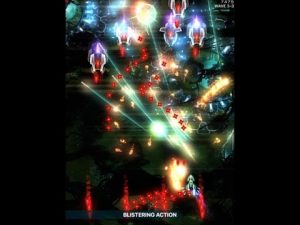 The graphics for this game are pretty basic – and similar to Galaxy Attack: Space Shooter. Well, actually the whole game is similar to Space Shooter but I'll go into that more as we progress.  The artwork makes Phoenix II a very visibly enjoyable experience.
Phoenix II Music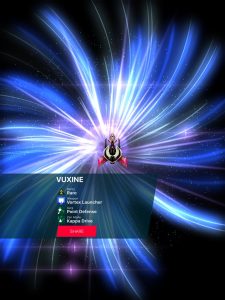 The music in Phoenix II is very annoying and repetitive. I had to turn it off. However, I quite like the sounds coming from when you shoot, kill an enemy, use your special power and when you die. The sounds show the game theme and makes you want to continue playing despite continuously dying (Yes, this happened to me).
Phoenix II Controls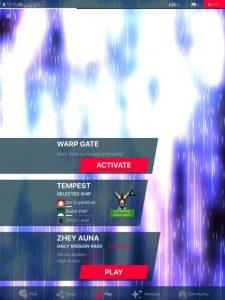 The controls include 3 simple touch-based controls where you touch/drag to shoot, release to charge your special attack and force touch to fire your secondary attack.
Phoenix II The power of in-app purchases
This game isn't really play-to-win. Upgrading your ships will just make you look cooler with minor improvements to gameplay. This means you can experiment with ships and not feel like you're failing because of poor upgrades.
When it comes to spending your real cash, there are a few things you can spend it on:
800 credits for £0.99
5,000 credits for £4.99
12,000 credits for £9.99
or Phoenix Revives
5 Phoenix Revives for 600 credits
25 Phoenix Revives for 2,500 credits
125 Phoenix Revives for 10,000 credits
There is a special offer going on for 47 hours that includes 50 Phoenix Revives and 6,000 credits for only £4.99. I'd say that's a damn good deal.
But on the other hand, you can definitely play this game for a long time without spending a dime.
Phoenix II Verdict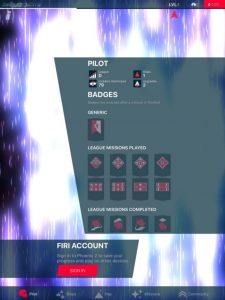 The verdict? Well, this game was simple at best, but definitely better than the first Phoenix game.
However, Phoenix II has virtually no ads, decent graphics, and hard levels. This is definitely the game you need on your smartphone if you're sick of ads every two seconds. My favorite part of the whole app in itself is that there's no forcing you to spend your money. If you want to pimp up your ship then go for it, it just means you will get through the game quicker. It will never get to the point where you have to pay your hard earned cash to actually get further in the game.
Phoenix II's Overall Score:  3/5
IOS Link: https://itunes.apple.com/gb/app/phoenix-ii/id1134895689?mt=8
Android Link: (Not yet available)
About Post Author