My Hero Ultra Impact Review!
"Welcome to My Hero Ultra Impact — celebrating the hit TV anime series now in its 5th season!
What you'll find in MY HERO ULTRA IMPACT:
An explosive battle RPG with heroes and villains you know and love.
Use your heroes' iconic Quirks and let them shine!
Climb the ranks to be the top hero!"
iOS Link: https://apps.apple.com/us/app/my-hero-ultra-impact/id1548871462
Android Link: https://play.google.com/store/apps/details?id=com.bandainamcoent.hiroacawwus&hl=en_GB&gl=US
Company: BANDAI NAMCO Entertainment
Genre: Anime
Rated: 9+
Offers in-app Purchases
Gameplay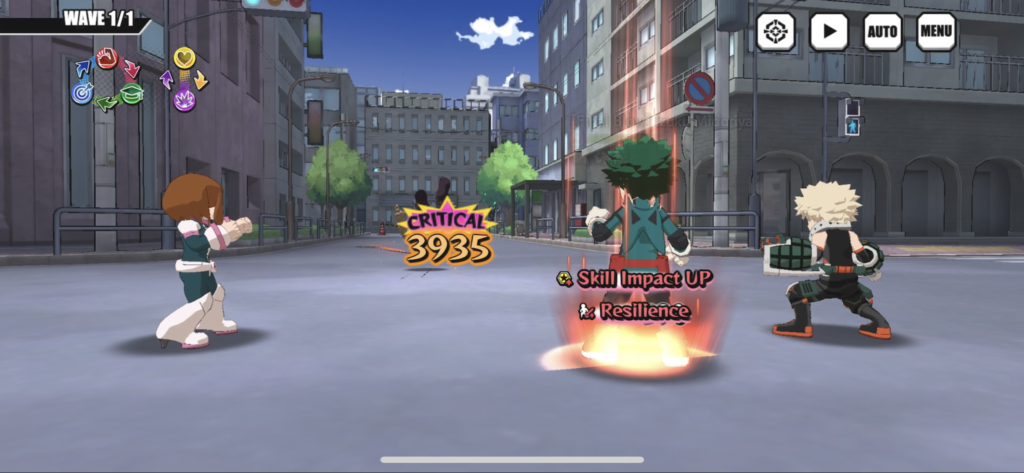 Play as your favorite My Hero Academia characters in this battle RPG. Before you enter a fighting match, you can pick the players you want on your team. Each player has a different quirk that'll help you fight in different ways so make sure you pick well!
During the game, you'll need to tap on your skill and watch it work against your enemies. The fighting matches don't go on for very long which is good as it's definitely at risk of feeling repetitive!
Graphics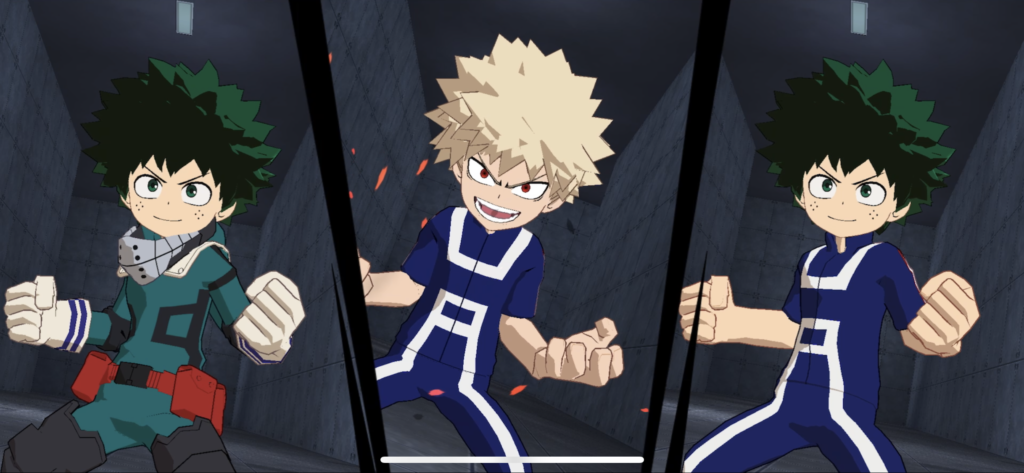 I've played My Hero One's Justice on the PlayStation 4 and I can confidently say the graphics for this game are very similar. This makes the gameplay feel more high quality despite being a free game, so big up BANDAI NAMCO for that!
Music & Sounds
If you're a big anime fan, you're going to love the fact the characters actually speak Japanese in this game. With a lot of anime games, you either have to read the script or listen to a dub voice actor. But My Hero Ultra Impact stayed true to its roots!
But don't panic if you can't speak Japanese, there are subtitles!
Controls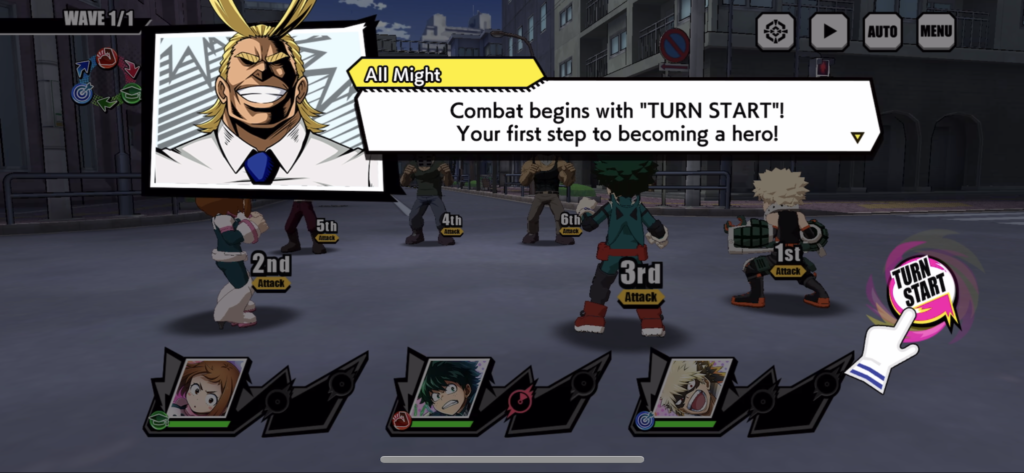 To control, tap on your skill and use it against your opponent. When your character goes to use the attack, you need to make sure you tap it at the right time otherwise it'll fail!
The Power of in-app Purchases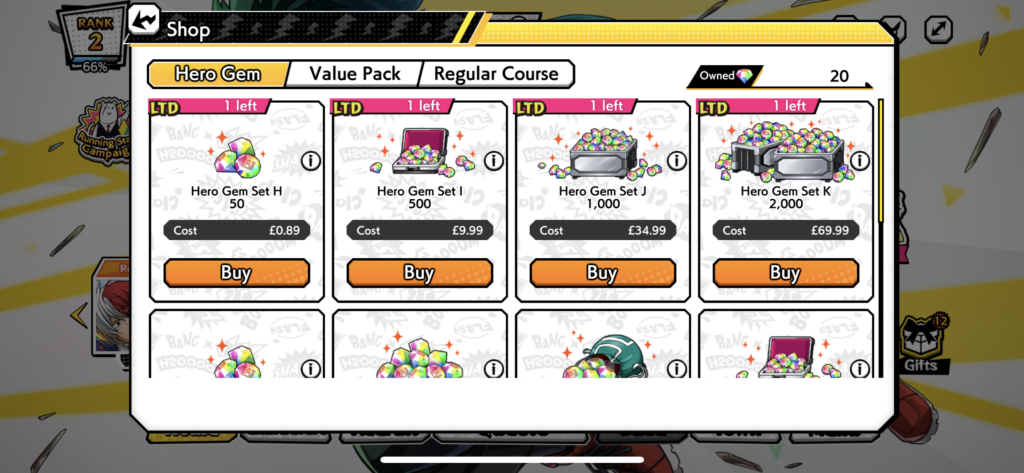 Hero Gems
50 Hero Gems for £0.89
500 Hero Gems for £9.99
1,000 Hero Gems for £34.99
2,000 Hero Gems for £69.99
10 Hero Gems for £0.89
60 Hero Gems for £3.49
120 Hero Gems for £5.99
300 Hero Gems for £14.99
600 Hero Gems for £27.99
900 Hero Gems for £39.99
1,650 Hero Gems for £69.99
Value Pack
There's a range of packs to choose from that range between £0.89 and £54.99
Regular Course
21-Day Stamina and Skip Tickets Course for £6.99
21-Day Special Login Bonus Course for £6.99
Level Up Quest 2x Tries Course for £2.49
USJ 2x Tries Course for £2.49
VE Tower 2x Tries Course for £2.49
The Verdict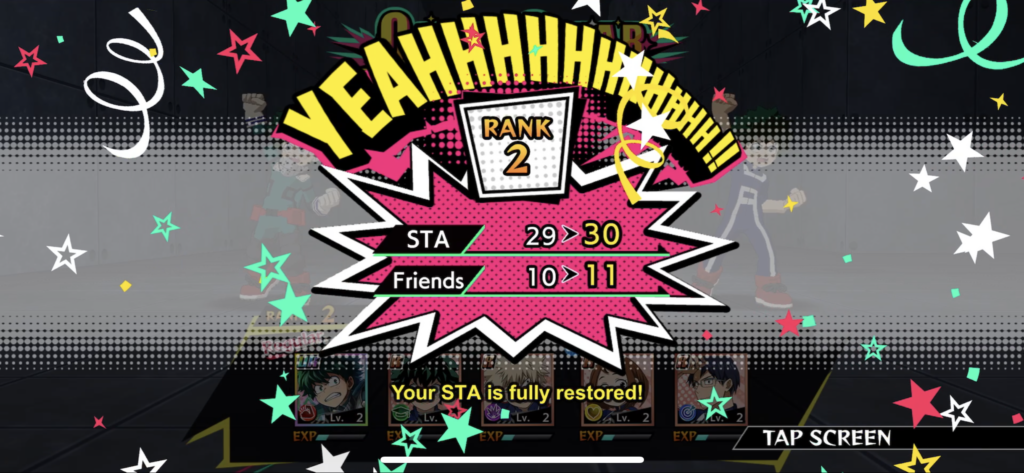 As an anime fan, I loved My Hero Ultra Impact. However, if you're not into anime and you're just looking for a good battle RPG, you can find better on the app store!
If you decide to download My Hero Ultra Impact, let us know what you think and if you agree or disagree with any of the things we said. Happy gaming and stay casual!
My Hero Ultra Impact Overall Rating: 3/5
iOS Link: https://apps.apple.com/us/app/my-hero-ultra-impact/id1548871462
Android Link: https://play.google.com/store/apps/details?id=com.bandainamcoent.hiroacawwus&hl=en_GB&gl=US
Company: BANDAI NAMCO Entertainment
Genre: Anime
Rated: 9+
Offers in-app Purchases
About Post Author