Can You Really Make Money From Mobile Games? Part 1
Playing mobile games is a lot of fun, but what if we told you there are games out there where you can earn real money? Sounds good right?
It's understandable that a lot of people have been left needing extra cash at the moment due to the pandemic, so we wanted to bring you a 4 part series to discover whether you can actually make money from mobile games.
Today we have 3 games and they're all made by the same company: Skillz. Skillz is an online multiplayer competition platform where players compete in competitions against other players across the world. The most popular games are:
Cube Cube 

Solitaire Cube

Pro Pool – Ultimate 8 Ball

Strike! eSports Bowling

Dominoes Gold

Spider Solitaire Cube

Bubble Shooter Arena 

Solitaire Tour – Classic Cards

Quezztion Real Money Trivia 

BeSwitched Tournament

Dragon Blast Tournament

Sky Piper – Tournament
A full list of Skillz games available here.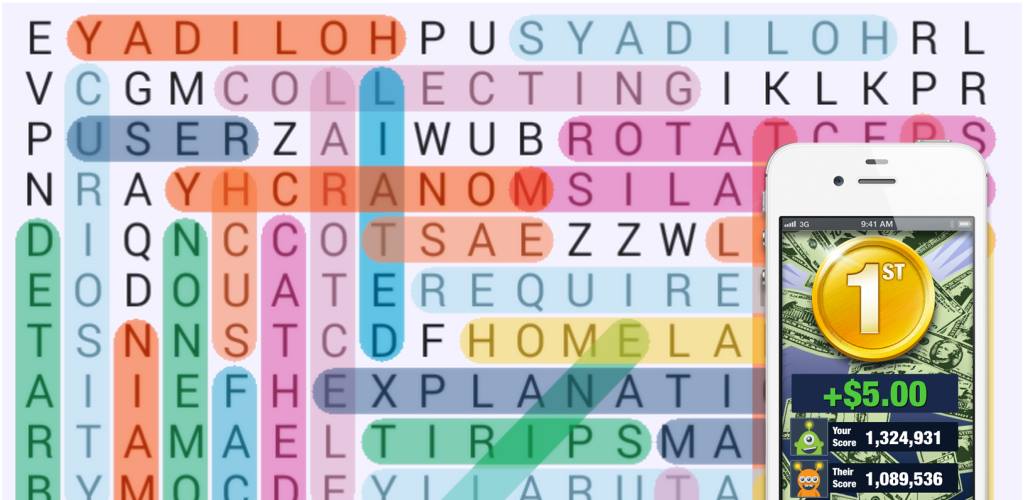 "The only multiplayer word search game where you can win real money and prizes
Compete head to head against players from around the world.
Race against the clock.
Play for fun or play for real cash (where available)
Choose different tournaments
Challenge people around the world with SKILLZ™, a competition platform complete with leaderboards, trophies, cash or virtual currency prizes, and an amazing loyalty program that rewards you just for playing! SKILLZ™: eSports for Everyone."
Rules:
Drag to highlight words
The faster player to find all instructed words wins
Starting budget: $30.00
Winnings: $3.00
Real Money Word Search was the most fun to play out of the 3 games. I made $3.00 which is not a lot compared to the budget of $30.00, but I do believe, with practice, you can make some solid money from this game. But be prepared to invest quite a bit to get a rhythm.
Strategy tips:
!! Be aware that when you put more money into a match, there will be more words to find. Be sure that you're absolutely ready before investing money you don't want to lose.
!! Find words that are horizontal and vertical first, then go for the diagonal words and any that are backward.
!! Check the theme beforehand so you know what kind of words you're looking for. For example cars, dogs, food, etc.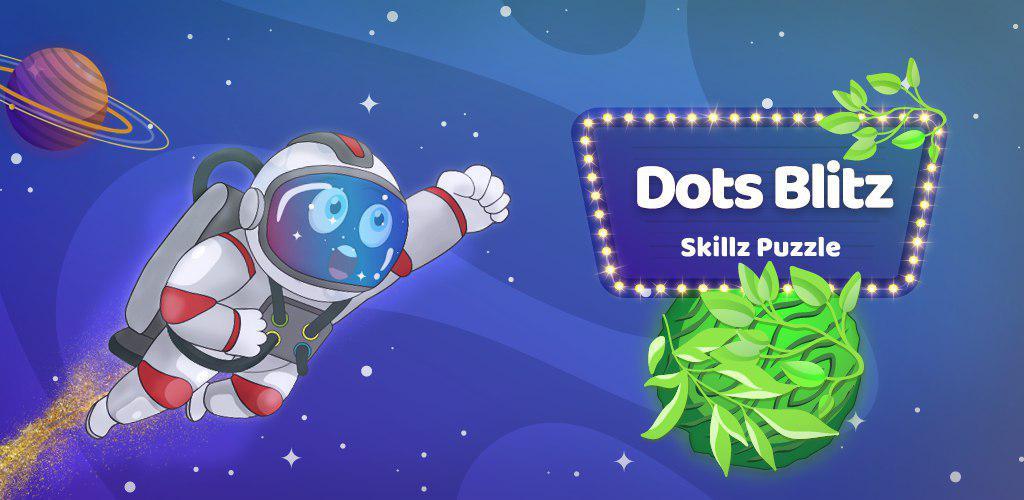 "Want to win cash, real prizes, and have a lot of fun?
Challenge people around the world with Skillz, a competition platform complete with leaderboards, trophies, physical or virtual prizes, and an amazing loyalty program that rewards you just for playing! 
Skillz: eSports for Everyone. Have FUN!"
Rules:
Connect adjacent planets of the same color to collect them 

Close the circuit of planets to collect them and earn bonus points! +10 points per additional planet

Bonus planet gives more points than regular

There are also boosters that are charged with the energy of destroyed planets. The laser gun collects all planets of a certain color – +100 points per destroyed planet, the spaceship collects all planets – +2450 points and the alien generates additional time for you +15 seconds

You'll score 10 points per connected plants and if you connect more than 2 planets, you'll get a multiplied score

There's a time limit of 60 seconds and the player with the highest score will win
Starting budget: $20.00
Winnings: $6.00
Out of the three games, Dots Blitz was the easiest to play and the game I made the most money on. The game has addicting gameplay with easy to follow instructions, but I did feel like I was paired with people who were more experienced at the game than me, despite Skillz saying that you're paired with people on the same level. I only made $6.00 out of a $20.00 budget which isn't great but I think you could make some serious money on Dots Blitz with practice.
Dots Blitz doesn't require any specific skills, so this game would be perfect for the average casual gamer.
Strategy tips:
!! Use your power-ups AS SOON as they reload. They'll help you score extra points without even trying.
!! Join up all icons, even if they make a smaller line. Just go as fast as you can.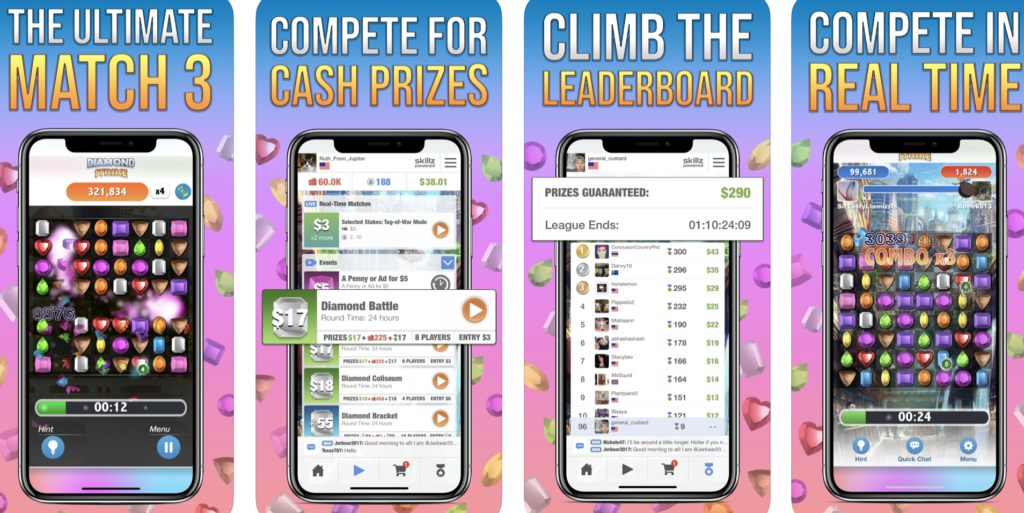 "Diamond Strike. The most popular matching game with multiplayer competitions for cash prizes!
Challenge people around the world with Skillz, the #1 competition platform on mobile. Compete with cash or virtual currency for prizes, and get rewarded just for playing!"
Rules:
Drag rows or columns to create matching groups of three or more gems

Increase your score multiplier by destroying enough gems to level up

Earn as many points as you can before time runs out

In live 1v1 matches, you can win instantly by outsourcing your opponent by a lot of points
Starting budget: $15.00
Winnings: $1.00
Diamond Strike has a similarity to Candy Crush, but with the most awkward controls I couldn't get along with. Instead of swiping to match icons together, you need to move rows and columns. I think I would've been better at this game if it had alternative controls. If you're used to playing these types of games, you could definitely make some serious money off of it, despite me only making $1.00. Diamond Strike heavily relies on skill, so make sure you practice a few of the free matches before making the commitment otherwise you'll just lose your money.
Strategy tips:
!! Practice, practice, practice. You need to be able to find matches quickly in order to win, so make sure you're focused.
The Verdict
From our research so far, you can make money from mobile games – to an extent. If you're completely new to mobile games, you might struggle a bit. However, as Skillz has such a wide range of games with different difficulty levels, you're sure to find one that works for you. If you'd like to learn more about Skillz games, check out our review for Chess Puzzle Blitz, Jewel Blitz, Block Blitz, and Bubble Shooter Arena.
Looking for a game that's not made by Skillz company?  Check out Dominoes Gold
About Post Author