Hunt Royale Review!
"Become a top survivor hunting cool monsters against other people in Hunt Royale! Choose one of 30 completely different characters with their own skills. Learn XP, unlock new abilities.
The hunt is on! Enter the hunting grounds as one of 4 warriors and survive in combat against awesome and unique fantasy enemies in this new type of battle royale!"
iOS Link: https://apps.apple.com/pl/app/hunt-royale/id1537379121
Android Link: https://play.google.com/store/apps/details?id=com.hunt.royale&hl=en_GB&gl=US
Company: BoomBit, Inc
Genre: Battle Royale
Rated: 4+
Offers in-app Purchases
Gameplay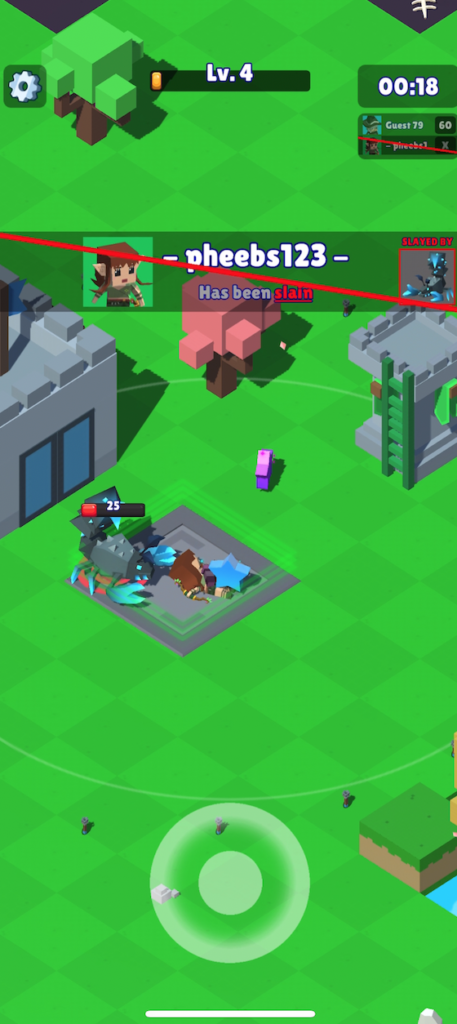 Hunt Royale works differently from every other battle royale game I've seen. With others, the aim is to kill all opponents and be the last one standing – usually, there are about 100 people in a match.
However, in this game, there are four of you battling to the end. The only catch is, you can't kill each other. You have to fight to the death with monsters that'll appear all over. The last one remaining wins.
I found it quite difficult to stay alive for long, especially when the monsters gang up on you. However, through time you can unlock new skins with better weapons.
Graphics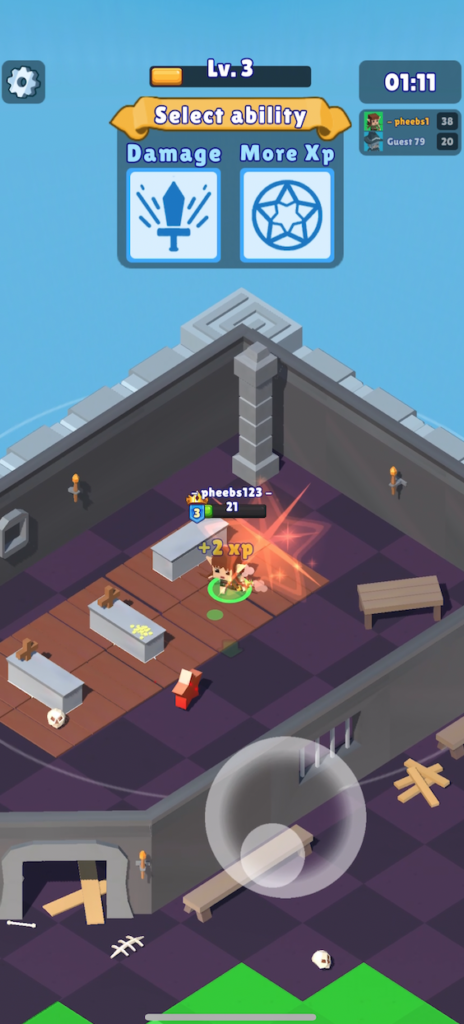 I didn't expect to enjoy the graphics as much as I did. When it comes to Battle Royale games, I usually like quite detailed visuals like in PUBG Mobile. However, thanks to how different this game is to others, I didn't mind and liked how it was easier to spot enemies due to being from a birds-eye view.
Music & Sounds
There's nothing special to the audio and personally, I found it quite irritating after a while. Luckily, you don't really need the sound on as enemies don't make any noise as they're moving towards you like in other battle royale games.
Controls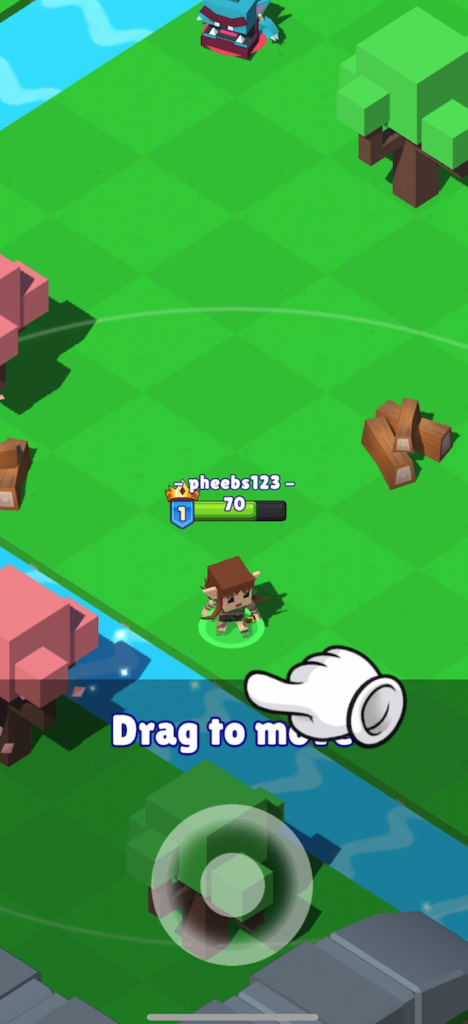 To control your character, drag the bottom of the screen and release it to attack. The controls are easy to remember, which is lucky because the game can become overwhelming when you're cornered.
The Power of in-app Purchases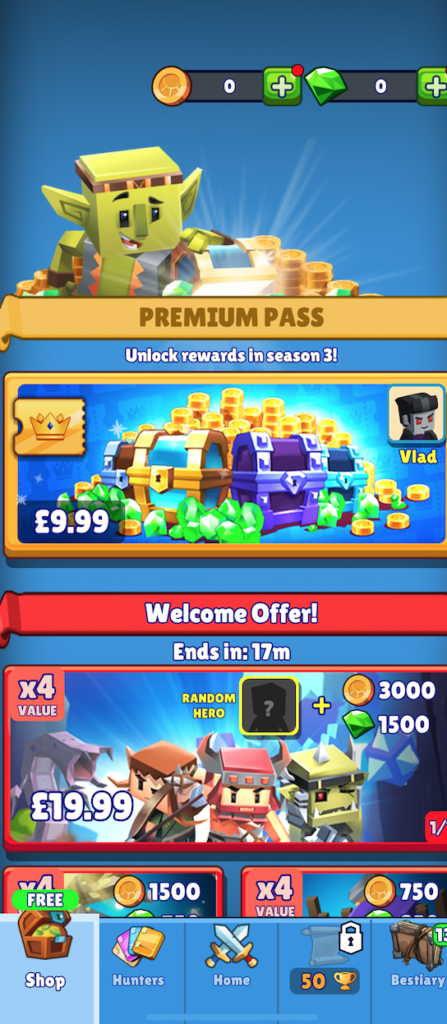 Premium Pass
£9.99 to unlock all rewards in season 3
Welcome Offers
3000 gold, 1500 gems and a random hero for £19.99
1500 gold and 750 gems for £9.99
750 gold and 350 gems for £4.99
Regular Goods
Tokens Boost +500 for 50 gems
Big Box for 60 gems
Mega Box for 150 gems
Gems
30 + 30 bonus gems for £1.99
80 + 80 bonus gems for £4.99
170 + 170 bonus gems for £9.99
360 + 360 bonus gems for £19.99
950 + 950 bonus gems for £48.99
2000 + 2000 bonus gems for £99.99
Gold
400 gold for 50 gems
1200 gold for 140 gems
2600 gold for 280 gems
The Verdict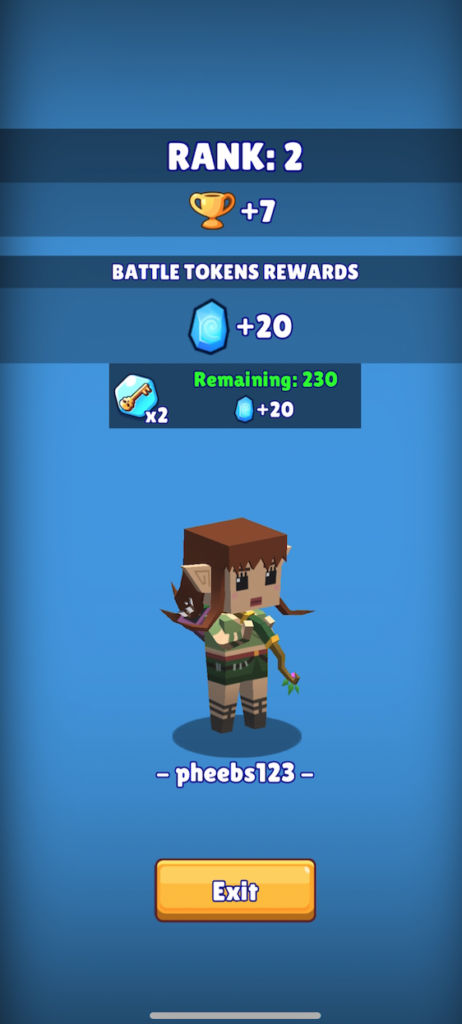 Hunt Royale showed me a side to battle royale I'd never seen before and I really enjoyed the concept. I think this is a great game for those days where you don't know what to play. It's simplistic, fun, and a great way to make new friends!
If you decide to download Hunt Royale, let us know what you think and if you agree or disagree with any of the things we said. Happy gaming and stay casual!
Hunt Royale Overall Rating: 3/5
iOS Link: https://apps.apple.com/pl/app/hunt-royale/id1537379121
Android Link: https://play.google.com/store/apps/details?id=com.hunt.royale&hl=en_GB&gl=US
Company: BoomBit, Inc
Genre: Battle Royale
Rated: 4+
Offers in-app Purchases
About Post Author