Horror Brawl: Battle Royale Review!
"Horror Brawl is a multiplayer online horror game, in which you'll play a shooter against the characters of the Keplerians sagas in their iconic settings, fighting to be the first to escape through the Nazrat portal.
During these terrifying games, your objective will be to annihilate everyone. To do this, search the stage and equip yourself with the best weapons, how scary!
Open chests to find healing kits or even Chaos Crystals! Collect four crystals to be able to turn into Evil Nun or the rest of the villains like Ice Scream or Mr. Meat, and annihilate your rivals with their abilities.
Discover the best hiding places when the Horror comes into play. Search the secrets of the gloomy rooms.
All games are unique and different!"
iOS Link: https://apps.apple.com/us/app/horror-brawl-battle-royale/id1545171714
Android Link: https://play.google.com/store/apps/details?id=com.keplerians.horrorbrawl&hl=en_GB&gl=US
Company: KEPLERIANS SL
Genre: Battle Royale
Rated: 12+
Offers in-app Purchases
Gameplay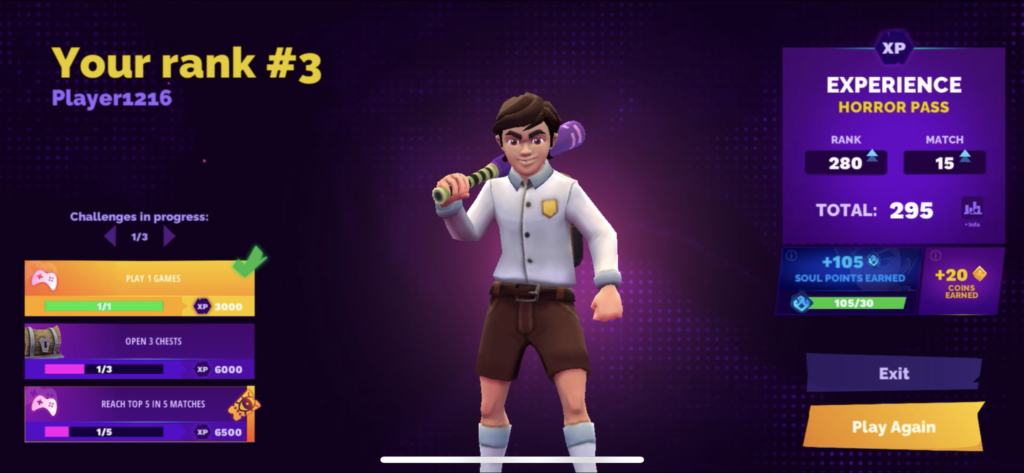 It's been a while since we reviewed a Battle Royale game so we thought we'd jump straight back in with a horror-type Battle Royale! It is spooky season after all…
Like any other Battle Royale game, the aim is to be the last man standing. However, simply surviving isn't enough. Be the first person to escape via the portal and you will instantly win, even if there are other people left.
When I first entered the match, it took me a while to actually find other players let alone the horrors (in this case, a scary nun), and as soon as I found someone else I was killed. This was because the game gives you no proper tutorial on how to use the controls so there's a lot of trial and error before figuring out how to win.
If you don't mind learning as you go along then that's fine but personally, for me, I prefer when games have tutorials.
Graphics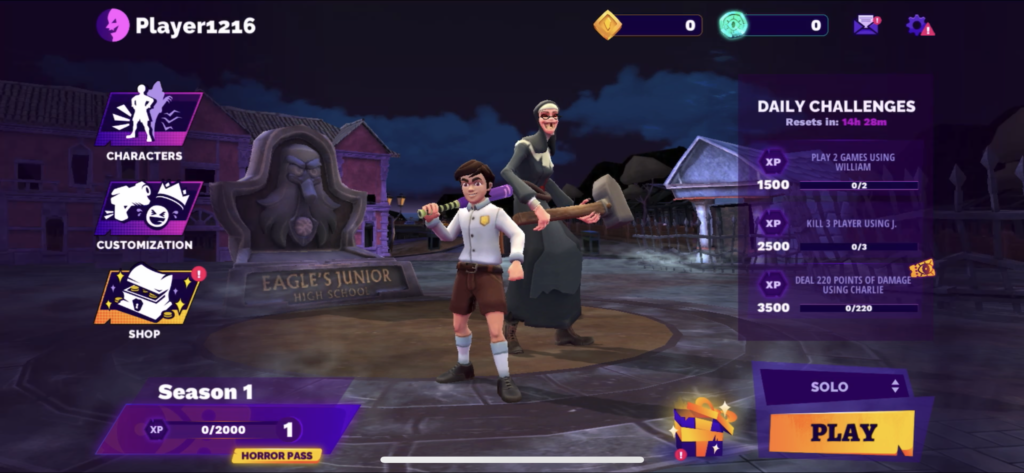 A lot of Battle Royale games have questionable graphics (bar Fortnite and PUBG) but I'm really impressed with Horror Brawl's visuals. Each character is pretty detailed and the map is a lot of fun to check out. It's quite limited but big enough for a Battle Royale game.
Music & Sounds
While you're walking around the map, all you can hear is the sound of your own footsteps which I must admit is creepy as hell. This definitely adds to the horror effect but also helps with being able to listen out for other players!
Controls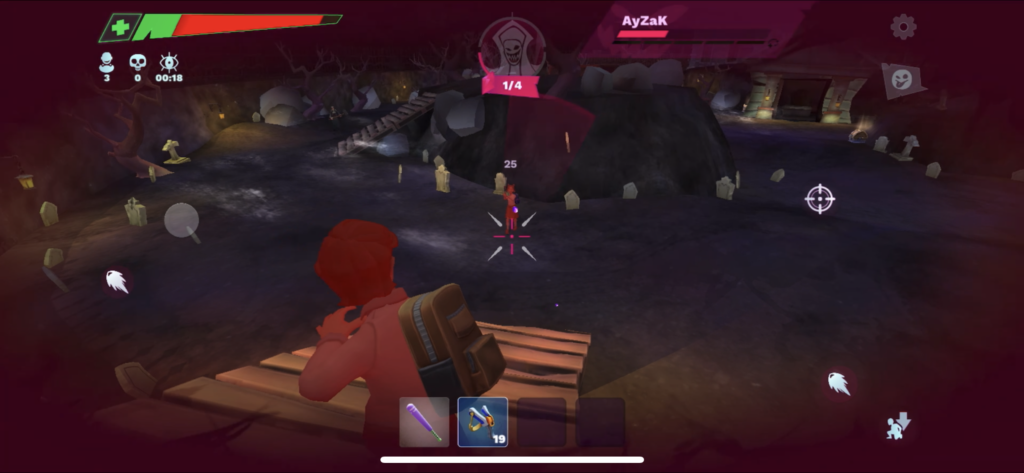 The controls are easy once you figure them out (as I said, there's no tutorial). There's essentially a virtual steering wheel in order for you to control your character and on the right, you can shoot, and customize the attack direction.
The Power of in-app Purchases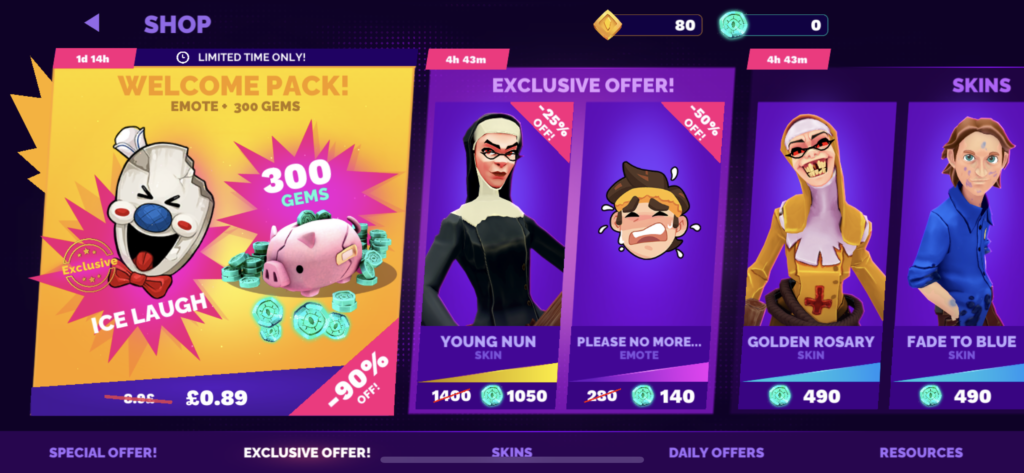 You can play without in-app purchases but if you want to show off with skins and cool emotes, it's worth having a look at the store.
Offers
Welcome Pack for £0.89
Young Nun skin for 1050 gems
Please No More emote for 140 gems
Skins
Golden Rosary for 490 gems
Fade to Blue for 490 gems
Ice Cold for 490 gems
Daily Offers
Moonglow ranged weapon for 280 gems
100% Protein emote for 160 gems
Spray Madeline Graffiti for 280 gems
Mini Rod backpack for 950 gems
Groovy Style ranged weapon for 950 gems
1000 Soul Points for 60 gems
Gems
80 gems for £0.89
500+500 gems for £4.49
1200+1200 gems for £8.99
2500+2500 gems for £17.99
6500+6500 gems for £44.99
14000+14000 gems for £89.99
Coins
60 coins for free
500 coins for 60 gems
3500 coins for 400 gems
2000 coins for 2000 gems
Passes
Horror Pass (Exclusive rewards) for 590 gems
Horror Pass Bundle (Exclusive rewards + 30 levels) for 1420 gems
The Verdict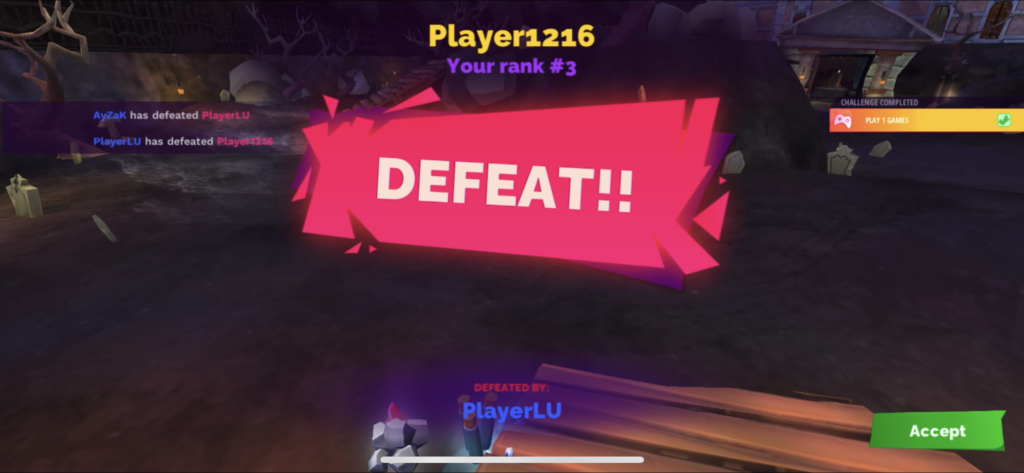 Overall, I thought Horror Brawl was a lot of fun to play. It was pretty different from any other Battle Royale game I've played before and brilliant for horror fans! However, just make sure you're willing to learn on your own!
If you decide to download Horror Brawl, let us know what you think and if you agree or disagree with any of the things we said. Happy gaming and stay casual!
Horror Brawl: Battle Royale Overall Rating: 4/5
iOS Link: https://apps.apple.com/us/app/horror-brawl-battle-royale/id1545171714
Android Link: https://play.google.com/store/apps/details?id=com.keplerians.horrorbrawl&hl=en_GB&gl=US
Company: KEPLERIANS SL
Genre: Battle Royale
Rated: 12+
Offers in-app Purchases
About Post Author