Hidden Hotel: Miami Mystery Review!
"Do you like mysterious puzzles and the process of hidden objects finding? What about renovating an old hotel?
The incredibly involving and mysterious story of a strange old hotel will take you through an unforgettable gaming journey. Just search and reveal hidden objects inside weird and dark hotel rooms. Finding the required objects let you solve the mystery of the strange hotel.
As a successor of the former hotel host, you will be able to master a new design by choosing your signature style for hotel interiors' renovation. You can create your own style by using skins of various designs – Modern, Classics or 70's. Hundreds of changeable colorful designs are available on each location.
Everyday eleven unforgettable tasks are waiting for you. With each passing day in the game, you'll be closer to the true story of strange incidents with hotel guests.
An old stranger's bag is the key to the hotel secrets!"
Hidden Hotel: Miami Mystery Links:
iOS Link: https://itunes.apple.com/us/app/hidden-hotel-miami-mystery/id1415774287?mt=8
Android Link: Not currently available
Company: WhaleApp LTD
Genre: Hidden Object Game
Rated: 4+
Offers in-app Purchases
Gameplay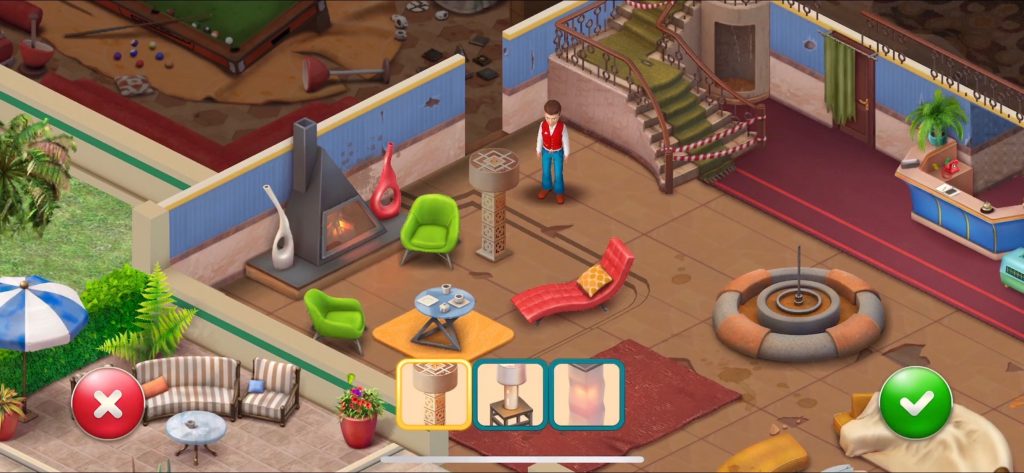 When I opened the game, I was greeted with a short video about the story behind Hidden Hotel: Miami Mystery. In short, your grandfather is still missing 7 years later and you've inherited his hotel in Miami. It turns out that the hotel is in absolute pieces and needs a lot of work done to it. Now, this is where I first thought the game reminded me of Gardenscapes but there's more to it. The reason why it reminded me of Gardenscapes was down to the fact you have to fix the hotel and collect stars to do so. But, unlike Gardenscapes that includes match-3 levels to collect stars, Hidden Hotel: Miami Mystery has hidden object mini-games. So, it's basically like Gardenscapes and Agent Alice had a baby.
When it comes to fixing the different parts of the hotel, you get to decide how it looks with 3 different options. I personally went for a more modern theme but you could pick whatever you think fits.
Graphics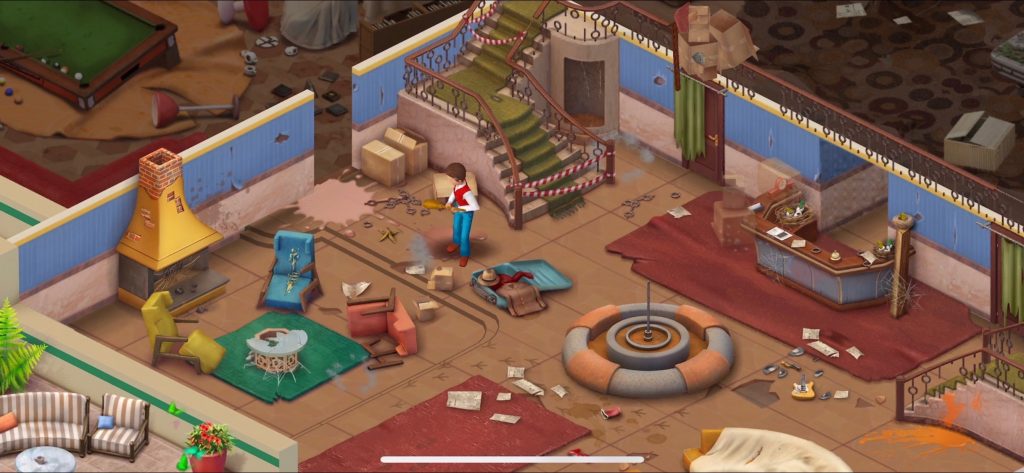 I like the graphics in Hidden Hotel: Miami Mystery, but again, they're extremely similar to Gardenscapes. The similarity does concern me a little bit as they're not made by the same company.
The graphics are cartoon-like, colorful and run smoothly. The game didn't crash at all and I don't feel like the buttons on the screen are too much.
There are a few animations like when you find an object in the mini-game, and when the hotel clerk is walking around. Apart from that, there isn't much movement.
Music & Sounds
In terms of the music, it is very jazz likes and gives off that mystery vibe that you get with other hidden object games. The sounds, on the other hand, are a little bit annoying as they're constant, especially if you're playing the mini-game. There is an option to turn it off in the settings, though, so that's good. The hotel clerk doesn't speak and you have to read the script which is a little bit disappointing and low budget. He does, however, have a voice in the intro video.
Controls
Hidden Hotel: Miami Mystery has controls like every other hidden object game – tapping. You tap on objects when you find them and you tap on the piece of furniture to fix it. There's nothing complicated about the controls, and this game would be really easy to play while doing something else. You really don't need your full attention on it.
The Power of in-app Purchases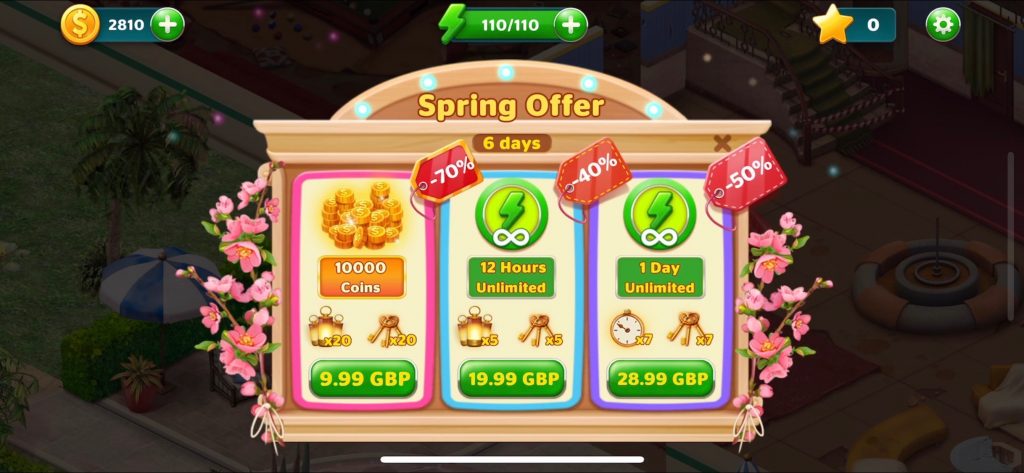 In the store, you can purchase coins and energy, but not stars. Stars HAVE to be earned.
Coin prices:
3000 coin for £2.99
6000 coin for £4.99
14000 coin for £9.99
30000 coin for £19.99
60000 coin for £38.99
130000 coin for £74.99
Energy prices:
30 energy for 1500 coin
50 energy for 2000 coin
120 energy for 3900 coin
unlimited energy for 24 hours for 39900 coins
You don't necessarily need to purchase energy to complete this game, however, if you want to get through it quickly then it's definitely a good idea.
The Verdict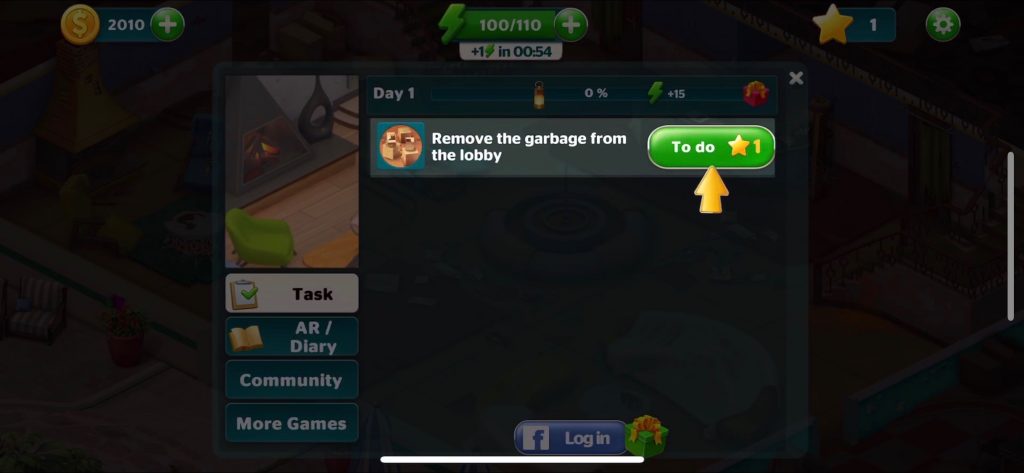 I enjoyed playing Hidden Hotel: Miami Mystery because this type of game always gets me hooked. That being said, there's nothing special about it as it's not unique at all and reminds me too much of other games. I mainly liked it because it's a quick little game that you can play while doing other things as you don't really need your absolute full attention. There's also an option to log in with Facebook and I'm a sucker for it because there's nothing more satisfying than beating someone you spoke to once at school once at an app game.
If you decide to download Hidden Hotel: Miami Mystery, let us know if you agree or disagree with any of the things we said. Happy gaming!
Hidden Hotel: Miami Mystery Overall Rating: 3/5
iOS Link: https://itunes.apple.com/us/app/hidden-hotel-miami-mystery/id1415774287?mt=8
Android Link: Not currently available
Company: WhaleApp LTD
Genre: Hidden Object Game
Rated: 4+
Offers in-app Purchases
About Post Author