GWENT Review!
"Join in The Witcher universe's favorite card game! In GWENT, you clash with your friends in fast-paced duels that combine bluffing, on-the-fly decision making and careful deck construction. With heroes, spells and special abilities that dramatically turn the tide of battle, deception and clever tricks are necessary parts of your arsenal.
FREE TO PLAY THAT'S WORTH YOUR TIME — A fair and fun progression system turns the effort of building a competitive collection of cards into pure pleasure — just play GWENT, no strings attached.
STUNNING, ALL ACROSS THE BOARD — Beautiful, hand-drawn art and mesmerizing visual effects breathe life into every card, battle, and the battlefield, making GWENT both fun to play and a joy to watch.
SKILL BEATS LUCK — Crush the enemy with brute strength or outsmart them with clever tricks — GWENT's unique round-based gameplay opens up a world of strategic possibilities to play with.
EASILY SATISFYING, ANYTHING BUT EASY — Sling cards across two tactically distinct rows — melee and ranged. Gather more points than your opponent to win around. Win two out of three rounds to win the battle. It won't be easy, but no one said it should be.
NO HOLDING BACK, NO HOLDING HANDS — You start with 10 cards in your hand, able to play each right from the start. It's up to you to open the game with your strongest unit, or save the best for later."
Android Link: Not currently available
Company: CD PROJECT S.A
Genre: Card Battle
Rated: 17+
Offers in-app Purchases
Gameplay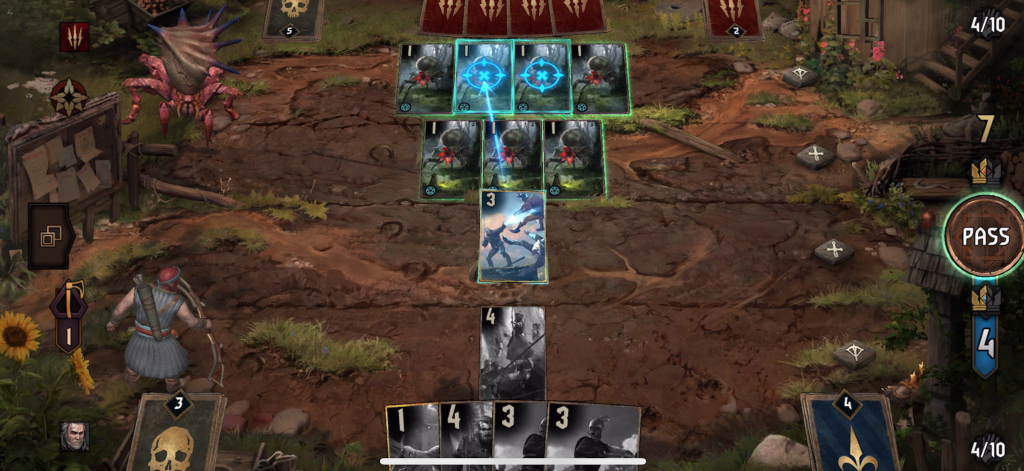 We won't bore you on the exact details on how to play a card battle game. They're fairly simple if you're already familiar with them, but GWENT definitely has a little twist to it that mainly plays in the graphics.
When you first enter the game, there is a really long tutorial that gets pretty frustrating after some time. Luckily for us that are used to the basics of a card battle game, you can skip the tutorial once you get the hang of it. After that, you're put into training where you're matched with other players, and you get to choose your own deck of cards. But don't worry, you can change the decks later on in the game. I went with the monster deck which made sense at the time because I thought it included the best cards. But I was wrong. Throughout the 4 or 5 games I played, I didn't do very well and most of my opponents were significantly better than me. Usually, in card battle games you're matched with people who are on a similar skill level to you, but I'm not sure if GWENT does the same.
Graphics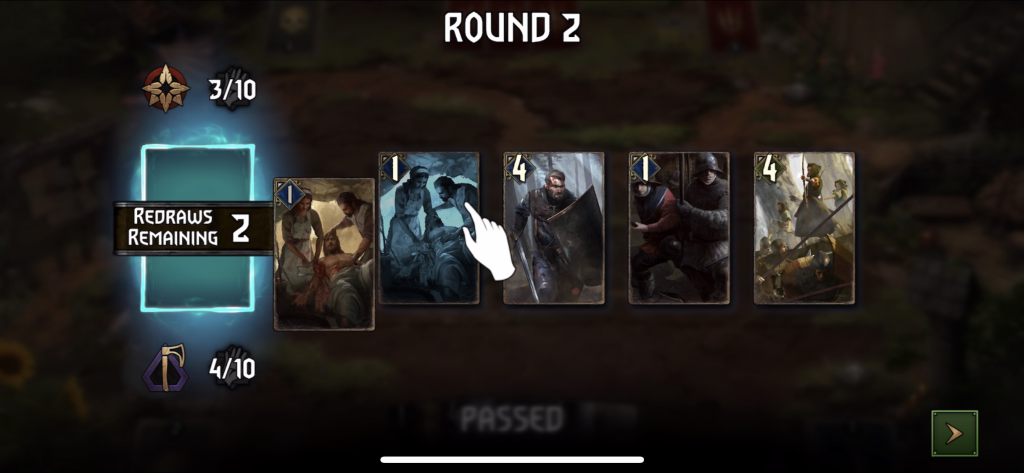 The graphics are like Hearthstone on steroids. They're extremely detailed, and the animations play into the gameplay perfectly. I think my favorite part of the graphics is how the cards have their own unique animations on them rather than just pictures. I feel as if the animations add more personality to the cards. Usually, animations to this level decrease the game's ability to run efficiently but I had no issues with GWENT.
Music & Sounds
GWENT does a good job of immersing you into the gameplay with the well-themed music and sounds. I was amazed by how high quality the sounds were, and how some of the cards could speak as they were being laid down. Music can sometimes be a dealbreaker in games, especially if it's repetitive and annoying, but I have no complaints.
Controls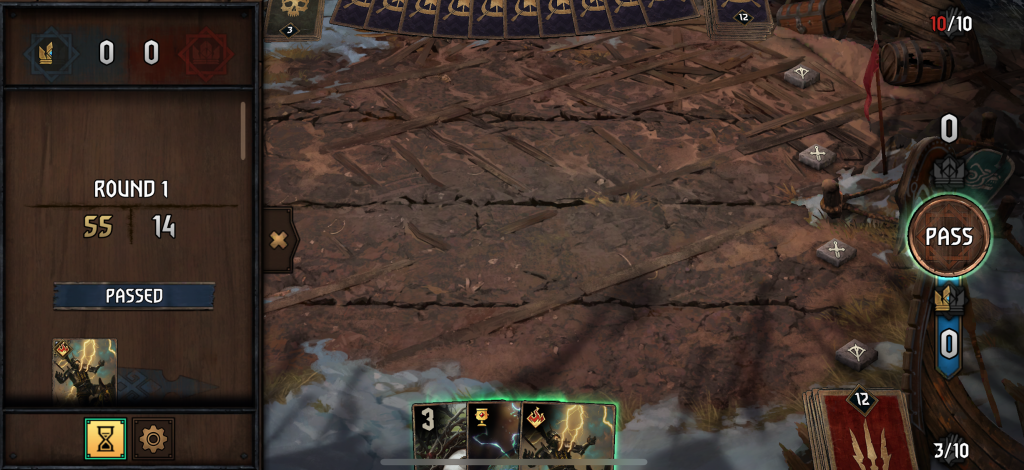 The controls work very similarly to Hearthstone, where you get a deck of cards and you drag the card you've chosen onto the board. When you feel like you want to end your turn, or if you want to pass, there is an 'end turn' button on the left-hand side of the screen.
It's hard to complain about the controls when they're this easy to follow. Viewing your deck is easy, along with holding down on a card to find out more information.
The Power of in-app Purchases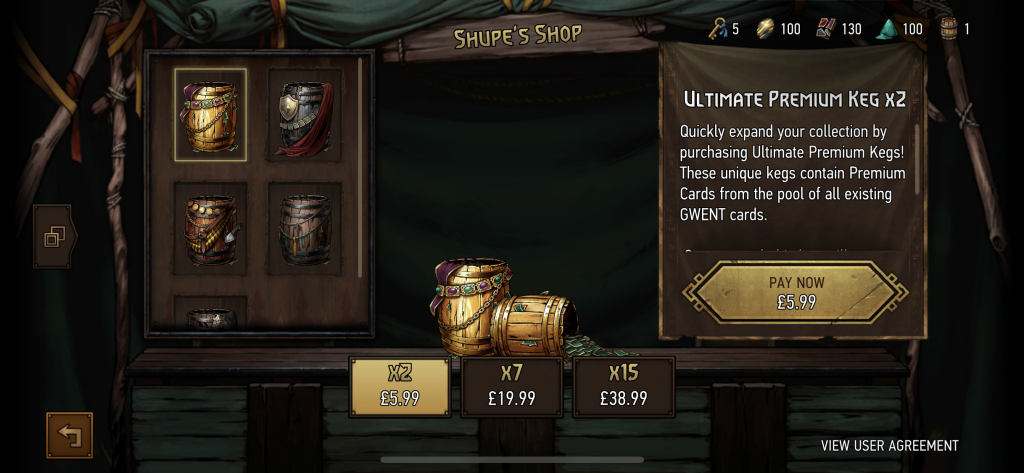 Kegs
Ultimate Premium Keg: x2 for £5.99, x7 for £19.99 and x15 for £38.99
Iron Judgment Keg: x1 for 100 coins, x2 for £2.99, x7 for £9.99, x15 for £19.99, x40 for £48.99, x60 for £64.99
Novigrad Keg: x1 for 100 coins, x2 for £2.99, x7 for £9.99, x15 for £19.99, x40 for £48.99, x60 for £64.99
Base Set Keg: x1 for 100 coins, x2 for £2.99, x7 for £9.99, x15 for £19.99, x40 for £49.99, x60 for £64.99
Crimson Curse Keg: x1 for 100 coins, x2 for £2.99, x7 for £9.99, x15 for £19.99, x40 for £49.99, x60 for £64.99
Meteorite Powder
x400 for £3.99
x800 for £6.99
x1600 for £12.99
x3200 for £20.49
x4800 for £28.99
x7200 for £38.99
You can also purchase ornaments and packs from the store. There's so much to choose from, it gets overwhelming!
The Verdict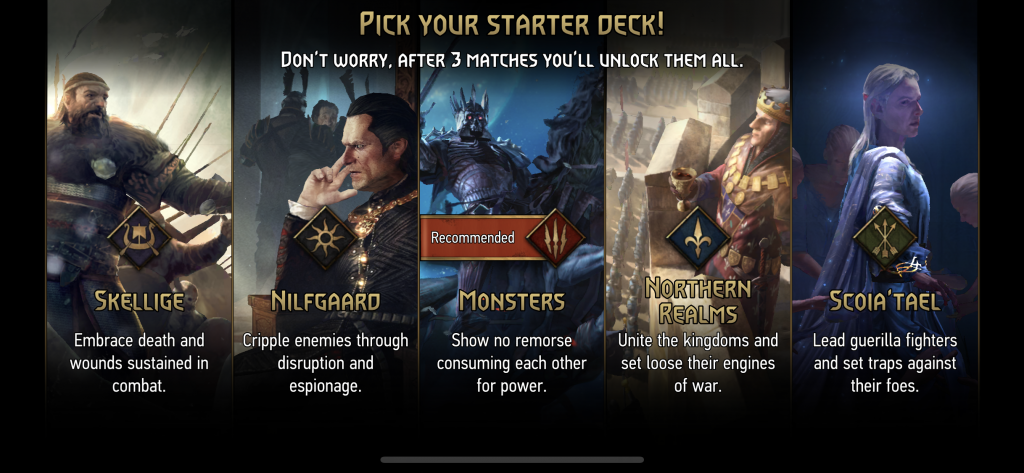 Although not as good as Hearthstone, GWENT is an extremely fun card battle game to play. Play against friends or people from around the world. The possibilities are endless!
I have a feeling I'm going to keep this game on my phone for a long time, as I can already feel myself getting addicted. If you decide to download GWENT, let us know what you think and if you agree with any of the things we said. Happy gaming and stay casual!
GWENT Overall Rating: 4/5
Android Link: Not currently available
Company: CD PROJECT S.A
Genre: Card Battle
Rated: 17+
Offers in-app Purchases
About Post Author