Golf King Review!
"#1 Multiplayer Real Golf at Your Fingertips! Join and Tee Off Now!
From the creators of Mini Golf King comes a new Golf game featuring real-time 1v1 matches, realistic courses of stunning graphics, customizable characters, intuitive shot control, and even more fun!
Play on beautiful courses against rivals around the world in online battles! Win and collect trophies to unlock higher tours. Discover and upgrade golf clubs to improve your performance. Take on the daily and weekly leaderboards to win awesome prizes and glory. Play against your friends!
Customize your look with endless combinations of characters, hats, glasses, tops, pants, and shoes. Use various emotes to brag about your victory. Collect the best clubhouses and caddies for more benefits!
Start your epic career and master your skills in your quest to become the Golf King!"
Company: PNIX, Inc.
Genre: Golf Games
Rated: 4+
Offers in-app Purchases
Gameplay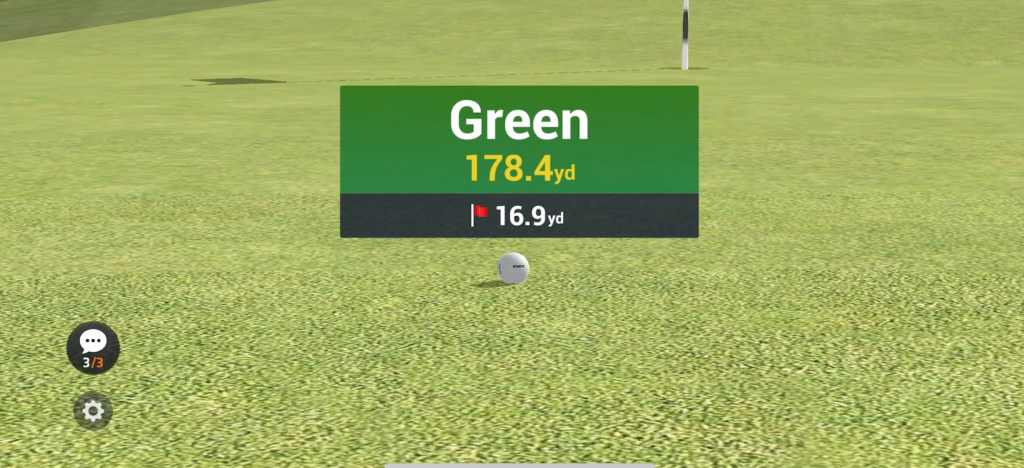 I've been a fan of golf games since I downloaded Golf Clash, so I was excited to come across Golf King on the app store. Golf King starts off with a tutorial on how to play, and you're paired up with a bot. Well, actually, you're paired with 4 bots before you can get into the actual game.
As you can imagine, this is a game where you play golf. So I don't need to go into details about the rules. But like Golf Clash, this is a multiplayer where you can log in through Facebook and play against friends. Win coins through matches, and spend them on better golf clubs, balls, clothes, etc.
Graphics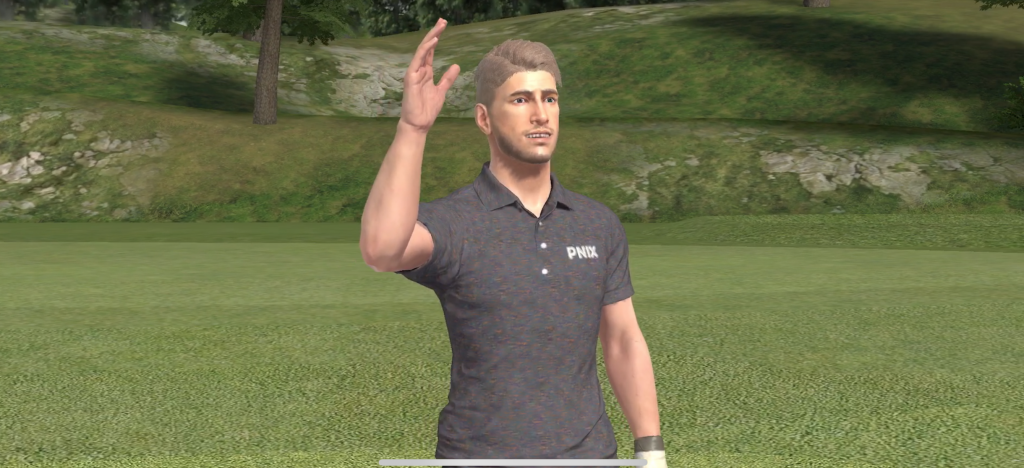 I really didn't expect the graphics to be good as they were, especially for a mobile golf game. Each player has their own customizable character, and the way the characters look reminds me of Grand Theft Auto 5. I thought this was awesome for a game so small to be able to produce graphics that could easily be on a console.
Music & Sounds
Like Golf Clash, Golf King doesn't have any background music. Just the sound of birds tweeting, the golf club hitting the ball, people cheering in the background when you win, and that's about it. I like the simplicity of golf games, and how the music and sounds are usually pretty relaxing – making it the perfect game to play when you're in chill mode before bed.
Controls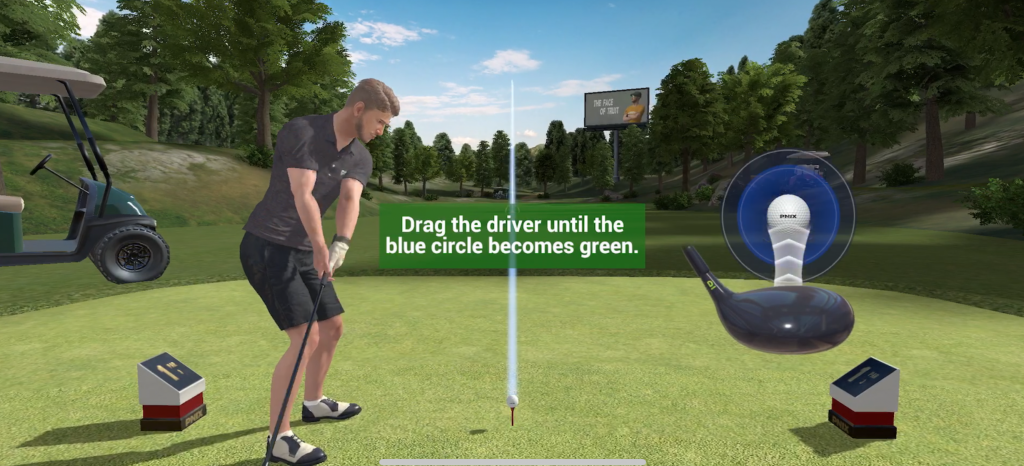 Drag the golf club back until the blue circle becomes green, then release when the needle is in the middle. This is the simple way you can get a long shot, but obviously be less intense when you don't want your ball to go as far. The controls are easy to follow but super similar to Golf Clash. The only real difference is that the game is in landscape instead of portrait.
The Power of in-app Purchases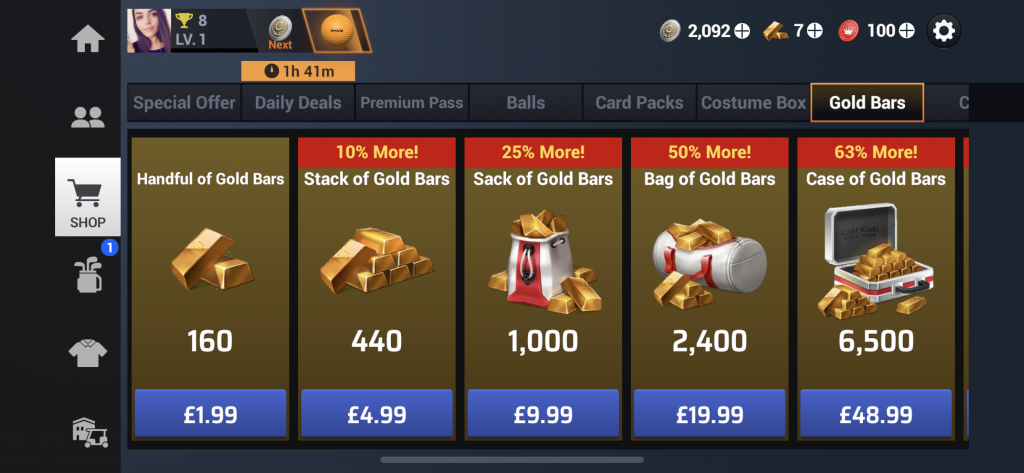 I won't go into loads of detail about what's on offer at the store otherwise we'll be here for days. But there are a few deals that might be good for any dedicated players.
Daily Deals 
Advanced Sand Wedge upgrade for 1 gold bar
VIVA Driver for 50 gold bars
Premium Pass
Balls
10 orange balls for 70 gold bars, 50 orange balls for 350 gold bars, and 100 orange balls for 700 gold bars
" Azure balls for 200 gold bars, 50 Azure balls for 1,000 gold bars, 100 Azure balls for 2,000 gold bars
" King Superior balls for 720 gold bars, 50 King Superior balls for 3,600 gold bars, and 100 King Superior balls for 7,200 gold bars
Card Packs
Pro Pack for 90 gold bars
Elite Pack for 210 gold bars
Champion Pack for 420 gold bars
Costume Box
Credit Costume Box for 95 credits
Premium Costume Box for 395 gold bars
Gold Bars
160 gold bars for £1.99
440 gold bars for £4.99
1,000 gold bars for £9.99
2,400 gold bars for £19.99
6,500 gold bars for £48.99
14,000 gold bars for £99.99
Coins 
2,500 coins for 70 gold bars
22,5000 coins for 500 gold bars
65,000 coins for 1,200 gold bars
170,000 coins for 2,700 gold bars
650,000 coins for 8,500 gold bars
Credits
250 credits for 70 gold bars
2,250 credits for 500 gold bars
6,500 credits for 1,200 gold bars
17,000 credits for 2,700 gold bars
65,000 credits for 8,500 gold bars
200,000 credits for 18,000 gold bars
The Verdict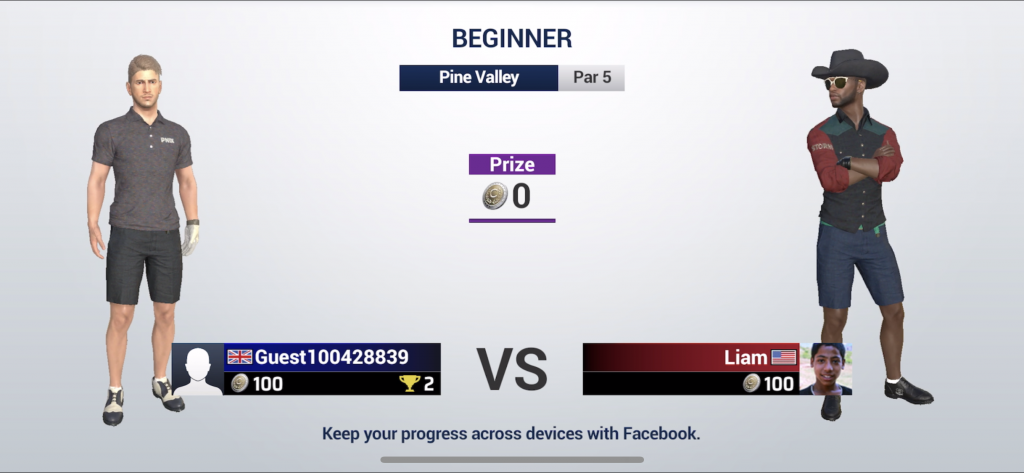 Golf King overall is a fun game to play and I'm probably going to keep it on my phone for some time, however, there isn't anything that stands out to me. In terms of the gameplay, it is extremely similar to Golf Clash, but personally I would rather play Golf King for its graphics.
If you decide to download Golf King, let us know what you think and if you agree or disagree with any of the things we said. Happy gaming and stay casual!
Golf King Overall Rating: 4/5
iOS Link: https://apps.apple.com/ca/app/golf-king-world-tour/id1463360096
Android Link: https://play.google.com/store/apps/details?id=com.pnixgames.golfkingwt&hl=en_GB
Company: PNIX, Inc.
Genre: Golf Games
Rated: 4+
Offers in-app Purchases
About Post Author