Duolingo Reveiw
Hey Casual Gamers!  Ever wanted to learn a different language than your own?  If you have tried like me over the years, you have seen many promises of learning a new language in only a few weeks.  Now, with Duolingo, it's possible to not only learn a new language, but many others at the same time…for free!  Here's our review of Duolingo, a scientific way to improve and master a new language in less than five minutes!
Duolingo Links: 
iOS Link:  https://itunes.apple.com/us/app/duolingo/id570060128?mt=8
Android Link: https://play.google.com/store/apps/details?id=com.duolingo&hl=en_US
Company:  Duolingo Inc.
Genre: Education
Rated: 4+
Offers in-app Purchases
Gameplay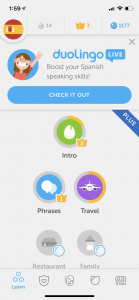 Duolingo starts with you picking a language you want to learn.  Simple enough, right?  Afterwards, you (should, depending on how new you are to the language) start at the intro module and start the exercises there.  What I like about this over other language apps is that while you are learning the language, you are introduced to the letters of the language's alphabet.  While that maybe taunting to people learning something new, when you click over the letter, it gives you the meaning in your default language.
Another wonderful thing to mention is that all this is free!  There is a life gauge however. and once you have make enough mistakes, you must wait until your hearts recover.
Graphics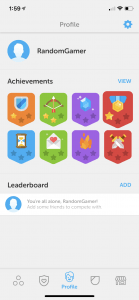 Seeing Duolingo in action is visually accepting.  The menus are easy to navigate and progress is shown as you complete the exercises in the module.  Correct and incorrect answers can be checked before moving on to the next exercise.  letters and words can be easily checked without clogging up the screen.  You can easily change languages and work on others in the same session.  This part more or less sold me on the concept Duolingo advertises.
Music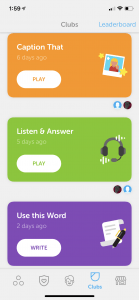 While there is no music in Duolingo, it's for good reason.  In the modules you are sometime tasked with speaking back what is heard.  When learning symbols and letters, Duolingo gives you the right pronouncement that helps with solving exercises.
If you do need music to study, it can be played while using Duolingo.  It will lower the volume of the music enough for your to hear a command or symbol and return the volume back once spoken.  I usually listen to house music or classical, so I haven't noticed any cut offs of symbols while playing music.
Classes and clubs are also offered for extended help and practice with your newfound language.
Controls
When I think about it, I tend to have a device preference when it comes to some apps.  I like using this app on my tablet rather than my phone.  I feel as though the bigger screen gives me more room to learn (as crazy as that sounds!).  Duolingo still performs very well on the phone, so my preference shouldn't be taken as a ding to the app itself.
As stated earlier, the menus are a breeze to navigate.  One thing to notice is that when you complete a module, you will see a crown over it.  From here you can either move on, or click on the module again to start the second version of it.  I didn't know this starting and leapt into a module above my understanding.
The Power of In-App Purchases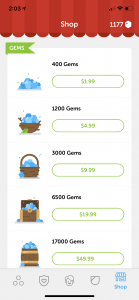 So, is this app free?  Yes, and kinda no.  The heart gauge effectively represents   For a monthly subscription, you can place a powerful shield over your heart gauge, allowing unlimited mistakes while learning your new language.
I was very interested in the concept of this and purchased a month subscription.   There are also gems that can be purchased but so far I haven't found a real need to purchase any.  If you play everyday you will get gems as a streak reward.
There maybe a reason to purchase the gems if you dont want the subscription.   To me, if you are thinking of spending money on Duolingo, subscriptions are where it's at.  (Edit:  After playing a little while longer, you use gems to obtain bonus skills, which have an additional niche to learn in the language you wish.)
Verdict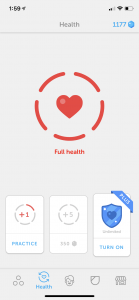 Overall, this was something I was looking for.  I've traveled many places around the world and always had a dream of breaking down the language barrier.  I can say  with Duolingo, that dream can be a reality with five minutes a day.
If you are new to Duolingo and need a friend, add RandomGamer and lets learn a new language together!
Duolingo Overall Score:  5/5
iOS Link:  https://itunes.apple.com/us/app/duolingo/id570060128?mt=8
Android Link: https://play.google.com/store/apps/details?id=com.duolingo&hl=en_US
About Post Author