Dunidle: 8 Bit Idle RPG Games
Idle incremental RPG grind gameplay
Your hero can train while you're away. When you return, he will have grown stronger – with new, powerful abilities … ready for а new quest. Grow and upgrade your hero for battle!
Play offline
No Internet connection required! Play online or offline – anytime you wish! – and earn gold, daily play bonuses, and tons of achievements. Download now and start an exciting story with endless hours of play.
Beautiful 2D retro pixel graphics
Dunidle's beautiful 2D pixel graphics and fantasy score combine modern design with a retro aesthetic!
Easy RPG tactics
Only a few taps – and you're ready to go! Tap your enemies to become the top grinder in the roguelike realm!
Pixel dungeons
Explore the depths and crawl through endless, RPG-style roguelike pixel dungeons – featuring random level generation, tile-based graphics, and permadeath. A true dungeon crawler is sure to keep you glued to the screen!
Choose your hero
Your mighty Knight can attack enemies at a rapid speed and still stand to shield the group in the battle. Your healing Priest will use spells to treat your wounds. Your skilled Rogue will stab enemies with poisonous daggers that damage them over time. Your skilled Archer will shoot slow arrows to hinder the enemy's advancement in order to successfully complete the quest.
Download Dunidle – one of the very best pixel RPG incremental crawlers – to become the new boss of the roguelike realm!
Dunidle Links:
iOS Link: https://apps.apple.com/us/app/dunidle-dungeon-crawler-boss/id1452929189
Android Link: https://play.google.com/store/apps/details?id=aratnon.pixel.idle.dungeon.dunidle&hl=en_US&gl=US
Company: Awirut Raton
Genre: Indie Games, Rougelike, Idle RPG
Rated: 9+
Offers in-app Purchases
Hey Casual Gamers!
Sometimes I find myself by getting lost in a deep level dungeon.  As a casual gamer however, my time is limited.
In comes Dunidle, a Rougelike 8-bit casual app that allows you to choose for a decent list of avatars to dig into the darkest depths.
Is it worth your casual time?  Let's dig into this causal review to find out.
Gameplay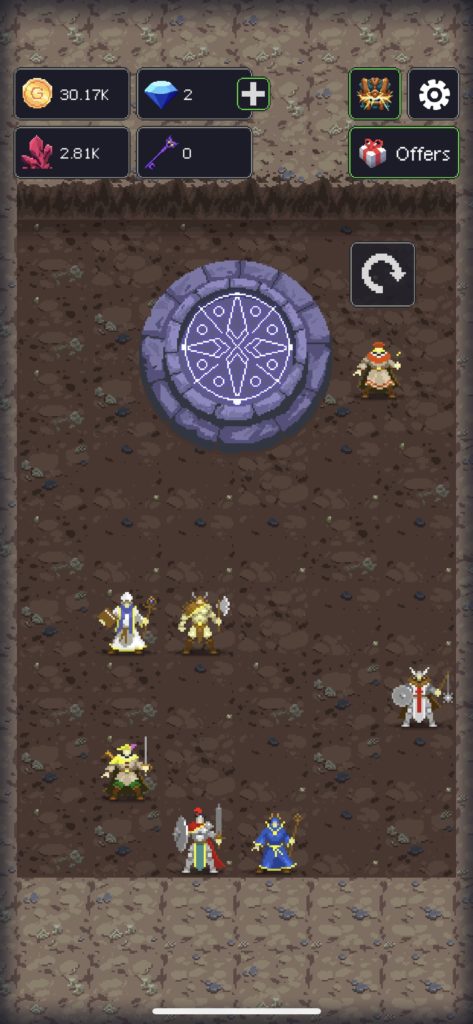 Welcome to a casual hole in the wall with a unique name.  There's very little story to start us off, but that's what gives Dunidle it's appeal.  I creepy mage starts you off with a confused but talkative knight and orders you to go face first into an unknown dungeon.  After your inevitable defeat, the mage sets you up to add more avatars, collect items and upgrade buffs to improve chances in the future runs to come.
When it comes to fighting, it's as easy as pressing go and watching your avatars chop up the endless horde of monsters until their eventual death.
Like most roguelike games, after reaching 100 levels, you can opt to reset your progress.  This does reset most party upgrades but you get to keep all abilities learned.  You will have to pay to unlock avatars again.
Graphics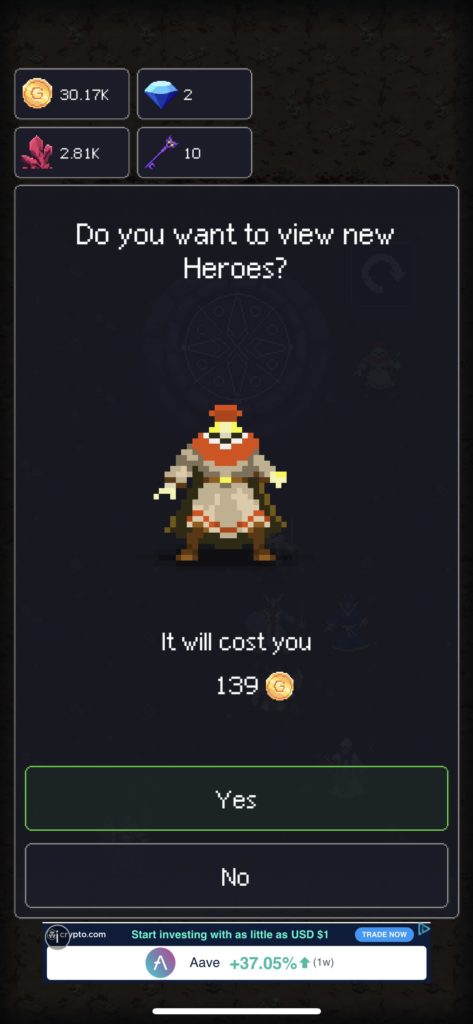 If you are into 8-bit retro graphics, Dunidle is right up your alley.  There's not really any flashy attacks or crazy limit breaks to speak of.  Just simple dungeon stomping madness.
Again, this really speaks to the simplicity of this causal app.  It's really easy once you have a loyal crew to sit back and enjoy the 8-bit theater of endless killing.
Music & Sounds
To match the 8-bit magic on your phone, the music and sounds are rather pleasing.  It's also monotonous, so unless you are really in love with music and sounds, this can be played with or without headphones.
I suppose if there were actual buttons to press during gameplay it would make more of a difference.  As of now, the only thing that will change during gameplay would be the music every 20 floors.
The staging floor music is a little catchy.  Outside of that, I'm not seeing a need to keep the headphones in for the long run.
Controls
Dunidle is another great click until your finger falls off casual app.  Getting between items and some menus suck.  While they maybe simple, there's not an easy switch to the next item.  The arrows are there, but it's not the way they would be normally used.
It's really the only glaring flaw of Dunidle.  If I could upgrade all my weapons and armor without having to back out each time, I would never have an issue!
Truthfully, every game has some kind of flaw in it, and this casual app is no exception.  Doesn't hurt gameplay or break the app, so maybe I'm just a little picky.
The Power of in-app Purchases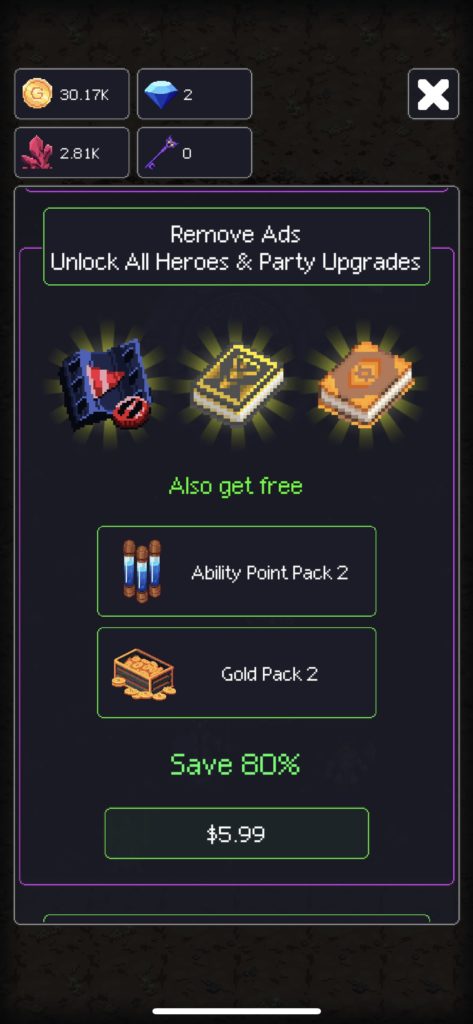 While Dunidle has some generous purchasing prices, there's really one purchase that stands out above the rest of them.
This casual app is filled with ads ready to take over!  This doesn't make me mad, because it's going to an indie creator.
For six bucks however, all ads disappear, all party upgrades stay with you fully buffed.  All other ad driven buffs stay permanently as well!  Even your purchased heroes stay with you during the resets!
It could be perhaps one of the better deals I've seen in a casual app!
While you don't have to pay to play Dunidle, a good purchase no only helps the developer, but makes gameplay and planning better.
The Verdict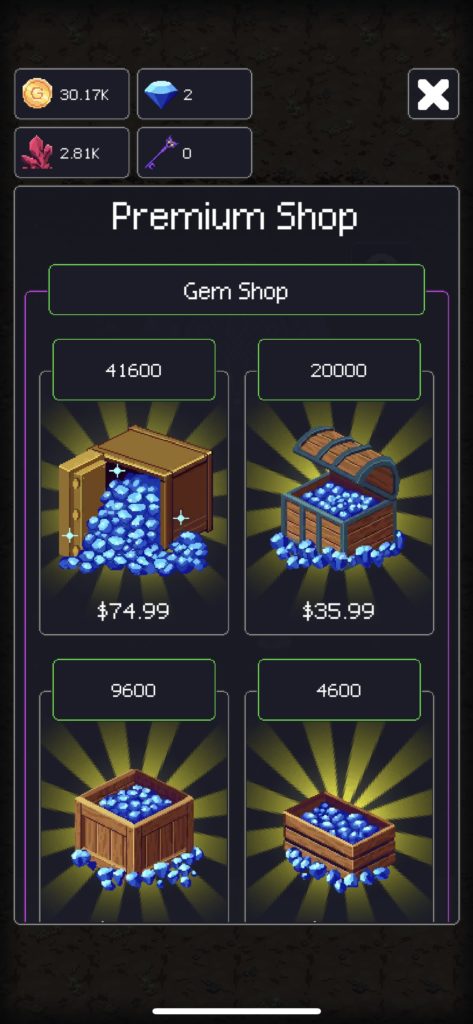 Overall, Dunidle is a legitimate pick!  There's two modes that go hand in hand, meaning that items outside of the normal dungeon mode will help you progress through hell mode.  Hell mode needs keys to keep advancing, but clearing certain levels offers high tier gear and artifacts that make the climb in normal mode easier.
It makes me happy when I see good 8-bit games done right.  This isn't an app that you need to play everyday to "git gud."  The grind is there, but a good purchase to help a developer out makes acceptable and rewarding.
Already made it to the last levels and want to show off your favorite builds?  Drop a comment section below and tell us how you made it there!
Happy gaming, and as always, keep it casual!
Dunidle Overall Rating: 4/5
Dunidle Links:
iOS Link: https://apps.apple.com/us/app/dunidle-dungeon-crawler-boss/id1452929189
Android Link: https://play.google.com/store/apps/details?id=aratnon.pixel.idle.dungeon.dunidle&hl=en_US&gl=US
Company: Awirut Raton
Genre: Indie Games, Rougelike, Idle RPG
Rated: 9+
Offers in-app Purchases
About Post Author