Disney Getaway Blast Review!
"Stamp your passport to embark on an all-new puzzle-popping vacation adventure! Find and collect adorably quirky Disney & Pixar keychain characters, who've all come to life to restore and rebuild an enchanted vacation paradise.
Go on a tropical getaway, a frozen expedition, an underwater adventure, and more. You can enjoy them all, anytime, anywhere!
Collect many Disney & Pixar characters, all ready to have a blast!
Unlock amazing abilities, like Aladdin's lamp and Elsa's frozen magic.
Beat hundreds of puzzles with pop-splosive tiles and screen-shaking power-ups!
Craft powerful boosters to match and blast your way through challenges!
Create and transform enchanting vacation locales!
Snap photos of OMG moments to fill your magical Photo Album and bring your paradise to life!
Bask in the fun of playing matching games from customized islands that you create!
The lands of Disney Getaway Blast are filled with Disney & Pixar characters from Lilo & Stitch, Toy Story, Aladdin, Mickey and Friends, Frozen and more.
Enjoy & play in the relaxing customized islands that you create!"
iOS Link: https://apps.apple.com/us/app/disney-getaway-blast/id1408839703
Android Link: https://play.google.com/store/apps/details?id=com.gameloft.anmp.disney.adventure&hl=en_GB
Company: Gameloft
Genre: Puzzle
Rated: 4+
Offers in-app Purchases
Gameplay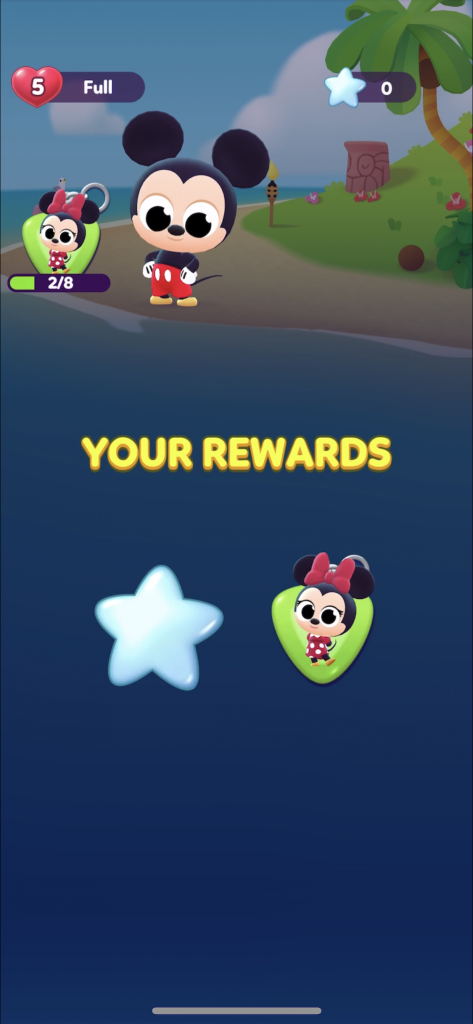 Disney Getaway Blast is a brand new match-3 game. Similar to Gardenscapes/Homescapes, you have to collect stars to get through the game. To get stars, you need to play match-3 levels. Match-3 games are always quite similar to me, but as this was a Disney game, I couldn't help but download and review it.
Collect characters and build up the island by matching colors together in the mini levels. Collecting stars take you further in the game and power-ups help you through the match-3 levels.
Graphics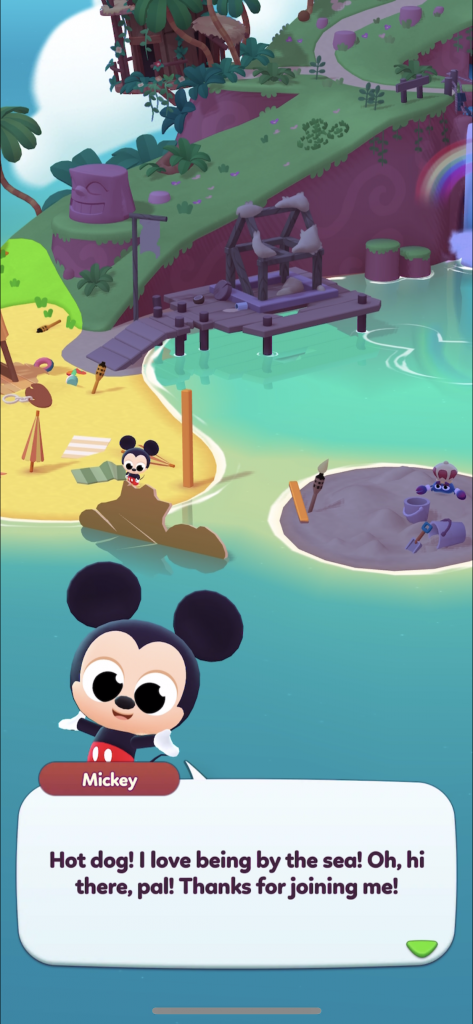 As you would expect from a Disney game, the graphics are very vibrant, colorful and cartoon-like. This game is perfect for anyone above the age of 4 due to its childlike and family-friendly aesthetic. I am a fan.
Music & Sounds
With typical Disney music and sounds, Disney Getaway Blast is joyful, upbeat and fun. A lot of the time I find myself getting annoyed at the music in match-3 games, but something about this just makes me happy.
Controls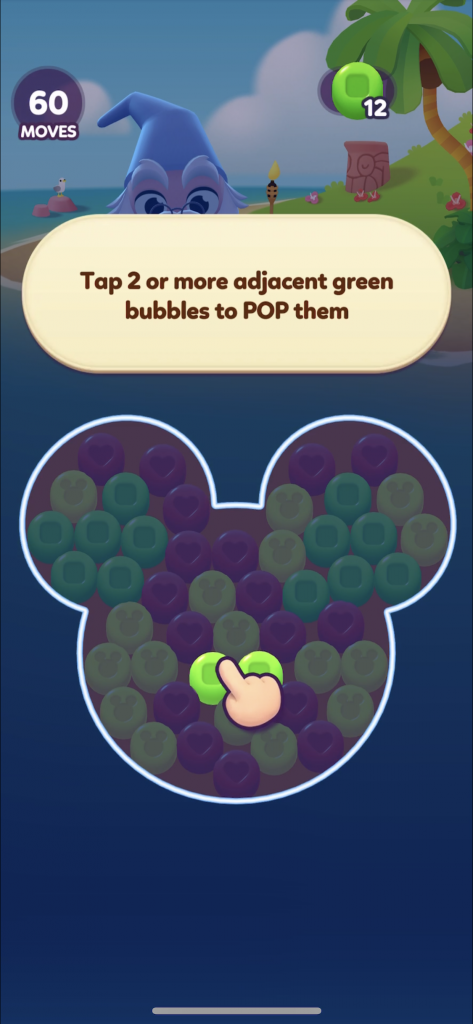 The controls, like 99% of match-3 games consist of tapping the same colored blocks in order to get points. There isn't much else to it and makes it even more so better for every age as it's easy to play.
The Power of in-app Purchases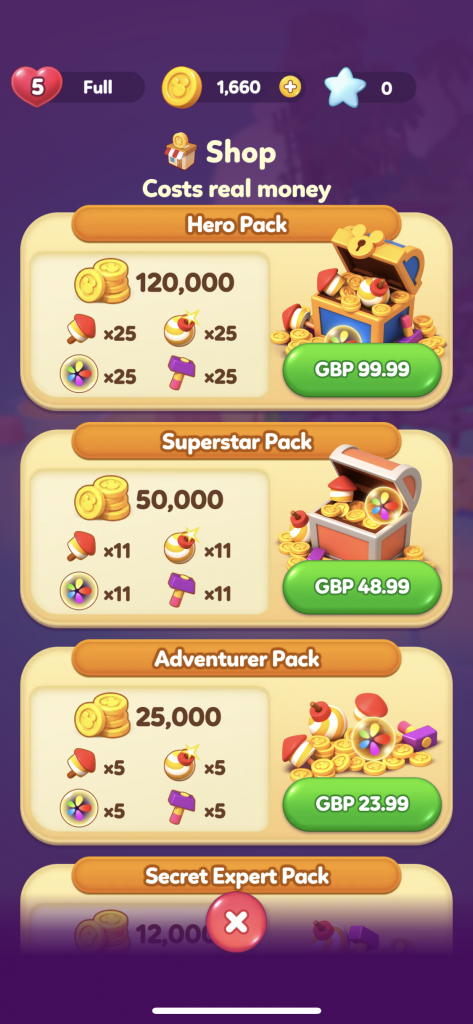 Packs
Hero pack for £99.99
Superstar pack for £48.99
Adventurer Pack for £23.99
Secret Expert Pack for £11.99
Novice Pack for £6.99
Great Starter Pack for £2.99
Coins
2,000 coins for £1.99
5,500 coins for £4.99
12,000 coins for £9.99
25,000 coins for £19.99
50,000 coins for £38.99
120,000 coins for £74.99
The Verdict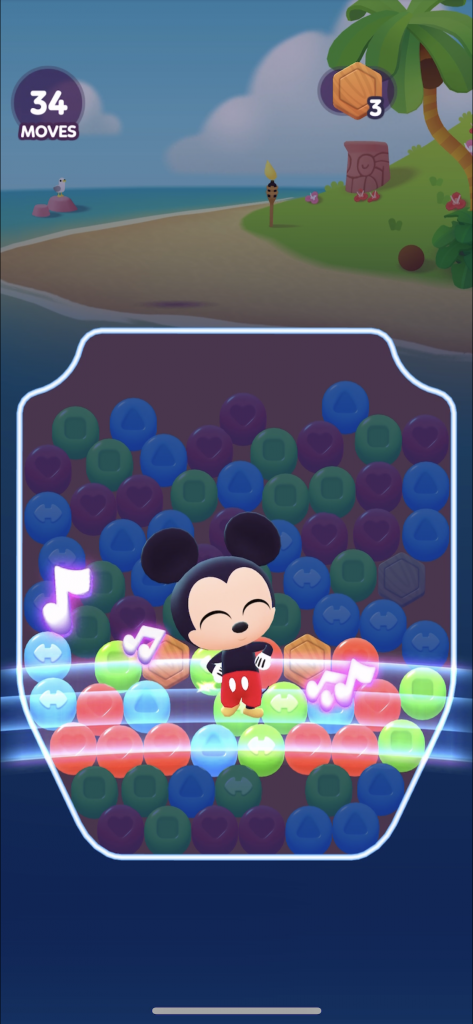 Disney Getaway Blast is a great little easy game to play when you're short on time but have a few minutes free. I felt like I was a kid again and I love the fact that this is suitable for anyone of any age.
If you decide to download Disney Getaway Blast, let us know what you think and if you agree or disagree with the things we said. Happy gaming and stay casual!
Disney Getaway Blast Overall Rating: 4/5
iOS Link: https://apps.apple.com/us/app/disney-getaway-blast/id1408839703
Android Link: https://play.google.com/store/apps/details?id=com.gameloft.anmp.disney.adventure&hl=en_GB
Company: Gameloft
Genre: Puzzle
Rated: 4+
Offers in-app Purchases
About Post Author