Detective Jackie – Mystic Case Review!
"A mythological painting holds ominous secrets. Only by diving into the details can Detective Jackie solve a young girl's murder!
Ask the right questions and follow the clues to uncover a maze of winding answers and possibilities. Ask yourself: Do you believe in myths?
Detective Jackie – Mystic Case introduces talented private investigator Jackie Johnson in an all-new GameHouse Original Story. After losing her daughter to a devastating fire, Jackie dedicates her life to solving children's murders and disappearances. But a puzzling new investigation lands too close to home, and Jackie is determined to find answers!
Can a new trail of clues solve a tragedy in the past? The evidence points in one direction: a mysterious painting known as "Medusa's Vanity".
What secrets lie just beneath the surface?
Can Jackie deduce the connections between reality and mythology?
Only a stone-cold investigator will be able to uncover the truth! Use your power of observation to determine the correct course for your investigation. Do you have what it takes to get down to the bottom of this ominous mystery?"
iOS Link: https://apps.apple.com/us/app/detective-jackie-mystic-case/id1444451745
Android Link: https://play.google.com/store/apps/details?id=com.gamehouse.rj1&hl=en
Company: GameHouse
Genre: Games
Rated: 12+
Offers in-app Purchases
Gameplay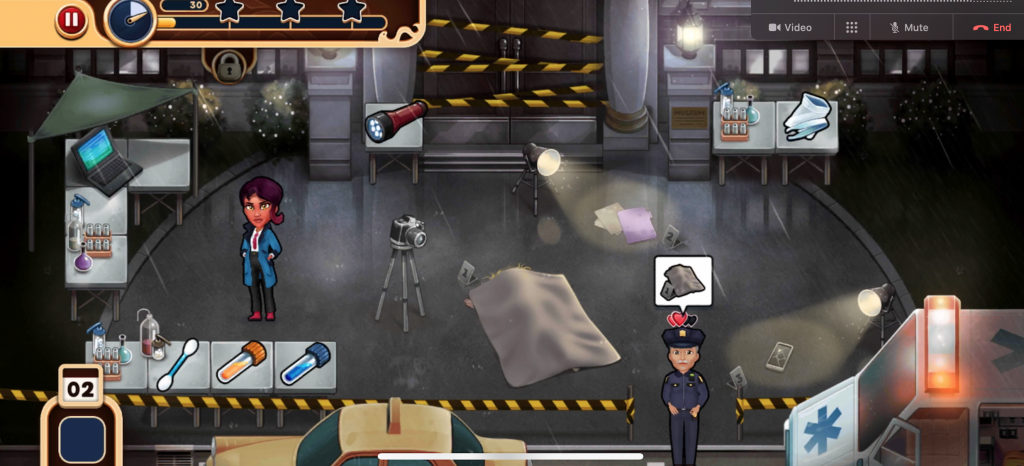 Detective Jackie – Mystic Case is a story-based game where you're investigating the murder of a 17-year-old girl who mysteriously died outside of a museum running out of a taxi. The police believe that the girl died of a heart attack, but the detective Jackie (played by you) believes that it was a murder. In the first chapter, you find out more about the victim and get to analyze the crime scene. Police officers stop by requesting to look at certain parts of the crime scene, but it's your job to get through them all before the time runs out. The gameplay is very similar to cooking games like Cooking Craze where you need to serve customers during a time limit.
Graphics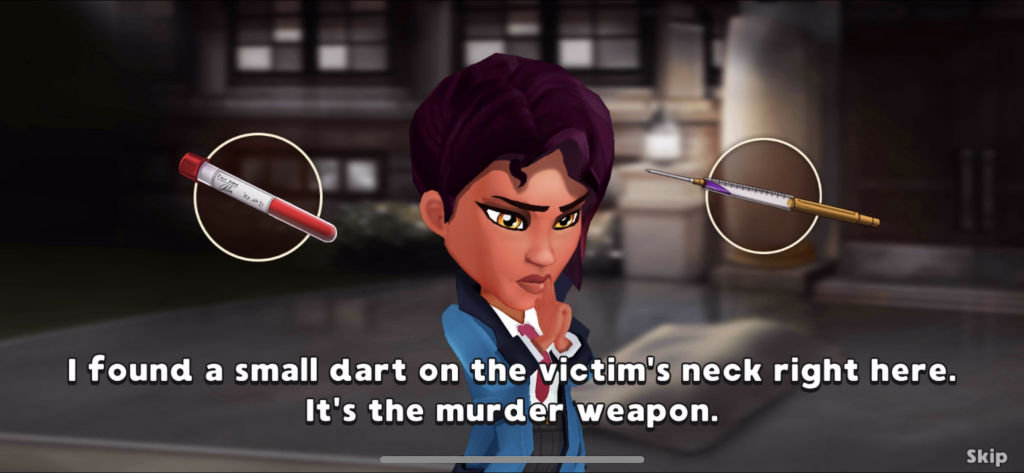 Similarly to Welcome to Primrose Lake, the graphics don't exactly have the wow factor, but they're not terrible for an app game. The game is laid out in a way that is very classic in terms of gaming, and the characters move in corners only. The characters don't move a lot unless they're talking to each other.
In the cut scenes, like when Detective Jackie is interrogating the cab driver, the graphics are noticeably different and better.
Music & Sounds
The music is exactly what you'd expect from a game based around solving a murder mystery. It fits in really well with the overall gameplay and makes it a better experience overall.
Controls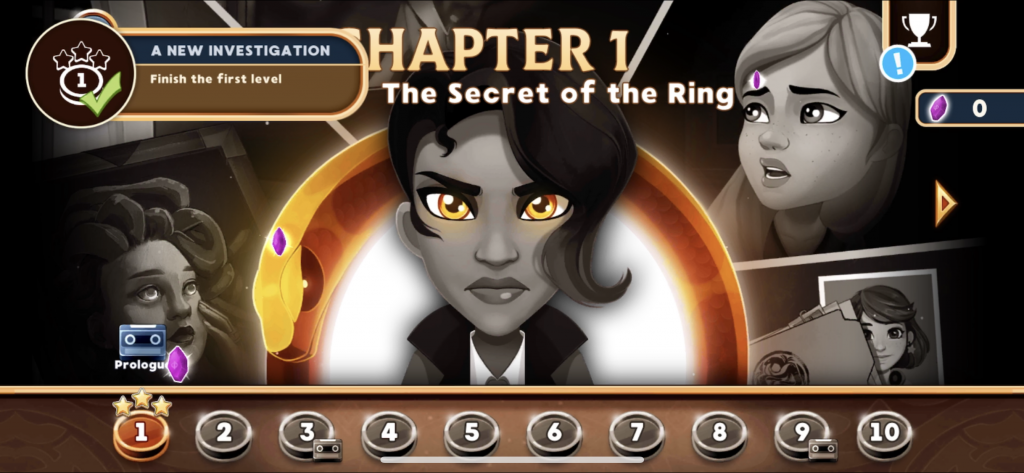 The controls are as simple as the gameplay themselves. Tap to fulfill a request from the police, and tap to deliver it to them. That's about as complicated as it gets.
The Power of in-app Purchases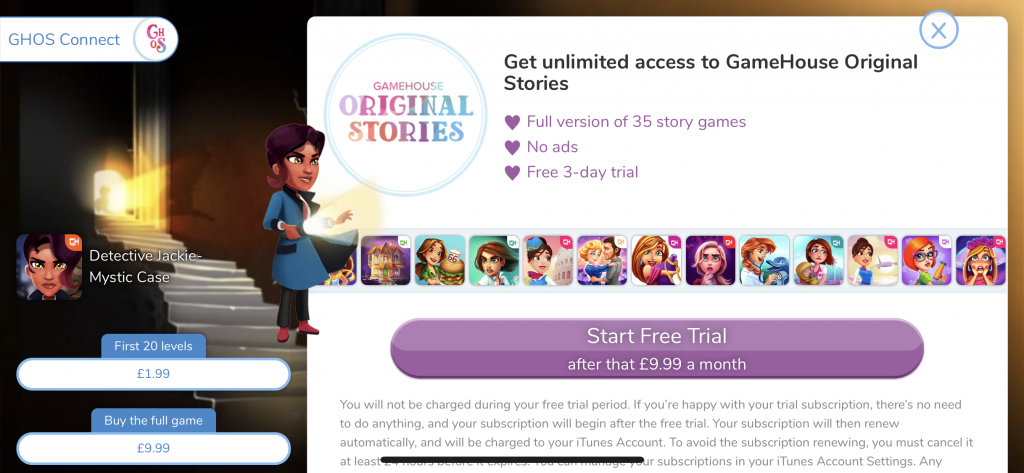 There are no in-app purchases like coins, and gems in Detective Jackie – Mystic Case. Like Welcome to Primrose Lake, which is also made by GameHouse, you can buy a monthly subscription to unlock the full version of the game. After the free trial, you can get unlimited access for £9.99 a month.
Get:
The full version of 35 story games
No ads
Free 3-day trial
The Verdict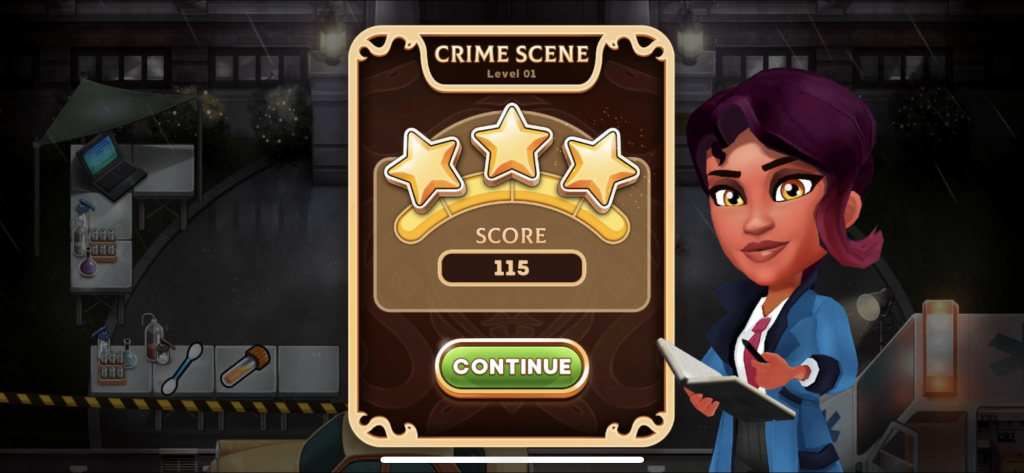 Detective Jackie is a fun story game that has a lot of potentials – as long as you pay the £9.99 a month in order to actually complete the game. Games like this are not for people who aren't willing to pay the extra prices. I personally don't find it worth playing if I'm not going to be able to view the whole story without playing money. However, if you're looking for a good story game, Episode and Choices are great and you can complete the story without purchasing anything.
If you decide to download Detective Jackie – Mystic Case, let us know what you think and if you agree or disagree with the things we said. Happy gaming and stay casual!
Detective Jackie – Mystic Case Overall Rating: 2/5
iOS Link: https://apps.apple.com/us/app/detective-jackie-mystic-case/id1444451745
Android Link: https://play.google.com/store/apps/details?id=com.gamehouse.rj1&hl=en
Company: GameHouse
Genre: Games
Rated: 12+
Offers in-app Purchases
About Post Author