Chess Puzzle Blitz Review!
"Chess Puzzle Blitz is a fun and competitive Skillz powered chess game. Complete chess tactics, puzzles, and various mates in 1, 2, 3, and more to win.
Play against real people for free then switch to cash games when you're ready to compete and win!
Don't train your chess game alone. Challenge our community of chess-masters-in-the-making to improve your game.
How to play:
– Choose a "practice" game or a "tournament game"
– Receive up to 10 puzzles to solve in a row.
– Complete as many puzzles as possible.
All the ways you can play Chess Puzzle Blitz:
– Play head to head with other chess players around the world today.
– Tournaments and leagues and more are coming soon!
– Watch leaderboards for rising stars, earn trophies for epic play, get rewarded for the dedication with Skillz's loyalty program, and of course play for virtual currency or real cash."
iOS Link: https://apps.apple.com/us/app/chess-puzzle-blitz/id1481795247
Android Link: Not currently available
Company: Frame Perfect Gaming
Genre: Puzzle
Rated: 17+
Offers in-app Purchases
Gameplay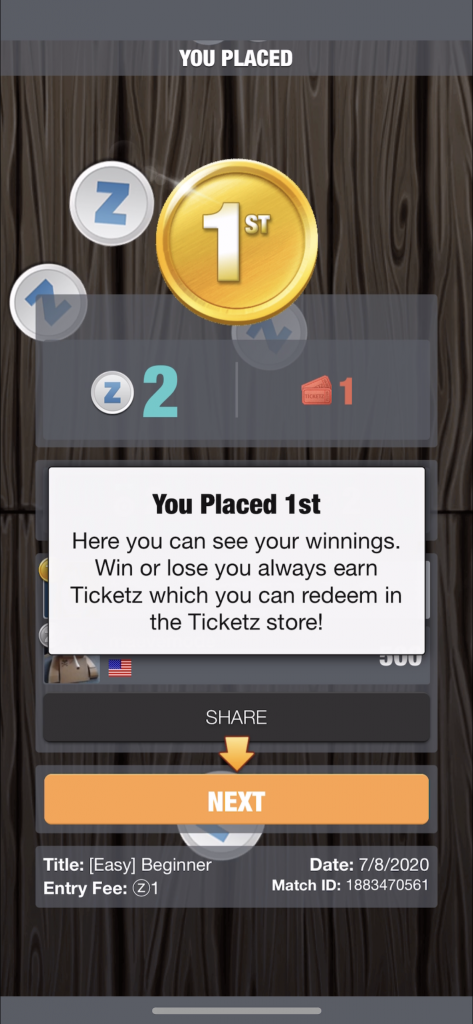 If you like chess, you're in for a treat. If you don't, I'm sorry, but maybe this will change your mind. With Chess Puzzle Blitz, the aim of the game is to checkmate the king in the least amount of moves. But the best part? You can bet real money on the game. Meaning you could go home with an amazing amount of money, just for winning a game of chess!
Although I'm not the biggest fan of chess, I love the idea of winning real money for my efforts. Though I have to say it's hard to win, so make sure you play a few regular matches before committing to spending your real money.
Graphics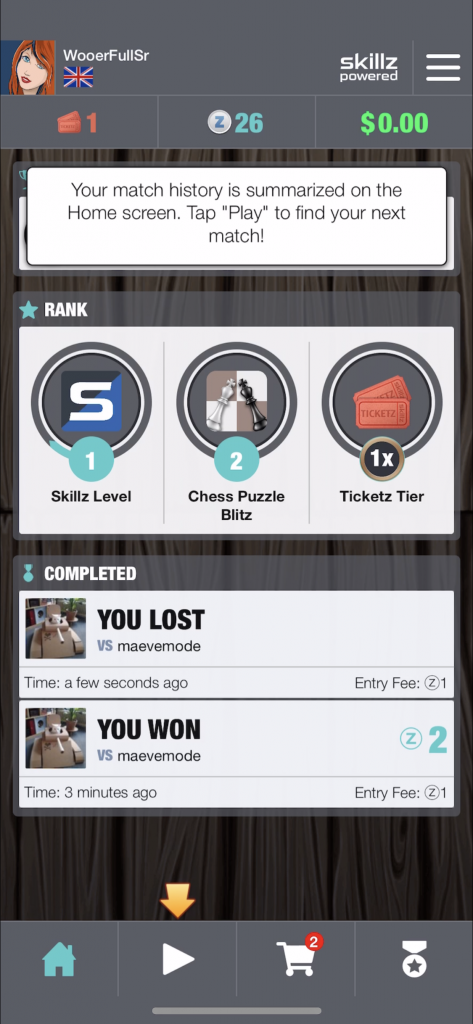 When reviewing other Skillz games, the graphics have never stood out to me and it doesn't stop with Chess Puzzle Blitz. The graphics are plain with boring colors, but I can't say it doesn't get the job done. Although I'd like to see a lot more color and movement to these games, I don't have a huge problem with them.
Music & Sounds
Not going to beat around the bush here, but honestly, the music and sounds are both very annoying. The music is nothing more than basic, and the sound when you do a wrong move is a lot. I'd suggest having your phone on mute while playing Chess Puzzle Blitz.
Controls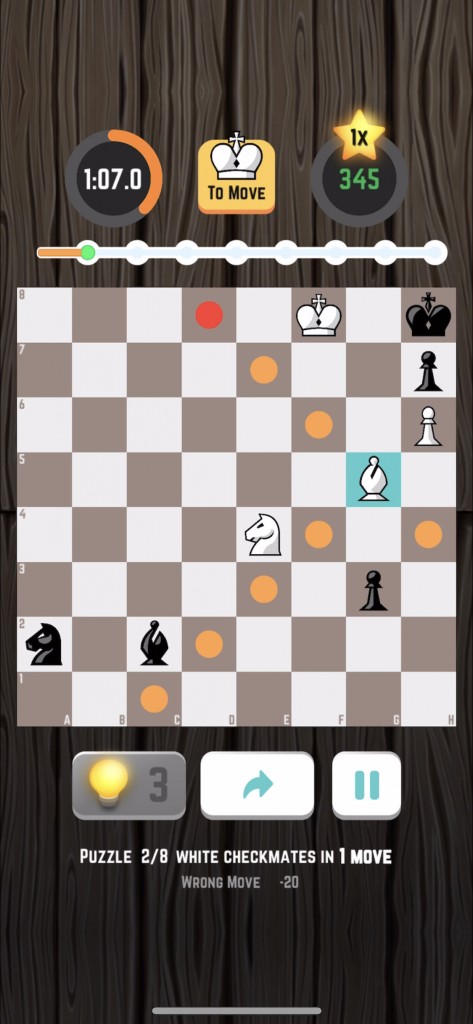 Tap an area on the chessboard to see where you can put your chess piece in order to checkmate the king. You will need to be strategic, but as far as the controls go, they're easy to follow.
The Power of in-app Purchases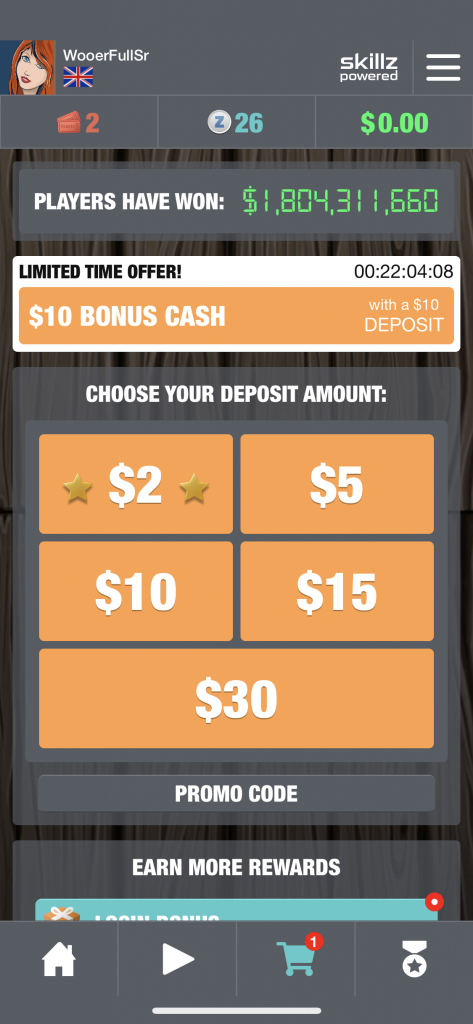 In Chess Puzzle Blitz, you can play to win real money by depositing $10, $15, $20, $30, and $50. If you don't want to use your real money, you can earn Ticketz by playing and you can win real prizes.
New username change for 3k Ticketz
$5 bonus cash for 80k Ticketz
Skillz fidget spinner for 120k Ticketz
Phone case for 160k Ticketz
Skillz beanie for 340k Ticketz
Apple charging station for 400k Ticketz
Veggie spiralizer for 600k Ticketz
Magic Bullet blender for 800k Ticketz
Nimbus wireless controller for 900k Ticketz
$100 Amazon gift card for 2.2m Ticketz
Fitbit Charge 3 for 3m Ticketz
$500 bonus cash for 5.5m Ticketz
40″ flat screen smart TV for 9.1m Ticketz
Sony 4k projector for 110m Ticketz
Rolex Submariner Date for 180m Ticketz
Porsche Boxter for 1.2b Ticketz
The Verdict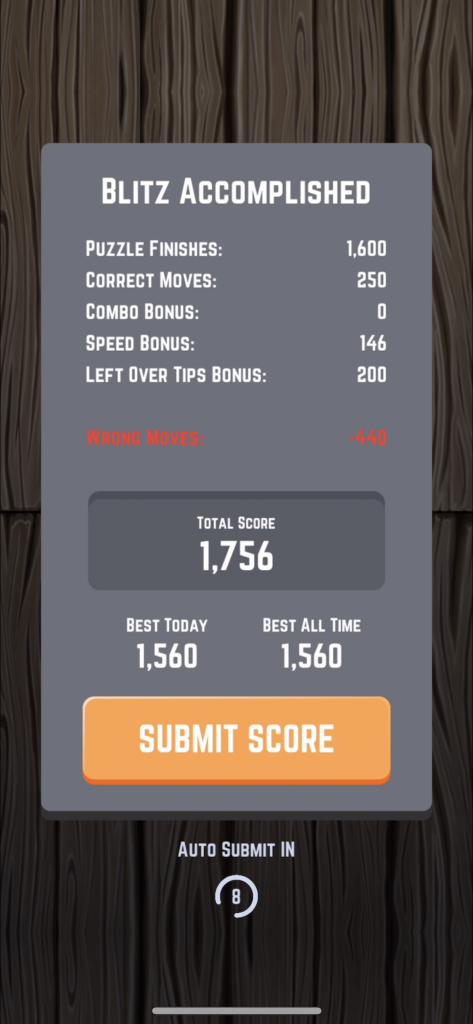 For someone who isn't big on Chess, I actually enjoyed this game so if you're big on it, play this now. Being rewarded with real money for being good at a game doesn't come around often so get on the type!
If you decide to download Chess Puzzle Blitz, let us know what you think and if you agree or disagree with the things we said. Happy gaming and stay casual!
Chess Puzzle Blitz Overall Rating: 3/5
iOS Link: https://apps.apple.com/us/app/chess-puzzle-blitz/id1481795247
Android Link: Not currently available
Company: Frame Perfect Gaming
Genre: Puzzle
Rated: 17+
Offers in-app Purchases
About Post Author