Candy Crush Soda Saga Review!
"Download Candy Crush Soda Saga now!
From the makers of the legendary Candy Crush Saga comes Candy Crush Soda Saga! Unique candies, more divine matching combinations and challenging game modes brimming with purple soda and fun!
This mouth-watering puzzle adventure will instantly quench your thirst for fun. Join Kimmy on her juicy journey to find Tiffi, by switching and matching your way through new dimensions of magical gameplay. Take on this Sodalicious Saga alone or play with friends to see who can get the highest score!
Show your competitive side in the Episode Race! Compete against other players to see who can complete levels the fastest and progress the quickest. Or work as a team in the Social Bingo feature where players work together for Sodalicious rewards!"
iOS Link: https://apps.apple.com/gb/app/candy-crush-soda-saga/id850417475
Android Link: https://play.google.com/store/apps/details?id=com.king.candycrushsodasaga&hl=en_GB
Company: King
Genre: Puzzle
Rated: 4+
Offers in-app Purchases
Gameplay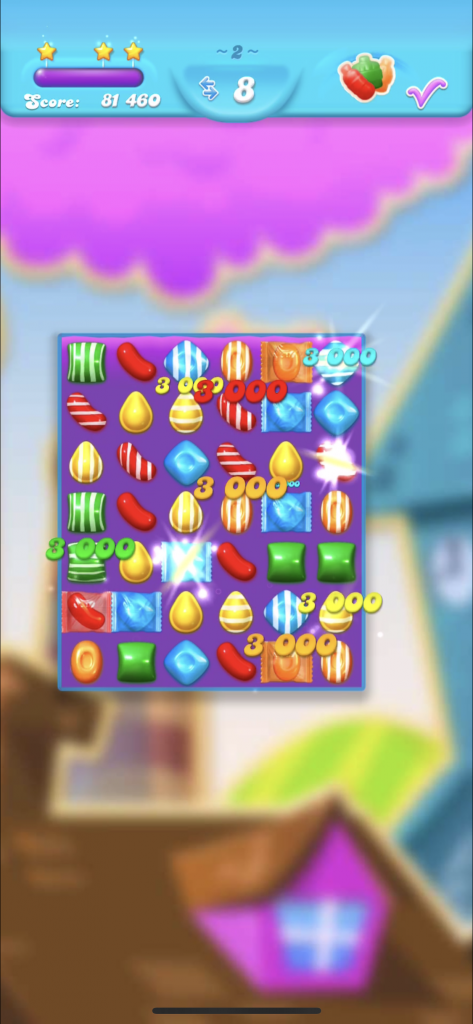 Candy Crush Soda Saga is a spin-off of the original Candy Crush Saga game. The difference between the games is that Candy Crush Soda Saga's aim is to fill up the board with soda. To do this, you need to match bottles with candy and the soda will rise every time you do.
Just like Candy Crush Saga, this is a typical match-3 game but you can clearly tell that it's had an upgrade.
Graphics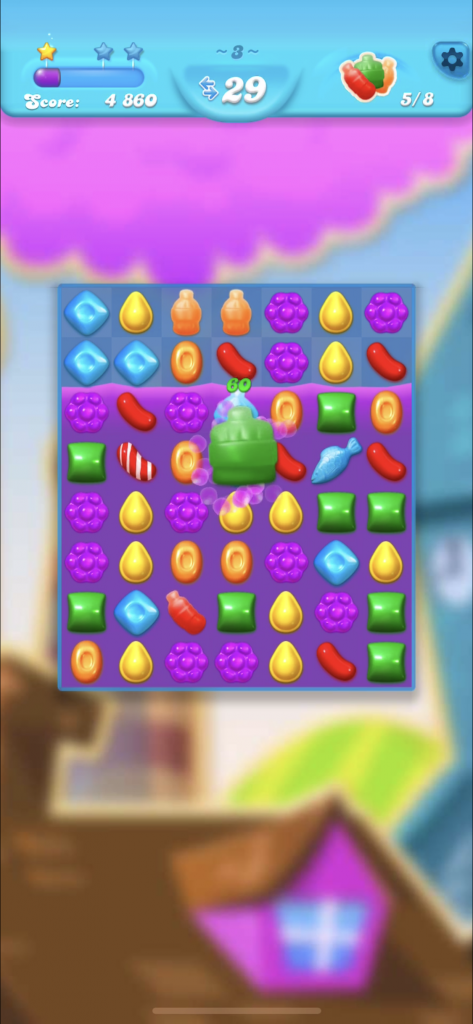 For example, the graphics have definitely had an upgrade. The candy is generally more detailed, and the background has a lot more detail to it. The color scheme is still the same though – it's colorful, vibrant and has a family-friendly vibe to it.
On top of this, there is a scoreboard in the game that shows you how well you're doing in comparison to other players.
Music & Sounds
Just like Candy Crush Saga, the game's music and sounds are very fun and upbeat. Like how I was getting annoyed with a man's voice constantly saying "sweet", this game repeatedly say "juicy" and it's annoying. Again, there is a button available to turn it off.
Controls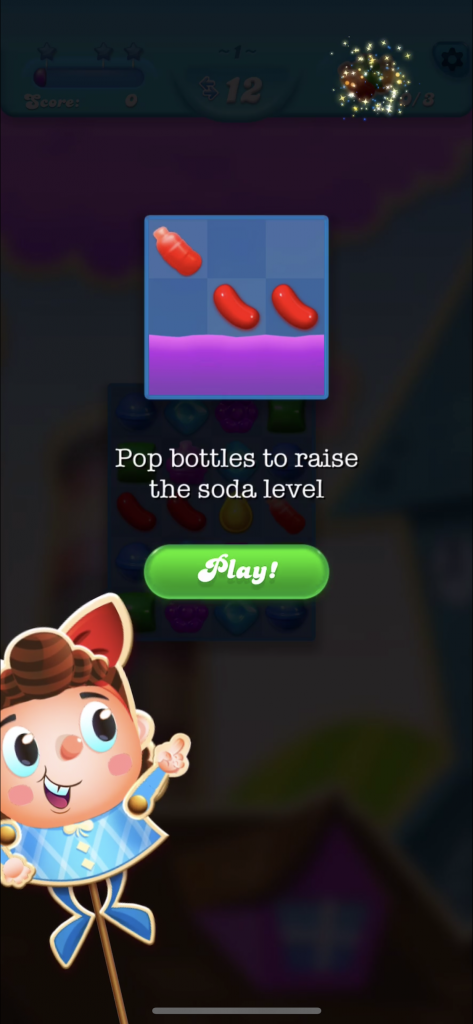 The controls are the exact same as the original game, they consist of dragging the icons to match them in groups of 3. Again, you really don't have to focus on it and it's an easy game to play when you have a few minutes spare. There are also power-ups you can use at the bottom of the screen to help you along with the game. To begin with, you have the lollipop power up and it crashes any candy you tap.
The Power of in-app Purchases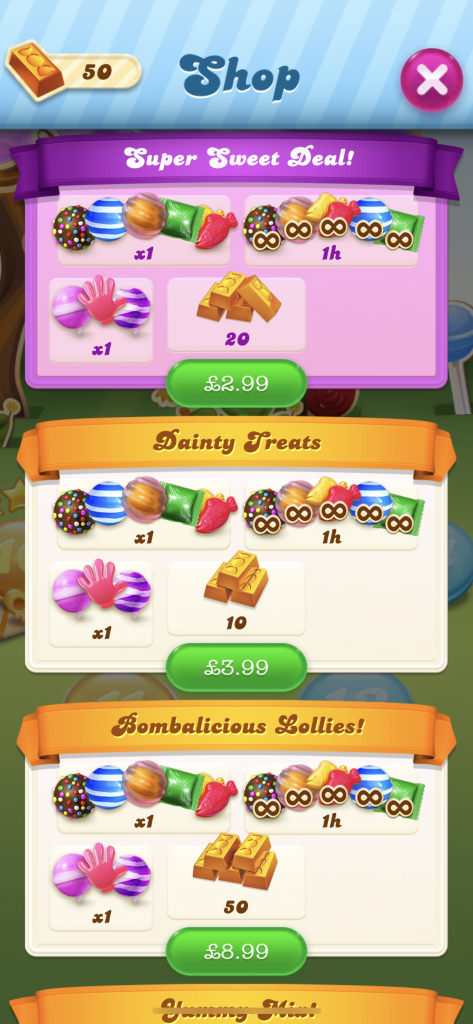 The two currencies available in the game are lives and gold. Gold can be purchased with in-app purchases but lives can only be redeemed by asking Facebook friends.
Super Sweet Deal for £2.99
Dainty Treats for £3.99
Bombalicious Lollies for £8.99
Yummy Mix for £16.99
Smashing Colors for £33.99
Lavish Mix for £59.99
Divine Dessert for £99.99
10 gold for £1.99
50 gold for £6.99
100 gold for £12.99
250 gold for £25.99
500 gold for £48.99
1000 gold for £74.99
The Verdict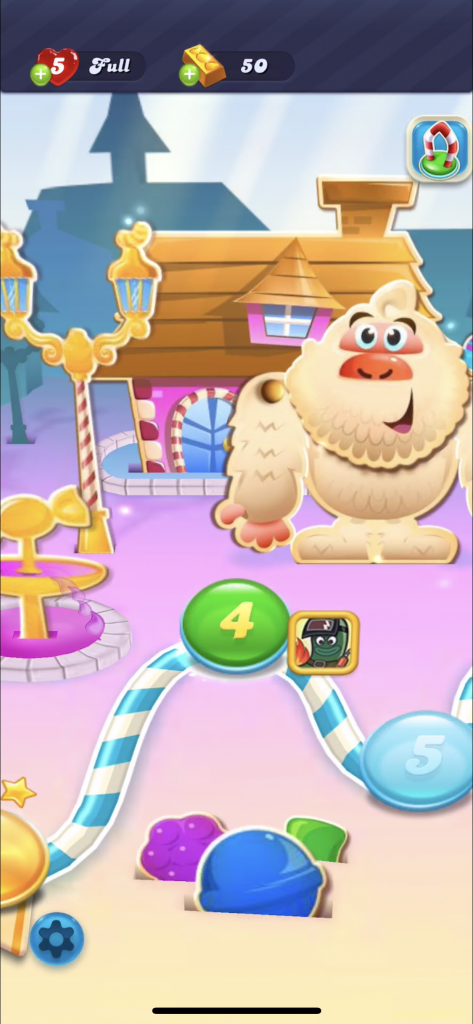 Candy Crush Soda Saga is definitely an upgrade from the original game, but it's still nothing special. Again, I can totally understand why people are obsessed with it – it's addicting, fun looking and extremely competitive if you log in with Facebook. But for me, I really can't see myself keeping this due to how similar it is to other match-3 games.
If you decide to download Candy Crush Soda Saga, let us know what you think and if you agree or disagree with any of the things we said. Happy gaming and stay casual!
Candy Crush Soda Saga Overall Rating: 3/5
iOS Link: https://apps.apple.com/gb/app/candy-crush-soda-saga/id850417475
Android Link: https://play.google.com/store/apps/details?id=com.king.candycrushsodasaga&hl=en_GB
Company: King
Genre: Puzzle
Rated: 4+
Offers in-app Purchases
About Post Author